BILLINGS — Lisa Reimer had a really good birthday. She broke two age-group records in the shot put and discus, both of which she previously held, at the Big Sky State Games.
After releasing her final and record-breaking toss in the shot put, she threw her hands in the air and started dancing. And she did it on her 58th birthday.
Reimer had donned a maroon Montana Grizzlies shirt for the day and cheers rang out from her two other competitors, Heather Ekness and Jen Allen, sporting a shirt from her own alma matter of Montana State, on a sunny Sunday morning at Daylis Stadium.
"It's always just fun to get together and catch up and encourage each other and just be glad that we're healthy and out there doing our thing," Reimer said.
Allen also broke her own 35-39 age-group record and Ekness was proud to have thrown farther than her previous year competing.
"It's supportive and friendly and fun," Ekness said. "No judgment."
"I do think that's the great part about track and field is you can keep doing. You can keep throwing, you can keep running, you just have to change your mindset about what a good throw is," Allen said.
Joan Smith was in attendance in spite of not competing. She said she decided to take the year off with an eye on returning when she gets into the 70- to 74-year-old bracket.
That camaraderie has been built up over years and a passion to continue doing the sport Reimer and Allen both began separately as kids decades apart.
"I've been throwing since before you've been alive," Reimer joked to Allen after.
Reimer, who was a four-time state champion (two wins each in the shot put and discus) at Fromberg, went on to throw at the University of Montana from 1979-1983.
She retired from coaching in 2010 and teaching in 2017 after 33 years, but returned as a volunteer discus coach at Laurel in 2018.
"It's really cool because we watch each other and we can say, 'Wow! That's a really good throw!' and we can do that for each other. When people are running, they can't do that," Reimer said.
Each year the trip back to the Big Sky State Games is a trip down memory lane for Allen.
"Just being at Senior and being in the same rings that I learned how to throw in and where I really learned to love track and field, that's fun," Allen said.
From Billings Senior, Allen went on to a conference championship career for the Bobcats from 1998-2004 and in 2017 took over coaching the Bobcat throwers from her former coach Mike Carnigan.
But in spite of Allen and Reimer's competitive days being behind them, they keep returning year after year.
"Some years we'll have a lot of people come out and throw and some years there's less. It seems like Lisa and I are always there and then we're trying to talk everyone else into it, but summers are busy and so sometimes it's hard to get a big crew out there," Allen said.
"Big Sky State Games, that's the only time I get to throw," Reimer said. "I can golf in tournaments anytime I want to, but the Big Sky State Games is it for me."
"It's just like a little reunion, like a thrower reunion," Reimer continued. "We just are there to support each other and cheer each other on and catch up on what's been going on in your life this last year."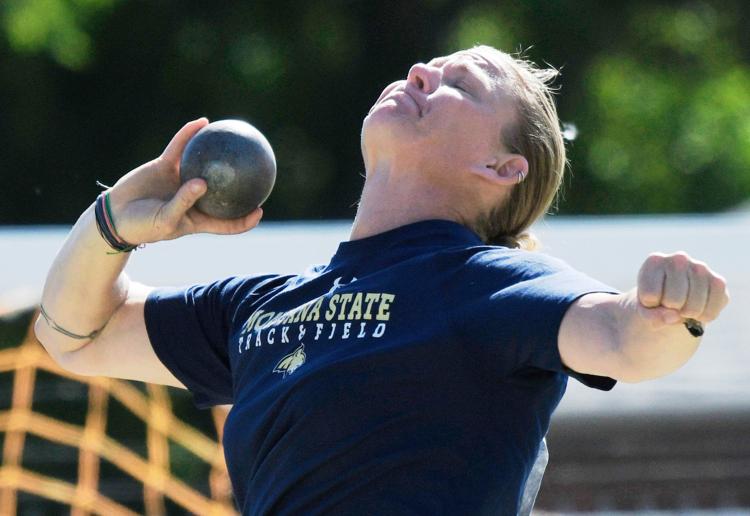 And in spite of the seeming casual atmosphere of the event, Allen admits her competitive juices still flow as she steps into the ring and shifts the shot put from one hand to another in a series of practiced movements before settling into her starting stance.
"I had to change my mind about somewhere in my mid-20s is that I'm not the same thrower I was and I needed to stop acting like that. ... It wasn't my world anymore, but for me it was really hard to get out of that collegiate competing mindset and shift into that old lady having fun with your friends," Allen said.
"I think that's where the dynamic of the Big Sky State Games really plays in. Being able to compete with Lisa, who's just out there loving track and that's just what we do at the state games."
Health issues and life have helped provide perspective for the field as they compete year after year. Reimer estimates that by now she's competed in about 25 years of Big Sky State Games, missing a few due to a kidney transplant, of which she celebrated the 12-year anniversary just days ago.
"My deal is every day is a blessing because I'm still here. Because I could not be here, I mean that's the alternative. But I am here and I am healthy and I'm able to do this," Reimer said.
They may have to adapt from what they were once able to do and adjust expectations, but it's better than the alternative. Through it all, Reimer finds her competitive nature is stoked by two things — her own performance against the tape measure and goals.
"My whole goal is to keep setting records and give (Allen) something to break," Reimer said. "She's 20 years younger than me so it's cool when Jen breaks my records."
So it was another successful year for this group of throwers. They made sure to celebrate before Allen left to compete in the hammer throw at MetraPark by staging their own medal ceremony as events took place around the track.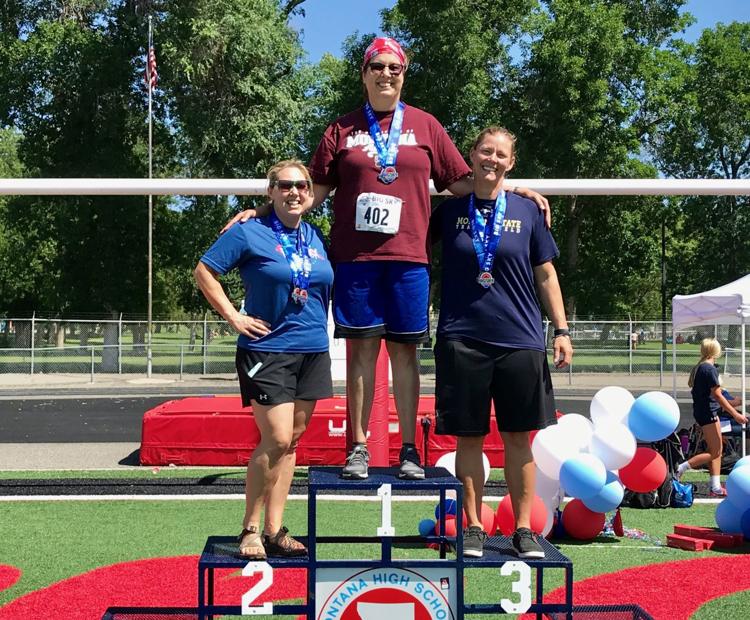 And neither Allen nor Reimer have plans to slow down anytime soon.
"As long as my physical body is healthy to do this, I will be doing this because my mental desire is there," Reimer said.
"Hopefully I can stay in it as long as she has," Allen said.