I had met Bob "Mr. Baseball" Sandler back when I was a student at Billings Skyview. He never was a teacher of mine, but his room was right next to the journalism classrooms. Then, when I started working at The Gazette right out of high school, one of the first people I ran into at a game was Bob Sandler, who served as the ballpark manager at old Cobb Field. I was there to cover a Legion game between the Scarlets and Royals and Bob was there to help guide a rookie reporter through the process.
In all my years at The Gazette, one of the most pleasant people I worked with was Bob. He is a truly well-respected man in the community and a great baseball ambassador. Growing up in New York City in baseball's glory days, Bob would always recall stories of his favorite New York Yankees. He'd reel me right in as I am a Yankee fan.
"Mr. Baseball" retired from his post after 30 years at the conclusion of this past season. I sat down to chat with him about retirement at the Rio Grand Casino, where we had lunch and visited.
Good luck on retirement, Bob. -- John Letasky
---
Growing up in the Bronx during the time of Mickey Mantle and Yogi Berra, longtime Billings American Legion baseball public address announcer Bob Sandler has many memories.
And while Sandler can vividly tell many fascinating baseball stories centered around his boyhood heroes, plenty of Billings Legion baseball fans, former players and officials have their own Bob Sandler story.
Sandler, 76, has served the Legion program in one capacity or another for 30 seasons. Over the years, fans at Dehler Park, and before that old Cobb Field, have listened to his voice, sometimes thick with a New York accent, over the public address system. He will retire from his post at the conclusion of this season. Sandler will announce the final Royals-Scarlets regular-season game on Saturday. He'll cap his announcing duties with a Great Falls at Scarlets doubleheader Sunday at Dehler beginning at 3 p.m.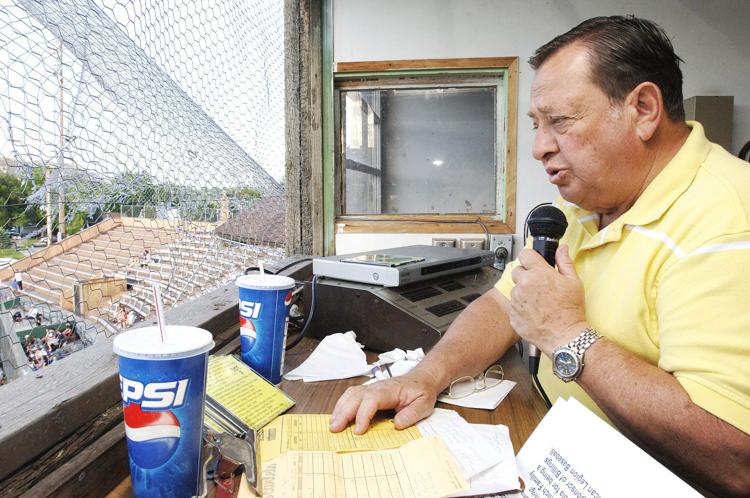 Doug and Raedene Stovall have been attending Legion games in Billings since their son Kobey began playing in 1988 with the Blue Jays, the year Sandler started volunteering when his son David was also on the Blue Jays. After Kobey finished playing for the Royals, the Stovalls had another son, Korey, play for the Royals and now their grandson and Kobey's son, Payton, plays for the Scarlets. Both Doug and Raedene remember selling Christmas trees with Sandler as a booster club fundraiser when their boys played.
"We are going to miss hearing his voice there," Raedene Stovall said. "Every time we go in, we go 'Bob is still announcing.' He is always very friendly and takes time to stop and visit with you. He's just a baseball person."
For Kobey Stovall, Sandler's streak is "amazing." Stovall didn't compare him to Yankees legend Lou Gehrig, whose durability endeared him to New York fans and earned him the nickname the Iron Horse, but he easily could have.
"It's pretty amazing he's done it this long," Kobey Stovall said. "It's kind of cool that's all you heard was Bob Sandler when I came into Cobb Field and played and to still hear him, it's pretty amazing."
Doug Stovall recalled working with Sandler at garage sales to raise money for the program and said Sandler traveled to most of his son David's games to support the team. Doug said Sandler is a baseball icon in the Magic City.
"Everybody recognizes his voice," Doug Stovall said. "It's kind of like the famous Cubs announcer. He's our Harry Caray of Billings Legion. His voice is so distinct, it's unbelievable.
"He's one of the greatest guys around Legion baseball as far as I'm concerned. Anytime anybody asked him to do anything for Legion baseball, he never turned them down when they needed help."
Sandler's tales
The Yankees, Dodgers and Giants all played baseball in New York City during Sandler's childhood and occasionally Sandler would catch his beloved Yankees at the Stadium and watch the Giants at the Polo Grounds.
"I'd watch Mantle and Berra and all the Yankees and I'd go one stop on the subway and go see Willie Mays (and the Giants)," said the lifelong Yankees fan. " From Yankee Stadium you could see the Polo Grounds across the Harlem River."
While the Dodgers played in Brooklyn at Ebbets Field, Sandler did not make it there often, instead watching their games on a black-and-white TV.
"That was a trip across the world for us on the subway," said Sandler referencing the 90-minute trip from his home.
In between watching games, Sandler spent many hours playing organized and sandlot baseball throughout the Bronx.
"Baseball was my life," said Sandler, 76. "That was the thing I dreamed of morning, noon and night."
Sandler is a witty man and quick with the jokes. The attitude served him well working for School District 2, which he retired from in 2002 after 35 years as an English teacher. He was a "Skyview original," teaching at the Lincoln Center and moving to the new campus when the Skyview building opened in 1987. Since 2004, he was worked for Homebound, a program offered by District 2, where he works with students who are too sick to go to class at their homes.
He came to Billings to play baseball at Rocky Mountain College, where he was an outfielder under famed coach Herb Klindt.
Friend of Legion baseball
Jeff Ballard has spent the last 16 years as chairman of the BALB program. He said as a Dave McNally Friend of American Legion Baseball Award winner, Sandler has a lifetime pass to attend games and he knows Sandler won't be a stranger to the ballpark.
"Everybody knows him and I'm sure he'll walk right in," said Ballard. "It's well earned. I'm sure he'll still have a presence, but now he can come in as a fan and not have to work.
"He's always been there and done so many things and provided so much for the program. It's been great to have him. I don't feel like I have to say goodbye because he'll still be around."
Ballard acknowledged Sandler is a "jack of all trades," at the ballpark. While his role is announcer now, Ballard said Sandler was also the general manager of the program and has been involved on the fundraising side. He added that most of Sandler's time with the program has been on a volunteer basis.
"What sticks out about him is his passion for the program and his desire to be involved for decades," said Ballard. "He's always loved the Legion program and seeing the kids play and he believes in what it stands for and he has devoted his time forever."
Royals coach Bryan Benjamin has known Sandler since he was 16 years old. Benjamin played Legion baseball on the Blue Jays and Royals with Sandler's son, David. Sandler was also Benjamin's teacher at Skyview.
"When we were on the Blue Jays and Royals, Bob did everything," Benjamin recalled. "Bob drove the bus, he washed our uniforms, he kept score and he announced games. He set up hotels and he set up where we ate. He did a lot."
Over the years, Sandler was instrumental on game day. When the games where still played at Cobb Field, before it was torn down and replaced by Dehler Park, he readied the baseballs for umpires, turned the ballpark lights on when needed, and turned score sheets into the media when the games were done. His youngest son, Scott, helped him countless times during those years. Bob and Scott would carry the PA system, score sheets, and everything else needed to announce a game, up and down the old wooden staircase leading to the press box at Cobb. Many times the two of them were the first ones at the park and the last to leave.
"When I played Bob did everything," Kobey Stovall said. "He was on every trip in the summer. He was the guy always there making sure everything went right. He even drove the bus a few times. He was always there and the last one at the stadium. He was always running around doing something constantly. He was getting the batting orders and making sure everything was organized with the coaches. He even arranged motel rooms and it seemed like he was everywhere."
Benjamin said when his son Josh played for the Royals, he would volunteer in the press box and became reacquainted with Sandler. It was then that all those memories of Sandler's contributions came flooding back to him.
Benjamin also noted that Sandler used to be in charge of the annual BALB tourney tourney held in late June. When he began the post, it was an eight-team field. Over the years the tournament grew and ranged from 16 to 24 teams over Sandler's 18 years as tourney director.
"Just for his consistency. Bob has always been there all those years," said Benjamin of what comes to his mind when thinking of Sandler. "I hope people don't take what he's done for granted and the work he's done for granted. It's a lot of work and time."
'It was time'
While Sandler said it is hard to close this chapter in his life, he said he'll still find time to go to the ballpark. He's even offered to act as a substitute announcer if the need arises. Sandler will try to go on more walks and he will now get to watch Yankees games live instead of recording them. He'll also continue to visit New York every summer to visit a brother and sister and take in a game or two.
"I just figured it was time," said Sandler of his decision to retire. "The health problems I had it was getting harder and harder to sit that long. I just thought it was the right time to step out. I wanted to walk off the field rather than being carried out. I didn't want to die in the position. It was hard. I'll miss it terribly.
"I've thought about it ahead and told them how difficult this is for me and I still want them to call me if they need help. I can't get it out of my head. It's too much a part of my life."
Sandler will always have his treasured memories of the past 30 years working with the BALB. He enjoyed working with former Scarlets coach Dennis Maggert and the late Royals coach Ed Bayne, many parents and umpires.
"Over the years I saw a lot of boys enter the program and I saw a lot of young men leave the program," he said. "It wasn't only baseball, the kids learned respect, being good citizens, being good students and being respectful young men. They learned a lot in the program and I enjoyed that."
While Mantle and Berra made their mark in the Big Apple, Sandler made his mark in the Magic City.