MISSOULA — Cesar Garcia and the Missoula Osprey have a lot of extra incentive to win at home this week.
They're pitted against the best team in the Pioneer League, the Idaho Falls Chukars. A team that enjoyed its most impressive June since adopting the nickname Chukars in 2004, winning 12 of 13 games.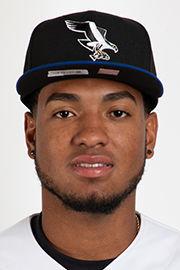 Plus there's that bad memory from two weeks ago when the O's suffered their most exasperating loss in Idaho Falls. Missoula reliever Mailon Arroyo took a two-run lead into the bottom of the ninth, struck out three batters in a row, then took the loss because a dropped third strike on the third strikeout sparked a rally.
"We gotta beat them," said Garcia, whose team lost to the Chukars for the fourth time, 6-4, Monday at Ogren-Allegiance Park. "We gotta get as many of these (home) games as we can because we need them.
"We want to take over first place. The way they won last time we played them (in Idaho Falls), we had 17 hits and they were still able to take the game away from us with eight hits ..."
Yeah, it's hard to know what else to say about that. Lately Garcia has been doing his talking with his bat, going 5 for 13 with eight RBIs in a weekend series at Billings.
"I made a few adjustments and I'm seeing the ball well," said the second-year Osprey, who plays second and third base. "Sometimes it's just a little tweak. Not much to it.
"Now I'm feeling more comfortable at the plate. I struggled a little bit the first few games but I feel better now."
Garcia, who has boosted his batting average to .244, loves playing in front of the hometown faithful in Missoula. He'd like nothing more than a series win over Idaho Falls before the O's hit the road for five games.
"Our fans, they really get behind us," he offered.
Austin Pope started on the mound for Missoula. He arrived in town this past weekend, a 15th-round draft pick who played his college ball at Fairfield University in Connecticut.
The 20-year-old pitcher struck out two in his only inning of work. He then gave way to Edgar Martinez, who held the Chukars scoreless for three innings before running into trouble.
Missoula took a 2-0 lead into the fifth thanks to a Jose Reyes RBI single and a Dom Canzone RBI double, then saw the lead cut in half on a Michael Emodi solo homer. Isaiah Henry later tied the game at 2-2, sprinting home from third on a wild pitch by Martinez.
Liu Fuenmayer came on with runners on second and third and two outs and fell victim to a Brady McConnell 2-RBI single. Missoula landed its first two hitters on base in the bottom half but failed to capitalize.
Canzone, an 8th-round draft pick who played for Ohio State before joining the O's last week, knotted the game at 4-4 in the sixth inning with a two-run home run to right field. Tristen Carranza also scored on the play after he was hit by a pitch.
Missoula (7-9) had the potential go-ahead run picked off second in the seventh. The Chukars (13-1) took control with two runs in the eighth off Fuenmayer. The first scored on a sacrifice fly and the second on an Emodi RBI single.
Missoula threatened with runners on second and third and two outs in the bottom half. But Canzone grounded out to Aplin at first base, ending the threat.
Reyes reached on a one-out bunt single for Missoula in the ninth. He darted to third on an errant pick-off throw by reliever Derrick Adams, who then proceeded to walk Cam Coursey. That was before Kevin Watson struck out looking and Axel Andueza flew out to right field to end the game.
Notes: Luvin Valbuena was impressive behind the plate for Missoula. He threw out three runners trying to steal second base ... The Chukars are riding a four-game win streak ... Missoula has lost its last two games but can still win its best-of-3 home series against Idaho Falls with victories on Tuesday and Wednesday. The O's will then head to Idaho Falls for games on Thursday and Friday.