BOISE, Idaho — Gabi Harrington is Montana's secret weapon for the Big Sky Conference women's basketball tournament.
Not just because the redshirt sophomore has blossomed into a scoring and rebounding force. This actually goes deeper.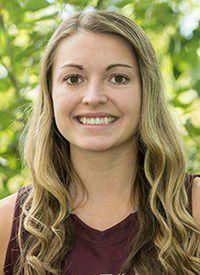 Harrington hails from Boise, Idaho. She'll play her first college game in her hometown Monday and she alone will go a long way toward giving Montana a homecourt advantage, if you will, at CenturyLink Arena.
"I have a lot of people coming," she said of a first-round test against Southern Utah at 5:30 p.m. "I'm so glad my family will finally be able to see me play.
"It's so hard for them to get to Missoula. The road over Lolo Pass is so difficult, especially during basketball season. For family I was only given 15 tickets, but I gave them over 50 names (will-call list), and that's just family. All my friends will be home for spring break too, so they'll come. Then people that I played sports with in high school, a lot of their parents are going."
And why is friendly fan noise such a big deal?
Consider the Lady Griz were 10-4 and posted their biggest league wins in Missoula this winter, including victories over regular-season champ Idaho and powerhouse contenders Idaho State and Portland State. On the road, Montana has lost six in a row and holds a record of 3-11.
Montana was expected to attract a decent crowd to Boise even without a player connection to the city of 227,000. With Harrington's history as a standout basketball player and shortstop at Boise's Bishop Kelly High, the number of Lady Griz fans will likely double.
Yet, it's still not quite the same as playing in Missoula. Montana point guard McKenzie Johnston cautioned that there's a difference between Dahlberg Arena and, well, anywhere else.
"We'll have fans down there and that's always helpful, but being on a neutral court, we have to bring our own energy," she said.
"We just need to play like ourselves. That game at Southern Utah (10 days ago), that wasn't us. That was an uncharacteristic game. We need to play our game and if we do we should be fine."
Southern Utah handed the Lady Griz one of their most disappointing losses on March 2. Montana's players and coaches will tell you that game was an anomaly, with the most consistent shooter in the Big Sky, Lady Griz senior post Jace Henderson, going 3 for 15 from the field.
"First time around it probably wasn't either of our true teams because they didn't have their point guard (Rebecca Cardenas, concussion) and neither did we (Johnston, wedding)," UM coach Shannon Schweyen said of a New Year's Eve blowout win in Missoula.
"Last time down there, Jace (Henderson) just hasn't had many games like that. They were all pretty good shots that she took and it was just one of those nights where it just didn't go for her."
Based on the way they've been playing lately, the Lady Griz (14-15) have reason to believe they can make a run in Boise. They beat Portland State's senior-dominated lineup on Thursday and followed up with a convincing win over Sacramento State Saturday.
It marked a turnaround from early last week when the Lady Griz suffered their fourth straight loss at Northern Arizona.
"I thought we played with more urgency," Schweyen said. "We've been lacking that. We've been lacking focus.
"(Saturday) we talked about there shouldn't be a time where we don't know who we have and they're scoring in transition. That kind of slipped these last 4-5 games where we had way too many sequences where people didn't know who they had."
According to Harrington, Montana's about-face late last week was partially due to Henderson addressing the team in the middle of the week.
"After the Northern Arizona (loss Monday), Jace just got everyone together and was like, 'We need to be more pumped up before games. We need to bring the energy,'" Harrington said. "That's what's really been helping us to stay dialed in on defense and be smart on offense."
Harrington said defense "is what killed us" in the loss at Southern Utah. The Thunderbirds hit 10 treys and shot 41.9 percent from the field in earning a regular-season split with the Lady Griz.
Since then, Southern Utah (7-22) has gone back into a funk. The Thunderbirds have lost nine of their last 10, including a home setback against Montana State last Monday and a loss at Northern Colorado Thursday in their regular-season finale.
Simply put, Montana should be fine Monday if it plays up to its potential. Its reward for a win over Southern Utah would be a Tuesday quarterfinal date with Northern Colorado, which swept the Lady Griz during the regular season.
But Tuesday is the last thing on Montana's mind. Right now the Lady Griz are enjoying their time in Boise. And Harrington has a few good ideas about where they should eat in her hometown.
"They better ask me," she joked. "I haven't been asked that yet.
"If we're going for steak, Barbacoa is the place. But they better ask."