MISSOULA — Keira Simonson is quick to deflect credit to everyone but herself.
It's all very admirable and endearing, but it needs to end. University of Montana sports fans need to know about this 21-year-old woman from the tiny Hi-line town of Loring, Montana.
For starters, she's about as Montana as you can get. A member of the Little Shell Tribe, she grew up riding horses. Now she's riding one to national prominence.
On Saturday night in Great Falls, Simonson was on the verge of winning the Big Sky Region as a barrel racer for the rodeo Grizzlies. Echoes of Rachel Myllymaki, who won a College National Finals Rodeo barrel racing buckle for Montana in 1997, are getting louder.
Just don't expect Simonson to do much crowing.
"Honestly I'm a little surprised," the senior said. "But going off the summer (Montana pro circuit), I kind of continued my momentum with being successful.
"The majority of it is my horse. His name is Diesel. We've had him since my freshman year. We bought him from Oklahoma and when we got him he wasn't seasoned to travelling and different scenarios and arenas. We had to grow together and it's been a long wait for everything to fall into place."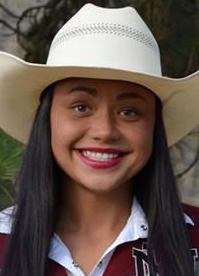 Simonson's feelgood story is one of family togetherness. Her 37-year-old brother, Buckshot Nelson, does all the hard work with Diesel during the week, where the two of them have formed a strong bond on the Hi-line.
Keira's dad was a team roper and her mom was raised on the horse racing track. She has a handful of older siblings, including sister Kiana, who was a barrel racer for the UM rodeo team up until last spring.
Kiana pushed her little sister, perhaps unwittingly, through good old-fashioned sibling rivalry.
"Last season she was in the top 5 (regionally) after the fall season," Keira noted. "For one, having her compete in the same event makes us both more competitive. You try to beat the other one. But at the same time, if we're competing together, if one isn't doing good we're cheering on the other one."
Prodded to elaborate on how she has improved as a racer, Keira dove head-first into the technical aspects of her discipline. She's developed a feel for when to "check" her horse and when to push him harder into a turn. She used the word "ratey," which has to do with a horse slowing down before the turn.
"Every run is different. It's knowing when to bump him and what he's going to do in each run," she shared. "Indoor and outdoor can be different. I like bigger runs. This spring season we've done better indoor so far. My horse is huge so it's very hard to even feel like you're running indoors, like he can't get to his full potential of speed."
Simonson is no stranger to the big stage. She has competed in the Indian National Finals Rodeo in Las Vegas and soon she will start her third season on the Montana pro circuit.
But for now, it's all about the College National Finals Rodeo early next month in Casper, Wyoming. Win or lose, the Whitewater grad has enjoyed every minute of her time in the sport of rodeo.
"Being a member of the Montana team, I like how connected we are, so you know everybody," said the exercise science major, who hopes to be an occupational therapist someday. "And I've gotten to know a lot more Native people from going to Indian rodeos. As many years as we've been doing them, a lot of people know you."
Though she's never considered herself a role model for Montana's Native American community, Simonson certainly fits the bill. In fact, she's a pretty good example for anyone on how to act when you're on the top of the heap.