MISSOULA  — Julia Ronney was singing along with a country song as she and her teammates warmed up for battle Friday.
Her older sister, Brooke, will tell you Julia didn't used to like country. Somehow it didn't seem to fit growing up in San Diego.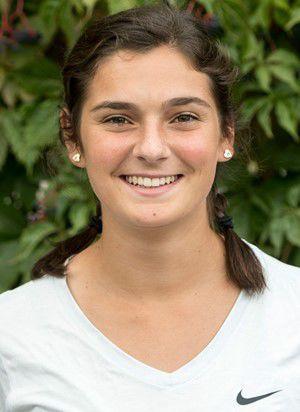 It fits just fine in Ronney's adopted home of Missoula. A home she has quickly embraced, from her love of the mountains and nature to her lofty spot as the No. 1 player on a resurgent Grizzly women's tennis team.
"There's just something about Missoula," the sophomore said after posting her fifth straight Big Sky Conference singles win in a meet against Southern Utah at the Peak Racquet Club.
"I mean, it's so different here and I wanted a different experience. I wanted some diversity. (Montana coach) Steve (Ascher) is an amazing coach and I could just tell from my first visit. I loved the girls on the team, so it felt like I belonged here. I love the outdoors. I love hiking."
Ascher and his team no doubt love having Ronney in River City. The last time the coach had a ringer at No. 1 — Oregon transfer Haley Driver — the Grizzlies earned a breakthrough Big Sky championship in 2014. They also came within a couple of points of their first NCAA Tournament berth.
With Ronney as an anchor, the Grizzles are once again a force to be reckoned with in the Big Sky. They've lost two 4-3 heartbreakers in a row to league foes, including Friday's home setback at the hands of Southern Utah, but something tells you they could be a tough out in the league tournament in late April. 
"We know we can beat any of these teams and it just comes down to a matter of doing it," said Ronney, the reigning Big Sky Player of the Week.
"Every time you go out on the court the goal is to learn and grow. I definitely think that from all these losses that are super close, that will be the fire we need to push us to keep getting better and better."
Ronney steamrolled over Southern Utah senior Ghita Nassik at No. 1 Friday afternoon, 6-2, 6-2. She and doubles partner Bianca Bostrom also earned a convincing 6-3 win at No. 1, helping the Grizzlies take a 1-0 edge heading into singles.
Montana (3-2 in league play) took the Thunderbirds (3-0 in Big Sky) down to the wire in the team competition. Senior Nathalie Joanlanne turned in a gutsy performance at No. 4 singles, outlasting Southern Utah's Daniela Cozzi, 7-5, 1-6, 7-6 (5), to give the Grizzlies a 3-2 lead with two singles matches yet to be completed.
Unfortunately for the hosts, freshman Caudia Reguant dropped a three-setter at No. 6 and senior Lidia Dukic lost in three sets at No. 5.
Ronney says her team will learn from the experience, much in the same way it evolved following a brutal pre-conference slate that included meets against Michigan State, Washington State, Minnesota, Colorado and Oregon.
"I looked at those as really fun matches to get better and learn from," she said of winter duals against power-5 conference foes. "They're such great players.
"We know we may not come through with a win, but if we can come through with some lessons, that's all we really needed. It helped us in growing as players and then coming to the Big Sky schools, which are not necessarily as tough, it definitely prepared us."
One thing is for certain: Ronney will enjoy her 20th birthday Saturday. She was thrilled to have her 24-year-old sister Brooke in town for Friday's meet. Together they plan on enjoying the outdoors with a little hiking this weekend.
"I was super happy to have her here," she said. "My mom was there watching me last weekend (in California) and it makes all the difference having them there. Just knowing you have your family support, having them there makes it a special feeling.
"My whole family played tennis and I was the youngest by far. That was definitely my goal to beat my big sisters. I didn't happen but it definitely gave me my competitive spirit."
Friday's meet marked Montana's third in six days. The team will take a well-deserved break now before taking on unbeaten Big Sky frontrunner Idaho (5-0) on Friday in Moscow, Idaho.