MISSOULA — She didn't get a minute's rest all game and she was wearing an ice pack on her knee afterwards.
Still, you got the feeling Montana's 40-minute woman, McKenzie Johnston, was feeling no pain late Saturday afternoon. She was much too happy.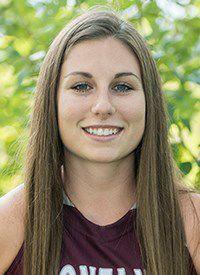 Johnston and the rest of the Lady Griz starting lineup turned in a gritty, poised performance in upsetting Big Sky Conference powerhouse Idaho State, 60-59, at Dahlberg Arena. The win was just the shot in the arm Montana was looking for after a 1-3 start to February.
"It's a big confidence booster," said Johnston, who posted a double-double with 12 points, 11 rebounds and five steals. "They're a very intense team and they're strong girls and it's going to be physical the whole game.
"Any win now is big, especially against a team above us." 
The loss was costly for the Bengals, who fell from second place into a tie with Northern Colorado for third in the league standings with a record of 11-4 (16-8 overall). Montana (12-11, 7-7) stayed a half-game behind Montana State (8-7) in the battle to secure fifth place, thereby earning a first-round bye in next month's conference tournament.
Without an experienced player on her bench, Montana coach Shannon Schweyen has to make tough substitution decisions in tight games. She rode her starting lineup the entire second half Saturday and it proved to be just enough against an Idaho State team that made critical blunders in the final 6 seconds.
The first blunder came with 5.2 seconds left when the Bengals' top scorer, Saylair Grandon, stepped to the foul line with her team trailing 58-56. She missed her first free throw and slumped her shoulders in disappointment, knowing what it cost her team. She was instructed to miss the second attempt, thereby giving her teammates a chance for a rebound and putback.
Her flat attempt to miss found its way in, forcing the Bengals to foul Emma Stockholm with 4.5 ticks left. Stockholm made both foul shots to give her team a 60-57 lead. Idaho State rushed the ball up the floor and senior guard Madison Hinrichs inexplicably drove in for a buzzer-beating layup with her team needing a 3-point shot.
Game over. Montana 60, Idaho State 59.
"I said to myself, 'If these are the free throws we need to go in, these are the ones I need to make," Stockholm said. "They went in, so I was all happy about that.
"Being back in Dahlberg Arena is just the best atmosphere anyone can play in. The fans get us going and we're so lucky to have them."
Montana won despite shooting 34.5 percent from the floor (20 for 58). The Lady Griz were especially cold in the second quarter, squandering a 13-point lead with 1-for-17 shooting.
Key to the outcome was Montana's 19-7 edge in points from the free-throw line. The Lady Griz also did a good job taking care of the ball, with 10 turnovers to Idaho State's 15.
"We got off to a great start, got lots of transition," Schweyen said of her team's 13-point lead in the first frame, "then the second quarter the basket tightened up.
"We had two threes that rattled out. It wasn't that we didn't get good shots. It was just that we had a couple miss and we weren't getting any put-backs and they were eventually going to get going scoring. But I was just so encouraged by how much better we could be this time around against them."
Four of Montana's five starters played 35-plus minutes. The exception was Stockholm at 33 minutes. Gabi Harrington paced the hosts with 18 points to go with her nine rebounds. Stockholm pitched in with 12 points and six rebounds, and Jace Hendersdon, who drew a lot on attention in the paint, recorded a game-high five assists.
Schweyen is proud of the way her team has responded with two home wins coming off a brutal 1-4 road stint. The third-year head coach did her best to keep her team's spirits up when things weren't going so well.
"I wouldn't want to wish that five-game road trip on anyone," she said. "When I looked at that initially, they were all tough ones.
"I just kept trying to remind my staff, and remind our players, nobody would have coasted through that little series. We need to keep our heads up. The way the league is now, it could be anybody getting that fifth spot."