MISSOULA — Anthony Flor has a handshake that'll bring you to your knees if you're not ready.
"He shows up at my office, he's like 6-foot-3, 205 pounds, and he shakes my hand and about breaks it," University of Montana rodeo coach Kory Mytty marveled. "He had called me back in January and said, 'Hey, I want to be a cowboy.'"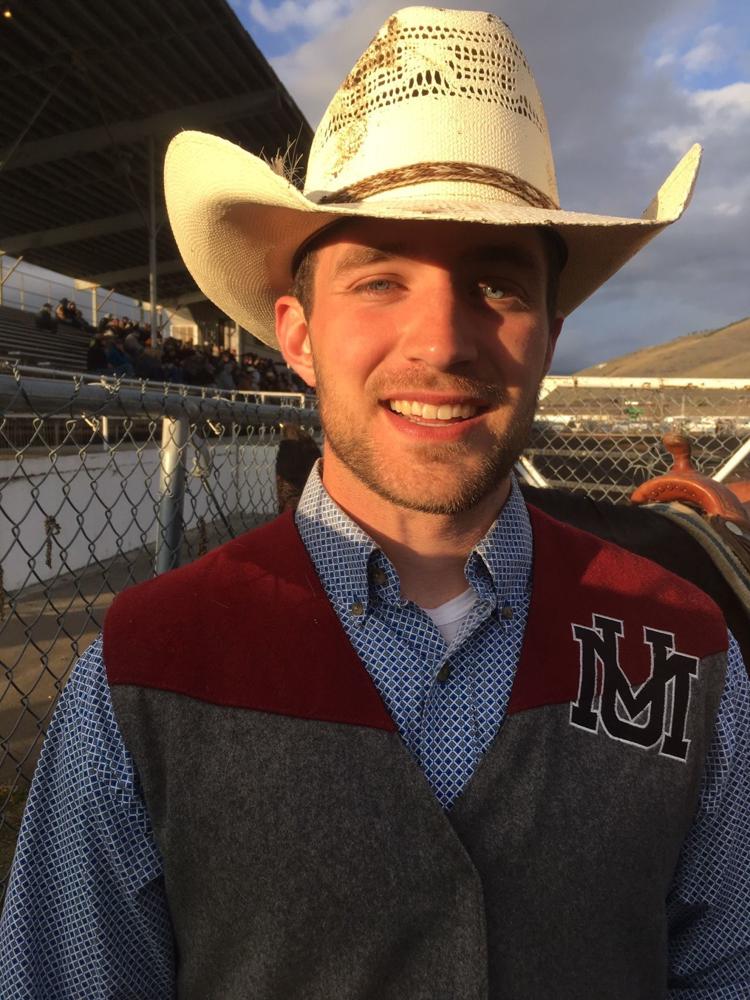 For a young man who grew up playing football, basketball and lacrosse in suburban Seattle, rodeo has been an exciting new world. Flor initially wanted to be a bull rider, then took Mytty's advice and opted for steer wrestling.
Last weekend he drew a good steer and won the long round at his first college rodeo in Miles City, eventually settling for fourth in the average. He wasn't so fortunate Friday night in his first home appearance, failing to register a time in the University of Montana Spring Rodeo.
But Flor is just getting started.
"I was a little slow on my start tonight," he said under threatening skies at the Missoula County Fairgrounds. "The hardest part for me is there's a lot of mental pieces and I haven't really got it down to muscle memory yet. When you're going so fast, you don't have that much time to think. But it's fun."
Fun, in part, because the Grizzly rodeo team has welcomed the self-described "city boy" with open arms.
"The guys on the team have been amazing showing me the ropes," he said. "They understand what I'm going through and taking me through the baby steps has helped me a lot. Coach (Mytty) has been great. It's difficult for sure, but I like to compete and I'm figuring it out."
Just as Flor was finishing his interview Friday, former Grizzly calf roper Zanen Pitts approached him, offering heartfelt words of encouragement. The popular coach of the Arlee boys basketball team knows from personal experience what it's like to tackle rodeo as a newcomer in college, competing for UM Western for a while before becoming a Griz.
For Flor, Pitts' treatment was typical of his experience with the rodeo community.
"There's guys from Bozeman and everywhere that after each one have been like, 'Hey, great run,'" Flor said. "It's a cool community. We're all competing against each other but everybody is just wishing the best for everybody."
Flor was one of three Grizzlies competing in steer wrestling Friday. Teammate Kris Anderson of Hamilton sits in second place heading into Saturday's action with a time of 6.8 seconds. Montana State's Brady Boyce had the best time Friday (5.6 seconds).
One of the best-known competitors on the Montana team is Tyler Turco. He suffered a groin injury that required surgery recently, but he's back in action and on Friday scored 61 in the saddle bronc competition. That was good enough for second place.
Montana's most successful rodeo competitor this season has been barrel racer Keira Simonson, who ranks No. 1 in the Big Sky Region and No. 9 in the nation with 677 points. She will compete Saturday morning in slack and will likely compete again Saturday night.
"She's a senior and she's dominating the region, close to double the points of her closest competitor," Mytty said. "She's been rodeo-ing her whole life. Her sister had pretty good success for us. She's got a good horse and she goes to pro rodeos. She has qualified for the Indian National Finals Rodeo."