BUTTE — This past fall, seniors Luke Jensen and Seth Gardner both donned maroon and silver as Butte Central's football team battled through a slew of critical injuries to come within one win of clinching a berth in the Class A playoffs.
When the two meet on the gridiron next season, they'll do so as college football players, but from opposing sidelines. Jensen will then be wearing purple and gold, Gardner green and copper.
On Friday morning, with their families and the entire student body crowded into the rotunda of Butte Central High School, the pair made their decisions official with Jensen signing a letter of intent to join Carroll College's football program while Gardner inked his name to stay close to home and suit up for Montana Tech with the Orediggers' coaching staff in attendance.
The 6-foot, 185-pound Jensen — who was a jack of all trades on offense, defense and special teams for Central after transferring from Anaconda for his senior year — is slated to develop into a wide receiver under Carroll's first-year head coach Troy Purcell.
Gardner, a 6-foot-3, 290-pound All-Conference lineman, is set to become a guard for Chuck Morrell's squad at Tech.
"It's a real surreal feeling," Jensen said of officially becoming a college athlete. "I just felt the love and support from everyone around here. It's incredible, it's hard to say the exact words I'm feeling but this is an awesome experience."
"It's a big family here at Central," echoed Gardner. "It felt like everyone was coming together, being cool and just having fun."
When asked how they felt about their high school camaraderie soon transitioning into a college rivalry, the pair had conflicting emotions.
"We'll always be friends," Jensen, fittingly wearing a deep purple tie, said. "That rivalry's going to live on for four or five more years."
"We were friends, but we're not friends anymore," joked Gardner, who soon after attempted to present Jensen with a "gift" in the form of some Oredigger merchandise.
For Jensen, his decision to head north and play for the Saints was driven by confidence in what Purcell, who took the reins after Mike Van Diest retired after 20 seasons at the helm, is going to build at Carroll.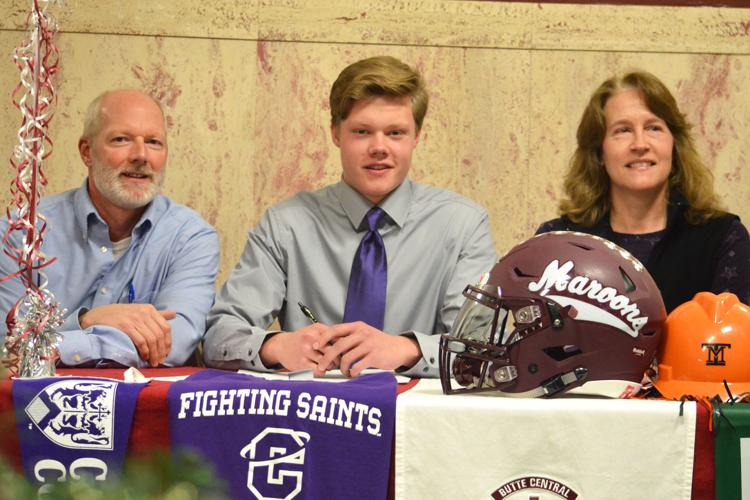 "Meeting with coach (Troy) Purcell and coach (Alex) Kastens, I just really clicked with them and wanted to play under those guys," Jensen said. "I feel like they've got something special going on at Carroll and they're going to go back to that winning tradition. It just felt right."
He was also motivated by the long line of Butte Central staff who are Carroll alumni including Central president and football coach Don Peoples Jr. and Butte Central High principal J.P. Williams, who played football for the Saints.
"It's a legacy," Jensen said. "I want to be a part of that."
With Gardner joining Tech that morning and teammate Clay Fisher signing with the Orediggers last week, committing to Carroll wasn't an easy choice for Jensen.
"It was a tough decision especially since (Gardner) and (Fisher) were going to Tech," Jensen said. "I talked it over with my family a lot. Spoke with a lot of alumni from both Tech and Carroll. I decided that Carroll would definitely be the best fit for me."
Gardner's motivation was propelled by pride in playing for his hometown college and joining something of a brotherhood at Tech.
"I really liked all the players and I love the coaches, they're awesome guys," Gardner said. "They're always there for you."