Sometimes the best story is the one you stumble across. A brief mention of a score from a certain cowboy named Connor Wines at a Deer Lodge rodeo in an old Montana Standard story led me to bring it up to him one day at a Montana Tech football practice.
What followed is a story that I truly believe is as uniquely Montanan as it gets. -- Jordan Hansen
---
PRAY — All things considered, Connor Wines is probably more comfortable in a cowboy hat than a football helmet.
And that's saying something, considering the fifth-year Montana Tech outside linebacker is one of the best players in the Frontier Conference. He's dashed around backfields for years, frustrating opposing offensive coordinators and playing the game with a cool ease.
But turn off the pothole-filled gravel road onto his 20-acre family homestead outside of Pray, and that different reality begins to take shape.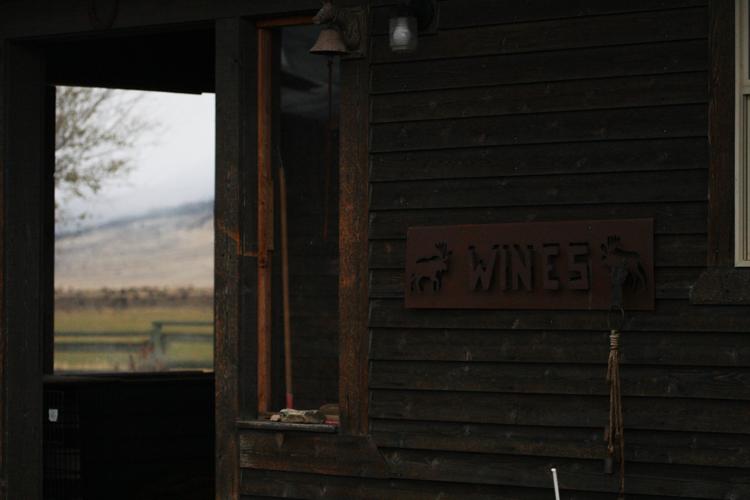 An office and a shop sit on the left side of the property. A barn and the fenced paddock where Wines learned to rope are a bit farther on down the path. A modern but faintly rustic house is to the right, with mounted hunting trophies decorating their living room and well-placed windows showcasing the awe-inspiring mountains framing the Paradise Valley.
Much closer than the Absaroka Range, however, is a pasture with a number of horses. It has witnessed a few wolves (one once chased one of the family's dogs on a memorable morning), numerous elk, deer and the occasional bear.
Mostly, though, it's just the horses Connor finds time to ride more often than not when he's home.
"He's been on a horse since he could walk," Wally Wines, his father, said. "Pretty hard to keep him off of them."
***
Livestock have always been a part of the Wines family's way of life.
Connor's mom, Nicole, is from a ranching family in North Dakota. Wally hails from outside a tiny town in northwestern Nevada. Nicole started a wildly successful cattle brokering business in 1998 and sells cattle throughout several states.
Wally, meanwhile, worked across the country as a farrier before running horses and mules the National Park Service used in Yellowstone National Park. The connections hardly stop there: two of Wally's brothers, Ira and Zane, have competed on the PRCA circuit.
Mix two parents' livelihood with relatives competing in professional rodeo and it's pretty clear why Connor would always run around roping the family's animals (cows, horses, dogs) when he was young. As he improved he started calf and team roping.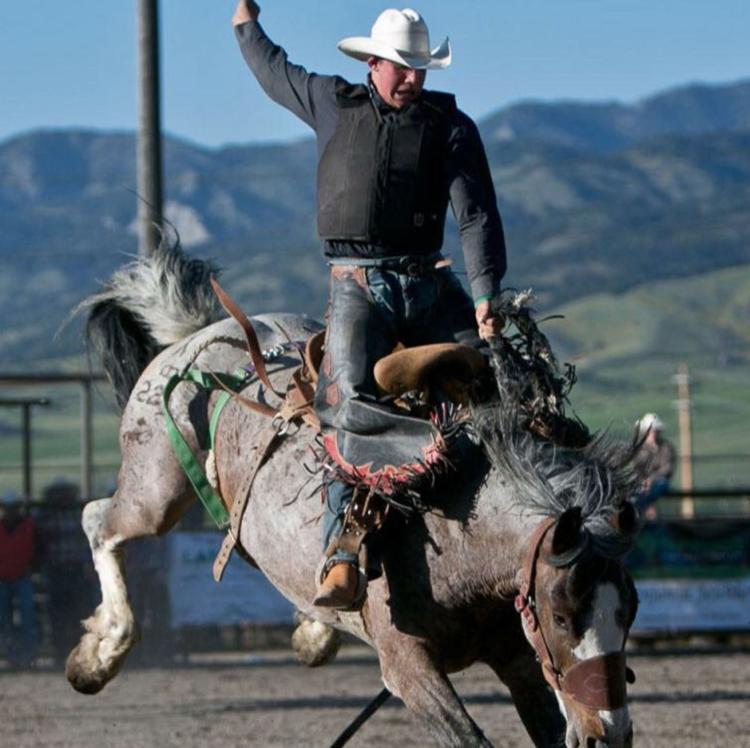 "A lot of it was independent, we had our own arena right there," said Connor, who stands 6-foot-2 and is built like a boulder. "My dad and I would go every night and practice."
For a time though, it appeared any athletic or rodeo career might be over before it could ever begin.
When Connor was 4, his mom picked him up from Halloween trick-or-treating and made a terrifying discovery. His heartbeat was racing far beyond normal.
She rushed him to the emergency room in Livingston and he eventually went to the Mayo Clinic in Rochester, Minnesota.
Connor was diagnosed with tachycardia, caused by an extra muscle in his heart. He had two surgeries at Seattle Children's Hospital, the first unsuccessful.
During the second surgery, doctors were finally able to blade off the extra bit of muscle.
The issue hasn't popped up since and there's been no need to continue medication. It wasn't long at all before Connor was back on his horse and doing the things he loved most.
As Connor's interest in rodeo grew, he tried a new event: saddle bronc. He had his first serious experience in eighth grade, when his dad took him to a saddle bronc school. Having been bucked off horses throughout his childhood, Connor wasn't afraid of the ground.
Even so, he was still a little nervous on his first day. By the second, he was hooked.
Practicing usually meant getting at least six people down to the Gardiner Rodeo Grounds, but he was nearly always able to round up some people to come help.
Wines quickly improved even more and started competing on the high school circuit. He twice finished second at the Montana High School State Rodeo and both times got a chance to compete at nationals in Rock Springs, Wyoming.
He loved it.
The backdrop of cowboys from across the United States, Canada and Australia made for some interesting days and eventful moments. He even was hustled once.
With some of his friends around a roping stall with a dummy where they could ante up for chances to beat each other, a 10-year-old with an older brother in the competition persuaded them to compete against them.
They didn't win.
"He's like, 'all right, throw in 20 bucks, let's go,' Connor said. "So we did and he ended up kicking our butts."
That particular story ends there, but his rodeo career certainly didn't. As one of the top young saddle bronc riders in the state, Connor started getting college rodeo coaches interested in his ability.
But they weren't the only ones. Football was beckoning as well.
***
A 45-minute drive south of the ranch, Gardiner High School sits right on the Yellowstone boundary and its football field is about 200 feet from a post marking the spot.
As a conditioning exercise, Bruin football players run up a hill and touch the post. Years of the drill have worn two distinct paths into the hillside that wildlife from the park will occasionally use as well.
The field bears their mark as elk and bison droppings routinely dot the landscape, but the players soldiered on. Wines was one of 12 players on the 8-Man team (Gardiner has since dropped to 6-Man) his freshman year and started from the first game. It was a dream come true. He'd grown up idolizing Gardiner's football players and dressed as one for 10 consecutive Halloweens.
Once Connor was on the varsity field, he was an immediate success, playing running back before injuries eventually forced him to quarterback. He also punted and played an outside linebacker/defensive end hybrid, rarely leaving the field.
Gardiner never made the playoffs while Connor was there, but it certainly wasn't for lack of trying.
"They got knocked on their ass a lot," Wally said. "They never quit, though."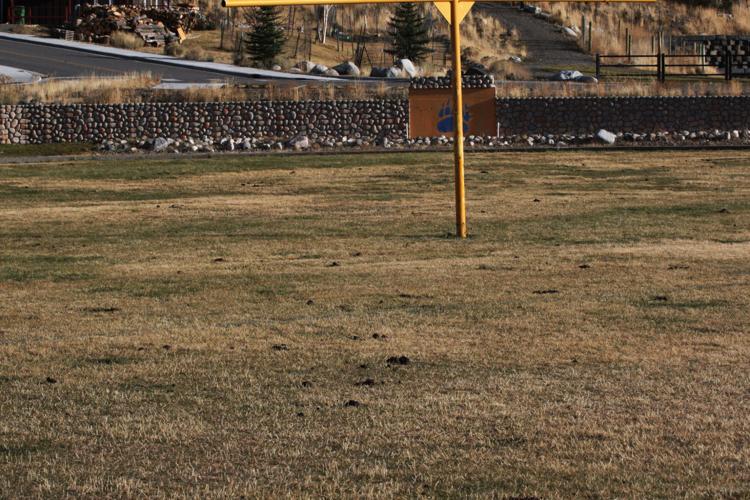 Connor was an all-stater in both football and basketball. He then realized he'd have a chance to play in college and started working on a highlight package.
Gardiner didn't video its games, so most of his highlights came from his mom standing on the sidelines with a camera. The final cut includes a massive six-point bull elk that was on the field at halftime —his mother still laughs about that — along with some highlight-reel plays from Connor.
With help from then basketball and football head coach Jordan Featherman, around 200 copies of the highlight tape were sent to colleges.
One was Washington State, which eventually offered him a walk-on spot. Connor didn't have the right high school credits to take the offer — still something of a sore spot — but was soon getting attention from Frontier Conference schools.
Montana Tech liked the film, and because his cousin had played there under former coach Bob Green, the Orediggers already had an inkling of who he was.
Still, it wasn't an easy decision.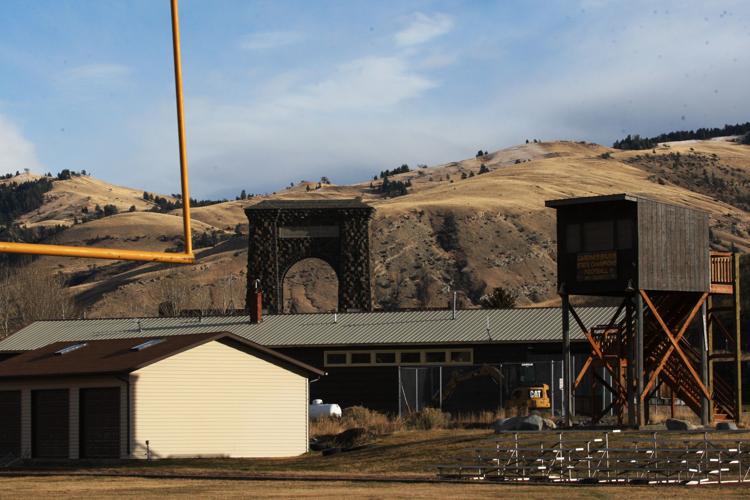 Connor had many friends at Montana Western, some on the rodeo team. He wanted to play football, however. The Bulldogs told him during a visit he had a chance to play quarterback, but he still balked at what they were telling him.
He liked the Orediggers' pitch — and head coach Chuck Morrell's bluntness.
Nevertheless, he pushed his decision to the 11th hour.
Finally, at a rodeo, Tech assistant coach and recruiting coordinator Doug Scheelman called him several times.
"Finally I answered and was like, 'Oh, coach how are ya?' and he was like, 'Hey, we need a decision', and I was kinda looking around," Connor said. "All my friends are going to Western or MSU and you know what, I don't know, it was kind of spontaneous thing, and I said, 'Yeah'."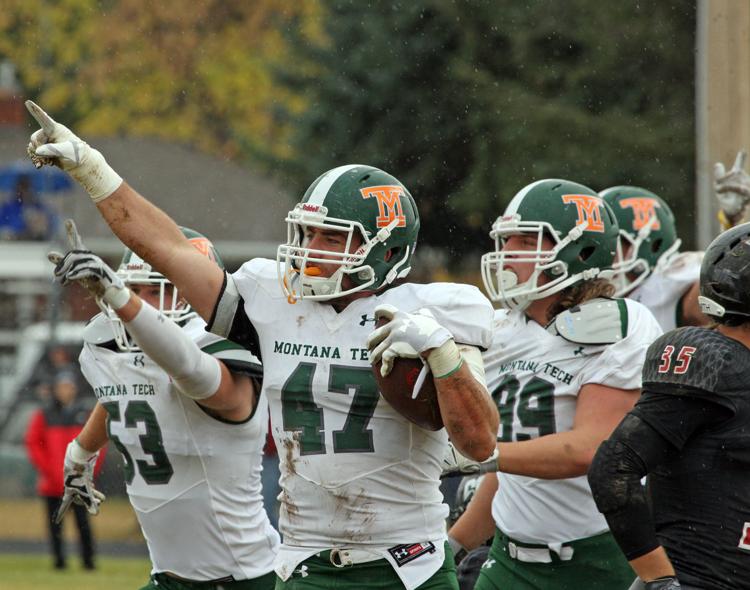 It's worked out well for both parties.
Since playing in his first game in 2015, Wines has racked up 139 tackles (28.5 for loss), 16.5 sacks, three fumble recoveries and an interception.
While the statistics are certainly impressive, his leadership has been even more important. As a fifth-year player, both players and coaches say they look to him when they need something done.
"When I need something to happen within the framework of the team or off the field, community-service piece, anything like that, he's just been amazing," Morrell said. "It's very meaningful to have that."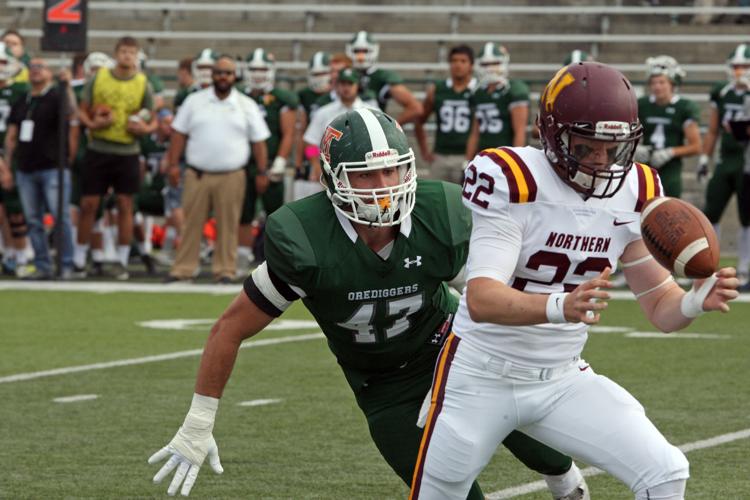 The camaraderie started during freshman year video game sessions in crowded dorm rooms and has carried on ever since. Tech's defensive unit seems to be one of the closest on the team and a number of lifelong relationships have been made.
"I hope my future wife has a lot of friends," Connor said. "Because I might have 20 best mans."
***
In all likelihood, the future eventually will mean taking over his mom's business.
He's pursuing a degree in Business Administration and plans to graduate this spring. He's mentioned several potential marketing opportunities, but the immediate future will likely put him back in the saddle.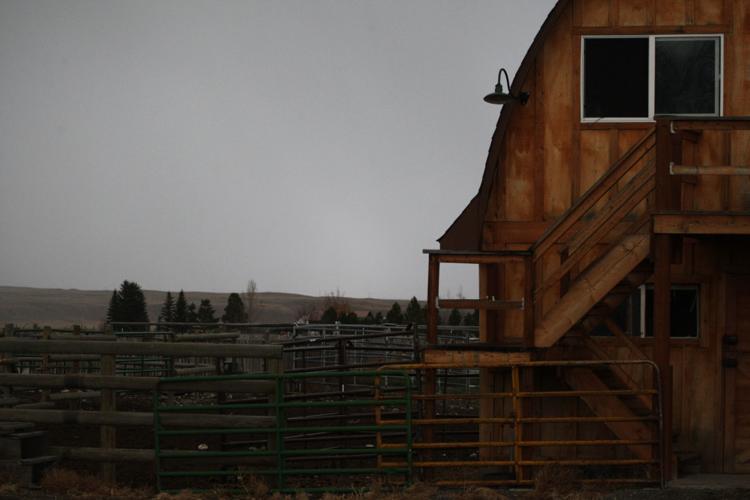 Along with his sister, Morgan, the cowboy-at-heart owns 160 head of cattle purchased in part with 4H money they'd saved up, along with a little help from his parents and a bank loan. He still comes back and helps with calving season, but will take more of a role once he's done with football.
Rodeo is calling, too. Connor will have to shed some of the weight he's gained in college to start riding again. He'll likely try to qualify for a pro circuit and give that part of his life another try after the long hiatus.
At least, that's what his father thinks he's going to do.
"I know he's going to go run off cowboying for a while," Wally said.