BUTTE — Mesa Williams still remembers playing five-on-four basketball in high school.
Even with the White Sulphur Springs coaches scrimmaging, there weren't quite enough players to fill out two sides of a team. But, like many things in the small towns and rural communities that dot Montana, the Hornets made it work.
It's one of the first things Mesa, now well into her sophomore year at Montana Tech, brings up when asked about growing up. Before beginning, she exhales quickly and then launches herself into a quick description of what life was like.
"It wasn't easy, I guess," she said. "I absolutely love the people and the town, I wouldn't trade growing up there for anything … You knew your classmates like family, I can probably still tell you all their birthdays."
Getting other students to go out for sports proved at times to be difficult. White Sulphur High School is a smaller Class C school, with an enrollment of only about 60 students.
Mesa readily admits her team wasn't particularly good, though she certainly was. Even so, like many deeply-buried prospects across Montana, it wasn't until late in the recruiting process that looks came her way. Oredigger head coach Carly Sanon had her at a Montana Tech elite camp and was impressed with what she saw.
Mesa is a smooth athlete, a solid shooter and a good leader. Sanon, being from a small Class C school herself, looked well past the Hornets record and saw her potential.
Mesa just had something to prove.
"We struggled, but that's kind of what builds you up, makes you compete harder," she says, finishing her explanation of White Sulphur. "It's what helped me be the best that I could be."
***
Until this past semester, Mesa never had anything under a 4.0 GPA in her life.
A straight-A student to the umpteenth degree, she's starting to get into her Applied Health and Safety Science classes and they've gotten a bit more difficult.
Mesa ended the class with an A-, getting full As in all her other classes.
"It really irked me," Mesa said with a bit of a laugh. "But, like, I just keep telling myself, yeah, that was okay, I'm getting used to it."
Getting good grades is one thing, but Mesa's quest for good grades goes far deeper than being one of the better students at Montana Tech. Each year, the Charles M. Bair Trust gives out eight full-ride scholarships — four to Wheatland County and four more to Meagher County.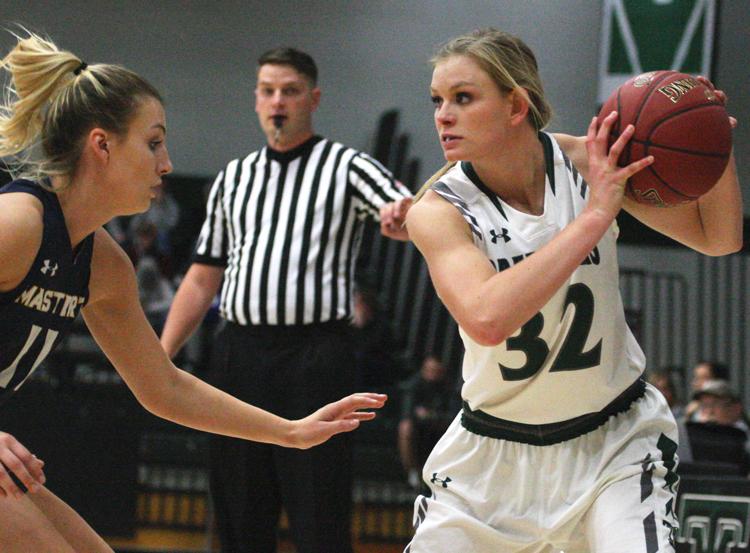 Bair, who came to Montana in 1883, ran one of the world's largest sheep ranches in his day (as well as numerous other ventures) and his trust is still able to fund the eight awards. The scholarship lasts eight semesters and pays for tuition, books and housing.
It's also not easy to get. Keeping on top of grades is important, as is community service and extra curricular activities.
Being at the top of the class is almost a necessity and Mesa was able to do just that at White Sulphur. She won the scholarship and was humbled to do so.
"It's a big opportunity and I've never heard of anything else like it," she said. "We're lucky to have that."
She's got big dreams, too. After finishing her time at Montana Tech, the plan is to get into a physical therapy school, at least for now. Entering just her fourth semester, there's still a lot of time to figure out exactly what she wants to do — one of the main reasons she picked Applied Health was the fact there will be plenty of options when she graduates.
"It's definitely a challenge," Mesa said. "This semester seemed like it was pretty hard. But basketball, being so busy, it helps you prioritize and when you have that free time, you just do your homework.
"It doesn't give you time to slack off and put it off."
***
As school has gotten more difficult, basketball has too.
Mesa saw action in all 30 games last year as a true freshman, totaling 467 minutes on the court. She scored six point per game and hit nearly half her 47 3-point attempts while hitting double-figures five times.
That includes a 23-point outburst in an early-season conference game against Lewis-Clark State, a game the Orediggers lost on a buzzer beater. Tech lost several players from last year's squad and Sanon has asked Mesa to become more of a scorer.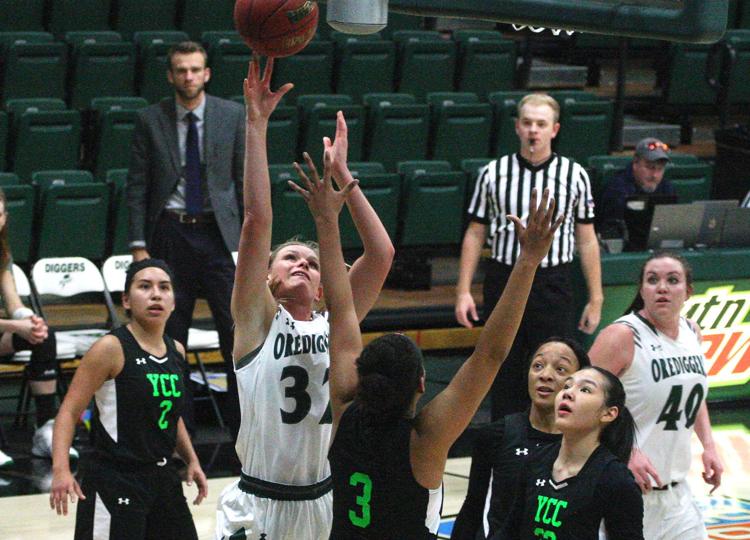 It also meant a position change. Mesa was a relatively undersized forward during the 2017-18 season, playing the majority of her minutes at the four spot. Now, Sanon has her as more of a two or a three — both seemingly interchangeable guard/small forward positions in the Oredigger offense.
"I have to be that person, if I don't score some points, then we might struggle some nights," Williams said. "Just knowing that I have to fill that spot and if I don't, I'm going to sit on the bench. That's a big thing. It's definitely gotten a little easier as we go, but it's a struggle every game. I have to tell myself, you have to do it, you have to push yourself."
In 12 games this year, Mesa has put up less than nine points twice. She had a career-high 30 (on 11-of-17 shooting) in an overtime win against Whitman, a game she played 39 minutes in. Her average of 14.9 points leads Tech. She has been efficient as well — she's shooting 46 percent from the field and 35.2 from behind the arc.
The aggressiveness is starting to come out, something that Sanon really saw for the first time in a late-December exhibition game against Montana. Mesa is more of a perimeter player than a slasher, but in order to handle the scoring load on her shoulders, she's had to adjust.
Facing the Griz, Sanon finally saw Mesa get angry and finish strong at the rim.
"Everybody on the bench was like 'yes' and that's what we're seeing, that confidence to get in there and just go hard and go up," Sanon said. "She'll kind of shy away from contact a little bit sometimes. But to see that against those Division I players it was like, 'Oh my gosh, she can be so good if she really works on that.'"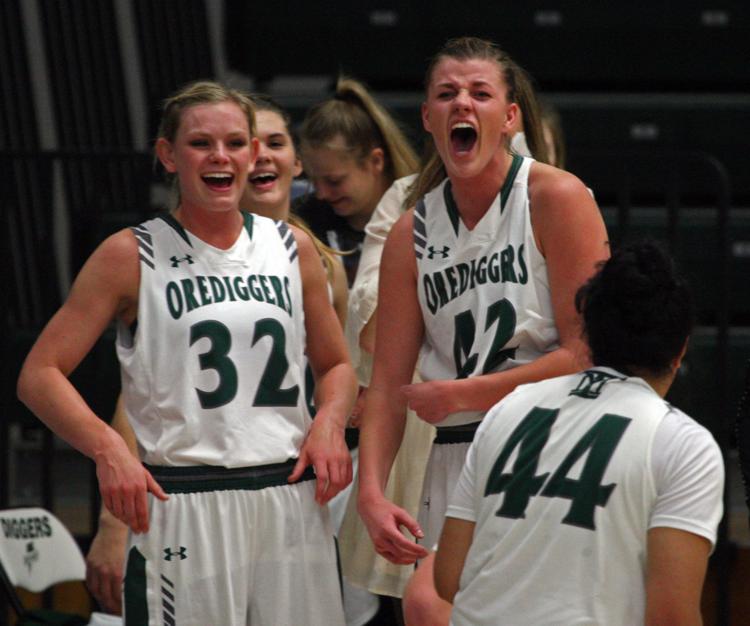 Perhaps just as important as having her coach's trust is having the trust of her teammates. The Orediggers women's squad is close and it's translated to on-court success.
At the center of that is Mesa, pulling up for a mid-range jumper, nailing a triple from deep, or hitting the floor in celebration with a towel on the bench.
"That my teammates believe in me and they push me, and they tell me to shoot it, you're open, score, like do that for us," Mesa said, "that's a big thing, having them behind me."
***
Sitting with Mesa in her office, Sanon is pretending to be a group of fourth graders.
It's early in the 2018 fall semester and the sophomore decided to be part of a volunteering opportunity. Along with a group of Tech athletes from a variety of varsity sports, Mesa decided to help speak biweekly in classrooms at Emerson Elementary as part of the T.E.C.H Way.
It's decidedly nerve-wracking for Mesa, whose entire high school could have fit in three of the school's fourth-grade classrooms. For three days, Sanon took a few minutes out of her day to help her young guard, gently reminding her the fourth-graders aren't likely to remember what she says more than 10 minutes after she says it anyway.
The day finally comes and Sanon shoots Mesa a text message asking her how things went. The reply she got was ecstatic, saying she loved it and that seeing the grade-schoolers' excited faces helped her relax.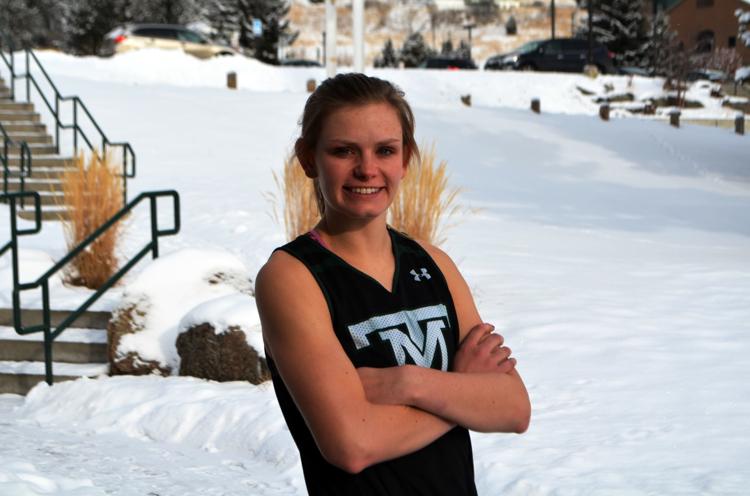 Months later, right before winter break, Montana Tech bused in a huge number of children to watch a game against Salish Kootenai.
Some of the students recognized her on the court, starting to shout her name. Then, during the pregame introductions, she's the third starter announced, getting what seems to be the loudest cheer from the crowd.
It's a small moment, but for one second Mesa's the most important person in HPER Complex.
And that's a long way for a young woman from a town of barely over 900 people to come.