BUTTE — With spring football winding down for the Montana Tech football team, Saturday's open practice was a chance for the public to get a peek at what the Orediggers will look like next season.
Head coach Chuck Morrell and his staff kept the scrimmage pretty basic, keeping things on the ground with a few passes sprinkled throughout. Giving younger players a few reps was important, and while many of them may not contribute much next season, this is building for the future.
Morrell called it a relatively 'vanilla' session, but even so, a couple observations can certainly be made.
Here's four of them.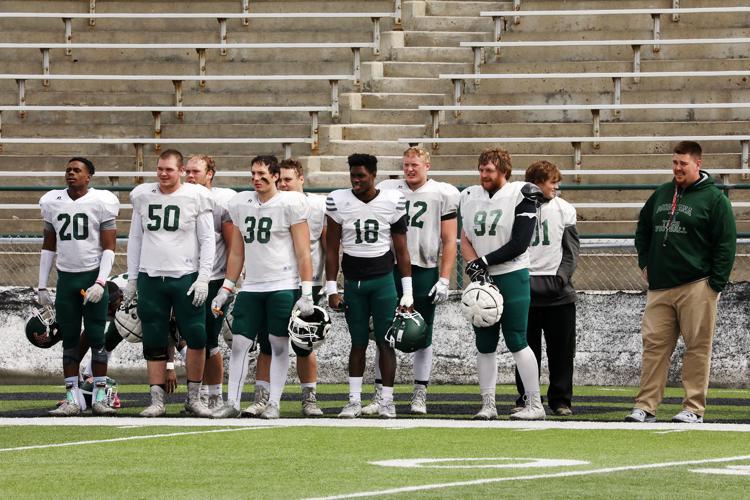 Adjustments up front
Montana Tech's defense last season was one of the best Morrell has had in his nine years in Butte, and there is no getting around the fact that it's going to be missing some important pieces.
Replacing studs Connor Wines, Chance Hansen, Brock Beede, James Foote, and Nic Amestoy will not be easy. They combined for 186 tackles last season and impacted the team beyond their play on the field.
"Those guys were incredible leaders last year," veteran defensive lineman Arthur Flynn said. "I've really felt like I've had to step into that role as a leader this year. We have a very young crew but also a very talented crew, so we have high expectations."
That youth is more noticeable along the defensive line than anywhere else on the field. Flynn has a bit of experience, but that's something of a rarity. Jesse Sims, Logan Kolodejchuk, and Zach Trumble are some of the players along who will be called upon, but none will be higher than sophomore standing.
At linebacker, meanwhile, there's a bit more experience. Jacob Clarke and Carter Myers both return after tremendous seasons which saw them finish first and fourth, respectively, in total tackles.
While losing Wines and Amestoy will sting, there will be players ready to help replace them.
"Every guy that's been with us — Wines, (Brock) Polley, Amestoy — they all started out as young guys, redshirt freshmen," Myers said. "You get a couple reps, you play special teams, you get used to college football speed. But you don't start and play a bunch; you don't come in as a stud.
"You work your butt off, and by the time you get on the field, you're confident playing, confident in what you can do, and it just leads to success."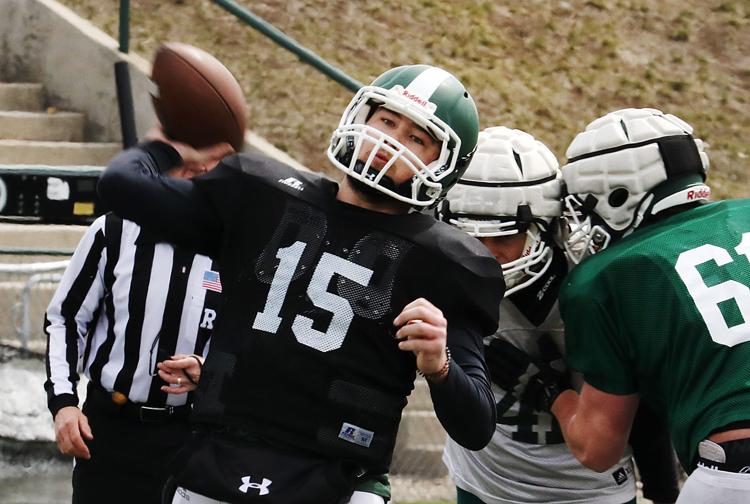 Steady now, DBs
There are not many places on the entire Oredigger football team with more experience than at defensive back.
Safetys Justin May and Tucker Rauthe will anchor the talented group and have played at an extremely high level over the course of their careers. May, who started as a freshman, will be a junior next year while Rauthe will be a senior.
All-Conference cornerback Damaree Morris returns, as do Jake Orvis, Matthew Drake, and Naoki Harmer. Each of those players saw significant time last season, and there's no reason to believe they won't again.
"All those guys have played a lot of football for us," Morrell said. "That's what's great right now, is that we've got some depth and experience coming back at that spot and we've had an opportunity to move a lot of pieces around back there."
With such a veteran group holding down the back of the field, Tech has been able to dig pretty deep into its defensive playbook early in spring football.
That should be a good sign for Oredigger fans.
"We're able to do some very high-IQ defensive things," Morrell said. "We started off the spring with a few changes, and I've just been really impressed… We're running some of our most complex schemes right now."
Yes, they were under center
Basically every snap over the past few seasons for Montana Tech has come out of the shotgun. That has long been a mainstay of the offense, and going under center was an extreme rarity.
Judging from the scrimmage, it's going to be much more commonplace this season. True to what offensive coordinator Kyle Samson has been saying, Tech's offense gave plenty of different looks.
There were true spread formations, pro-style plays, and plenty of pistol action. A number of tight ends got into the game as fullbacks as expected, and it seems there are a lot of different looks Tech will want to give.
That said, their core philosophy hasn't changed all that much.
"We knew coming out today that we were going to keep things fairly vanilla, but offensively, we were going to focus on running the ball," Morrell said. "We want to establish a physical identity."
Folkes a factor?
Speaking of running backs, Tyler Folkes impressed during the scrimmage portion of the practice.
The redshirt freshman saw a bit of time this year and could have even more of an impact come fall.
Folkes was a player Morrell had his eye on last year, and with changes to the scheme, there could be a bit more of an opportunity play.
Grant Kingston, who will be a senior when football season rolls around, had a few impressive runs as well. Add in two-time Frontier Conference rushing champ Jed Fike as well as grizzled veteran Braden Feisthamel, and that running back room is quite full.
"We're all deep, we're all talented. We all like to have fun and compete with each other," Folkes said. "We all have fun together, and that's the big thing, we all have great chemistry together."