BUTTE — Landers Smith had just finished eating dinner and signing his letter of intent to play football for Montana Tech when he spotted a coyote sitting 200 yards from the deck of his family's homestead eight miles outside Charlo.
He then proceeded to politely ask Oredigger head coach Chuck Morrell — who had decided to come up to get the paperwork and have a final visit with Smith — if he would mind his newest recruit going out to shoot it. Morrell enthusiastically agreed and Smith picked up a rifle, loaded it with a 6.5mm Creedmoor round and walked out the door.
A few moments later a shot rang out and the coyote, which are classified as predators and can be hunted year-round, lay dead. In all, it made for an extremely entertaining letter of intent signing.
"(Morrell) had asked me what we like to do around our place and I just said we shoot a lot of coyotes around here," Smith said with a bit of laugh after the Bob Cleverley 8-Man All-Star Game. "So I went out, went on the deck and dumped that coyote and (Morrell was) all pumped up and excited."
While Morrell certainly added a good shot in the self-described 'country boy' whose other hobbies include dirt biking and fishing, he also inked a tremendous football player.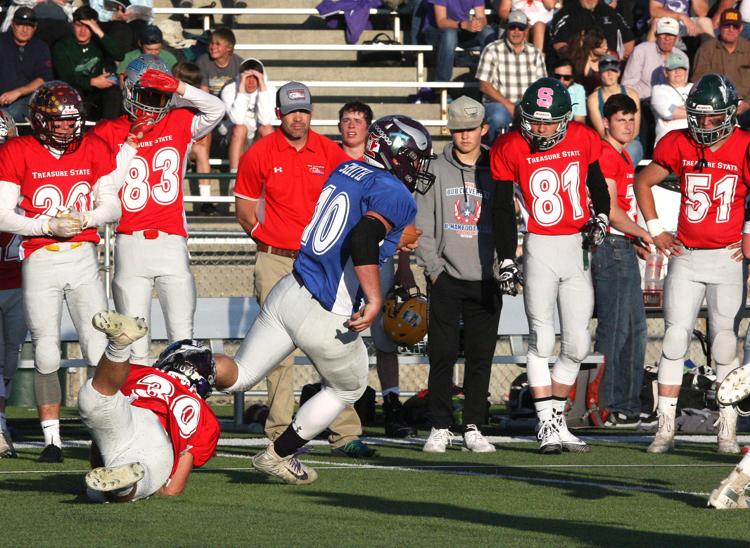 Playing for the Class C 8-Man Vikings, he totaled 6642 offensive yards (4106 rushing, 2324 passing, 212 receiving) and 137 touchdowns in his career. He was equally impressive on the defensive side of the ball, tallying 357 tackles — 35.5 of which were for loss — as well as four sacks, five fumble recoveries and six interceptions in his illustrious career.
The starting quarterback for Charlo since his sophomore season, he helped the Vikings make the playoffs three times. His team advanced all the way to the championship his first year under center, where they fell in a hard-fought game to Ennis in overtime.
But perhaps the 6-foot, 190 pound athlete's best attribute on the field is something that cannot be quantified in statistics. Leadership qualities are invaluable and Smith seems to have that part of his game nailed down.
Take the Cleverley All-Star Game, for example. It puts together players from across the state — many of whom were once rivals — and asks them to become a close-knit team in just a week. Those first several days can be somewhat awkward, but it was not long before other players on Smith's Blue team went to him for leadership.
It was a challenge he embraced with open arms.
"It's kind of a role I've always taken on, being a leader … when we got on the field, the guys were like, 'let's go to Landers' and I was fine with that," Smith said. "Like I'm glad they came to me when they want control and I felt like it was totally good."
It probably is not a coincidence the Blue team ended up winning the All-Star game 32-7 in an overall dominant performance. According to stats from the contest compiled by Butte Sport's Bruce Sayler, Smith finished with 14 carries for 119 yards and added 51 yards on 3-of-6 passing.
He scored three total touchdowns, including a 60-yard run and a clutch 12-yard completion on fourth down.
While Morrell — who was on the sideline for the entire Cleverley Classic — hopes his football skills translate to the 11-man game, it seems his leadership skills are destined to be a big part of Montana Tech's future.
Smith definitely believes his leadership will and was thinking about it as he played on Bob Green Field, the turf that he will make his home on while playing for the Orediggers.
"Guys are always looking for a leader and if you're being a leader, it mean's your being on top of things," Smith said. "You're early to practice, you're always showing up on time, it's lifting and stuff. When one person's doing that, everyone wants to follow, so that's a good trait to have.
"And yeah, I do think I can bring it here."
While his varmint hunting ability might not exactly translate to the football field (there also are not a whole lot of coyotes in Uptown Butte) everything else in Smith's toolbox should.
With Montana Tech's impressive track record in developing star small-school players, the Charlo product will have a chance to become something special. Mostly, though, he is just ready to get the upcoming part of his football career going.
"(This week) felt amazing," Smith said. "I'm so happy to start the next chapter of my life here at Montana Tech."