BUTTE — As five Montana Tech student-athletes quietly file into Molly Stenson's fourth-grade classroom on an early December day, the students in the room erupt.
It's pure excitement and happiness, as will be much of the next hour. The elementary kids have been looking forward to this period throughout the day, as have the Oredigger athletes.
Called the T.E.C.H. Way, it's a project with the Montana Tech Student-Athlete Advisory Committee (SAAC), and the college students have been coming to Emerson Elementary twice a month for most of this school year.
It's been enjoyable — and important — for everyone involved.
"If someone takes a positive approach to them and are interested in what they're interested in, it might just change them," Stenson said. "It might change their path and what they want to do. The littlest things can make a world of a difference."
Beginning with an idea from Montana Tech junior Clay Dean (SAAC vice president) and former Oredigger Levi Dawes, it's become something quite a bit more than that.
Outside of the bi-weekly visits, the athletes — who come from a number of Montana Tech varsity programs — also record video messages that work side by side with the students' curriculum and are played to the elementary classrooms. On Tuesday morning, as part of the program, Tech will also be busing hundreds of kids to the HPER Complex for a men's and women's basketball doubleheader against Salish Kootenai.
More importantly, however, is what the athletes are able to cover while they're talking in the elementary school classrooms.
"Within our curriculum, we don't always find time to address how to treat others, kindness, those sorts of things that really become an issue with bullying at this level," Stenson said. "So it's really nice. They've talked about bullying and how to treat others. So the Tech kids are bringing in issues that are important to us that aren't necessarily academic but need to be addressed."
On this day, for example, sophomore running back Braxton Porter (an occupational health and safety major) is taking the lead and talking about giving and caring to the students.
As soon as he poses a question to the class, just about every hand in the room reaches skyward. One question challenges the students to be particularly creative: How can you give without giving money?
Some of the answers are about volunteering, though one goes far beyond that.
"I have a big basement with heaters in it," one student says seriously. "I'd let anyone who needed a home to stay with me."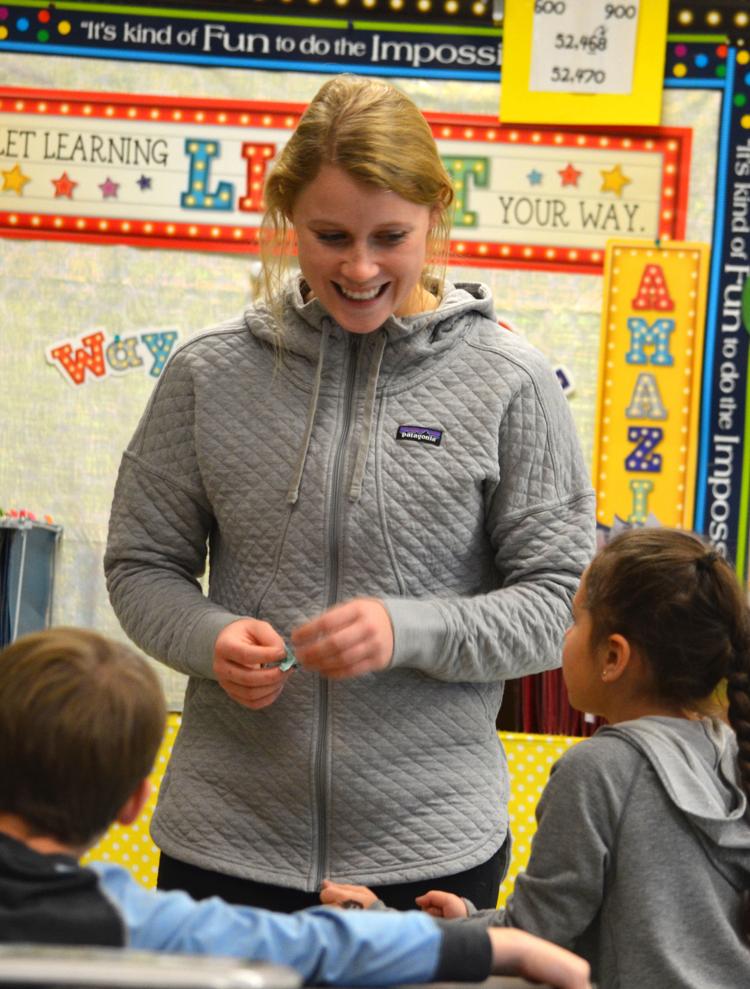 That gets a bit of a chuckle out of Porter as well as some of the other athletes, but it's a sweet and pure response.
"It's very humbling when you walk in there and they light up and they smile," Porter said. "It honestly makes my day more than it makes their day."
With Mining City Little Guy Football starting in fourth grade, the Oredigger football players are held in high esteem.
In fact, during the first day the Tech athletes visited, they asked the kids what they wanted to be when they grew up and then to make a list of steps they'd have to take to get to that goal. The responses ranged from a movie star to an NFL player but also led to another good question.
What happens if that doesn't work out?
"That doesn't seem to be something that 10-year-olds think of, even if they want to be a pro athlete or a professional baseball player or movie star or what not," Stenson said. "You have to get an education and a school to do those sorts of things. So the Tech kids brought that in as well."
College, of course, isn't exactly something a whole lot of elementary kids are thinking much about. But having young adults in the room that aren't teachers can help provide a good dose of perspective for the classrooms.
The athletes in Stenson's class come from a variety of programs — not just engineering, one of the mainstays at Montana Tech. Meg Delaney, a freshman on Tech's women's basketball team, is a liberal studies major. Portia Cortner, a freshman volleyball player, is in the applied health science program.
The other two athletes in the classroom — freshmen Zack Torgerson and Corbyn Byrnes — are business and information technology and nursing majors respectively.
Porter, Torgerson, and Delaney are all SAAC representatives from their respective sports.
"The kids were able to see that there's a little more at Tech than just the engineering," Stenson said. "That was important."
Most of the Tech athletes in the Emerson Elementary program are underclassmen, which adds another bit of connection with the fourth-graders.
The college students are energetic and aren't just going through the motions of being there. To them, the volunteering aspect truly matters.
"They're someone the kids can make a connection with on a friendly level, making good choices, as well to look up to them," Stenson said. "The kids really make that connection as well, because they're not an older person telling them 'this is how to do this.'"
As the fourth-graders finish a paper project they've been working on — each kid had to make a snowflake, which was put together with the rest of the snowflakes in the class — they decide to take a class photo.
It'll be the last time this particular group of Tech athletes is in this room. Changing class schedules is mostly the culprit, but a new bunch of Oredigger athletes will continue the program.
"One of the things that brought me to Butte was how close the community was," Delaney said. "I think that all the student-athletes and students on campus are really close, and I think that, as a whole community, this Butte community is very close.
"Being able to extend through the university into the whole community is just kind of what Butte's all about, which is what I love so much about this."