BUTTE — Montana Tech head coach Chuck Morrell was in Denmark when he made a phone call to Kyle Samson.
Morrell was visiting a longtime friend, but while he was out of the country Orediggers' offensive coordinator Pete Sterbick, who had held the job at Tech since January 2014, accepted the same position at NCAA Division II Colorado School of Mines — something Morrell knew was coming and felt everyone handled extremely well. So Morrell took a break from his vacation to reach out to Samson — then head football coach at Kalispell Flathead — about possibly taking over as offensive coordinator and quarterbacks coach for the Orediggers. 
It didn't take long for Samson, who just finished his fifth year with the Braves, to say yes. The former Helena Capital and MSU-Northern standout quarterback always wanted to get back in the college coaching game after spending six years as the offensive coordinator for the Lights.
The Montana Tech job just happened to open up at the perfect time.
"I felt that it was two great situations," Samson said on Thursday afternoon. "I'm not leaving a bad job. So that was tough, but in my career path I thought this was a great opportunity and one I couldn't pass up.
"I'm very fortunate that Coach Morrell believed in me to give me this opportunity."
Samson took Flathead to the state championship this year, where they fell in a tight game to Billings West. But his credentials extend much further than rebuilding a football team that had struggled mightily before he took the reins.
Samson was part of three state title teams and was named Gatorade Player of the Year in 2002, his senior year. He was recruited by Bobby Hauck and went to play for the University of Montana, seeing time on the field during his freshman season.
But in the second half of the year his father, Mark, took the head coaching job at MSU-Northern. Samson quickly followed.
"I always told my dad I'd play for him if he ever got a college job," Samson said. "So I went up there and played for him for three years."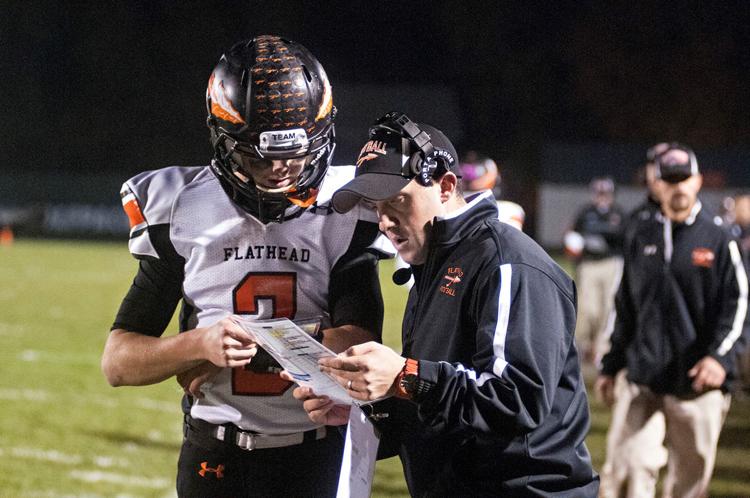 They were three mightily successful seasons. Samson was all-conference three times and an all-American twice. He was also named the Frontier Conference offensive MVP in 2006 as he helped get Northern to the NAIA playoffs.
Coaching beckoned and soon Samson was coaching for his father at Northern. Morrell recognized the talent he had almost immediately.
"Being a defensive guy myself and preparing every time we played them for his offensive sets was really challenging, very diverse," Morrell said. "I knew even going back to his time that he had a really sharp offensive mind."
Morrell continued to build a relationship while Samson was at Flathead, carefully watching his progress and recruiting a number of his players from the area. While they didn't always end up at Tech, there was mutual respect and similar philosophies in regards to offense.
Samson used multiple sets, multiple personnel packages and focused on spreading out defenses as much as possible. Those are all things common in the Frontier Conference, but Tech's lightning-quick offense has been one of the top systems in the NAIA for years.
Using a bell cow running back, huge numbers of receivers, and a multi-dimensional quarterback, the Orediggers have piled up points and yards. Samson seems to be of a similar mold and very willing to get creative with his offense. Just last season, Flathead quarterback Jaden Macneil (who recently committed to Montana Tech) piled up 1735 yards through the air and another 1362 on the ground.
As a team, the Braves rushed for over 330 yards per game.
"We always say we want to feed the stud," Samson said. "What we mean by that is that we want to get our best players the ball as many ways as we can. And it's gonna be based on our quarterback. I'm a quarterback at heart and I'm a quarterback guy."
That's a good thing for the Orediggers, because coaching quarterbacks will be a big part of his duties. Tech started three different players at the spot, finally settling on Jet Campbell by the end of the season and that position will again be one to watch during the offseason.
It won't be long before Samson gets his chance to get to work. While his family will remain in Kalispell, Samson starts work at Tech on Monday. He plans to get into Butte on Sunday and hopefully, he said, he'll have a place to sleep.
"That's something I got to get squared away in the next couple days," Samson said with a bit of a laugh. "Just honestly trying find a place to crash and sleep. I'm going to be working most of the time anyways.
"It's definitely been a whirlwind."