BUTTE — The parallels in the first and second meetings of the Montana Tech and Providence men's basketball team are striking.
The Orediggers women's squad gets a win in the first game? Check. Tech opens up a late lead in both men's games? Check. The Orediggers miss free throws late? Check. Providence gets a late, desperate heave at the buzzer while Montana Tech plays sound defense? Check and Check.
For the Orediggers, however, the most important thing in both was leaving the HPER complex with a win — put a check on that one as well.
"We left the door open up there late, we scored one point in the final four minutes of the game," Tech head coach Adam Hiatt said of the 69-68 win. "It got really hairy, but the best part about it is that we were able to win the game one what we're built on, which is getting one stop.
"We were able to put a good line out there, we got one stop and we were able to win the game. They all count the same."
Troy Owens Jr. led the Orediggers with 18 points on 5-of-11 shooting, while Taylor England and Blake Dittman both added 13. After Tech pushed the lead to 12 after a layup from Derrius Collins, Providence started to claw their way back into the game.
The Orediggers went polar vortex cold from the field, missing all four of their final shot attempts and 3-of-4 free throws. Meanwhile, the Argos started making tough shots and capitalized on nearly all of Tech's miscues.
With just 24 seconds left on the clock, Providence started the final possession of the game and after passing once, Jalen Shepard had the ball in his hands. He dribbled out most of the rest of the clock before firing up a shot just inside the 3-point line that was heavily contested by Tech's Dylan Pannabecker.
"You never know, but we felt pretty comfortable with what we had out there," Hiatt said. "Despite our shooting woes right now, we had a great week of practice. Last week we had eight guys that had the flu, it was a very rotten week, we had no energy, it was a terrible week of practice, we played terrible in two games and we wanted to get healthy and we wanted to get our edge back.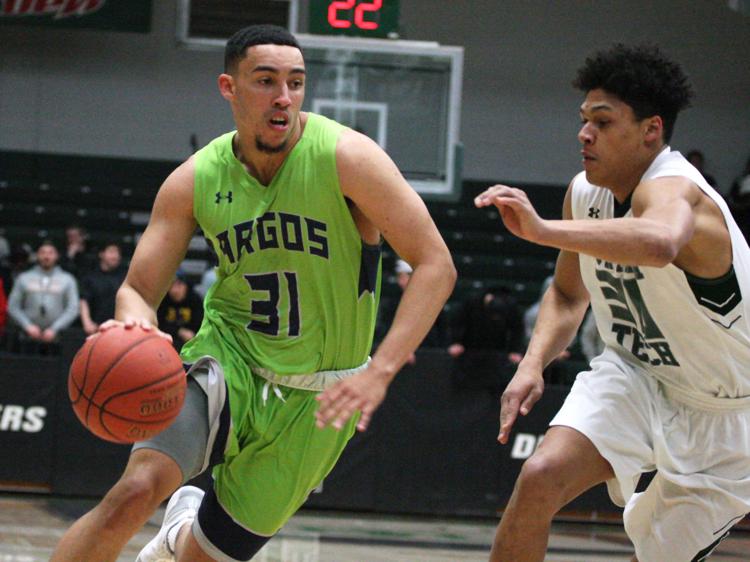 "I felt like we did."
Tech lead 35-31 at halftime after a strong first half and Owens Jr. hit a contested two-point shot before the first half buzzer.
Austin Starr led all scorers with 21 points for Providence, while Brandon Cotton added 15 and Shepard 13. The win moves the Orediggers to 14-7 and 4-5 in Frontier Conference play — Tech's conference mark already matches last years.
Providence drops to 14-7 (5-5 Frontier).