BUTTE — When Chuck Morrell hired Kyle Samson over the winter, one of the first reasons he gave was that the former Kalispell Flathead coach's offense fit the structure and personnel that Montana Tech already had.
When asked, Samson — who also spent six years as the offensive coordinator with Montana State-Northern — calls his offense multiple and based around a power spread scheme.
It's about as 'modern' of an offense as a team can get and is based around running the ball. Ohio State and Auburn both use variations of the power spread as do many other teams through all levels of college football.
Pete Sterbick, Montana Tech's last offensive coordinator, also used a multiple spread attack to great success during his time in Butte. The Orediggers usually had one of the best offenses in the entire NAIA and kept bringing in players to help run it.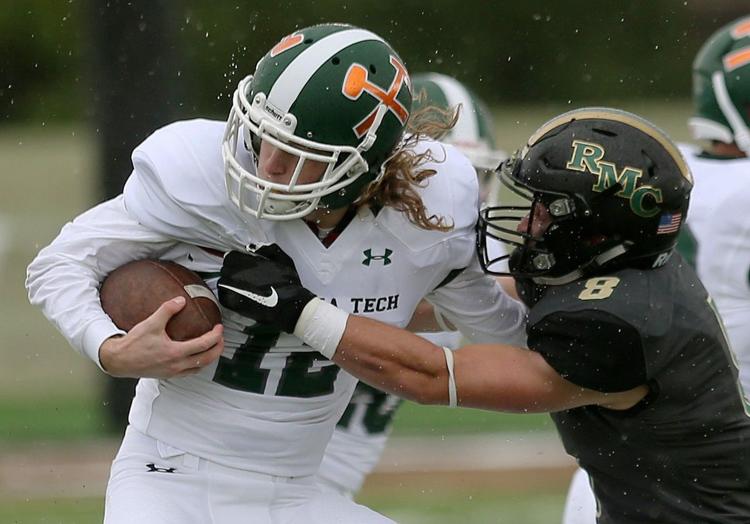 With many of the players Sterbick helped recruit still in the program, that continuity is important. To this aspect, Samson has a very specific philosophy.
"I want to fit my offense to what we do well," Samson said. "I don't necessarily say we're going to run one thing and have our kids mold to that. I think as a coach, you've got to mold your offense to what your kids do well."
So that begs the question, what has Montana Tech done well over the past few years?
The simplest answer to that question is run the ball. Since the 2015 season, an Oredigger running back has led the Frontier Conference in rushing yards per game every single year. Going back to Pat Hansen, including Nolan Saraceni and currently with Jed Fike there's been a number of tremendous running backs that Morrell has got to work with.
Tech runs the ball a ton and it is not rare for a running back from the team to approach (and sometimes surpass) 30 carries per game. The Orediggers basically always have one running back — a bell cow back, to use football slang — with a few others, including the quarterback, getting a few carries each game.
So why has that worked so well for Tech?
It is, in part, due to the very nature of the spread offense. By using two, three, and four wide out sets, it forces the defense to put players out further from where the ball is snapped.
This creates running lanes on the edges and there's fewer defensive bodies in the middle of the field. It, however, comes at a price. With more players stretched out, a spread team will also have fewer bodies inside to help block. Many times over the past few seasons, Tech has gone with four wideouts and had just five offensive lineman and a running back inside.
When passing, especially waiting for deep routes to open up down the field, this requires extra work out of the offensive lineman. If the running back isn't going out for a pass, it also forces them to be adept in pass protection, especially when picking up a blitz.
That's certainly not all Montana Tech has done, but it has been their most effective form of offense.
This is where we get back to Samson, who has plenty of experience mixing different offenses while using bell cow backs. Specifically, his offense over the past few seasons has been based around running back Blake Counts, currently a senior at Flathead and will be joining Tech in the fall.
Last season Counts rushed 345 times for 2588 yards and 23 touchdowns in 13 Class AA games. That's an average of nearly 200 rushing yards per game, a simply incredible feat.
But for as good as Counts is — and he is very likely next in line after Fike leaves to be the next great Tech running back — the variety in Samson's scheme have made use of his abilities to the extreme. Using a variety of offensive personnel groupings, Samson was able to give Counts the ball in a positive situation for the running back more often than not.
Flathead's offensive line was very good for much of the season, but adding in a variety of tight ends and fullbacks to help open up holes made things easier. Sure, there were certainly wide outs spread out for many plays, but it was also the usage of extra blockers that helped make things easier.
Expect this to be something that Montana Tech does on the field often this fall.
"Offensively, we just really want to have a physical mentality," Samson said. "You know we're not going to be as totally spread as maybe they have been in the past, we're going to involve the tight ends and the fullbacks a little bit more."
That's not to say the spread won't be around — the Orediggers have too many wide outs who deserve reps on the field to mothball it completely — but things will be a little different. The term Samson used was 'multiple' and Tech's offense will be exactly that.
With a huge number of running backs on the roster as well, expect to see a few more touches go around this season to players not named Jed Fike.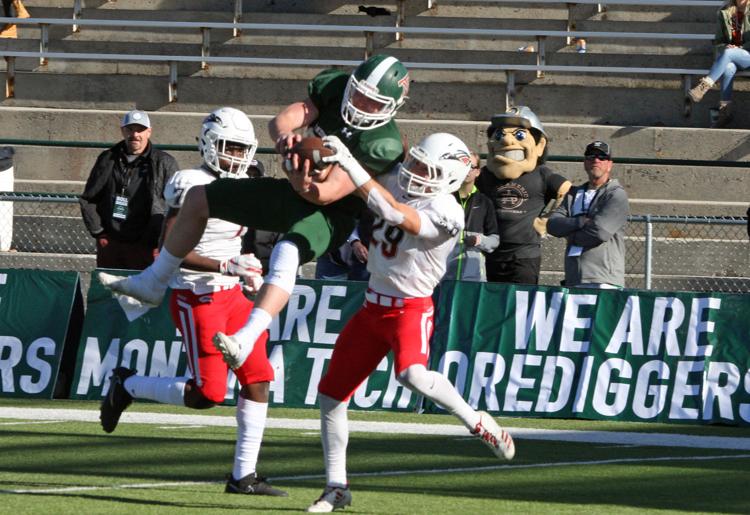 Adding in tight ends and fullbacks more to the game is an especially interesting wrinkle and are two spots the Orediggers haven't used much. In fact, players listed on the roster as tight ends have caught just 24 passes over the last two seasons.
Needless to say, they're looking forward to the opportunity.
"It's been pretty interesting, being able to do a bit more in the offense now, we'll be featured a bit," veteran tight end Tanner Osbourne said. "There's lot of learning stuff. I think we're picking it up pretty well, coming along nicely and it's going to be exciting once we get it all going."
The fullback note is somewhat fascinating as well. According to Samson, the Montana Tech tight ends are going to be used in the backfield as fullbacks.
It's not clear if it will be everyone, but expect to see several of them performing those duties this year. That isn't a complete shift — Sterbick definitely had two back sets where he'd put a tight end in the back field, but expect that to take a bit more precedence this season.
It should have an interesting effect on the running game and Fike, for starters, is excited about having a few more blockers in front of him.
"I think it's a big change but it's a good change … it's definitely a bonus for me and our offense," Fike, who is nearing 3000 rushing yards for his career said. "We're definitely going to be an attack running team. I feel like they're my guardian angels in front of me, honestly.
"Just paving the way like bulldozers."
While learning an entirely new offense has not been the easiest thing — just ask returning quarterbacks Jet Campbell and Brandon Battle — there is a chance that Montana Tech's offense could be even more explosive than it was last season.
With plenty of talented players in place and scheme that they seem to be picking up well, there will be a lot to watch for as the Orediggers host their spring scrimmage on Saturday afternoon at 1 p.m. in Alumni Coliseum.
"The learning has been fun and tough at times," Campbell said. "But, yeah, been not terrible of an adjustment. It's been nice because not only me, but the whole offense is going through the change as well."