BILLINGS — Early in Montana Western's win over Oklahoma City University in the NAIA Division I National Championship there were two places where Montana Western showed exactly how they were going to beat Oklahoma City.
They were not the only two, but rebounding and outside shooting were places where Western had the advantage early and often.
Take the Bulldogs' first offensive possession, for example. Britt Cooper gets her shot blocked by 6-foot-5 Stars center Taylor Sylvester, but the Western forward — who is listed as 5-foot-10 — is able to get her own rebound.
She swings it out and fellow senior forward Cierra Lamey tosses up an attempt from behind the 3-point line. Lamey missed, but Bri King gathered another offensive rebound and got the ball inside. Cooper gets a second field goal attempt, this time making it in the paint.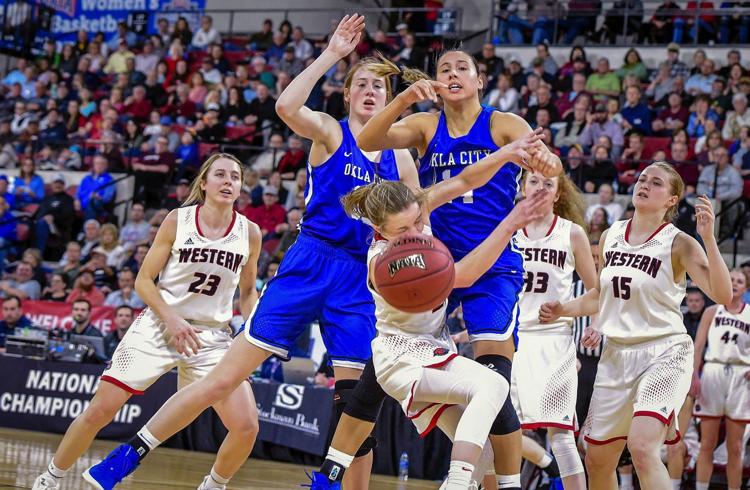 Western would soon find its range from outside the arc (they hit 6-of-10 attempts in the first quarter alone) and outrebounded the Stars 9-4 in that frame. Four of those nine boards were offensive and the five defensive led to six points.
"It really was," Montana Western head coach Lindsay Woolley said when asked about rebounding and outside shooting early in the game. "They were really focused and really poised and sometimes you can let the stage get to you a little bit, but they came out and were confident in what they were doing."
Western ended up with eight more rebounds than OCU (four more offensive, four more defensive) and finished 9-of-29 from behind the 3-point line. Interestingly enough, while the Bulldogs were just 1-of-12 from deep in the second half, the Bulldogs had offensive rebounds on four of those misses, which directly led to six second-chance points.
The rebounding differential is not exactly shocking — Western was fourth-best team in the nation in total rebound defense — but it is relevant to point out the Stars roster five players listed as 6-foot or taller. Four of them are upperclassmen and all five played.
Meanwhile, the outside shooting isn't surprising either. The Bulldogs were fourth in the NAIA in team 3-point field goals made (293) and sixth in 3-point percentage, hitting 36.1 percent of their attempts from deep.
But those aren't the only places where Western beat OCU.
Field goal percentage: UMW 50.8, OCU 41.2
At the beginning of the game, Western hardly tried to get into the paint. They were not settling for bad looks, but King and Tori Anderson shooting well from behind the arc helped spread the Stars defense out a bit.
It helped open up things and by halftime the Bulldogs had an 18-14 advantage in points in the paint. That is a little shocking, especially considering the only 6-foot plus player who saw significant playing time for the Bulldogs was Darby Schye, who played eight and a half minutes. Schye did play very well in those minutes, with strong defense on the OCU posts and kicked in four points to boot.
Meanwhile, OCU wasn't able to get many shots to fall inside and hit just 3-of-11 attempts from behind the arc. Western's defense was tough and there were not many easy shots for the Stars.
"It takes a group," Woolley said. "When you have someone like Bri (King) and you put the right people around her and she does a good job of distributing and finding people, sometimes you make good things happen."
King finished a truly incredible 15-of-22 from the field and scored 37 points. Outside of the six 3-point attempts she made, King was also a handful inside. Finding driving and passing lanes, she made several difficult contested layups that had a big impact on the momentum of the game.
"We're lucky to have a player like Bri," senior forward Cierra Lamey said. "She makes us all look good."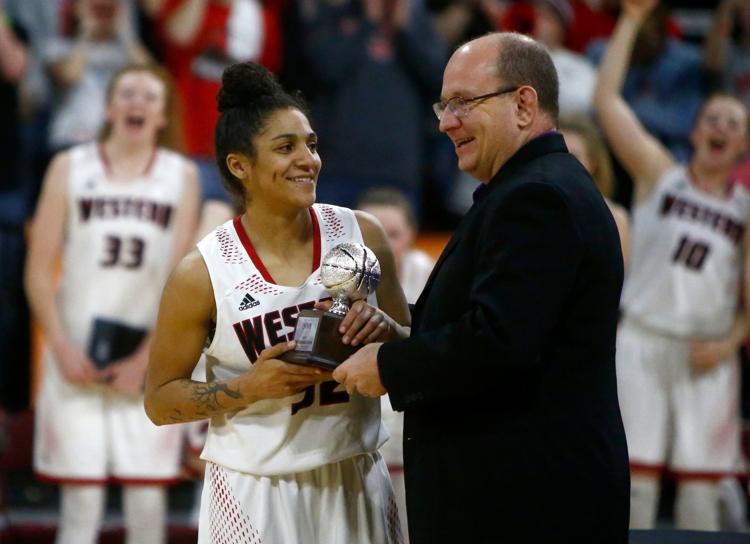 Assists: UMW 14, OCU 12
While the discrepancy isn't as large here, it's important to note the Bulldogs pass the team about as well as anyone in the nation.
Eight of the Bulldogs' assists came in the first quarter as Western got out to its big, early lead. King also seemed to get more comfortable pulling moves off the dribble as the game went along, which led to points that weren't assisted on.
Even so, there were still a number of passes that could have been considered assists. Another important note here? Lamey and Paige Holmes contributed eight of those 14 assists. Neither shot the ball well (they were a combined 1-of-9 from the field) but they took smart shots and knew right away they simply weren't hitting on Tuesday night.
It's smart basketball to get the rock to the players that are hitting and in the national championship, that was King and Anderson who combined to go 21-of-32 and scored 51 points.
Which is, of course, yet another reason the Montana Western women's basketball team took the national championship trophy back to Dillon.