The Grand View University women's basketball team has a tough draw in the NAIA Division I women's basketball championship tournament, the top-ranked Shawnee State University.
They play Thursday at Rimrock Auto Arena.
But on Tuesday, the Vikings of Des Moines, Iowa, got a draw that clearly pleased them — the third-, fourth- and fifth-graders who attend Big Sky Elementary School.
The Vikings were among the 32 tournament teams to appear at area schools this week as part of the Champions of Character outreach.
"Did you get a bad grade? No one will play with you on the playground? Are you going to sit around feeling sorry for yourself? No! You go play with someone else," said Brooke Trautsch, a sophomore guard studying to become a teacher. "It's the same thing on the court. If we get a bad call, life goes on."
"We started playing basketball when we were your age," said Madison Sickles, a junior guard who is also planning a teaching career. The team got off to a slow start this year, but a pair of victories over ranked teams jump-started the Vikings' fortunes.
"We knew we could beat these guys, and do you know what? We beat them," Sickles said.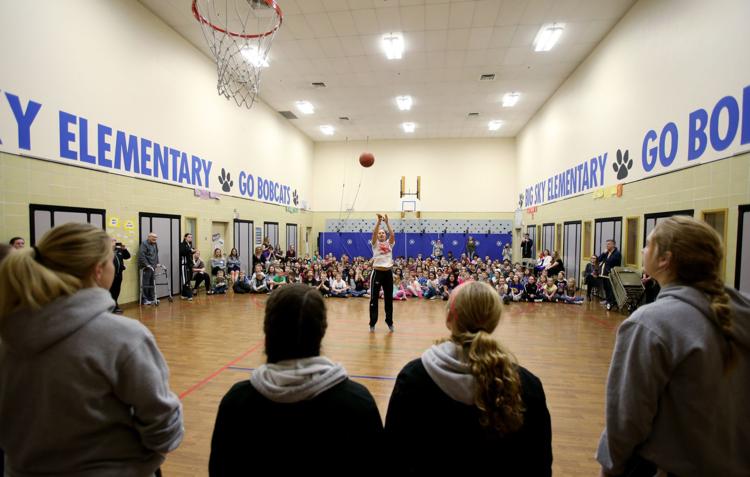 Teammate Bailee Arnburg struggled at times this season at the free throw line, so Sickles called on her to make one in front of the assembled students. Arnburg's first attempt rimmed off, but her re-try was true, and students cheered.
They were downright giddy when the Vikings led them in a roller coaster cheer, leaning from side to side, waving their arms and screaming, then pretending to vomit as the ride came to an end.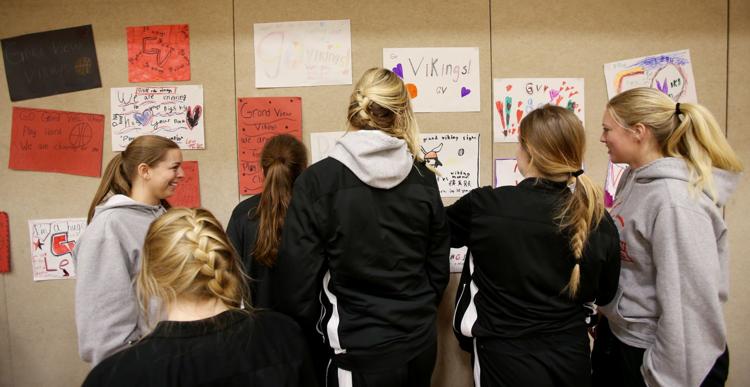 Earlier, the younger students made the team feel welcome by making posters: "Big Sky has your Back" and "Nothing but Net" among their encouragement.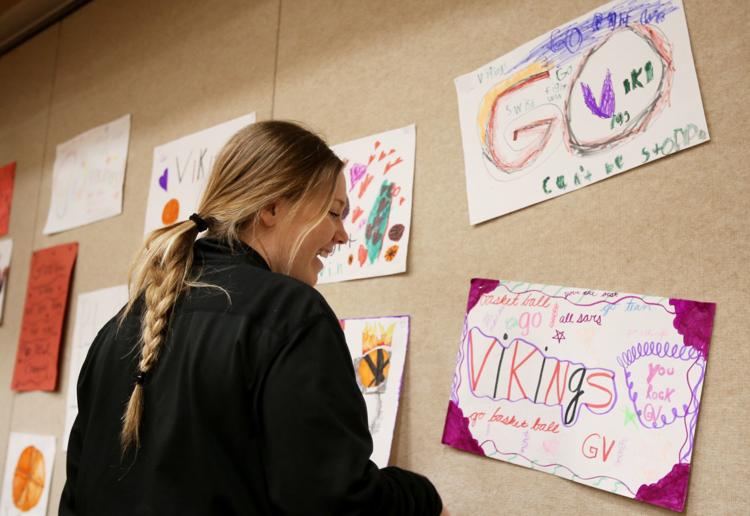 "I've been in contact with their coaches," said Big Sky Elementary School Principal Kim Beatty. "We asked (players) to speak to our students about working hard toward their goals and what it takes to reach this level of play."
The Vikings' co-head coaches, Garey Smith and Kelli Greenway, offered up their own perspectives. Smith, who's been teaching and coaching for 47 years, stretched his arm out toward the team as the assembly drew to a close.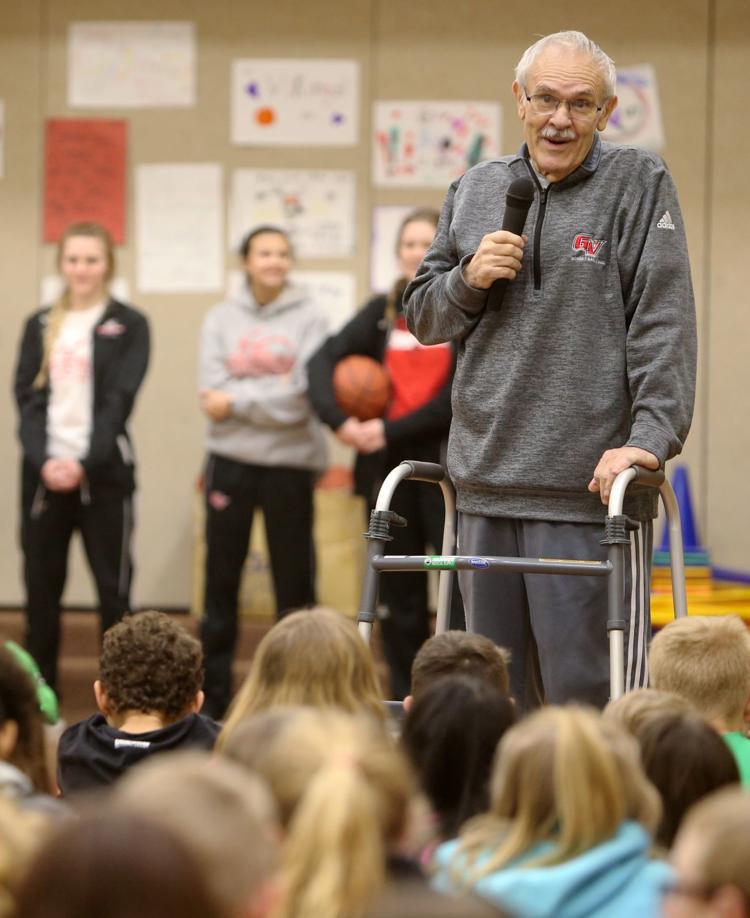 "You can see what's kept me in it for so long," he said. "Life is short and quick. Get up in the morning with a smile on your face," he advised students, "and then give it away to somebody."
"We give each other high fives all the time," Greenway said as players and students alike demonstrated that sign of affirmation. "If it's OK with your teachers, you should try it too as you walk down the hall."
"The number-one thing," Smith told students, "is to do your best in the classroom. And watch us," he said, inviting students to attend the game as the Vikings try to upset the Bears Thursday. "We play hard. We wear you out by getting up and down the floor — but we always have fun."