BUTTE — Entering their game against Butte High with an imperfect 0-12 record, Billings Senior was going to need a spark if wanted to put a halt to its season-long skid.
The Broncs found it sophomore Junior Bergen.
The guard unloaded three first-quarter triples to ignite Senior's offense and the Broncs fended off a late Bulldogs' rally to walk away with a 67-61 Eastern AA win and their first victory of the season on Friday evening at the Butte Civic Center.
Bergen finished the game with a team-high 18 points to tie Butte's Clay Ferguson who also ended with 18. Austin Conway added 12 points and Jackson Burckley notched 10, including three triples. Senior combined for 10 3-pointers on the night.
"This is huge for us," said Senior coach Drew Haws of the victory. "It's not only a win but a conference win and those are always big."
Success has been hard to come by for the Broncs this season but Haws said that he's seen steady improvement in his squad.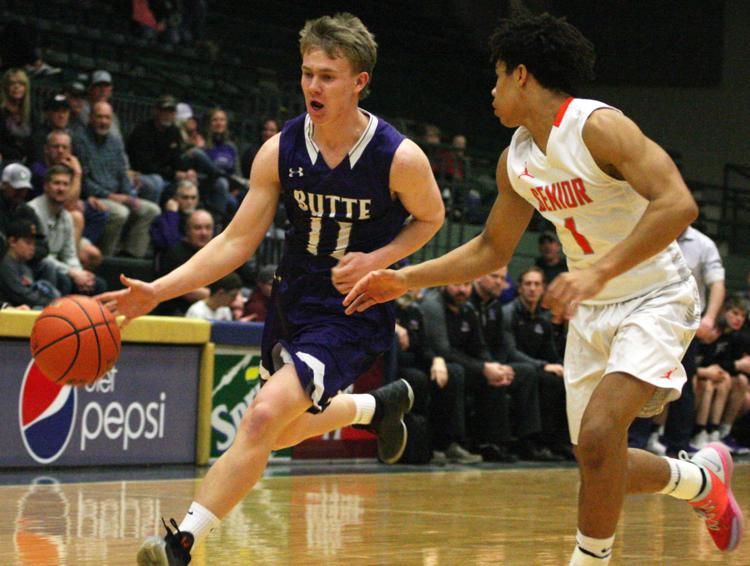 "It's been a struggle but we've seen progress from the guys," Haws said. "They're great kids, they're hard-working and we knew they had it in them. We just had to come in and do. Tonight was the night and we're just really happy about this one."
After building a 35-25 halftime lead, Senior eventually had to weather a late Bulldogs' surge to seal the win. Butte senior Dan McCloskey, who finished with 15 points, arced in a hook shot early in the fourth quarter to trim the Broncs' lead to one point at 49-48.
After trading shots and watching Senior take a multiple-possession lead, McCloskey again cut the Broncs' advantage to a single point with less than two minutes remaining.
But the Broncs dug in and responded with an 8-point run to put the game out of reach and ice a win they had been searching for since early December.
"They stepped up tonight, they hit shots they hit free throws," Haws said of his team. "They took care of the basketball and it's on them. It's gonna make practices better."
Butte coach Luke Powers said that his team — in the midst of a six-game losing streak — has had a pair of struggles that have plagued them all season.
"The story of the game has been the story of our season — giving up offensive rebounds and our free throw percentage," Powers said. "Those things killed us.
"But credit to Billings Senior. They shot the ball well."
Both Senior and Butte get a breather before heading into Thursday crosstown clashes. The Broncs will take on Billings West and the Bulldogs face off against Butte Central.