BILLINGS — The Melstone boys basketball team and coach Jason Grebe faced a conundrum on Friday night — call off the dogs, or let senior Brody Grebe (Jason's son) attempt to break the 39-year-old school record for most points scored in a game.
The Broncs chose the second option and Brody delivered, finishing with 50 points in an 81-29 win over Broadus. Brody broke the previous record of 48 points, scored by Glen Hougen in 1980, according to Jason. Brody also drained a record 10 3-pointers in Melstone's senior night victory.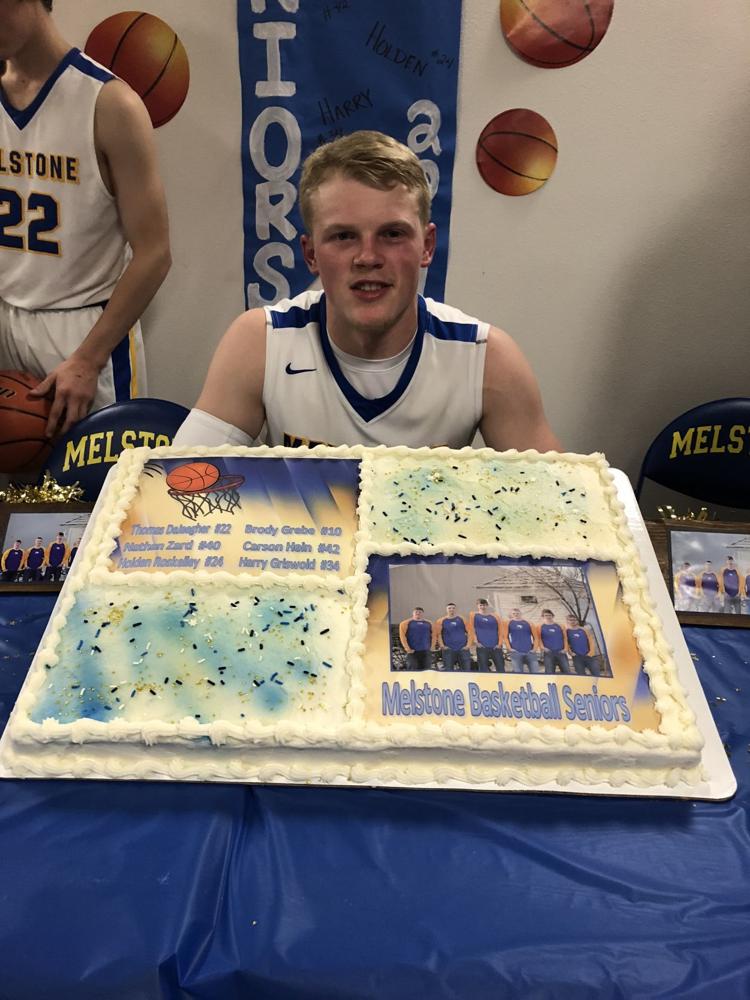 "I'm just thankful that I got it done. It's not a very large group of guys that have made that 50-point mark," Brody told 406mtsports.com. "I'm glad for all the guys that got me there."
Melstone led Broadus 48-12 at halftime, and Brody had 31 points. Brody was concerned that his father would strap him to the bench all second half to preserve Brody's energy and avoid the appearance of embarrassing Broadus.
But Jason told his players at halftime that he wanted his son to chase history.
"I said, 'Hey, that's an old record, and he can go get this,'" Jason said. "They wanted him to get it, and he went out and got it."
Jason also informed Broadus coach Mike Richards of his intentions before the second half began.
Jason and Brody don't remember exactly when Brody exited the game, but it was the early fourth quarter at the latest. He set the record on a dunk near the end of the third quarter or the beginning of the fourth, Brody said.
He finished the game with four dunks. His 10 3s broke the previous Melstone mark of eight, set by a handful of players including Brody's cousins Ole and Kale Eike.
"I talked to Ole," Brody said. "I gave him an earful after the game."
Grebe shines on senior night. Brody now holds the record for most 3's for Melstone with 10 and most points with 50 in the win over Broadus tonight! Congratulations Brody! #mtscores pic.twitter.com/CNeIjV5u1k

— MELSTONEBRONCS (@Melstone_Broncs) February 9, 2019
Melstone, which is No. 3 in the 406mtsports.com Class C rankings, is riding a 16-game winning streak after falling to top-ranked Manhattan Christian on Dec. 8. The Broncs (17-1) open up District 4C tournament play on Wednesday against Northern Cheyenne at 2:30 p.m. in Miles City.
Brody's focus now is on finishing his career with a state title. But the senior, who passed the 2,000-point mark earlier this season, took some time to soak in his latest individual accolade.
"Going out like that in front of the home crowd, last game, it was just an amazing experience," he said. "Won't ever forget it, that's for sure."
Cruising Colts
The Colstrip boys basketball team has lost three games total in the past two regular seasons. Not bad for a program that had struggled for many years before 2017-18.
The Colts are 18-0 and ranked No. 1 in the 406mtsports.com Class B boys basketball poll. They have a talented stable of seniors and a deep bench. And their expectations are tempered. Colstrip went 1-2 at last year's state tournament, and it is focused on ridding that bad taste from its mouth.
Before last season, the Colts were in Class A the last time they reached state, Colstrip coach Joe Egan believes. Though many of this year's players were on last season's roster, Egan sees a fair amount of differences.
"They're pretty conservative. They're smart," Egan said. "We're more about breaking teams down. We're a more fundamental team."
The Colts are led by senior forward/post Kobee BigBack, who scored a career-high 44 points on Feb. 2 against Lame Deer. Senior guards Kellen Big Head and Bo Vocu have also been key, as has junior big man JT Baer, who is making a return this year after tearing his ACL in the first practice of last season, Egan said.
Senior guard Nolan Nansel, who had shoulder surgery last year, has been an important bench player. Junior guard Caleb Wheatley, a transfer from North Carolina, has played an important role, as well.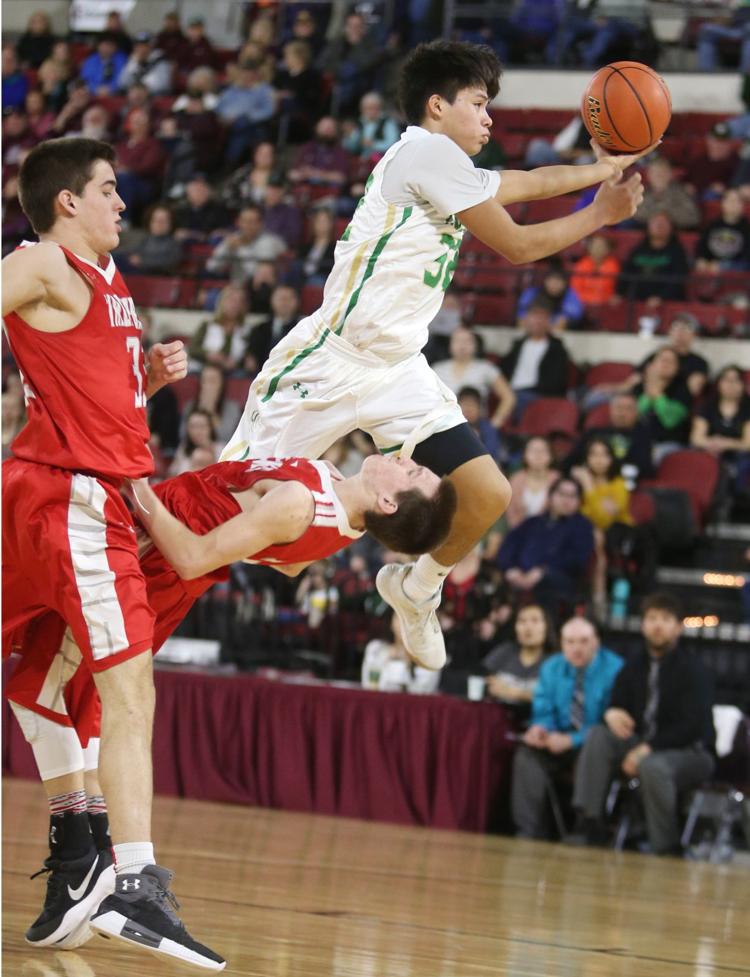 "I know how these guys go about playing the game. They're cognitive about it. They're savvy about it. They're very smart about how they approach the game," Egan said. "They understand the kind of things it takes to win. They don't rely on talent."
Colstrip hasn't played many close games this season. One of the few exceptions was Jan. 26 at No. 6 Lodge Grass. The Indians led 45-41 through three quarters, but the road Colts rallied behind BigBack (20 points), Big Head (17) and Baer (13). With about a second left in the game, Big Head sunk two free throws to put his team up 60-59, which was the final score.
"That was a huge game for us," Egan said. "We felt if we could beat Lodge Grass in Lodge Grass, there was a better chance for us to win the conference. That was a huge mountain to climb."
BigBack's first varsity start was as a freshman against St. Labre in the district championship, so he felt prepared for games like the one on Jan. 26.
"The atmosphere, the intensity, the pressure … when it came to that Lodge Grass game, I had felt it before," he said.
The Lodge Grass game also illustrated Colstrip's imperfections. The Colts, who host this week's District 3B tournament, know tough games are on the horizon. Egan believes down-to-the-wire battles are good for his team, especially when it comes out on top.
"We've had to grow up. We've had to struggle through things. Our record makes it look like we've cruised through the season, but that's not really how it's been," Egan said. "We're excited for what our future could bring. We're excited to see how far we can go."
A rare signing
Fromberg senior Erik Holstein will play football at the next level.
The 6-Man wide receiver signed with North Dakota State at Bottineau, Holstein's father told 406mtsports.com on Monday.
Fromberg coach Nathan Oren said Holstein is one of the only players he's coached who has signed with a college program.