MELSTONE — Brody Grebe knew a milestone was in reach well before the Melstone boys basketball team's home game against Terry on Friday, and he wasted no time reaching it.
Grebe eclipsed 2,000 career points in Friday's 79-9 victory. The senior guard needed 12 points to reach the mark, and he scored that many in the first quarter against Terry. He finished the game with 32 points and scored 26 in Saturday's 98-27 win over Northern Cheyenne, leaving him with 2,046 for his career.
"It's just a huge honor," Grebe told 406mtsports.com on Friday night. "Not a lot of kids in the history of Montana have gotten to 2,000."
On a first-quarter fast break, Grebe rebounded one of his teammates' misses, missed the putback, grabbed his own miss and banked in his second putback to reach 12 points. His teammates "were going crazy for me," he said, and he received a ball at halftime that honored his milestone.
Grebe, who averages more than 25 points per game, said he wasn't gunning for the record in the first quarter against Terry.
"I was just going in the flow in the game," he said. "I knew it wasn't gonna be too hard to get 12 points."
Grebe is one of 31 boys basketball players in Montana history to pass the 2,000-point threshold. He currently sits at No. 26 on the career scoring list.
"That's kinda hard to grasp," he said. "It's weird to think about that I can be in the top 30."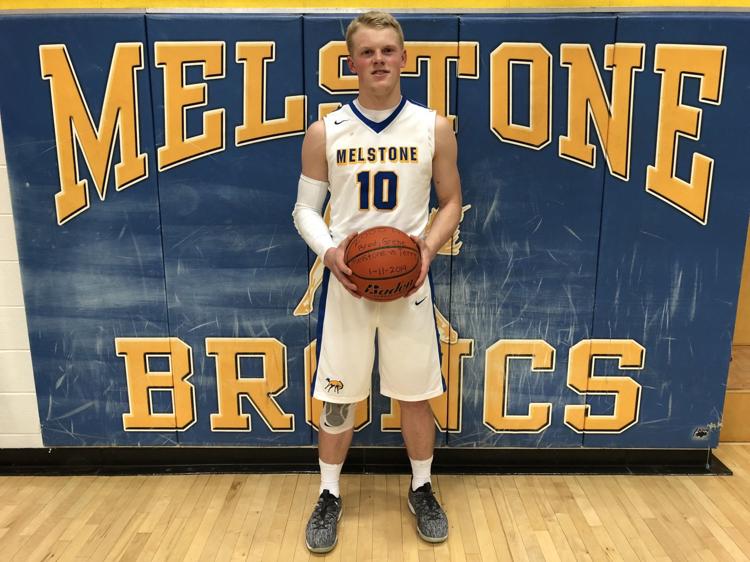 The Montana boys career scoring record is 2,763 points, set by Highwood's Reece Gliko from 1990 to 1993. With five regular season games to go, setting that record is unrealistic, but Grebe believes he can crack the top three. The third-most career points is 2,354, set by Plentywood's Travis Walker from 1992 to 1995.
Another long postseason run would help Grebe reach that scoring goal. Last season, Melstone played four games at the Class C state tournament and earned the consolation trophy.
Grebe hopes they only have to play three state games this season — first round, semifinals and championship.
Efficient Vincent leads Titans to big win
Kristen Vincent's free-throw routine is fairly simple — she flicks the ball in front of her for one bounce, dribbles three times, takes a deep breath and shoots. The senior guard for Hobson-Moore-Judith Gap has used the routine since her freshman year, and it has been effective, especially last weekend.
Vincent sunk 13-of-14 free throws, including all 10 of her attempts in overtime, in a 46-41 win over Belt last Saturday, Jan. 5. The comeback victory over the defending Class C state champions gave the Titans hope that they can reach their first state tournament in their co-op's short history.
"We've put in a lot of time. We knew what we were up against, who we've got to compete against up here," said Hobson-Moore-Judith Gap coach Roger Derks. "We're kinda hoping we can put it all together."
Belt held a 9-5 lead through one quarter, a 21-11 advantage at halftime and a 25-20 edge going into the fourth quarter. A couple of late 3-pointers from Brianna Bergum and Chloe Derks (Roger's daughter) put the Titans within a possession, and Chloe Derks tied it up with about 20 seconds left on a steal and layup.
Vincent went into overtime with seven points — four on a pair of jump shots, three on free throws. She's always been a strong free-throw shooter (23-of-26, or 88.5 percent, this season), but she'd never come close to making 10 straight shots from the charity stripe in a game before last Saturday, she said.
"I've definitely seen improvement," she said. "We shoot free throws every day in practice. ... Just get in the habit of doing the same thing every time."
All 13 of Hobson-Moore-Judith Gap's points in overtime were scored on free throws. It was an unconventional way to win, and the Titans fully comprehended the magnitude of the victory.
"People in this district have been trying to beat Belt for a long time," Roger Derks said. "They've got a great program up there. It was huge to break through a little bit."
Below Hobson-Moore-Judith Gap and Belt in District 8 is Winnett-Grass Range, last season's Class C runner-up and seventh-ranked team in the latest 406mtsports.com C girls basketball rankings. In last year's title game, Winnett-Grass Range lost 52-34 to District 9's Box Elder, which is currently undefeated and No. 1 in Class C. The No. 2-ranked team, Fort Benton, is responsible for the Titans' only loss this season, and its only loss was to Box Elder.
Only two of those five teams will represent the northern division in the state tournament.
"It's gonna be a hell of battle just to get out of our division," Derks said. "It's brutal."
But Derks believes his team "can play with anybody out there," and the win over Belt was a strong piece of evidence in his favor.
The Hobson-Moore-Judith Gap co-op has existed for nearly 10 years and has yet to reach state. A divisional appearance last season was a step forward, and the Titans have seven seniors this season. This might be their last, best chance to make a run.
"We still have some more to prove because I think people still think we're underdogs," Vincent said. "But we're the team we need to be. Hoping we'll get there."
Townsend edges defending champs, stays unbeaten
The Townsend girls basketball team has been No. 1 in the 406mtsports.com Class B rankings all season and has yet to lose. Perhaps its biggest win of the season was last Saturday, Jan. 5, when the Bulldogs won 36-35 over defending No. 10 Three Forks, which went undefeated and won the Class B state title last year.
"It was one of those hurdles that was really tough to get over, especially mentally," said Townsend first-year coach Norm Darlington.
Darlington was the head girls basketball coach at Three Forks for three seasons. He was out of basketball for two years, including a stint last year as the Three Forks bus driver. He's in his first year at Townsend, which lost in last year's semifinals and won the consolation trophy.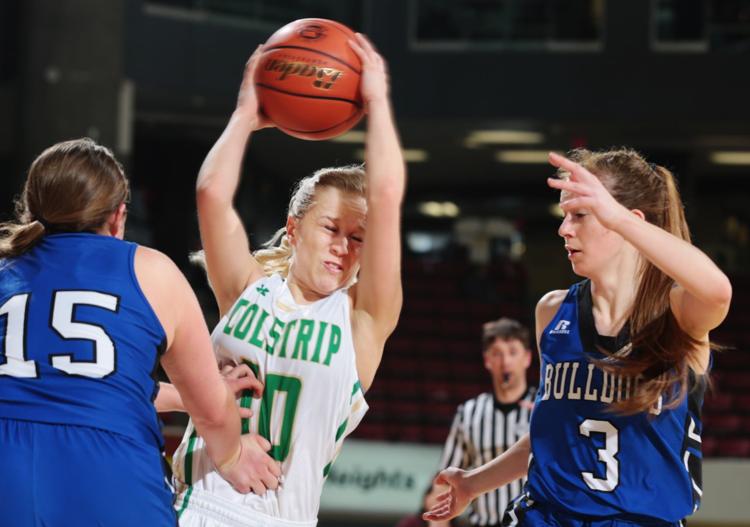 Against Three Forks, the Bulldogs trailed by three points late, but two straight buckets gave them the lead for good with about a minute remaining. Less than a week after the breakthrough victory, Townsend handled No. 8 Whitehall 52-34.
Townsend returned all-state senior post and senior guard Denika Dolan from last year's third-place team. Darlington also praised junior guard Sterling Owens, who held Three Forks star Kyle Olson to 10 points last Saturday.
"She's one of the best defensive players I've ever gotten to coach," Darlington said.
Despite the talent, Darlington's sole focus down the road is getting out of the District 5B tournament. With wins over every conference opponent — Three Forks, Whitehall, Big Timber, Manhattan and Jefferson — those sights might be too low.
Wibaux's Begger outduels Jordan's Murnion
Keenan Murnion scored 33 points for the Jordan boys basketball team against Wibaux last Thursday, Jan. 3. Not only did Murnion's team lose that game, he wasn't close to high scorer.
The player Murnion guarded, senior Cobe Begger, poured in 47 points in Wibaux's 70-62 win. It was Begger's career-high, and it set a school record.
"The first quarter, I wasn't really doing that hot," he said. "After that, I guess I hit a zone."
Begger saved his best for the fourth quarter, scoring 15 points, and he credited his team for carrying the load in the decisive third quarter, which Wibaux won 18-6.
Begger made 15-of-20 field goals, 3-of-6 3-pointers and 14-of-16 free throws in the game.
He and Murnion were talking to each other the whole game, admiring each other's performance. Murnion made a comparison to NBA stars Kevin Durant and James Harden. The 6-foot-5 Begger was more a Durant in this case, he said, although he likens himself more to former Los Angeles Lakers legend Kobe Bryant, who inspired Begger's first name.
Begger, who helped the Wibaux football team earn its first 6-Man state title, is averaging about 24 points per game this season. He'll gladly score 47 points a game going forward if it means his team gets back to the Class C state tournament for the first time since 2013-14.
"I've had a pretty grateful year from winning a state championship to setting a school record," he said. "It feels good."