BUTTE — Every coach dreams of getting a player that can change a program.
For Hamilton and head coach Travis Blome, Hunter Omlid has been just that. A four-year starter for the Broncs, the senior capped off an impressive Southwest A tournament with a 24-point outburst to help top Butte Central.
Tied heading into the final quarter, Omlid scored eight points — including two 3-pointers — as Hamilton outlasted the Maroons 54-52. His second triple put the Broncs up for good and sent the Hamilton crowd into a frenzy.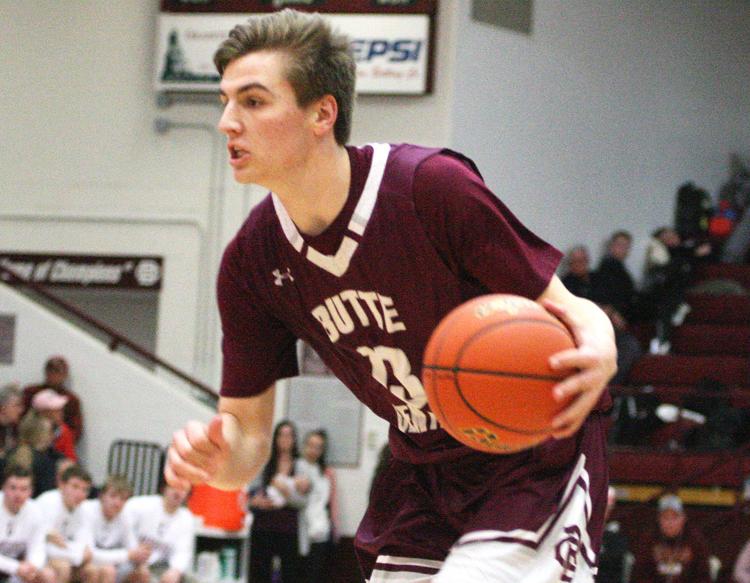 "He's been fantastic, great kid to be around and he hit some huge shots," Blome said. "Not only thatm but he played really well defensively and got some big rebounds.
"Just proud of all of our guys."
Omlid's first bucket of the fourth quarter broke the 35-all tie and the Broncs led until a few seconds before the five minute mark. At that point, Butte Central senior Dylan Sestrich unloaded a deep triple to tie the game at 40. Tanner Goligoski hit a short shot, which was immediately answered by the Maroons' Cade Holter.
Sestrich then splashed another triple with a bit over three minutes left to take the lead. But Camron Rothie banked in a jumper seconds later, which cut the Maroons lead to one. After a long possession, Omlid made his fourth and final 3-pointer of the game with under two minutes left. Carson Rostad then added a free throw to make it a three point game at the 1:35 mark.
"I'm happy with the way we played. When you get into tournament basketball, the margins are very slim," Butte Central head coach Brodie Kelly said. "You're putting two good teams together and those plays in the last three minutes get magnified."
Holter again made a late shot, but two Goligoski free throws made it a three point game once again. With around 22 seconds left, Sestrich missed a 3-point attempt and Goligoski split a pair of free throws to give the Broncs a two-possession lead.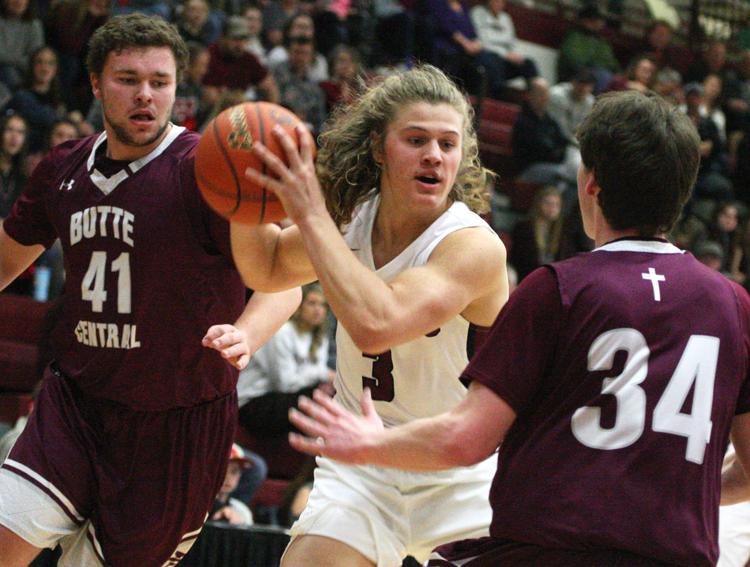 Central would get it one with 12.9 seconds left when he hit a 3-pointer, but his tying attempt with less than five seconds fell short and Hamilton walked out of the Maroon Athletic Center as tournament champs.
"It was just a great basketball game," Blome said. "Both teams played well and on to divisionals next week."
THIRD PLACE GAME
Dillon 65, Frenchtown 50
The Beavers boy's basketball team took the Southwest A district third place game with a 65-50 win over Frenchtown on Saturday afternoon at the Maroon Athletic Center.
Leading by 10 at halftime, the Beavers saw their lead evaporate in the third quarter. A flurry of 3-pointers trimmed the Dillon advantage to just two heading into the fourth.
Then, Jace Fitzgerald happened. The sophomore scored 11 of his team-high 18 points in the second half as the Beavers began to pull away from the Broncs.
Dylan Cervelli was also critical down the stretch for Dillon and converted a three-point play opportunity to help build the gap. He finished 5-of-8 from the field and had 13 total points.
Cade Baker and Jared Cole each had 20 points for Frenchtown, while Zack Baker added on 10. The Broncs struggled from the field as a team, hitting just 18-of-55 total shots.
The win puts the Beavers as the Soutwest district's third seed in next week's Western A Divisional tournament at Hamilton while Frenchtown will be fourth.
The Broncs toppled Stevensville 59-44 in a Saturday morning loser-out contest. Dillon outlasted Corvallis 68-45 in the other boys loser-out game.