BUTTE — Set to play in their fourth-straight state championship following a 72-63 win over Billings West in the semifinals, the Bozeman boys basketball team is entering rarefied air.
Since the creation of the AA classification in 1956, only two schools competing in that division have been to four or more straight title games — 1958-60 Missoula and 2007-11 Billings West. There's also a strange piece of history at stake as well.
No Class AA team has ever lost four straight title games. And while the history of the thing probably doesn't matter to the team, the bitter taste in their mouths left by the previous three trips to the championship probably does.
"We've lost state three years in a row and we don't want to go back and do that," Bozeman forward Ryan Lonergan said following the semifinal win. "We want to go finish and finally win a state championship."
He added: "We don't want to take another second place trophy home."
They'll face Missoula Hellgate in the state title game at 6:30 p.m. on Saturday night, but even getting back to the championship proved difficult against a gritty Billings West squad.
Leading by 24 with 2:02 left in the third quarter, the Golden Bears managed to trim the deficit to just four with 1:38 to go in the fourth. The Hawks knew West was going to make a run and it came through a combination of foul shooting, 3-pointers and key Bozeman turnovers.
Earlier this season Bozeman had been up by 17 in the fourth quarter of a regular season game, only to see the Golden Bears eventually trim the lead to just two points.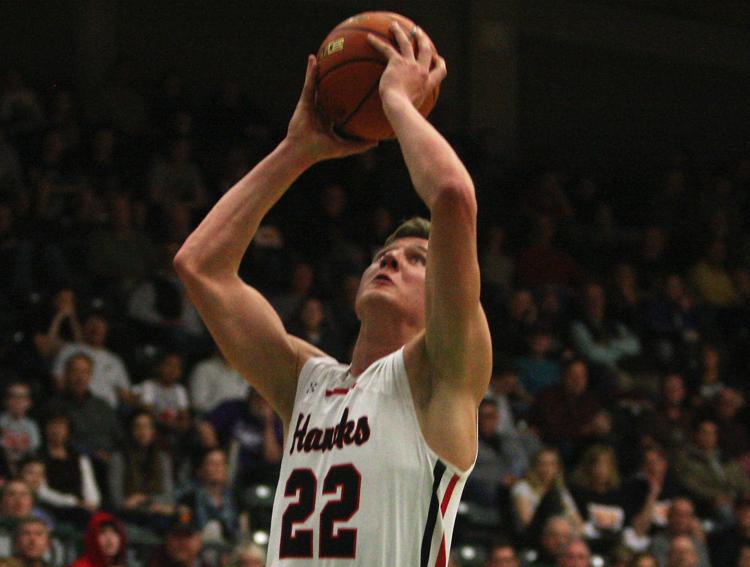 "Those first three quarters, that was pretty fun and we just executed what wanted to do on both sides of the floor," Hawks head coach Wes Holmquist said. "But I just kept telling these guys, 'this is not over.' … they can score in a hurry and they have multiple guys that can make shots.
"I was never, ever comfortable until that buzzer went off."
With star guard Jesse Owens struggling a bit from the field (he finished 4-of-14 shooting for 11 points) the Golden Bears turned to Cade Tyson. The 5-foot-9 junior scored a game-high 24 points and hit all 11 of his free throws.
He hit three 3-pointers, including one with 2:19 left that got West within six.
"He's a tough kid, he's a competitor and he's a great player," Billings West head coach Kelly Darragh said. "We just didn't start off well, we were too passive at the beginning and we missed a lot of bunnies and you're not going to beat Bozeman doing that."
Lonergan finished with 21 points and six rebounds for the Hawks, while Ryan Simpson added 19 points, 15 rebounds and two assists.
They'll also have a chance on Saturday afternoon to give Bozeman the chance to take home the boys state trophy for the first time since 2011.
"It is what it is, you just give yourself a chance," Holmquist said. "It just hasn't worked out for us the past three years. I'm just happy these boys will have the chance … it's a lot better than not being there.
"There's no extra added pressure because of the past three years, it's a whole different team and a whole different group of kids."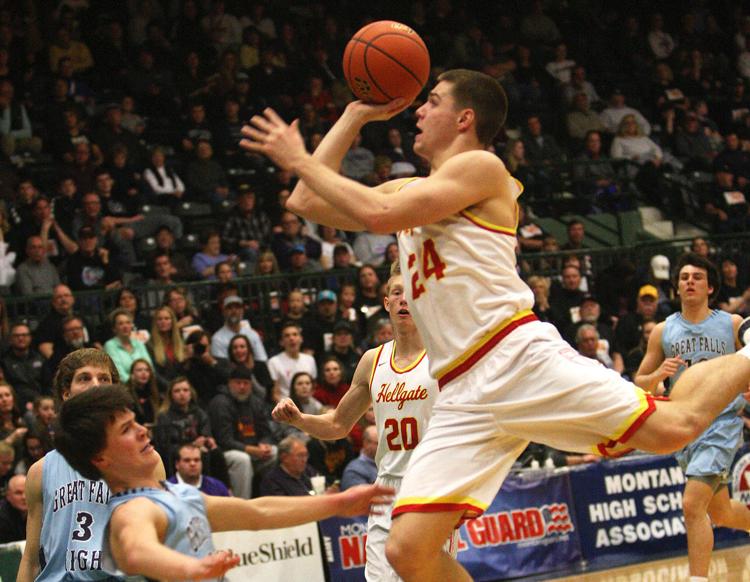 MISSOULA HELLGATE 61, GREAT FALLS HIGH 38
Despite playing a bit over 25 minutes in Hellgate's 61-38 Class AA semifinal win over Great Falls, junior Knight forward Abe Johnson said he might have a bit of trouble getting to sleep on Friday night.
The nerves about playing in a state championship game, well, they were starting to set in a bit.
"It's one of the best feelings you can have in life, in my opinion," Johnson said. "That's why I play this sport and why I want to play this sport for as long as I possibly can."
"I've been dreaming of this all season."
Johnson finished with 17 points on 6-of-9 shooting and added on nine rebounds and two steals in the win. A physical 6-foot-8 presence that should cause plenty of issues for Bozeman when they meet in the title game, he's been impressive over the course of the tournament.
And head coach Jeff Hays thinks he can only get better.
"He's a really good player, he works hard and he has a really great attitude," Hays said. "He's a really good player now and he's got a tremendous upside."
Both Hellgate and Great Falls got off to a slow start offensively and the Knights only led 20-16 at the half. Johnson, however, already had seven of his points in the first 16 minutes and was key in helping his offense get moving a bit early.
The Knights were able to start to get a bit of separation in the third quarter, but the Bison kept it close and only trailed by five with 2:22 to go in the frame after a deep Levi Torgerson 3-pointer. From that point on, though, it was all Hellgate as they ripped off a 23-6 run that lasted until the middle of the fourth quarter to take control of the game.
"We were never really comfortable," Hays said, adding he was a bit disappointed with his team's first half. "I thought in the second half we were solid offensively, we shared the basketball and finished around the rim."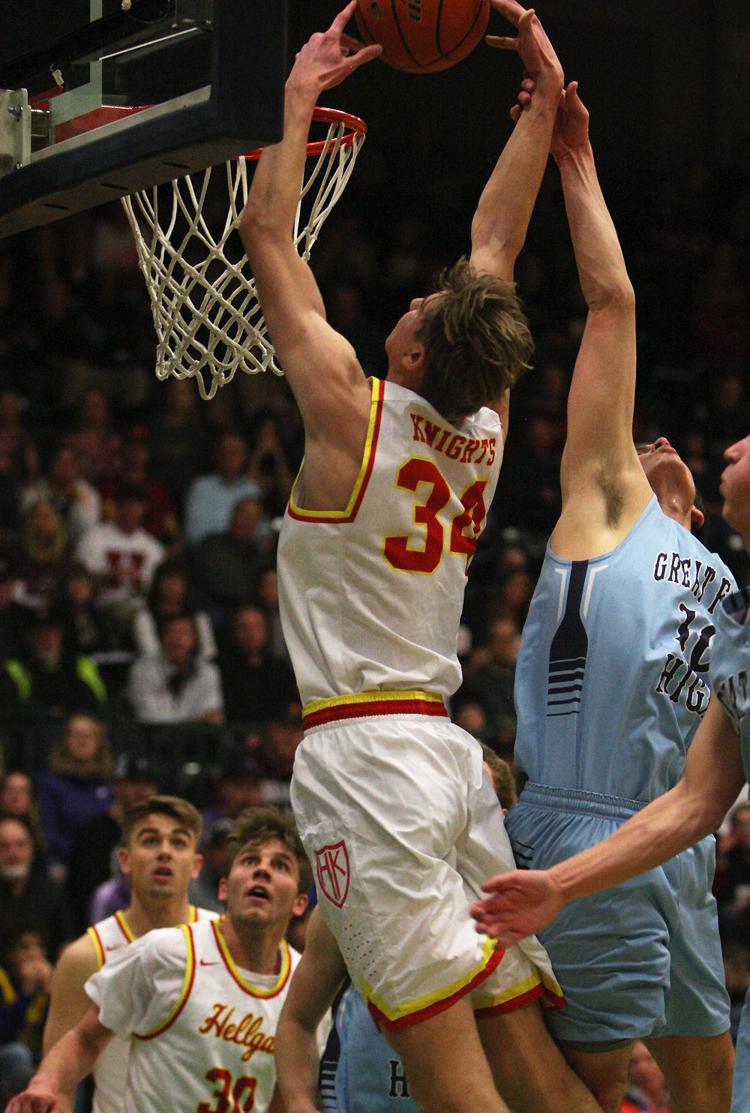 Hellgate's size also helped stave off Great Falls, who went ice cold in the second half. After shooting 46.7 percent in the first, the Bison made just 7-of-25 second-half shots and were 3-of-11 from behind the arc during that span.
Great Falls will play in a loser-out game against Helena Capital at 10:30 a.m. with a spot in the third-place consolation finals on the line. Bozeman and Hellgate will tip at 6:30 p.m. at the Butte Civic Center.
"This has been a really special group, their togetherness, the way they play for each other has been really neat all year long," Hays said. "Hopefully we can close it out tomorrow night."
LOSER OUT
HELENA HIGH 47, HELENA CAPITAL 44
Hayden Ferguson had 12 points and three rebounds as Helena High came back to beat Helena Capital in loser-out Class AA action.
Trailing by three entering the fourth quarter, the Bengals outscored the Bruins 13-7 in the final frame to win 47-44. Capital led by as many as eight points in the first quarter, but Helena rallied to lead by four at halftime.
The Bruins came out strong, however, and outscored the Bengals by seven in third. Helena shot 43.2 percent from the field for the game, while Capital shot 38.5 percent. Trevor Swanson led Capital with 16 points while Garrett Kueber tacked on five points, 11 rebounds and one block. Capital ends the season 12-11 while Helena will play the loser of the Missoula Hellgate/Great Falls High semifinal.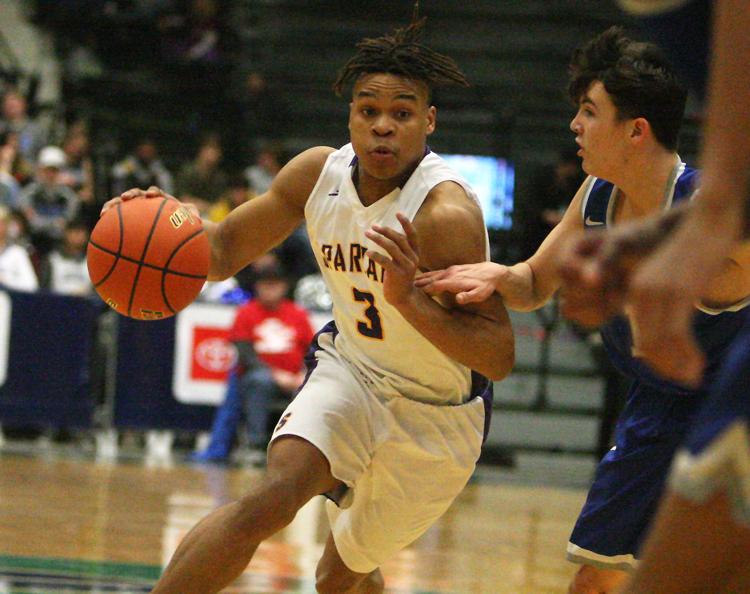 MISSOULA SENTINEL 62, BILLINGS SKYVIEW 44
A day after disappointment at the hands of Great Falls, the Spartans will have a chance to get into the consolation finals.
Sentinel came out strong against the Falcons and led by Tony Frohlich-Fair's 20 points topped Skyview. Alex Germer was also in double figures, scoring 10 points for the Spartans. Cam Ketchum had 13 points on 17 shots to lead the Falcons.
Sentinel will play the loser of the Bozeman/Great Falls semifinal in the consolation bracket at 9 a.m. Saturday morning at Butte High.