BELGRADE — Harlem junior L'Tia Lawrence was hard to stop on Thursday. But when the Forsyth Dogies needed to shut her down the most, they did.
Forsyth, ranked No. 6 in the 406mtsports.com Class B poll, survived a rough third quarter and a Lawrence outburst in a 40-37 win over the No. 3 Wildcats in the opening round of the Class B state girls basketball tournament. The Dogies are headed to the state semifinals for the first time in four years.
"Growing up, I watched the girls at Forsyth do the same thing," said Forsyth 6-foot-5 sophomore Lindsey Hein. "It's just crazy. It's a dream come true."
Lawrence, who scored 28 points in a 46-43 Northern B Divisional title win over Wolf Point on Feb. 23, continued where she left off, scoring 11 points in the first half Thursday. The problem for the Wildcats: they got almost no other offense. Lawrence's teammates combined to shoot 1-for-14 from the field in the first half, with Skylee Dirden accounting for the other three points.
Hein scored 14 points in the 22-14 first half.
The Wildcats trailed by 10 early in the third quarter, but they caught fire after that, outscoring the Dogies 19-7 in the quarter to take a 33-29 lead.
L'Tia Lawrence might carry Harlem to a win all by herself. She's hit two straight 3s, and Harlem's deficit to Forsyth is now 24-20 with 4:38 left in the 3Q.

Lawrence has a fame-high 17 points. Here's her second 3. #MTscores pic.twitter.com/QQAJGXkkSi

— Victor Flores (@VictorFlores_BG) March 7, 2019
But just as Harlem looked like it found an offensive rhythm, the cold front returned. The Wildcats led 37-33 lead early in the fourth quarter and failed to score again.
Hein, who finished with a game-high 24 points and shot 11-of-17 from the field, put Forsyth up for good on a three-point play with about two minutes left.
Harlem had the ball with 7.7 seconds left and put the ball in Lawrence's hands.
"We knew they were gonna get her on a give-and-go, so we just (wanted to) play good defense straight up," Hein said. "We had a foul to give, but we didn't want to foul on the shot."
Lawrence, who finished with 22 points and seven rebounds, drove baseline but was well-defended. Her shot attempt hit the side of the backboard, and Roxanne Keefer (12 points, eight rebounds) grabbed the rebound. She was fouled with one second left on the clock, and with no timeouts left, the Wildcats needed a miracle that never arrived.
"It could've went either way at seven seconds," Forsyth coach Rian Pinkerton said of Lawrence. "We just happened to come out on top."
The Dogies (21-3) will take on Florence-Carlton in the semis Friday at 3:30 p.m., and the Wildcats (19-5) will take on Three Forks in a loser-out game at noon.
Florence-Carlton 50, Three Forks 48
A pair of college-bound guards wearing No. 32 traded highlights in Thursday's first-round game. The one in maroon came out on top.
Montana State Billings-bound Danielle Zahn led the Falcons to a back-and-forth win over the defending Class B state champion Wolves. Carroll College signee Kyle Olson and No. 2 Three Forks nearly rallied late, but No. 7 Florence-Carlton held on to advance to the semifinals.
"She's Three Forks' Kyle for us," Falcons coach Duane Zeiler said of Zahn, who guarded Olson throughout the game. "Danny just kept saying, 'No, no, I got her, I got her, I her I got her. It's one of those things, you've gotta give a little sometimes to get a little. We just took a gamble, and it paid off."
The Wolves sprinted out to an 8-0 lead, but the Falcons rebounded, and the score was 19-19 after one quarter. Florence-Carlton led 27-25 at halftime.
The game remained close until the final half of the third quarter, when the Falcons went on a big run to take a 44-31 lead into the final quarter. Zahn converted an and-1 and a crossover on Olson during the run.
"It was all just momentum," Zahn said. "No matter who scores, we all just have great attitudes, and that flows through all of us. It's a great feeling."
The game looked over with 2:48 left, when Florence-Carlton led 50-40. That's when Olson took over, and the score was suddenly 50-48 with just under a minute remaining.
Olson drove to the hoop with less than 10 seconds to go, but she was called for a charge, drawn by Makenna Miles. Three Forks couldn't get off a last-second heave on its next possession.
Zahn said she was more exhausted than nervous in the final minutes of the game.
"I kind of wanted it to be over, kind of felt like it was dragging on," she said. "I'm glad we held on. I'm glad we pulled through."
Zahn finished with 18 points and four assists, and she shot 7-of-16 from the field. Fellow senior Riley Mangun had 13 points and six rebounds.
Olson led all players with 28 points, 10 rebounds and 12 turnovers. She shot 10-of-20 from the field, 6-of-13 from 3-point range and 2-of-8 from the free-throw line.
The Falcons (20-2) have won 19 straight games going into the semifinals. Three Forks (13-12) will try to keep its season alive against Harlem.
Columbus 41, Fairfield 38
Before Thursday, the first round of the state tournament was unkind to Columbus.
The Cougars reached state in 2007, 2008, 2010, 2012, 2014 and 2015, and they didn't reach the winner's bracket in any of those tournaments. Third-year coach Jeromey Burke doesn't know the last time Columbus reached the semifinals, but it at least pre-dates the Montana High School Association's state tourney records, which go back to 2004 (Columbus lost to Baker in the 2001 state championship game). 
However long the semifinal drought lasted, it ended with Thursday's win over the Eagles, the team that sent Columbus to the loser's bracket in 2008 and 2012.
"They put in a lot of work, and it's really hard to continue to ask them to work so hard if they don't get a little bit of fruit at the end of the year," Burke said of his players. "We were a long ways from this spot three years ago, and they just put in the work and got it done."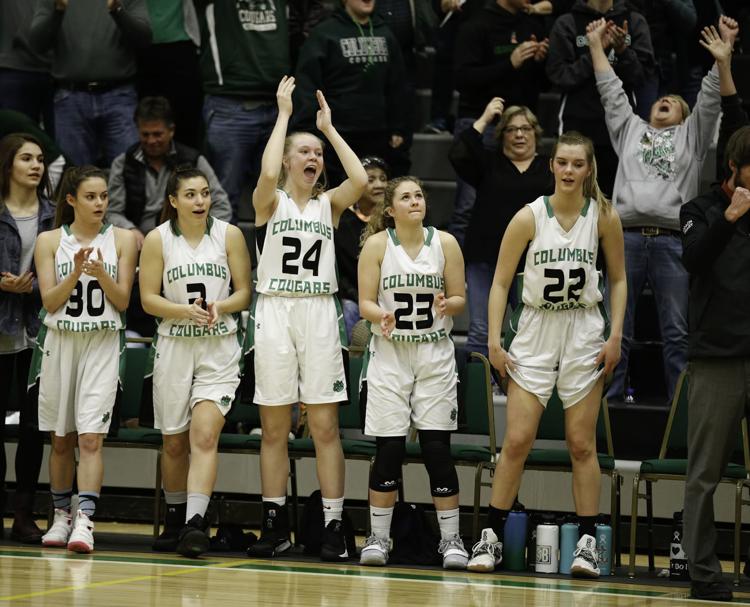 No. 5 Columbus looked like it might cruise into the semis when it ended the first quarter with an 18-8 lead. But the Cougars struggled offensively the rest of the game, especially in the middle two quarters. Fairfield outscored Columbus 6-3 in the second quarter and 13-4 in the third, taking a 27-25 lead with eight minutes remaining.
"(Dustin) Gordon's a really good coach, and you're just not gonna beat Fairfield by 20," Burke said. "I wish we'd have played better, but credit goes to them for making us play that way."
Columbus finally found some juice in the fourth quarter, particularly from the free-throw line. The Cougars shot 9-of-11 on foul shots in the fourth, and all were key. They took a 39-38 lead with a couple minutes remaining and held on for dear life after that.
Cougars senior guard Alexa Riveland drained two free throws with 13.2 seconds remaining to increase the lead to 3. Eagles senior Naemi Wipf, who finished with a game-high 12 points, nearly connected on a last-second 3, but it was too strong.
The Cougars finally broke through.
"Our team works together really good," said Columbus sophomore Brooklyn Wyllie, who scored seven points and made some key defensive plays. "We pulled through and played our best."
Junior Brenna Rouane led Columbus with 10 points and grabbed six rebounds, and senior Morgan Kirch added nine points and six rebounds.
Fairfield junior Kenna Pitcher, who scored 42 points in a Northern B Divisional semifinal win over Cut Bank last month, scored seven points and shot 1-of-13 from the field on Thursday.
"We did a good job on her, but in another respect, it was one of our worst defensive performances in the last couple weeks just because we weren't quite as active as we have been," Burke said. "We know we're gonna have to do some things better. … We're not satisfied."
The Cougars (21-4) will face Wolf Point in the semifinals at 5 p.m. Friday, and the Eagles (14-12) will take on Missoula Loyola in a loser-out game at 1:30 p.m.
Wolf Point 54, Missoula Loyola 44
The Wolves have integrated a pair of talented transfers this season, and both of them played key roles in Thursday's first-round win.
One of the transfers, senior Imani Bighorn, led all players with 18 points and nine rebounds. The other, junior Mya Fourstar, tallied 13 points in the relatively easy victory for top-ranked Wolf Point, which is headed to the semifinals for the second time in three seasons.
No. 9 Missoula Loyola (17-6) was in decent shape after one quarter, trailing 11-8. But Wolf Point (20-3) outscored the Breakers 15-4 in the second and never looked in danger the rest of the night.
The Wolves, who were up 39-25 through three quarters, saw their lead shrink to six midway through the fourth quarter. Bighorn and fellow senior Abby Juve shut the door immediately — the 6-foot-3 Bighorn was fouled on a layup and missed the ensuing free throw, which Juve promptly converted into an and-1 opportunity.
"It really gave us a spark at the end. It put it on lockdown," Bighorn said. "We were like, 'OK, we can do this,' and it kind of made the worries go away."
Bighorn shot 8-of-13 from the field, and Juve (12 points and six rebounds) was 5-of-7. As a team, the Wolves shot 55.5 percent on field goals and held Missoula Loyola to 22.4 percent.
Junior Sam Clevenger led the Breakers with 17 points and six rebounds, and freshman Lani Walker added 10 points. 
Early in the season, Wolf Point worked on welcoming Bighorn (a Poplar transfer) and Fourstar (Frazer) by organizing off-court dinners and other "team bonding" events, said Bighorn, who added, "We gelled pretty well."
Months later, the Wolves are two wins away from winning their first state title since 2003.
"Hopefully, we can make up for lost time," Wolf Point coach Cody Larson said.