BUTTE — With just 14 seconds remaining in the second quarter of the Class C 8-man championship, Great Falls Central quarterback Noah Ambuehl sent a desperate heave into the end zone.
Flushed out of the pocket by the swarming Drummond-Philipsburg (Flint Creek) defense, the ball wobbled until it was snagged out of the air in the end zone by the Titans' Jaxon Lee. The second of three interceptions by the junior, it helped keep the Mustangs from drawing the game to within a single score.
Central would get no closer and Flint Creek took home its second-straight title with a 50-14 win in Naranche Stadium.
"He's the best player on the field," Titan head coach Mike Cutler said. "I believe that, we believe that."
Cutler was quick to commend the other players on the team, but on a chilly Saturday afternoon Lee simply seemed to be a level above anyone else on the field.
Lee scored four times, with three of those coming on the ground. He finished with a monstrous 346 all-purpose yards, with 256 of those coming on 18 rushes.
With starting Titan running back Colby Manley limited, Flint Creek needed someone to make plays.
Lee answered the call with gusto. He just didn't know what to make of it.
"I don't know, it really hasn't set in yet," Lee said. "I don't know … they needed someone to step up so I guess that's just what happened."
A 38-yard touchdown run from Lee got the scoring going, though a deep pass from Ambuehl to Luke Marmon cut the Titans' lead to just a single digit.
Lee, however, returned the ensuing kickoff to the Central 21 and the Titans scored two plays later. Quarterback Kade Cutler hit Daniel Brabender for a 18-yard score, one of the junior's two touchdown tosses.
Cutler finished with 31 yards passing and also rushed 13 times for 136 yards. He also scored a touchdown on a 61-yard run early in the third quarter that blew the game wide open.
"Our deal is that we're going to be aggressive as we can on offense," Cutler said. "If points come with it, good. That's what we're going to do and we're not going to take the foot off the gas."
Points certainly did come, but it was the Titans defense in the second half that put Central's hopes for a comeback six-feet under. The Mustangs managed to score just once on four trips inside the red zone and only had 71 yards on the ground.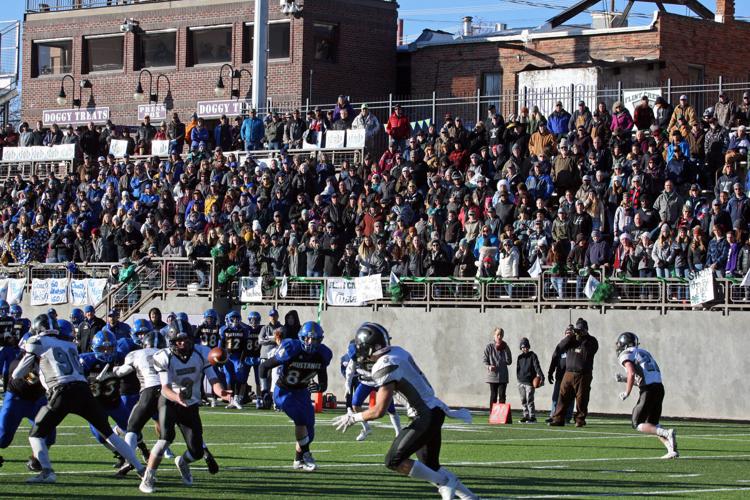 Ambuehl did finish 16-of-26 for 236 yards and two touchdowns, but had three total turnovers. The Mustang running game never really materialized as Flint Creek did a tremendous job limiting the 6-foot-3 Central quarterback whenever he tried to move the ball with his feet.
In all, it was a bitter pill to swallow for Central, which was playing in a state championship game for the first time since 1965.
"It's rough, but someone had to win tonight and someone had to lose," Mustang head coach Greg Horton said. "Unfortunately we're the ones that had to lose. I don't really know what to say other than I'm very proud of my boys."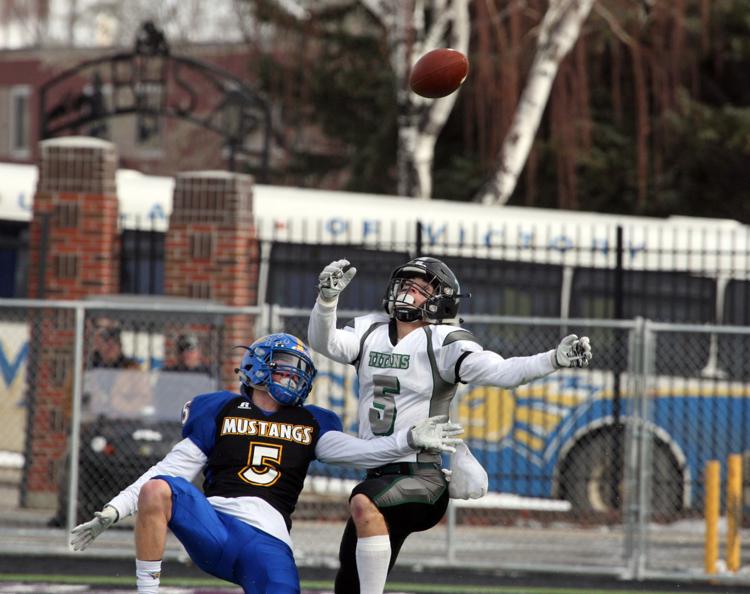 The Titans, meanwhile, are now owners of a 25-game winning stream and two-straight state championships.
Pretty impressive for a co-op that started just five years ago.
"This one's as special as the one last year so that's how we look at it," Cutler said. "We're awfully proud of our Flint Creek communities, Drummond and Philipsburg, our crowd is fantastic and here we are, champions again."