BUTTE — All the way back in the late summer, Drummond-Philipsburg (Flint Creek) played its season-opening 8-Man football game in Naranche Stadium.
Nearly three months (84 days, to be exact) following the blowout victory over Clark Fork, the Titans are back in Butte. And this time, there's a lot more on the line.
At 1 p.m. on Saturday afternoon, Flint Creek (12-0) will take on Great Falls Central (10-1) for the Class C 8-Man football championship. Riding a 23-game winning streak, the Titans are the defending state champions and have rolled through their competition this season.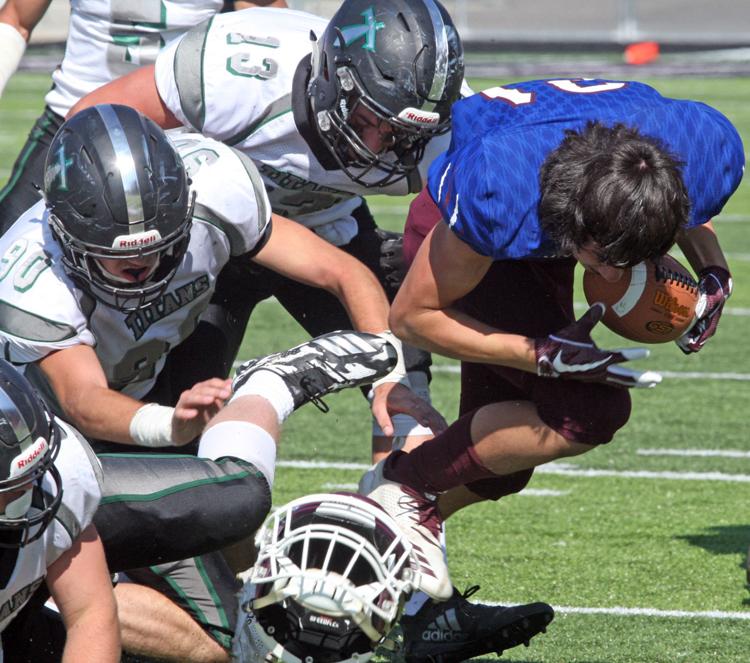 "It's always exciting to go back into Naranche Stadium, of course," Titan head coach Mike Cutler said. "The mood with the team is great, I don't have to tell them they're playing in the state championship, of course.
"I don't need to remind them of that."
Through 12 games this year, Flint Creek has outscored its opponents 664-116 — that's an average of 55.3 points scored and 9.7 given up per game. Just one team — Shelby — has held them under 35 points this season and that came last week in a hard-fought semifinal battle.
With just over eight minutes left in the fourth quarter, the Coyotes took a 20-14 lead, before the Titans were able to score the final two touchdowns of the game and move on to the finals for the second-straight season.
It was the first real challenge this year for the Titans, but the relatively veteran team responded well. Flint Creek had outscored its playoff opponents 124-28 in its first two playoff games this season.
"This group of seniors that's playing their last game of football tomorrow, they've been such great leaders," Cutler said. "They bought into the system two summers ago when I approached them and I couldn't be prouder of them."
The Titans — in just their fifth year of a co-op — have nine upperclassmen (four seniors, five juniors) listed on their 22-player roster. Three-year starting running back Colby Manley has led the charge this season, though the senior was injured during the Shelby game and did not return.
Junior wide receiver and defensive back Jaxon Lee has been an important player for the Titans, as has senior lineman Kane Hess. Lee has a number of interceptions this season, while Hess anchors a tough group up front.
And Jaxon Lee joins the scoring party but this time he takes an interception back 25 yards for a score. Cutler runs in the 2-point and already it is 30-8 Titans with 5:04 left in 1Q #mtscores pic.twitter.com/T3nrMU9w8J

— Kyle Hansen (@khansen406) November 3, 2018
As talented as they are, the Mustangs will provide a challenge for the Titans.
Great Falls Central comes in with impressive scoring margins as well — they've put up 39 points per game and allowed just 12.6 per contest through 11 games. The only game the Mustangs have dropped this year was a 34-0 loss at Shelby in the middle of October. That's not the only common opponents the teams have played either.
Great Falls Central beat Choteau 39-12 and Clark Fork 57-14; Flint Creek took down the Bulldogs 50-14 and the Mountain Cats 50-16.
"(Central) is extremely well coached," Cutler said. "You don't see a bunch of errors and scheme problems that you feel you can attack when you watch the video.
"The other thing is that they've got a team full of great players."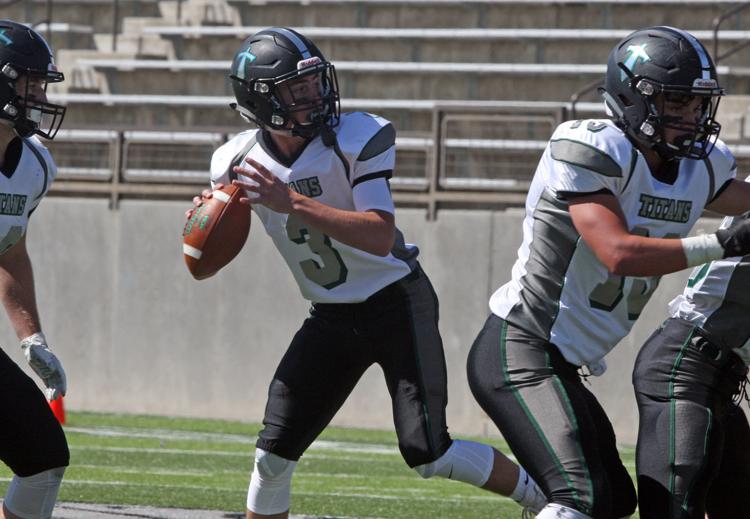 The Mustangs, who haven't won a state title since they were a Class A program in 1962, have a dynamic offense, using both Noah Ambuehl and Ethan Vincent at quarterback. Ambuehl, a 6-foot-3, 220-pound Montana football commit, also plays tight end and will likely have the ball in his hands more often than not. Running back Riley Dickinson will also play a big part of what Great Falls Central wants to do on offense as well.
With two high-powered offenses coming to Butte, the Naranche Stadium scoreboard just might light up in the first-ever neutral site 8-Man championship. For the Titans, it might just be the second time they'll do that this season.