It has been more than a half-century since a Great Falls Central football team took the field in a state championship game.
The Catholic school suffered a 24-21 defeat to Great Falls in the 1965 Class AA title game, just three years after Central claimed the Class A title over Havre in 1962.
And then, in 1973, Great Falls Central ceased to exist. The school didn't reopen until 2000.
Since reopening, the Mustangs have only played 6-Man and 8-Man football and never reached a championship game. But that changes on Saturday, when 12-0 Drummond-Phillipsburg (Flint Creek) and 10-1 Great Falls Central meet in Butte to decide the 8-Man crown.
For second-year head coach Greg Horton, further than trying to bring the championship trophy home, his Mustangs are still trying to find their place in the Electric City alongside the Class AA Great Falls High and Great Falls CMR schools.
"One of the challenges is trying to find that community within the community, if you will," Horton said Thursday. "The other public schools have a strong following — they didn't have a three decade separation."
So this week, Horton said he's been trying to draw a line between today's Great Falls Central and "the Central of the past."
"The excitement, ecstatic feeling has been coming from that old Central crowd, and the new Central crowd is kind of coming together and bonding around this football team."
This week, the Mustangs have had a speaker from the 1962 championship team give a talk. Former players have sent in video messages, and players from teams of the 1960s have been wishing them luck, Horton said.
"It has brought the community together," Horton, a Great Falls High graduate said. " … Nostalgia meets the new frontier of the Central community."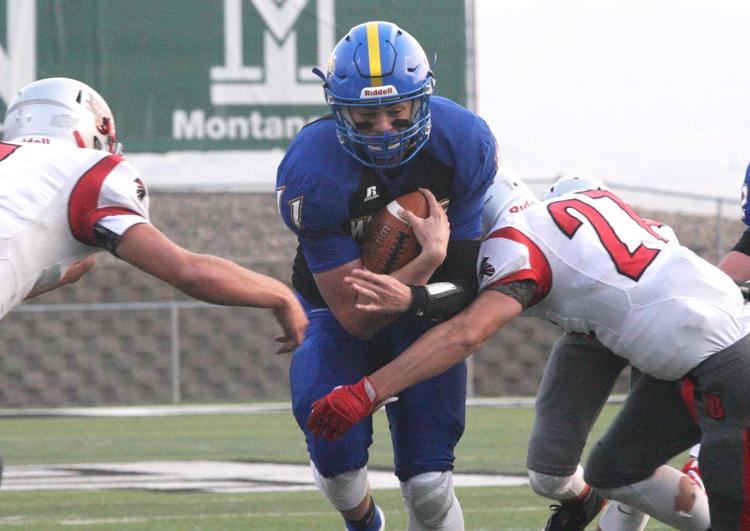 Tall task
A look at common opponents, plus Flint Creek's marvelous run in 8-Man football, and the Mustangs appear to be a pretty clear underdog.
But don't tell them that.
In last week's semifinals, Flint Creek took down Shelby, 28-20 to advance. Back on Oct. 12, Shelby shellacked the Great Falls Central, 34-0.
Central was without a number of key players, but Horton makes no bones about it: "That was our worst game of football," he said.
"Some of the egos on the team, our focus had to be redirected from the coaching staff on down."
Since then, the Mustangs have outscored opponents 137-54, including a 28-18 win over Fairview last week.
"The thing we've been talking about, is we still haven't put together a full, mistake-free game of football all season," Horton said. "If that's going to happen, the result is going to be amazing. We can play with anybody."
What could have been
Had 8-Man championship football games not switched to a neutral site format this year, the Mustangs could have been hosting the title game.
Instead, they'll make the 2 ½ hour trip to Butte's Naranche Stadium. 
"I like the Butte community, it's always treated me well," Horton said. "I don't expect anything less from the Butte High administrators and organizers hosting us at beautiful Naranche Stadium. … At the end of the day, we could have been playing Drummond-Phillipsburg down the street from our school."
The decision, which came in April, has gotten a mixed-reaction from the 8-Man football community in Montana. 
Still, Horton said he'll be pleased if both teams' fans travel well and stuff a crowd into Naranche's bleachers.
He's got a pitch for neutral fans around the Mining City, too.
"Regardless, we're lining up on a football field and playing football," he said. "If you want to see some good football, if you've never watched 8-Man, it's true football."