While pretty much everyone in the Bitterroot Valley digs out from some record snowfall this week, the school spring sports season — yes, spring — is scheduled to start on March 11.
That's just 10 days from Friday. 
"It's kind of scary, our parents meeting is Monday and we're supposed be getting at it a week after that," Florence softball coach Rob Ralls said.
Not only did Florence receive 23 inches of snowfall by the time Tuesday morning rolled around (and not including a Wednesday dusting), the Florence softball team has an added wrinkle. Ralls' two-time defending Class B-C state champion Falcons are still in the middle of finishing their brand new softball stadium. 
With partially completed dugouts full of snow and a delicate new grass field underneath two feet of powder, the timetable for when the state champs will get to play ball on their home turf is a bit up in the air.
"We usually run a bunch of four-wheelers and tractors across it, which breaks up the hard pack, and that does help it melt off quick," Ralls said. "The problem is we got so much new sod down with the new field and we're a little leery about doing that.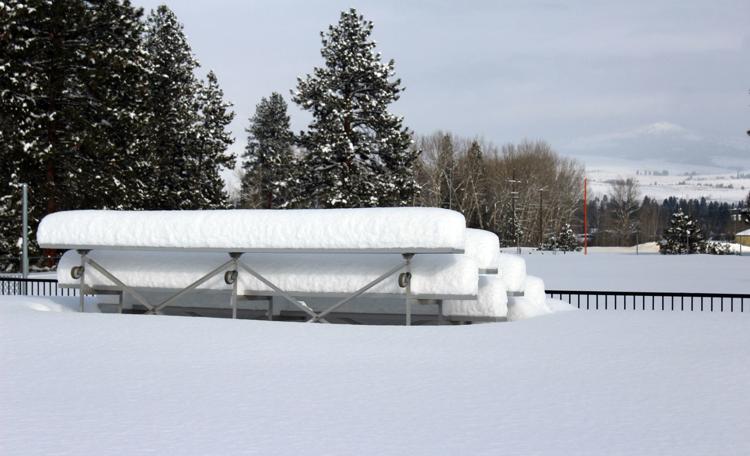 "We got a lot of work to do. Mother Nature kind of stopped us at the end of the year, and we were hoping to get an early spring."
Coach Ralls said he thinks the field is about 70-80 percent done, though, and the Falcons are scheduled for away games to start the season.
"We're kind of just at Mother Nature's mercy now," Ralls said.
Indeed, that was the case for all the spring sports programs — and just about everyone else — up and down the U.S. Highway 93 corridor. 
***
In Hamilton, the school's brand new athletic complex, including its state-of-the-art 10-lane synthetic track sat under knee-deep snow Thursday. The school's third snow day this week allowed for a mostly empty parking lot as plow trucks continued building up berms of snow. 
On the Hamilton soccer fields immediately next to the track and football stadium, a couple tried out their cross country skis.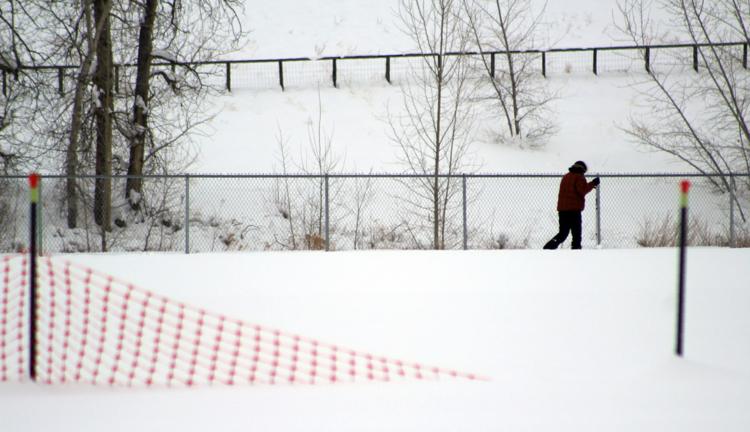 Hamilton was hit with 25 inches of snow between Monday and Tuesday, a two-day record dating back to 1895.
"We're going to have to do some workouts in the gyms, form running and just some basic running drills," Hamilton's head track coach John Stromberg said Wednesday while another relatively light snow storm peppered the valley with a couple more inches of snow.
"We're going to have to work out a schedule because the other spring sports are going to need gym time, too."
Shoveling the track for extra conditioning isn't recommended, Stromberg said. Abacus Sports, a company that installs synthetic tracks, also strongly discourages shoveling tracks.
That means the Broncs will have to wait for the snow to melt to try out their shiny new tow.
"In the winter time (before the heavy snow fall) we've had a couple kids that have worked out on the track, the kids are excited about being on it," Stromberg said.
***
Hamilton is also supposed to be home to Darby's first golf tournament of the season, slated for March 30. That does allow for some time.
On Thursday, though, a pair of employees at the Hamilton golf club remained indoors with the golf simulator as the top of the putting green flags peeked out from the snow drifts.
"I've never had to (contemplate) playing golf in a golf cart versus having to play golf in a snow sled," Darby coach Mark Snavely said.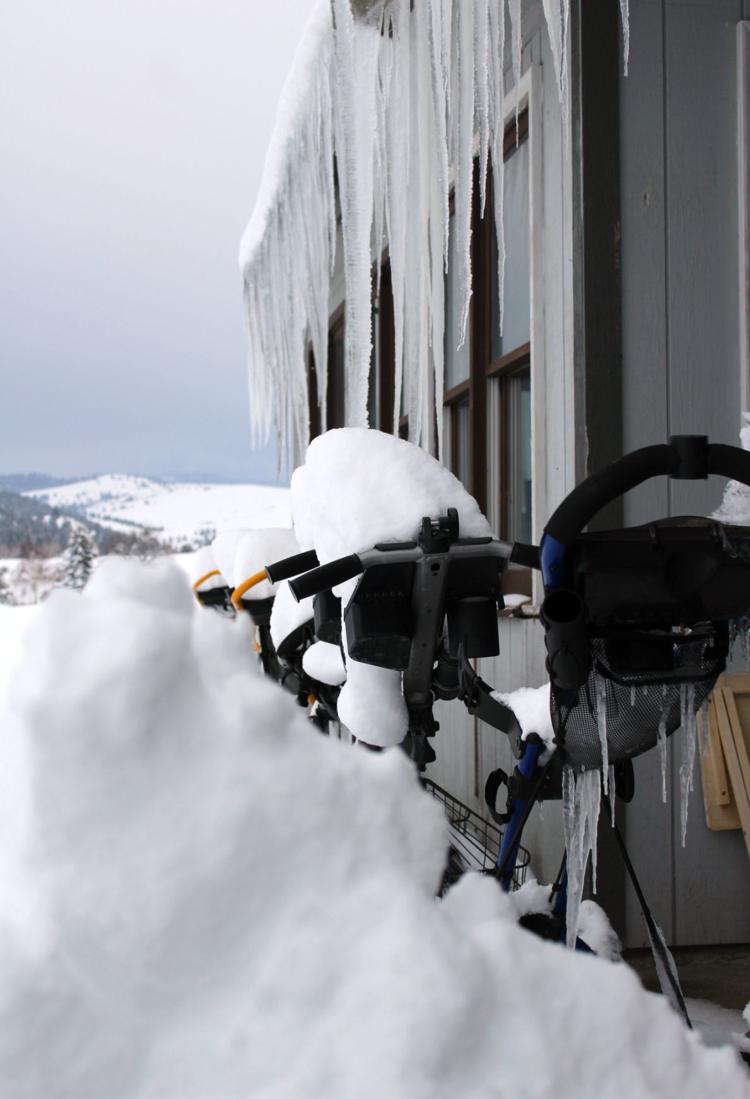 Ryley Conner, after a near-all-state finish last season, returns for Darby to the links — as soon as they can get to them — but coach Snavely was optimistic about what his squad could accomplish indoors.
"We'll go over rules and regulations for one thing because that's very important," Snavely said. "Last year we bought putting mats and hitting mats to hit off of (inside) and I have a stand-up cage you can hit into.
"It's not the way we want to do it, but that's the way it is sometimes."
Darby was hit hard with snow, with Snavely saying it had to be near 3 feet. 
***
In Corvallis, the snow berms built at the high school had to be near 10 feet. That's roughly the height of the fence surrounding the tennis courts at the high school. Just poking above the mountain of snow are six blue state-champion signs, commemorating the Blue Devils' state titles. 
The boys have another one to add to the fence this spring after tying for first with Hardin and Whitefish a season ago.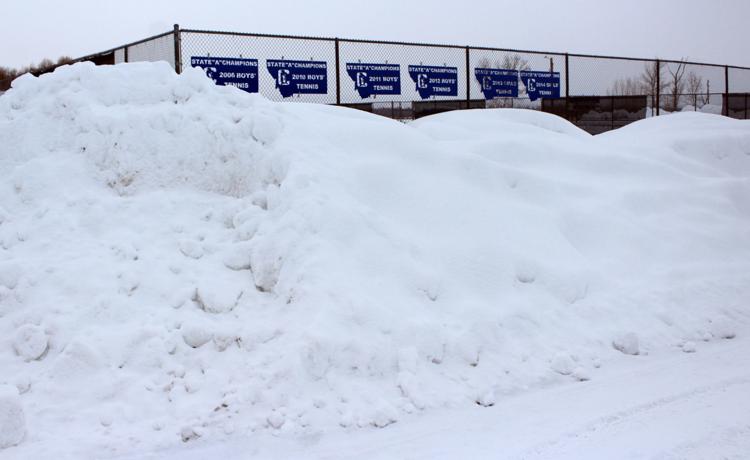 They might just be able to hang it up without the aid of a ladder thanks to the snow.
"I looked out the mound there and thought, 'Jeez, those signs are about to disappear up there with the snow.'" Corvallis tennis coach Chris Maul-Smith said Thursday. 
Coach Maul-Smith said his kids are excited to get playing, though, with students showing up during one of their school's snow day wondering when they're going to get outside and play.
"I said, 'Well, take a look at the snow. We're going to have to figure this one out,'" Maul-Smith said.
The Blue Devils most likely will be spending the time in the gym — as is the case for many Montana schools when winter decides to stick around late.
Corvallis' girls coach Mike Fehr explained what the gym workouts look like.
"We have some indoor things we can do with low-compression tennis balls that don't bounce as high (on the gym floor)," Fehr said.
He added that the Canyons Athletic Club has been in talks with the tennis programs at each Bitterroot school for a potential place to play until the inevitable spring runoff takes hold on the valley floor.
Until then, the outdoor spring season for all of the Bitterroot's programs will largely remain inside.