BILLINGS — The Billings West swim team held a three-hour practice before the Billings City Meet on Saturday. Seniors Mason Johnson and Michael Van Keuren were understandably tired during the meet, but they swam with a little less weight on their shoulders than they did last week.
Johnson signed a letter of intent to attend and swim for Wesleyan University, a Division III school in Middletown, Connecticut. Van Keuren signed with another Division III school: Kenyon College of Gambier, Ohio. Swimming World Magazine wrote about their signings earlier this week.
Johnson and Van Keuren are a little nervous about going to school so far away from home, but their trepidation is overshadowed by the knowledge that they'll swim in college.
"At first we were thinking, 'That's really far away,' and it'd be a lot, but we at least gave it a shot and went down and visited, and it was perfect," Johnson said. "It was everything I wanted in a college."
Before choosing Wesleyan, Johnson's dream school was Vanderbilt, and that's where he figured he'd go if his grades were good enough (his weighted GPA is 4.4, he said). But he reconsidered his position when he discovered Vanderbilt didn't have a men's swim team.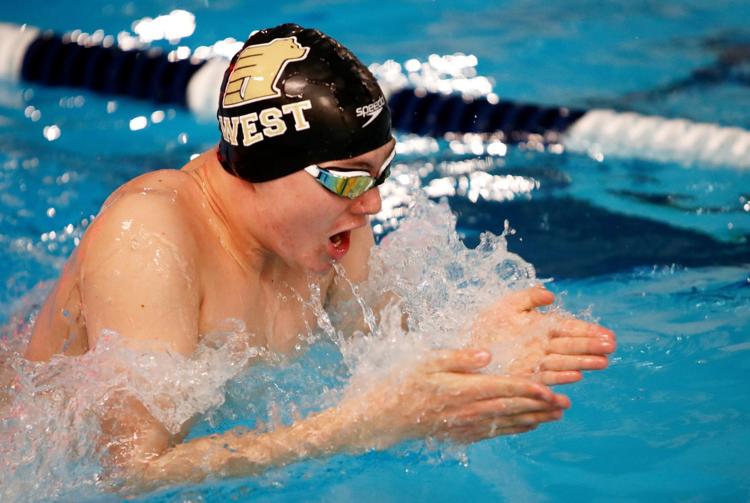 Johnson quickly fell in love with Wesleyan, and the school's swim coach said he'd help get Johnson into the school if he decided to join the team, Johnson said.
Johnson often thought about staying closer to home for college, but he knew the northeast was dotted with prestigious academic colleges, and he gravitated toward them — he won't be required to declare a major next year, but he's leaning toward neurosurgery with medical school on the horizon. Vanderbilt always remained an option, but Wesleyan dangled a carrot that was too enticing.
"I just finally decided I had to swim in college," Johnson said. "It's what I've done my whole life."
In Saturday's meet, Johnson finished first in the boys 100-yard freestyle and second in 100 breaststroke. Fellow West senior Brayden Arnold was first in the 200 freestyle and 100 backstroke, and Van Keuren won the 200 individual medley and 100 butterfly. Johnson, Arnold and Van Keuren all compete for the Billings Aquatic Club.
Van Keuren is relieved to have his college destination complete, and he's looking forward to competing for Kenyon, where he plans to focus on the butterfly.
"Mostly excited just to be done with high school," he said. "I'm not really sure what to expect. I visited Kenyon, and everyone on the team is nice. The campus was beautiful."
Hirschi thrilled to become college triathlete
Skyview senior Hannah Hirschi finished fourth in her lone individual event (100 breaststroke) at the Billings City Meet, and she set a personal record in her breaststroke split during the 200 medley relay.
Hirschi wants to finish her senior swimming season strong, but she's also looking forward to getting outside of the pool. Last month, she signed with Black Hills State to join the school's triathlon team.
"I like open water swimming lot more than I actually like doing laps in a pool, so it's a lot more exciting for me," she said Saturday. "I like the competition. I also like the endurance of it. I'm not very good at sprinting."
Hirschi also ran cross country for Skyview, and she has enjoyed biking for most of her life, so triathlon was a natural fit. In fact, she became a competitive swimmer after her first triathlon as a fifth grader.
For a while, Hirschi expected to be a cross country runner in college, especially since so few colleges carry triathlon teams. Her ears perked up when she heard college triathlon was an option. Black Hills State transformed the option into an offer, which she gladly accepted.
Hirschi has often competed against triathletes older than her, so she's excited to get to a place where her competitors are the same age.
"I'm ready to graduate, but I'm sad to leave my two teams behind," she said.
Crouse succeeds behind father's support
Whenever a Senior swimmer competed at Saturday's meet, they were accompanied by some high-pitched whistling.
The sound was especially loud whenever Senior freshman Ellie Crouse swam. The whistling was coming from the mouth and fingers of Senior coach and Ellie's father Mitch Crouse.
"It's really loud," Ellie said with a laugh. "I like knowing that he's cheering for me."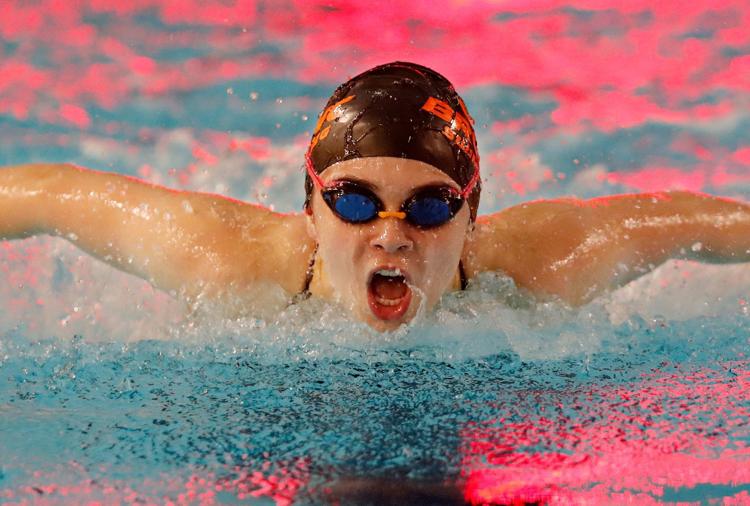 Mitch was the head swim coach at West on and off for more than a decade. He wasn't coaching before last season, but he was swayed by his then-senior daughter Dara, who said she'd swim for Senior if Mitch coached. He wiggled his way into the position and provided a whole bunch of whistling during Dara's final high school season.
As his oldest daughter graduated, his youngest came along, giving him as many as four more years to coach one of his children.
"It's rewarding," he said.
Mitch has coached Ellie in club swimming, so this winter gives him more opportunities to spend time with his daughter in the pool. Dara is an assistant coach for Senior, as well, so the Crouses have their fingerprints all over the Senior swim program — a development Mitch, who graduated from West, didn't see coming years ago.
On Saturday, Ellie finished first in the girls 50 freestyle and the 100 butterfly, helping her team finish first in the three-team event (West placed first in the boys team standings). The success is nothing new for Ellie, and she gives some of the credit to her coach/father.
"I like it a lot better when he coaches me," she said. "He's a pretty good coach for me, and I understand him."