GREAT FALLS — Tennis players squeezed in 88 matches on 19 courts in three different locations Thursday because of forecasted rain for the second day of the State AA tennis tournament, but they all converged on the Meadow Lark Country Club in the afternoon to feature all eight semifinals.
After the first day's worth of play, the boys are led in the chase for team trophies by Missoula Sentinel and Bozeman and Missoula Hellgate tied for second. The Bozeman girls lead Helena High and Hellgate for the podium spots.
Boys
The day culminated in fans being treated to three big matches at the same time on both the indoor and outdoor courts at the Meadow Lark Country Club. 
Outside, Bozeman freshman Conner Joly and Missoula Big Sky's Liam Johnson went back and forth.
When asked how Joly was able to get the 6-4, 7-5 win Joly replied, "That's a good question. I thought I lost it in the second set to be honest.
"It's just with me normally if I start thinking too much, like what's going to happen in the future, I start losing or start going for too much. So I've just got to be in the moment for every point."
He'll face Kalispell Glacier's Rory Smith, who at the same time was locked into the other semifinal inside with Missoula Sentinel's Ethan Violette. Smith ultimately won 7-6(7-3), 2-6, 7-6 (7-4).
"It started out kind of rough. He was serving really big and his forehand is just massive. It's probably one of the best in the state," Smith said.
Smith won four straight in the first set to get to the tiebreak and then Violette came back in the second.
"The third set, it was just a battle all the way through. He got up 4-1; I battled back," Smith said. "It was just a fun match."
And although Smith, who finished fifth last year, and Joly have not faced each other this season, they have played each other before in other tournaments.
"It's just been back and forth. He won two and then I won two," Smith said. "He's really fun to play against so I'm looking forward to it."
Of those still surviving on the winning side of either boys' brackets, only Cody Curtis, half of a duo from Missoula Sentinel with Connor D'Angelo, has made it this far before. They defeated their teammates Jack Johnston and Sam Olsen 6-2, 6-3 to get to the championship.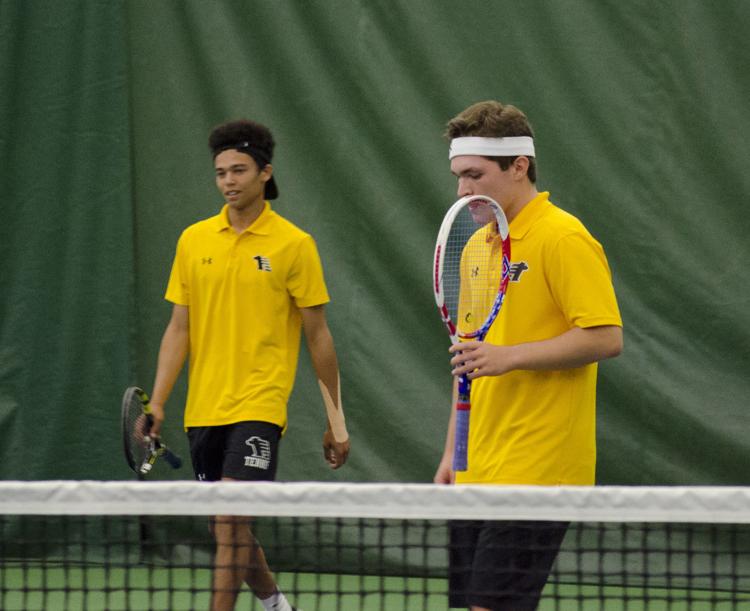 Curtis and D'Angelo will be joined by Billings West senior Timmy Johnson and junior Jayden Ostler who survived a marathon 3-6, 6-3, 7-5 match with Missoula Hellgate's Henry Ledyard and Wyatt Brown to cap off the day.
"I wanted to hug him," Johnson said. "I just ran to him and he ran to me and I just jumped."
"Just pure adrenaline really that third set and part of the second set. It's kind of a blur now," Ostler said after coming off the court. "I'm not quite sure how that all just went down, a little in shock."
"Going in I knew it was going to be a really hard match and we were just talking about going out swinging."
They fell behind early, but were able to keep coming back throughout the two and a half hour match.
"It was probably the most fun match I've ever played," Johnson said.
"It's the match that you live for. These are the matches that you dream of where you want to come back and you come back strong and both teams are playing well and you just out-hit your opponent which is so much fun."
And on a day where they were able to put it all together, Ostler reflected on how far they've come.
"We've never played at this level. We've practiced with adults our coaches set up for us," Ostler said, "so it was kind of interesting just trying to step it up again."
Girls
The girls will also feature new winners. Billings Senior's Annie Woods was a runner-up last year, but is now paired with junior Gigi Montague. They have gone undefeated this season and will face Bozeman senior Laurel Ward and junior Sasha Hathaway in a rematch of last weekend's Eastern AA championship. Both have been fruitful pairings for the first time duos.
"We had a bit of a rough finish to divisionals, but I think that's what made us come out here and play the matches like we have. We've been way more aggressive, we've been poaching at the net and just felt more comfortable with each other's abilities and it's really fun to see," Ward said.
Ward and Hathaway had to get by Billings Skyview's Hailey Carlson and Jennifer Guzman 4-6, 6-3, 6-3. Carlson and Guzman went to three sets in two of their three matches during the day.
"It was definitely a roller coaster, but I think in the end we pulled it out and we figured out what we had to do and we had to be aggressive at the net and not lose our confidence at the net," Hathaway said.
And like they have for much of their season, the Broncs are taking a loose approach to their tournament. They said their preparation for Saturday's championship will include some relaxing in the hot tub, maybe a dance party or two and hopefully better food than their proclivities for candy, cookies and donuts.
"We've just got to play our games you know, whatever happens happens. It's still fun. And we're out here to have fun so at the end of the day it will be a win no matter what," Montague said.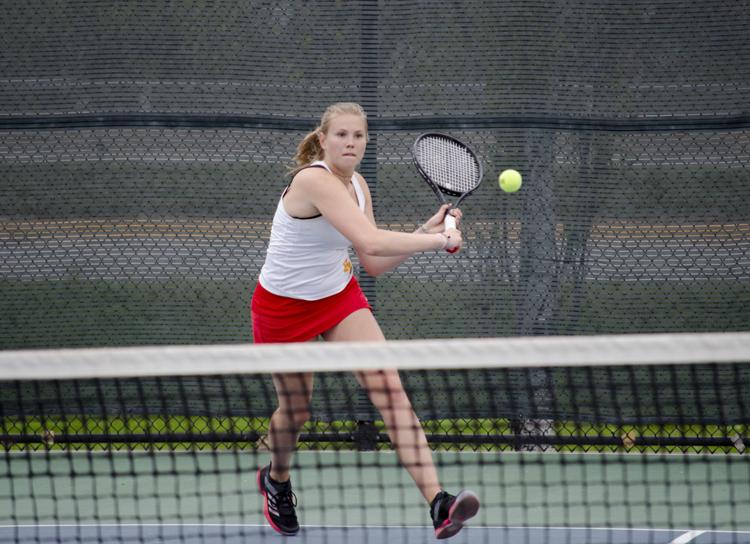 Missoula Hellgate's Hannah Worden will be in the singles championship for her first time (after winning two state doubles championships) where she will face Bozeman's Maicy McCarty.
Worden advanced 6-1, 6-2 past Great Falls CMR's Gail Parambi.
McCarty defeated Kalispell Glacier's Maria Frampton 6-1, 6-1.
Playing through
Lauren Badger's first trip to the state tournament did not go the way she or her partner anticipated.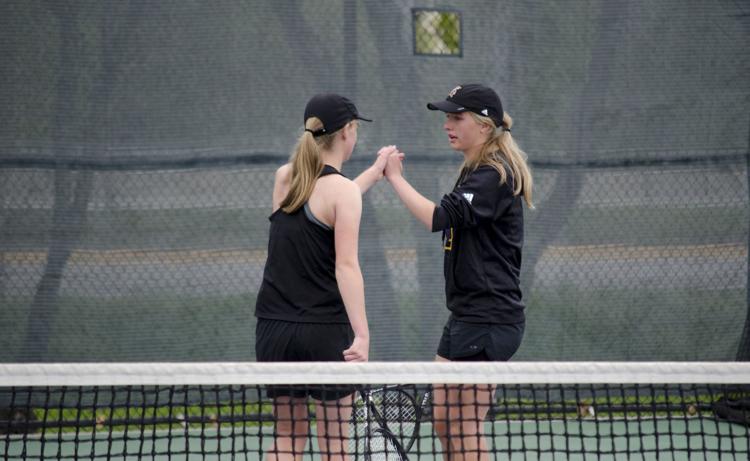 In the second set of their second game of the day, she went for a ball and stepped on her foot weirdly and went down. Faced with the choice to either forfeit or keep playing through it, she opted to have the trainer come wrap it. After an injury timeout, she came back on the court and played the rest of the game through grimaces and sometimes tears.
"We lost the second set, but in our third set we got to a tie break and won," the Missoula Sentinel senior said after. "I could have forfeited our match, but I definitely wanted to keep playing and try."
Fortunately, she has played the past four seasons of their high school career with her twin sister Leanna.
"She was running all over the place and I would also just try to be in the spot where I thought the ball was coming," Lauren said.
They ultimately won over Kalispell Flathead's Pyron and Hawkins 6-1, 4-6, 7-6 (7-5).
"I think she really fought through that match," Leanna said. "I was worried we weren't going to be able to finish the match because we finished the game and then she said the injury had gotten worse and she's pretty tough so I knew it was probably bad."