LAUREL – Bozeman senior Lucy Corbett may only be on her second season competing in track and field, but she's already jumping into the record books.
The future Montana State Bobcat heptathlete is a multi-event stand-out for the Hawks in the hurdles and 200 meters, but she really shines in her favorite event where she has broken multiple meet high jump records and raised her own personal bests.
And in spite of the slow start to the season because of the weather, Corbett is making the most of her time.
In the span of three weeks, she matched her personal record of 5 feet, 7 inches at the Bozeman Triangular, raised that to 5-10 at the Skor-DeKam meet in Helena, which broke a 34-year old meet and Vigilante Stadium record as well as the Bozeman High School record. She then finished it off with a 5-7 performance again at the Midland Roundtable Top 10 to take another 30-year-old record off the books. Corbett currently holds the sixth highest jump in the nation.
"Every time I high jump I like to set a goal and (breaking that Top 10 record) was one of them, besides PRing, but I was happy with that," Corbett said after her most recent performance.
She's led the state throughout this season in high jump and placed in the top 10 of all performers in each of her other events at some point.
"(It's been) good. Especially in high jump. It's my first year doing hurdles though so I don't know," Corbett said. "I enjoy them. They're fun."
Not only has Corbett been adjusting to new events, but this is also her first year in Bozeman after her family moved from California in August.
"I like it," said Corbett. "It was weird, especially because there was snow on the ground at the beginning. It started a lot later, but it feels normal. Just normal track season."
High jump coach Mike Cole has also appreciated her addition to his squad of jumpers this season.
"We have a lot of good jumpers. It's just a cycle we're in right now and we have really good jumpers. (Corbett) came in and fit right in with the girls," said Cole. "It's never a bad thing to have someone who can jump like Lucy be a role model for the program.
"She's in multi-events so we're trying to get her at a level in all of her events that she can score points on at state. I think this year to get her up to her potential is kind of what we're trying to do."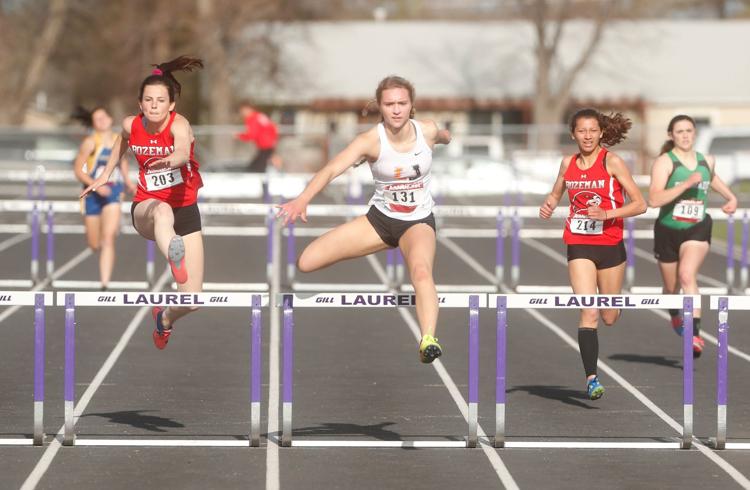 What that potential could be is anyone's guess. Corbett has gone from clearing 5-0 a year ago when she decided to become a soccer player turned track and field athlete as a junior at Del Oro High School to a 10-inch improvement in the high jump with roughly a month left in her high school career.
"Her best days are in front of her and I'm kind of curious to see where she winds up," Cole said. "I think she's anxious to get there and see what she can do."
But before then, there's still the matter of another goal Corbett has.
"I want to be able to break the state record at state so it counts," Corbett said with a smile.
The state record is another 35-year-old record, still held by Helena's Kari Shepherd from 1983, and stands at 5-9 ½. State records can only be officially set at the state track and field meets so Corbett will have to wait a few more weeks to see if she can take aim at that one.
"A state record is really really hard to break because there's a lot of factors that have to all line up. You get that one day - everything's got to be clicking, you've got to be feeling good, the weather's got to cooperate, the competition's got to be there," Cole explained. "It has to be done at the state meet on that day and in front of everybody.
"It's a goal and it's exciting. I mean that's kind of the fun of it. We have got a little bit less than a month left to get ready to go and I think that's kind of the challenge."