BUTTE — Jaden Foster could barely believe his eyes when the video board at the Swede Dahlberg Invitational finally flashed to the final times following the 100 meter dash.
Next to Foster's name, it read 10.94. The Missoula Sentinel sprinter suddenly had the best 100 time in the state.
"I'm very happy, very excited, I don't know what to say, really," Foster said. "I didn't expect to run that time. I expected something way slower."
It's a personal best for Foster, who edged out Billings West's Connor Ryan (11.17) for the win. Getting off to a solid start, Foster made his move early and was able to build up the lead down the final 20 meters or so.
The Spartan junior also took the 200 meter in 22.34 (another personal best) to help Sentinel push past Billings West to win the meet. Sentinel scored 87 team points, while the Golden Bears were just three behind. Billings Senior was third with 57.5.
While not every team at the meet was currently at full strength, if the Dahlberg is any indication, the Spartans are going to be tough at state. This seems especially true in the field events.
Rylan Ortt set a new state-best in the javelin with a throw 200 feet, 10 inches while Brandon Spencer swept the shot put and discus. Elias Dewaters also took the triple jump with a leap of 43-2.
It's a deep group led by its throwers — especially Ortt, who now has the fourth-best prep javelin throw in the country this season.
"It felt really good when it came off my hand, but I didn't think it was going to be 200," Ortt said of his throw. "You just don't expect that."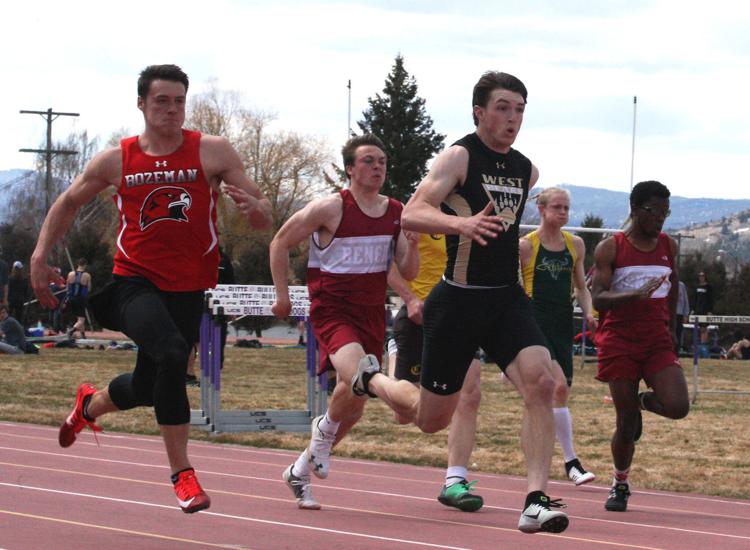 Flathead dominates distance
Ben Perrin took both the 3200 and 1600 races at the meet, further solidifying his place at the top of the Class AA in both of those events.
The Kalispell Flathead senior took the two mile by over six seconds, but the 1600 was much closer. Perrin and Missoula Hellgate's Ian Curtis were nearly step-for-step over the first three laps, but the eventual winner was able to gain a couple strides as the race neared the finish line
"I knew he was close because I could hear people cheering for him," Perrin said. "It's kind of hard sometimes to hear because the crowd and everything, but sometimes you can hear some footsteps and stuff and just feel that someone is behind you.
"I just knew that last 100, 200 meters I'd have to go as hard as I possibly could."
Kyle Calles also took a distance race for the Braves, winning the 800 in 2:01.38. That mark is under a half-second from being a state qualifying time.
"I'm a little sad I didn't get that extra bit of a second," Calles said. "But we'll get there."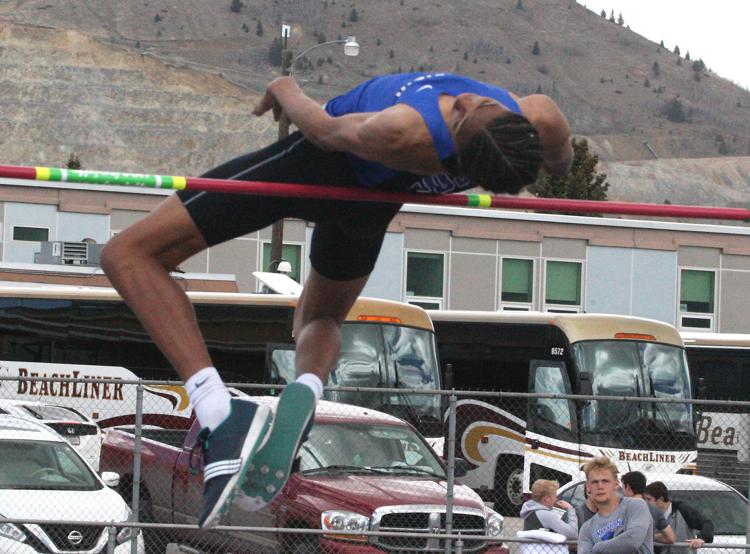 Tintinger doesn't go, Mims wins HJ
Helena High's Trey Tintinger was held out of the high jump with a foot injury that was aggravated earlier this season, though signs point to him making a return soon.
With the state's leader in the high jump not going, Skyview's Julius Mims cruised to an easy win. Coming in at 6-foot-2, Mims then easily soared over the 6-6 mark before opting to try for the meet record.
Set in 1993 by Missoula Hellgate's Mark Koefelda, Mims wanted to crush the 6-10.25 mark and put himself into a tie for the best mark in the state as he asked for the bar to be set at 6-11.
He got close on his second try, but ultimately took the meet with a jump of 6-6.
"I think I just need to work on my curve a lot more," Mims said. "But we still have state, I'm not disappointed … I just feel like if I keep working and working I'll get it."