LAUREL — The Laurel Sports Complex hosted the Southern B and C divisional track and field tournaments on Thursday, and a couple of schools took home the bulk of the hardware.
Huntley Project rolled to team titles in the Southern B meet, while Melstone earned the Southern C girls title for the first time in school history, as far as coach Tamaira Wacker knows. The Melstone boys finished second to Park City.
Project, Melstone and Park City naturally dominated many of the individual events, but many other athletes had successful, sometimes record-setting, performances on a chilly day.
Melstone freshmen shine; Grebe wins 5 events
The Melstone girls team title on Thursday wouldn't have been possible without a pair of freshmen: Kayla Kombol and Draya Wacker, Tamaira's daughter.
Draya Wacker placed first in the 1,600-meter run, the 3,200 and the triple jump, while taking fourth in the long jump and fifth in the 400. Kombol earned one win (in the 800), took second to Wacker in the 3,200, placed third in the 1,600 and finished seventh in the 300-meter hurdles.
Kombol and Wacker couldn't have scripted the day any better — they both earned gold medals, they both set personal records and they helped their team earn a historic victory.
"We both just kind of know that we've got something special here and something to look forward to," Wacker said. "We push each other, but at the end of the day, we know we're gonna be by each other's side no matter what."
Kombol moved from Roundup to Melstone prior to this school year, and Wacker knew her from all of their head-to-head junior high cross country and track matchups.
"We knew we were getting a stud athlete," Wacker said. "We were looking forward to track, thinking we could do big things and hopefully get some hardware."
They thought right, and more hardware might be on the way next week. On Thursday, Kombol and Wacker broke their personal records in the 3,200 by more than 10 seconds each, while Kombol nearly matched her 800 PR and Wacker earned her first varsity win in the triple jump.
However they perform at next week's State C tournament, Kombol and Wacker are excited to spend the next three years competing with, rather than against, each other.
"It's so cool that we're so close and love the competition but don't dislike each other," Kombol said.
While the Melstone girls took first, the Bronc boys arguably had a more impressive showing. They finished 17 points behind Park City despite fielding just two athletes.
It helped that one of them was Brody Grebe. The senior finished first in the 100-meter dash, the 200, the shot put, the long jump and the triple jump. His 11.27-second time in the 100, his 23.08 in the 200 and his 50-foot, 1.5-inch shot put were all personal records. The 100 and shot put marks are school records, Grebe said.
"I just like doing a bunch of different things," he said. "I started out when I was younger (doing) jumping events, like the 300 hurdles and stuff like that. This year, I tried a bunch of new events."
Grebe will attend Choate Rosemary Hall, a prep school in Connecticut, next year. He might compete for Choate's track program, but he'll focus on football and basketball, so next week's state tournament might be his last big meet.
The other Melstone boy at the divisional meet was Ty Kombol, Kayla's brother. The sophomore finished second in the 1600, third in the 3,200 and eighth in the 400.
Red Devil dominance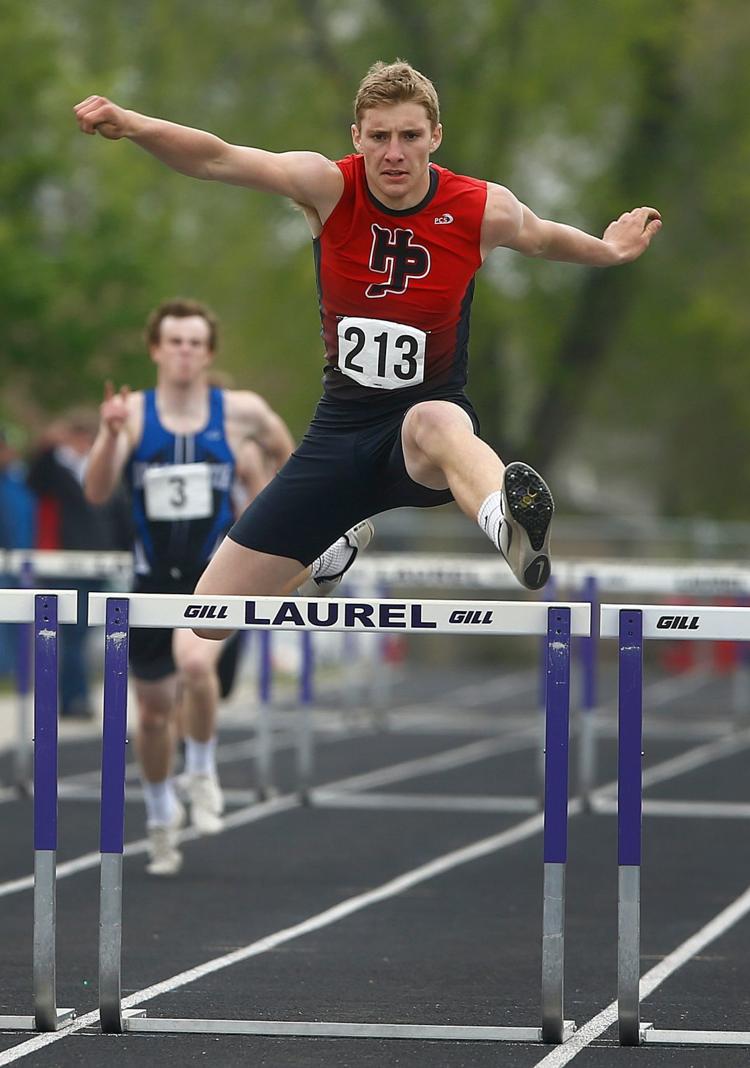 Huntley Project coach Wes Lindeen felt good about his boys team going into the Southern B divisional, and he was proven correct. The Red Devils finished with 157 points. Second-place Manhattan had 56.
He wasn't so sure about the girls, and for most of the day, the team title was up for grabs. But like the boys, the Huntley girls pulled away, finishing with a score of 113.58 (24.58 better than second-place Baker).
Thanks to those divisional performances, 15 boys and 14 girls will represent Project at next week's State B meet.
"You don't really plan on taking almost 30 kids to the state meet," Lindeen said. "We're just really happy."
The Red Devil boys are led by several seniors, including Montana State signee Brad Graves. In the Southern B divisional 110-meter hurdles, his signature event, Graves set a personal record with a time of 14.32 seconds.
Graves also helped his team win the 4x100 and 4x400 relays. The one event he didn't win was the 300 hurdles. Chris Hust edged his senior teammate by 0.33 seconds with a season-best 40.26.
Hust also ran in the 4x400, and he finished third in the 110 hurdles (PR 15.15) and the long jump. He placed 11th in the 200 and immediately grabbed his left knee as he crossed the finish line, a grimace on his face. Hust has been battling patellar tendinitis all season.
As Thursday's results showed, the injury has hardly slowed him down. The pain is worse in the longer races, he said, yet he rolled in arguably his most strenuous event of the day. Before Thursday, Hust had finished behind Graves in every 300 hurdles race they competed in this season.
"We're best friends, so we don't get mad at each other if the other wins or not," Hust said. "In the end, the team scores, and it's all about the big picture at state."
One of Project's main girls standouts was junior Emily Poole, who won the javelin, discus and shot put. Her throw of 38 feet, 5.5 inches in the discus was a personal record.
Before the season, Lindeen and his staff expected their boys team to be a state title favorite (after a tough second-place finish last year) and for the girls to be competitive. They didn't quite project 29 total Huntley athletes to reach next week's state meet, and that number will make it hard for Lindeen and company to book hotel rooms next week in Kalispell.
"Those are good problems to have," Lindeen said.
Other notable performances:
Baker senior Wrenzi Wrzesinski won five Southern B girls events: 100, 200, 100 hurdles, 300 hurdles and long jump.
Big Timber senior Casey Gunlickson won the Southern B boys 100, 200 and 400, with PRs in the 100 (10.81) and the 400 (50.05).
Colstrip senior Whitney Hanson won the Southern B girls 800, 1600 and 3200.
Park City junior Alexis Goldy took first in the Southern C girls 100 hurdles with a PR 18.1.
Ekalaka junior Wyatt Kittelmann shattered his previous PR of 18.31 with a 17.64 in the Southern C 110 hurdles.