WORDEN — Brad Graves has molded himself into a Division I college hurdler, but for a couple months, the simple act of clearing a hurdle struck fear into him.
Graves was beginning his junior track and field season at Huntley Project. In a 300-meter hurdles race the previous summer, he tripped over a hurdle and broke his right elbow. As he prepared for his first race last spring, he stared at the row of hurdles in front of him hoping merely to clear each one, and fearing the worst-case scenario.
"It took up until the district, divisional meet before state to fully build my confidence back," Graves said. "I was just not mentally there and was dealing with not being able to train. I was really frustrated, but you've just gotta slowly build and trust everything."
The trust slowly but surely returned. Paired with his dedication to the 110 and 300 hurdles, Graves saw his times drop and college interest rise. The senior will join the Montana State men's track team next year, and he intends to achieve a couple of items on his high school checklist before he graduates.
As Graves was trying to regain his stamina and confidence following his broken elbow, he suffered another injury. His family owns sheep and cattle, and he was tasked with building a fence around the sheep pasture last spring. At one point, he slammed a post pounder into the ground, and his right thumb got caught up in it.
Graves broke his thumb in the accident. Though not as serious as the broken elbow, the injury forced him to miss the first three weeks of track season. He could barely work out in the meantime, he said, because a rise in blood pressure would cause his thumb to swell up and burst open.
Graves' conditioning level suffered as a result, and the elbow injury still lingered in his mind.
Knocking over hurdles is common, and hurdlers occasionally fall during races. Graves' tumble the previous summer was much more freakish. With two hurdles to go, Graves' foot hooked underneath the top bar, causing him to fall violently onto the track. He jogged around the last hurdle and finished the race, but the adrenaline quickly wore off and pain shot through his right arm.
Graves returned to team competition in mid-April, and his first 110 hurdles race came at the Billings Central Invitational. His time, 15.67 seconds, was his third slowest since the start of sophomore year, when he posted a then-personal record 15.00.
Four days later, at the Gallatin Valley Invitational, Graves faced his first sanctioned 300 hurdles race since the elbow injury. He won, but he was disappointed with his time of 41.42. He broke that mark in four of his final three races the previous spring.
"I was real weary," he said. "I took a long time to actually really hurdle again."
Over time, his mind shifted from injury avoidance to the small details he had worked to perfect throughout his career.
Huntley Project coach Wes Lindeen was impressed with Graves' talent when he first saw him run in junior high school, but Graves' work ethic stood out the most. The 6-foot-2 senior can rattle off every element of a hurdles race, such as the speed of his trail leg over the hurdle and the position of his arms as he touches down.
"He's relentless on trying to get better," Lindeen said. "He takes a piece, breaks it down and becomes a master at it."
Graves' times quickly shrunk over the course of last season. He broke 15 seconds in the 110 hurdles at Southern B Divisional tournament. At the Class B state meet nine days later, he took first place with a personal-best time of 14.64.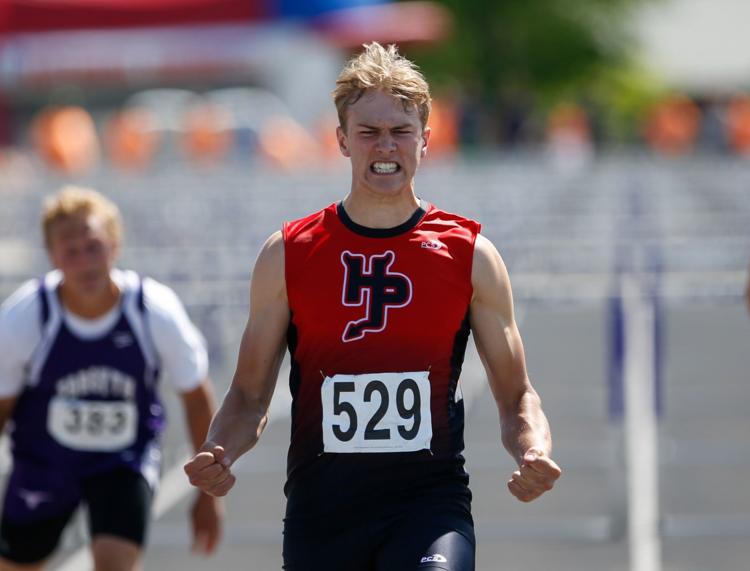 Graves also set a personal record in the state 300 hurdles (40.25), but he finished second to Big Timber's Casey Gunlikson.
Graves and Gunlikson will be teammates next year at MSU.
"He's always been my toughest competition," Gunlikson said. "I definitely respect his work ethic and his overall form. It kind of looks effortless in the 110."
Though Graves considers Gunlikson a friend, he wants to reverse last year's state 300 hurdles finish. He's also staring down the state record in the 110 hurdles: 14.21, set by Helena Capital's Matt Larson in 2002.
Shaving more than 0.4 seconds off his personal record won't be easy, but Graves is healthy — physically and mentally.
"I want to do the best I can," Graves said, "and leave my mark on high school track."