BUTTE — Considering Tylia DeJohn owns the best 100- and 200-meter dash times in the state and that she is also the defending state champion in the latter, it makes a certain amount of sense the Dillon junior has picked up the nickname 'sparky.'
But the name's origins, well, they go back a bit. Entering her freshman year, the Dillon track coaches weren't entirely sure how fast she was, despite the raving of her junior high coaches.
So, at the first track meet of 2017, she was entered in the junior varsity 100 meter race, as well as the varsity 200 and as part of the Beaver's 400 meter relay team.
DeJohn won the 100 in 13.05, which was well below the state qualifying mark of 13.20. Then she won the 200 and helped the Beavers to a win in the relay as well.
All in her first high school meet.
"It was just like a little spark for us," teammate Josey Jones said. "So we called her Sparky from there."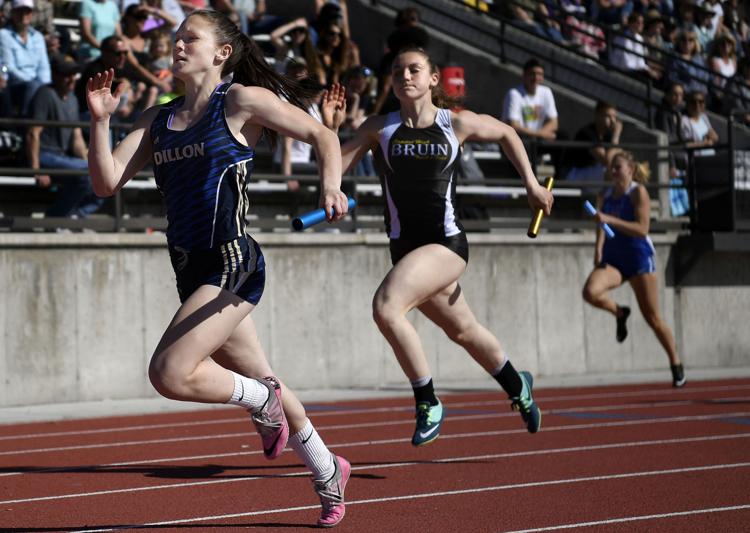 In the months and years since that point, DeJohn has come into her own as a star. Over her three-year high school career, she's picked up 21 individual 100 event wins, 15 in the 200 and 15 more as part of the 4x100 team.
Despite tremendous success in both her sprinting events, the relays are actually her favorite part of being on the track. Considering Dillon has won each of the past two 400 relays at the state meet, it has been a pretty good thing for their team.
But why has it been so successful? She has some thoughts on that too.
"I think we know it's a team and we can't let our team down," DeJohn said. "You're not just working for yourself for something, you're working for a team and if they try your hardest and you don't, you're letting down your team. So we just give it our all, the best we can that and hope for the best."
The team-first mentality has made her a favorite among her team and rarely is she not around the track congratulating or shouting encouragement at her team.
DeJohn was a massive part of the Beavers' first-ever girls state track title last season and much of that success can be traced back to just how much chemistry the team seems to have. While she would be the last person to take any individual credit for a team title, it really is not hard to see how big of a piece — both on the track and off — she's been for Dillon.
"It's just a blessing to have such a sweet girl as part of our team," Dillon head girls and boys track coach Tammi Myers said. "And behind her, also, she just has a team of ladies that are just as supportive as she is and they're just a great group of girls."
Having swept the 100 and 200 at the Western A Divisional (and Dillon tacked on a 4x100 win too), DeJohn will head to the Class A state track and field meet in Laurel as a top seed. The 100 is still a race she has yet to win at the state meet and she certainly wants to repeat in the 200.
Her team, though, is just excited to get the chance to be around the talented and kind young sprinter.
"She's just a spark," Myers said. "She lights up the room when she walks in. We just couldn't be more happy to have her as part of our program."