JOLIET — They come to Wade Sankey late at night.
Usually when he's driving, hauling a load of horses home or to another rodeo.
Mesmerized by the white lines of the road, Sankey's mind will drift along, trying to come up with names of the next generation of bucking horses for Sankey Pro Rodeo and Jeff Robinson Bucking Bulls.
"I've got a giant list of names in my phone," said Sankey. "I'll be driving at night and think of one and say, 'That's great,' and put it in my phone. The next day I'll check again and I'll be, 'Oh man, that's horrible.'
"I'll take suggestions."
Sankey, his father Ike and sister Ryan, along with Robinson, all own equal shares of the stock contracting company that Ike Sankey started with his father Bud in 1978. With its trade mark 4X — signifying Ike Sankey's four National Finals Rodeo qualifications — Sankey Rodeo is known for its deep pen of quality bucking stock.
This day, cowboys young and old are gathered at an indoor arena at the Sankey ranch located outside of Joliet. Seven miles of gravel road off Highway 212 on the way to Red Lodge lead to the ranch. The Sankey spread is 7,500 acres of grass and trees with plenty of room for the 400-some horses to roam. A creek cuts through the property.
At a bend in the road leading to the place, a group of horses huddles together, with a few standing proudly on a hill. They are the Sankey A team, according to Ryan, separated from the others to be used in upcoming rodeos. A little closer to the house are more horses, including mothers with newborn colts.
But this event isn't about them. It's about the three-year-old horses being prepared for their destiny.
It's a meeting of generations. The next generation of bucking horses matched up against the next generation of cowboys. Both sides looking to make names for themselves.
"My goal is to get the cowboy attitude back that used to exist," said Wade Sankey. "Every year, we get a new crop of colts and I would like to see more young guys riding. I want to build interest on both ends, the bucking horses and the contestants.
"I want to make this a social event."
Trucks and cars of all shapes and sizes line the road that leads from the indoor arena to the house. The large indoor arena was at their original place in Cody, Wyoming, used by the Northwest College rodeo program when Ike Sankey was the coach. It's the place where world champions like Dan Mortensen, Deb Greenough and Shane Proctor started their collegiate careers. Wade Sankey is having a sign made with the signatures of past cowboys who honed their skills in the building. Someday it will read like a who's who of professional rodeo.
Mortensen has made it a family day, bringing along his father Don and oldest daughter Joy.
The Joliet ambulance sits outside, a reminder that rodeo is a dangerous sport.
The entries are mostly younger riders, those just starting to make their way on the rodeo road. The group includes Shawn Perkins of Roberts, a three-time Montana high school bareback champion and Dylan Sandvick, the teenage son of 12-time NFR qualifier Larry Sandvick. The younger Sandvick lives with his father in Kaycee, Wyoming.
Both Perkins and Sandvick recently finished in the top 10 at the National High School Finals Rodeo in Gillette, Wyoming.
The competitors are riding for a share of a $1,500 purse that Wade Sankey is offering. Also wanting to help the next generation, Sankey was able to get monetary help from the Bozeman Stampede, Central Wyoming College and Wild Man Riggings, owned by the elder Sandvick.
Mortensen, a seven-time world champion and PRCA Hall of Famer, is pulling the gate, along with former Montana circuit champions J.T. Robbins and Gary Pimperton.
Gavin Gleich, a former bull rider from Australia and former coach at NWC, coordinates cowboys to horses while Wade Sankey loads the chutes. Ryan Sankey videos every ride.
During the summer, Ryan Sankey handles the music and coordinates the grand entry for Sankey rodeo, while Roberta Sankey (Ike's wife) is a timer. Roberta Sankey is a five-time selection to be a timer at the National Finals Rodeo.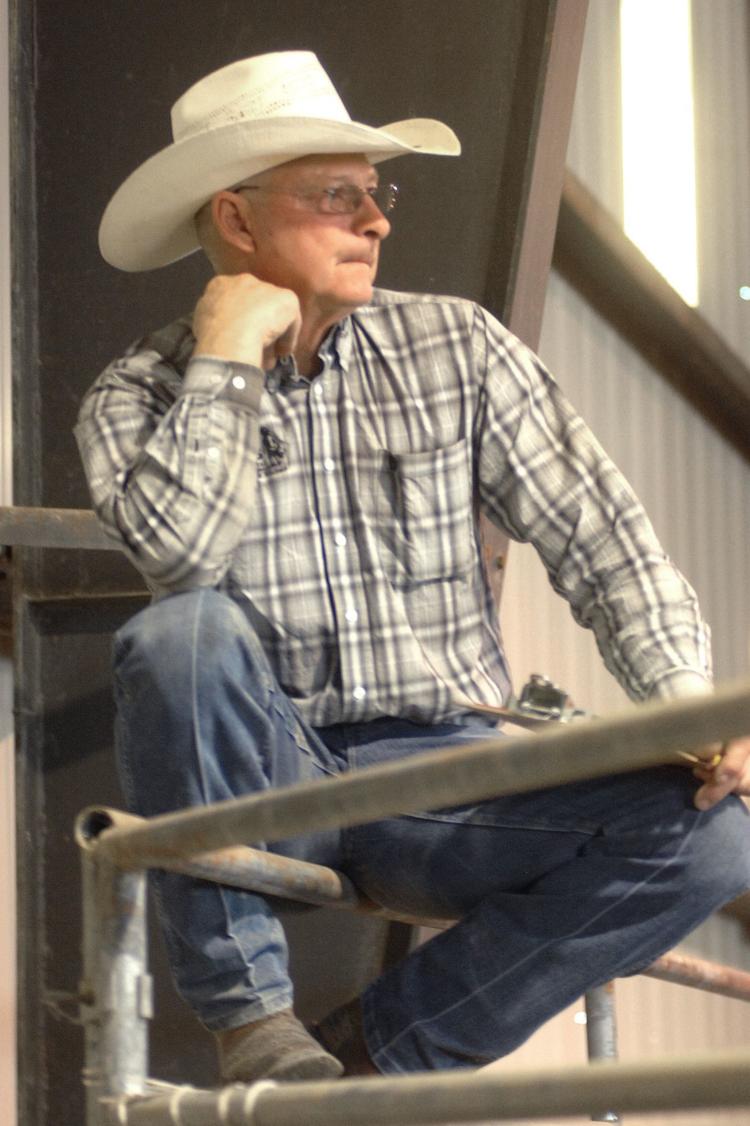 Ike Sankey, sitting atop the fence, serves as judge for both human and animal competitors.
"We keep track of every one," said the elder Sankey, the 2011 PRCA stock contractor of the year. "You want to see them buck, see how they kick. You want them to buck hard enough that is you stub our toe, they'll throw you off. But if you do things right, you're going to make a good ride.
"Sonny Linger (PRCA Hall of Famer from Miles City) told me that bucking horses have a certain amount of trips in them and bulls have a certain number of years. They key is to know when to use those trips."
Linger was a longtime stock contractor and was inducted into the Hall for lifetime achievement. 
Ike Sankey estimates anywhere from 50 to 70 percent of this group of colts will be seen in PRCA rodeos in the future. Most will make that transition as four-year-olds.
"The four year olds, I know who they are. That's when we start sticking names on them," said Wade Sankey.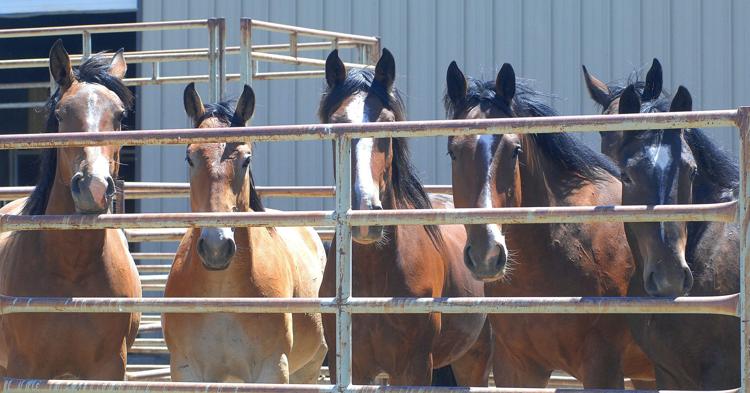 Wade Sankey said he tries to follow a horse's genetics when naming them. He uses a lineage of Sankey horses as an example: From Showtime to Marquee to Headliner.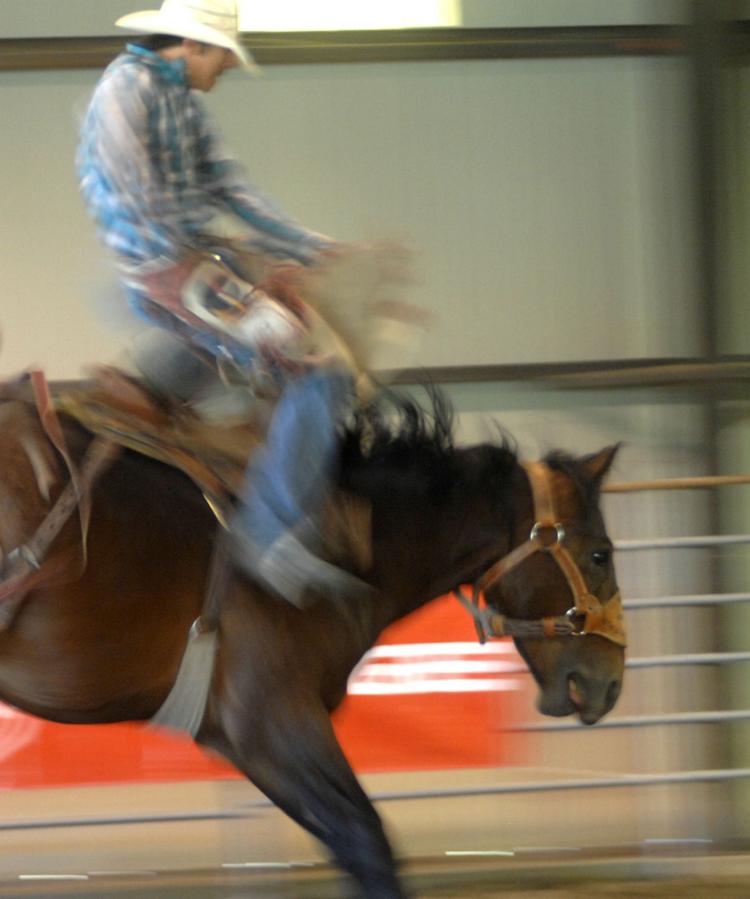 The horses on this sunny afternoon trace their genetics back six, and sometimes seven, generations in the Sankey breeding program. Almost all are descendants of Custer, the Sankey foundation horse now buried on the family land in Cody. This event's group are linked to studs Wild Strawberry and Will James. The Sankeys sold Will James to the Calgary Stampede and Wild Strawberry passed away a few years ago.
"We know these colts have good genetics," Wade Sankey said.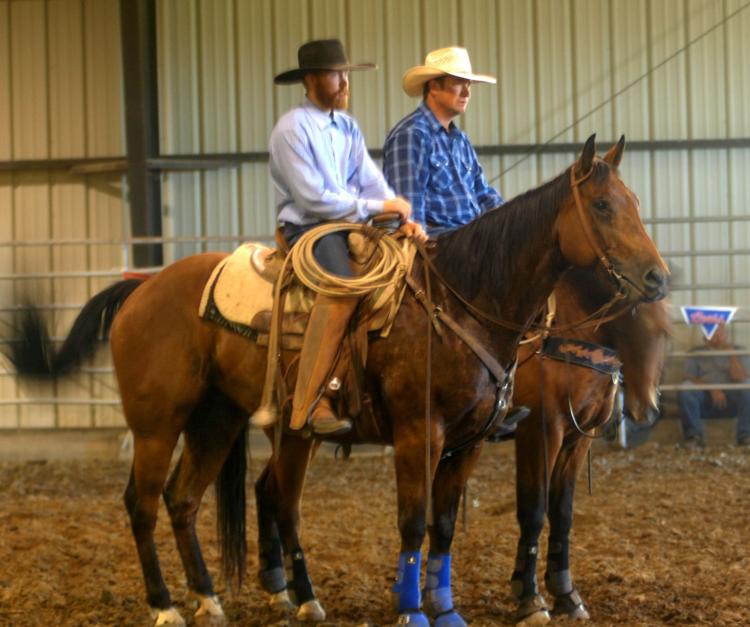 The colts bang around the chutes while waiting. More than a few lay down in protest. When gate opens, they kick high and snort loud when working their way down the arena. The unpredictability tests the skills of pickup men K.C. Verhelst and Jared Gill.
More than a few cowboys hit the ground, hard.
"Nervous," Andy Clarys describes the horses.
The 30-year-old Clarys, a saddlemaker in Riverton, Wyoming, and longtime friend of Wade Sankey, is a veteran saddle bronc rider, having won the Mountain States Circuit year-end and Finals titles in 2012. He had been at a rodeo the night before in Lehi, Utah, before making the drive to the Sankey place.
"It's no different than a person doing something for the first time," added Clarys of the horses. He would win the saddle bronc title at Thermopolis, Wyoming, later the same evening. "The biggest thing is getting out of the chute without a wreck. We're taking our time a lot more than we would with other, older horses.
"The older horses know the process. These young ones are still learning. They're kind of out of control. They're not used to this environment and we're trying to teach these young horses good habits."
The Sankeys have had some great bucking horses in the past, including PRCA Saddle Bronc horses of the year Skitso Skoal (1994, 1997), Skoal's Wild Card (1998) and Surprise Party Skoal (2000).
Maybe the next great Sankey horse will emerge from this year's pen of colts.
"Raising bucking horses is one of the most fulfilling things you can do," said Ike Sankey of the hit-and-miss business. "And it can also be the most disheartening."
Sankey checked his clipboard before another horse is bucked.
"I like what I see."