MISSOULA — The same athleticism, length and tenacity that serves Caleb Warnken well on the basketball floor comes in handy on the tennis court.
It's what separates the 6-foot-2 all-conference hoopster from most of his tennis-playing peers in Montana. His inner ferocity may not be easy to see since he's a wiz at maintaining his composure on the hard court, but it shows in the scores of his matches.
A third-place finisher in the State A boys singles bracket in May, Warnken steamrolled past Missoula Sentinel's Aiden Watson to win the Western Montana Open boys 18 singles championship Friday at Playfair Park. Watson, who went 2-2 in the State AA boys singles bracket in May, could never find a rhythm against Warnken's all-court game in a 6-1, 6-0 setback.
"The competitive fire from basketball helps a lot," offered Warnken, who will soon start his senior year at Corvallis. "Plus I'm running around a lot in basketball so that works for singles. You can't really take a break in basketball or singles."
The fact Warnken was even playing in the Western spoke volumes about his athletic priorities. The two players that finished ahead of him in the State A singles competition this past spring both graduated, so ...
"I'm definitely looking to get a state championship," he offered. "But I'm not going to take anything for granted. I'll still work hard. It'll be my last year, so I might as well do everything I can to win."
Basketball will always be important to Warnken. He wants to be at his best playing for his father, Zane, who serves as head coach for the Blue Devils.
Still, tennis has caught up to basketball on his list of favorite sports.
"They're pretty close," he said with a grin. "I can't really say much because my dad is the basketball coach and I don't want to offend him.
"But maybe tennis is my favorite now. It depends on the day. When you're playing bad you hate tennis but when you're playing good, tennis is really fun."
Warnken learned a lot from his first State A singles experience in Kalispell. He ended up losing a tough three-set quarterfinal, in the heat, to loud and animated senior Brendan Buls of Whitefish.
"I played him two times before that year so I knew what he was like," Warnken noted. "We're friends and he tells me beforehand, 'Sorry if I'm yelling a lot.' He does that to keep himself pumped up, not to get in my head.
"I wanted to win but came up short. My serves were not great and I learned I need to get my ground strokes a little better. Just more experience, knowing where to move and when to come in, will help."
Jacob Bellamah of Missoula won the boys 16 singles bracket. He secured three wins, including a thrilling 6-3, 3-6, 10-4 decision over Kyle Hawley of Dillon.
Owen Sanford of Bozeman won the boys 14 singles bracket. Henry Uhl of Helena took the boys 12 singles title.
In girls singles, the story of the day was 13-year-old Giovanna Horner of Missoula. She won the U16 crown when fellow finalist Evelyn Dechans of Missoula was forced to withdraw with a wrist injury.
But that wasn't enough for Horner. She punched her ticket into the girls 18 final with a thrilling win over second-seeded Pilar Santos of Helena, 6-4, 2-6, 10-8.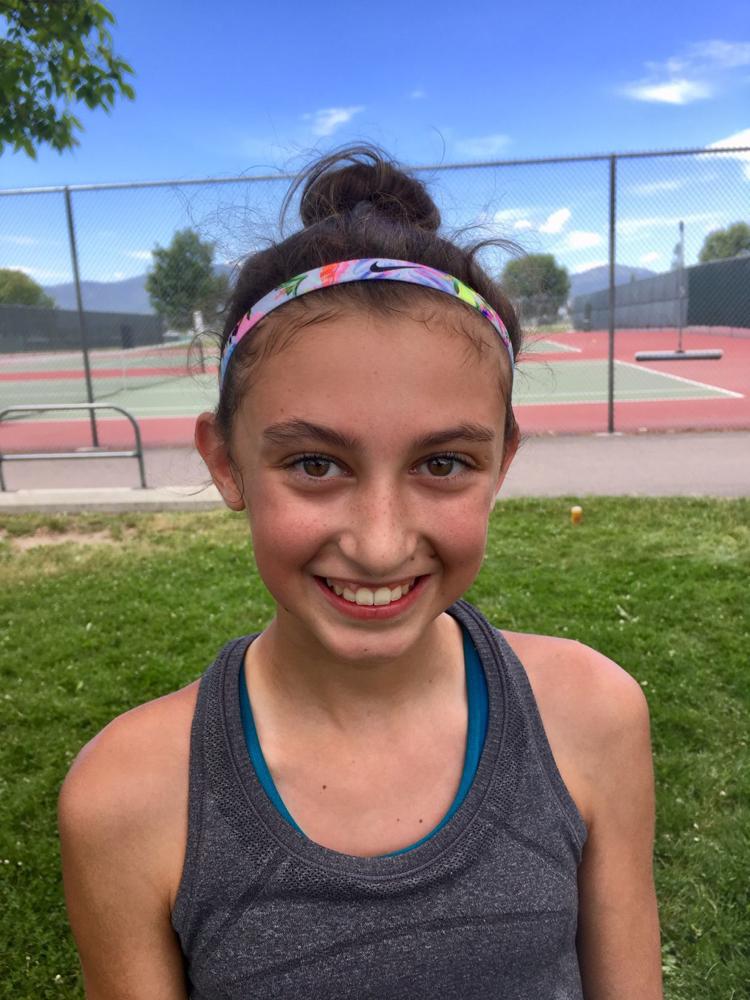 Horner and Santos were knotted at 8-8 in the match tiebreaker when Horner delivered a solid serve to pull ahead. She then followed up with a strong return of serve to clinch the win.
"It's a lot of pressure," said Horner, who at this point is planning to attend Loyola Sacred Heart in 2020. "I just try to stay calm.
"I think I just mentally stayed with it. I didn't let anything get to my head. Just being consistent and doing my best has worked this week."
Horner ended up losing the 18 singles final to top-seeded Madelyn Dibble of Spokane, 6-2, 6-1. In the girls 14 final, Ava Bellamah of Missoula defeated Laine Banziger of Bozeman, 6-3, 6-2.
The Western Montana Open adult tourney started Friday afternoon. Most of the finals will be held Sunday at Playfair Park.
Notes: Watson and Sarah Armstrong of Missoula won the 18 mixed doubles title. Clay Rouse of Darby and Kutuk White of Somers won the boys 18 title. Santos and Emma Hasquet of Helena won girls 18 doubles.