MISSOULA — Camaraderie among rivals helps separate running from a lot of athletic endeavors.
For the best of the best, it's often more than mutual respect. More like shared admiration that transcends the outcome of any race.
So it wasn't surprising to see Paden Alexander of St. Ignatius and Michael Adams of Ronan sitting on the grass joking after their tooth-and-nail battle for first in Saturday's Snowbowl 15K trail race. They know enough about one another to know the other is special.
Alexander, a former University of Montana runner, was shoulder-to-shoulder with Adams for most of the final three miles Saturday. In the end, the 24-year-old Alexander edged the 31-year-old Adams by less than half a second, finishing in 1 hour, 5 minutes and 38.41 seconds.
"I think we both just love competing and that's just it," said Adams, who grew up in Alaska and ran for the University of Alaska Anchorage.
"There's something beautiful about being able to run and practice as hard as you can and just be happy for other people that are out there doing the exact same thing."
Alexander hasn't been doing a lot of competitive running since turning in his Grizzly uniform in the spring. He waited until Wednesday to sign up for the Snowbowl 15K because he committed to play in a softball tournament Saturday.
Judging by Alexander's smile after the race, he's glad he made the drive up to Snowbowl.
"It's always close between us," he said of Adams. "We were separated a little bit going up, then it got close on the downhill and he was coming up on me pretty hot.
"I don't like leading that much, so I let him take over there and followed behind him until it got to the road back here. When it went from single-tracked path, that's when I started going by him again. Just my competitive side of me took over on that last part for sure."
Adams credited Alexander with pushing him down the stretch, paving the way for his time of 1:05:38.54. The duo finished more than 2 minutes sooner than third-place Scott Davis of Missoula (1:08:06.18).
"Whenever there's somebody that has similar ability as you in a race, you can feed off each other once you're close to one another," Adams offered. "You get to working together, feeding off each other's energy.
"I'm not sure I would have been able to run that fast on my own, honestly."
Michelle Hiland, who recently moved to Missoula from Estes Park, Colorado, was the first women to cross the finish line. The 31-year-old posted a time of 1:15:48.96.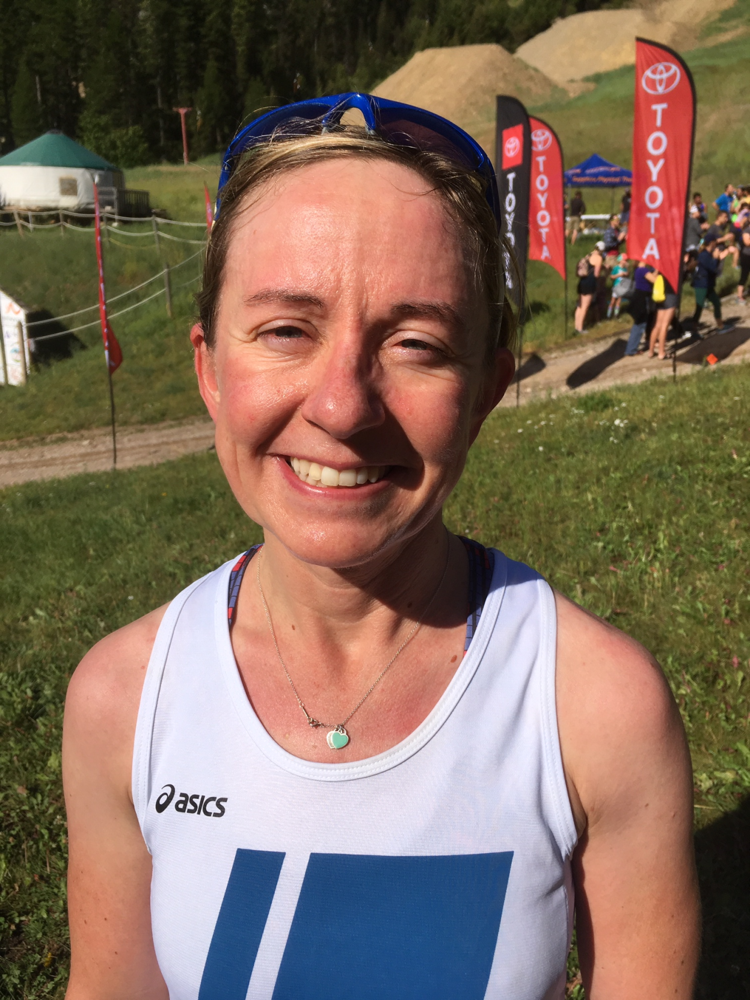 Her time was more than three minutes faster than runner-up Evie Tate of Missoula (1:19:00.71). 
"It was awesome," she said of her first visit to Snowbowl. "I love going uphill, going all the way up. Then the downhill was amazing.
"The single track, the flowers, I loved it."
Hiland liked to stick with trail races because they're easier on her body. She's used to much longer races and plans to tackle the Pikes Peak Ascent half marathon later this month in Colorado.
"For this one today, I've been having problems with my foot so I haven't been running as much as I want," she noted. "I don't let myself walk, so uphill I just make myself push.
"I don't like too many guys beating me, either. So I like to stick with guys if they're ahead of me, trying to keep my eyes on them."
Former Missoula Hellgate runner Madeline Swanberg was the top U19 finisher. The 17-year-old who calls Ovando home and plans to run for Lewis & Clark College in Portland in the fall posted a time of 1:25:04.76.
"I've been running to get ready for college and I thought it would be fun to do a race just to remember what it's like to be competitive," she said. "And I wanted to experience some pain on some hills and stuff before I go to college.
"I thought it was really fun. It's just a super beautiful view of the valley that you only usually see when you're skiing."