HELENA — In a cluttered single-car garage on Helena's west side, where the wisdom of Blackfeet elders echoes in Don Wetzel Sr.'s ears and a twilight request from his father has revived his spirit, the self-described "old warrior" has set up makeshift headquarters for a final mission.
At 73 and less reliant on a wheelchair than he was a few years ago, Wetzel already has a heady resume: All-American high school athlete from Cut Bank, first Native American from Montana to play four years of basketball and graduate from an NCAA Division I school (Montana), state champion basketball and cross country coach at Browning, 25 years in education after earning a master's degree at UM, co-founder of the Montana Indian Athletic Hall of Fame in 2007, and Montana Athletic Hall of Fame inductee himself in 2002.
"The old fellas, they'd say, 'You've got a gift Don — use it well, get your education, come back and help your people', and I did just that," says Wetzel, christened Pe-Tu-Ta (Flying Eagle) by Grass Woman after helping his Browning athletes soar to the 1972 state basketball title. "That's where my spirit comes from.
"This is it. It's my final shot, maybe. It's got me going yet."
The final shot: Bringing home the contentious Blackfeet chief logo his father, Walter "Blackie" Wetzel, gave to Washington Redskins owner Jack Kent Cooke in 1971, and then repurposing the symbol of Red Nation unity to call attention to domestic abuse and Missing and Murdered Indigenous Women (MMIW).
"We need to bring the logo home to Montana," Wetzel says.
Actively shepherding his cause when time permits is a son, Ryan, a motivational speaker who lives in Hamilton, played professional basketball in Germany, starred in the documentary "Never Too Late," had a bit part in the season debut of "Yellowstone", and is also a Montana Indian Athletic Hall of Fame inductee. Also assisting is Tom Lang, a former Rutgers University quarterback/tight end and UM post-doc alum who moved into a home across from Wetzel about six months ago, struck up a friendship and was moved by the storyline.
By their reckonings, returning the logo to the Wetzels could be as simple as a signoff from Washington Football Team owner Daniel Snyder, who has championed Native causes. After all, it was decommissioned in 2016 and "retired" in June; the team will never use it again.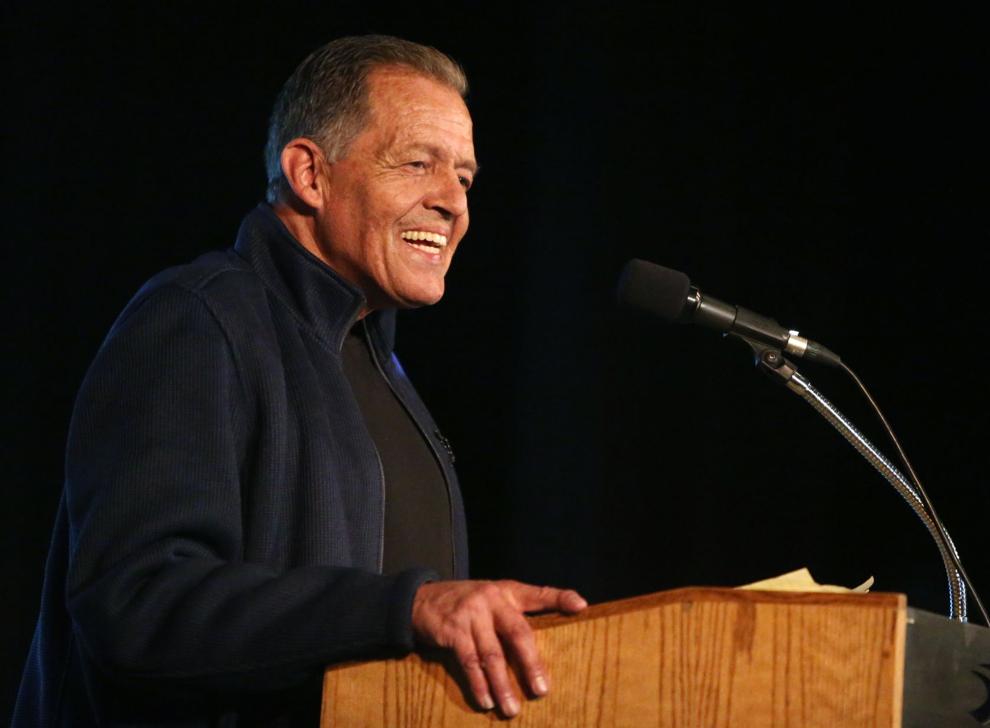 If Wetzel could script it, a public ceremony with the Snyder family would be a fitting resolution. To that end, he'll travel with his in-house caregiver Marie Schell to Washington on Saturday for at least eight days, determined to meet with team officials, Montana Sens. Jon Tester and Steve Daines, and others. Wetzel even envisions setting up a Blackfeet teepee in the shadow of FedEx Field to draw attention to his pursuit.
A logo exchange could be cordial. Or, given that Wetzel says the team has "stonewalled" overtures since 2014, it could be a battle.
"It's still unclear if it's fully trademarked by the organization even though it's not in use," said Lang, who has worked for the Park Service and describes himself as a researcher who has spent hours on the matter. "Do they still have legal ownership over it? That's something that's going to take a little bit of time to figure out.
"So I think the hope is to start building public awareness and support to say, 'Hey, it's time to let it go and say it's for something good.'"
The team isn't saying much. A highly placed spokesperson told 406mtsports.com, "We'd welcome a chance to speak with the family." The Wetzels were provided contact information for vice president of public affairs Joe Maloney, and Don Wetzel says he expects to meet with Maloney next week.
The Redskins name, and by affiliation the logo, was controversial for years as offensive to many indigenous Americans. The debate even sharply divided the Wetzel family.
As the heat intensified over the past decade, Don Wetzel said the family and logo were used to give appearances of Native support for "Redskins."
In 2018, Ryan and a cousin, Lance Wetzel of Helena, were introduced at a game amid a tribute to their grandfather. Yet Blackie Wetzel was never invited to a game in D.C., and the Wetzels say his contribution to a half-century of team history is today reflected only by a bronze statue of the logo's likeness — Chief Two Guns White Calf — in the front offices.
"We were pawns," Don Wetzel said.
As he spoke, Wetzel moved gingerly around the garage, using a card table for support as he navigated past a wheelchair and walker toward one of three walls festooned with poster-board papers that tell a 50-year-old story in black, green, blue and red ink scribblings.
He cursed the malfunctioning prosthetic below his left knee, the result of injuries and subsequent surgeries dating to his MVP basketball career at Montana in the late 1960s. A purple boot held together with yellow painters tape protects his battered remaining ankle.
A few years ago, Wetzel was confined to the wheelchair and his health was failing to where he says a doctor gave him six months. He still has in-home help and had to cancel a planned summer D.C. trip for medical reasons, but he's mostly upright again and his physical limitations are offset by his drive for making the logo the literal face of a new LLC called the Blackie Wetzel Warrior Society.
"This lit a spark for me," Wetzel said. "Once you light that spark you get your heart going places."
Wetzel points to a sheet headlined "Blackie's logo."
"A sacred object honoring 2 great Blackfeet chiefs," it reads, citing White Calf and Blackie (Sik-sa-num, or "Blackfeet Man").
A half-century ago, Blackie Wetzel, who'd bestowed the name "Chief High Eagle" on President John F. Kennedy and made him an honorary Blackfeet chief in 1961, and whose status in Washington, D.C., allowed him such access, went to Redskins executives and pulled composites of Blackfeet chiefs — contrary to popular myth, he didn't design them — from his briefcase. The team, he said, should replace the block 'R' on its helmets with a "real Indian."
As Ryan and Don both tell it, Blackie never heard back. The next season, 1972, he was watching a game on TV when he noticed, with a mix of pride and disillusionment, the chief logo on the Redskins' helmets and jerseys.
The team's eventual thank-you card was four Redskins helmets with the new logo.
"Blackie was a real visionary," Don said. "He spotted an opportunity to maybe unite the Red Nation and gets the idea of putting an Indian on there. He had three or four portraits of Indian chiefs in his briefcase, so he picked out the one he called the most beautiful chief."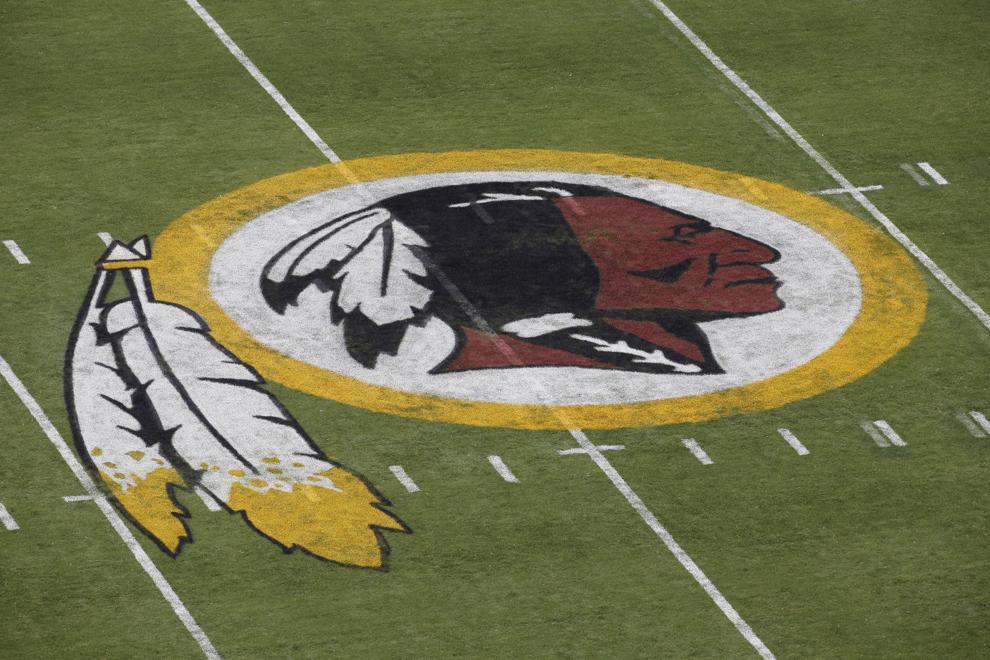 Blackie himself was a legend.
As an athlete, first at Shelby High and then at UM, he was dubbed by some the "Jim Thorpe of Montana." He became Blackfeet tribal chairman in 1950 and was president of the National Congress of American Indians from 1960-64.
Blackie befriended President Kennedy, Robert F. Kennedy and Martin Luther King Jr., and he gifted a Blackfeet headdress to Winston Churchill. After Kennedy's assassination in 1963, Blackie brought 40 chiefs to Washington and extended a peace pipe to successor Lyndon B. Johnson.
Blackie also played the Medicine Man in the 1977 movie "GreyEagle."
At the same time, he was so committed to his people that when the government sought to install indoor plumbing in the family home on Seville Flats, he declined because so few of his tribe had it. He is credited with boosting the standard of living for the Blackfeet Nation and American Indians across the country.
Returning the logo, Ryan Wetzel said, would properly honor his legacy. It was also one of Blackie's last wishes, according to Don via an uncle, Earl Barlow, now 95 and a Blackfeet historian. 
"I think it would just have some closure, in a sense," Ryan said. "I know overall — good, bad or indifferent with just the name of the organization — with what grandpa accomplished it would mean a lot. There's a huge sense of pride in who Blackie was. Not a single bad thing could be said about the man.
"Really, this is a folklore story."
Don first thought the team would make the gesture during a trip to D.C. with son Donnie Jr. in 2014. The Wetzels burned sweetgrass in the front offices during a tour given by the granddaughter of former Washington quarterback Sonny Jurgensen. 
Don remembers smoke filling the hallway and vents.
"I said, 'This is cleansing sweetgrass and let's get that logo home,'" he recalled.
"And they haven't won (expletive) since," Don added with a laugh. "Might be a spiritual thing with Blackie circling overhead."
Ryan, who represented Blackie's estate after his death in 2003, anticipated the organization would contact the family after the nickname was discarded last year.
"We never wanted this thing retired," Ryan said. "If anything we'd like to honor it. The name? Sure. Get rid of it. But retire the logo? Why? It's a beautiful recognition of Red Nation. But nobody really made efforts to really, really look into talking to the children, or my father, to see what he feels about the logo being retired. It was poorly handled."
Divided over the Redskins name, the Wetzels are unified about the logo. They say the timing is perfect. The organization could use positive optics in the wake of revelations about former coach Jon Gruden's allegedly racist, misogynistic emails and his subsequent resignation as Las Vegas Raiders coach.
It also happens to be Indigenous Peoples Heritage Month.
"It's an opportunity for not only the organization in Washington," Lang said, "but it would be a good story for the NFL itself."
Positive optics also revolve around a cause that Don Wetzel says has haunted him since the late 1980s. Two sisters, he said, nearly died from domestic abuse.
Wetzel pictures the logo on a new shelter in Browning. He also wants to disperse purple crosses in visible locations near where indigenous women have vanished or were murdered.
Once accomplished, a man who spent his first six months of life on an iron lung during a whooping cough epidemic says he wants to let his clock run out in Costa Rica. He envisions one of his state champion cross country runners launching his remains onto the ocean and setting the boat afire with a flaming arrow.
Until then, he'll remain unbowed in pursuit of the logo. 
It's for the Blackfeet elders whose echoes he hears. It's for abused, missing and murdered Native women. It's for Red Nation unity.
And the old warrior in a cluttered garage is doing it for Blackie.
"It's just righting a wrong, man," he says. "I don't want to bash anybody. I just want to bring it home."