Who is the greatest athlete from (almost) every Montana town? 406mtsports.com has spent the past 18 months researching that question. Have a question, comment, addition, alteration or information to suggest? Let us know.
Absarokee: Laura Daniel (Arthun), track and field: A pole vaulter, Daniel won three consecutive state championships from 1995-97 and still has the fourth and seventh best marks in Montana history (10-3 and 10-9). She also was an exceptional hurdler and as a junior sang the national anthem to start the Class C state meet not long before tying her state pole vault mark. As Laura Daniel-Arthun at Oral Roberts University in Oklahoma, she went on to become the Mid-Continent Conference indoor pole vault champion in 1997-98 and again in 2000-01, and also was the 1998 outdoor champion. She was the league's Newcomer of the Year for the 1997-98 indoor season and competed for four years. Today, Daniel-Arthun coaches at Manhattan Christian.
Alberton: K.C. McGowan, basketball: An all-round athlete, McGowan was a high school All-American in both basketball and track, first in his hometown of Alberton and then at Missoula Big Sky, where he transferred for a better shot at fulfilling his dream of playing college hoops. He went on to play for Montana and early in his career also competed in track as a high jumper, earning the basketball program's Most Inspirational Player Award in 1988 and '89. McGowan finished his high school career with 1,943 points, a 21.6 average over four seasons. At Montana, he finished his career among the school's top 25 scorers.
Alder: Pete Anderson, football: An all-stater in basketball, football and track, Anderson was a key cog in Twin Bridges' 2009 state Class C hoops title. He scored 12 points in the Falcons' 63-61 win over Box Elder for the crown. In football he was an all-conference fullback/tailback and linebacker, and in track he was a champion shot putter. Anderson took football to the next level, starting as a linebacker and running back for Rocky Mountain College, where he routinely found the end zone. 
Alzada: Larry Sandvick, rodeo: A native of North Dakota's Little Missouri River Badlands country just across the border, Sandvick made his home outside of Alzada when he was one of the top bareback riders in the country in the late 1990s and early 2000s. He finished fourth in the National Finals Rodeo in his 1992 debut and qualified for 12 NFRs overall. Sandvick also competed for the U.S. against Canada in the 2002 Salt Lake City Olympics, and was PRCA Mountain States Circuit all-around cowboy in 1995 and 1998. Sandvick, who now lives near Kaycee, Wyoming, and owns a leather business, was inducted into North Dakota's Cowboy Hall of Fame in 2018.
Amsterdam: John Weidenaar, football: A member of a large farm family west of Belgrade, Weidenaar was an all-state offensive and defensive lineman as well as punter for a Manhattan-Manhattan Christian co-op. He also excelled in track and field, where he was solid in the discus and shot put while also running on the Tigers' relay team, and he played basketball for both Manhattan and Manhattan Christian. Weidenaar went on to play left tackle at Montana State, where he started 49 consecutive games -- a record that stood until Mitch Brott broke it in 2019. Weidenaar signed as an undrafted free agent with the Cincinnati Bengals in 2016 and played in four preseasons games before getting cut. A neck fracture suffered in a car accident ended his football career.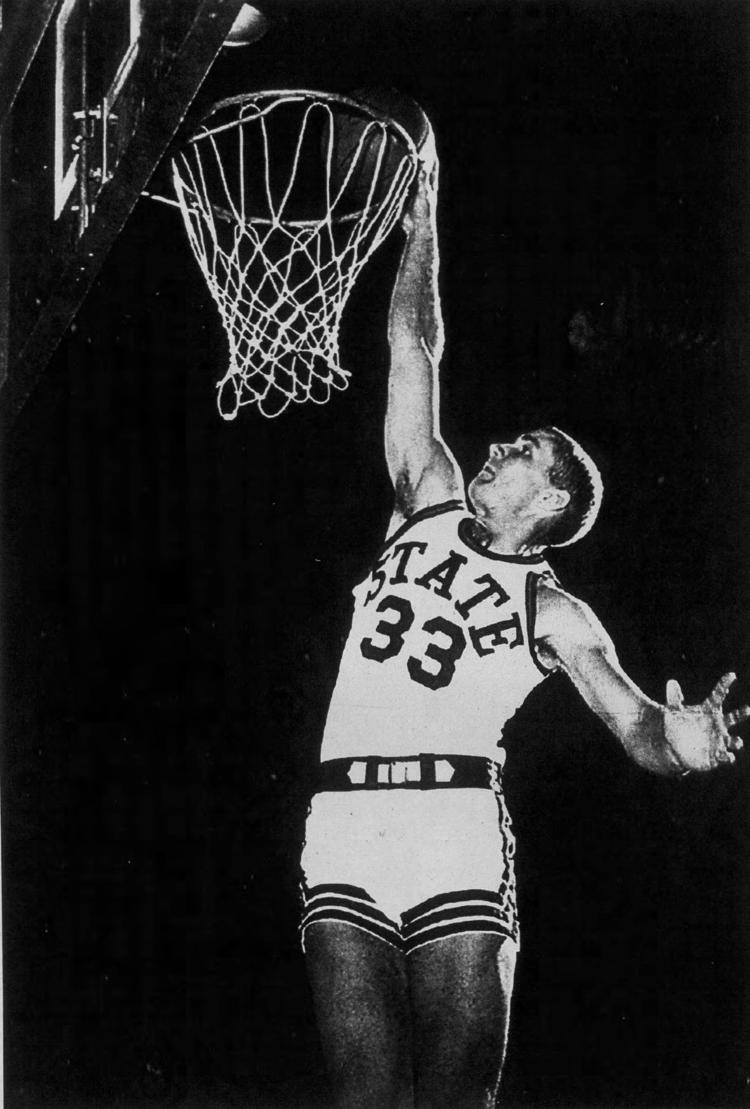 Anaconda: Wayne Estes, basketball: Perhaps no Montana sports story is more tragic than Estes, a beloved all-round athlete who died in a bizarre electrocution on a street in Logan, Utah, within hours of setting Utah State's season scoring record in 1965. A night earlier, the Aggies' big man had proposed to his longtime girlfriend in Provo, Utah. The nation's No. 2 collegiate scorer that season behind Miami's Rick Barry, Estes had been told by the Los Angeles Lakers that they planned to make him their No. 1 draft choice. The basketball practice facility at Utah State is named for him. At Anaconda, Estes was an all-state athlete in football, basketball and track – winning the state discus and shot put championships. He still holds the Copperheads' shot put record. Estes was out with friends and was walking on a sidewalk past the scene of a car accident on that tragic night when a low-hanging power line creased his forehead. He is buried in a cemetery outside of Anaconda.
Antelope: Harvey Lee, basketball: Antelope once had a proud sports tradition and no one represented it better than Lee, who averaged 22.7 points per game and was Class C all-state in 1975.  The forward scored 33 points in the opening game of the state tournament against Hysham in '75. After leading the Pronghorns to the title game, Lee was state champion in the high hurdles and third in the low hurdles in the spring. A native of Kalispell, Lee also was an outstanding baseball player. He eventually earned a teaching degree from Eastern Montana College. Lee died in 2018.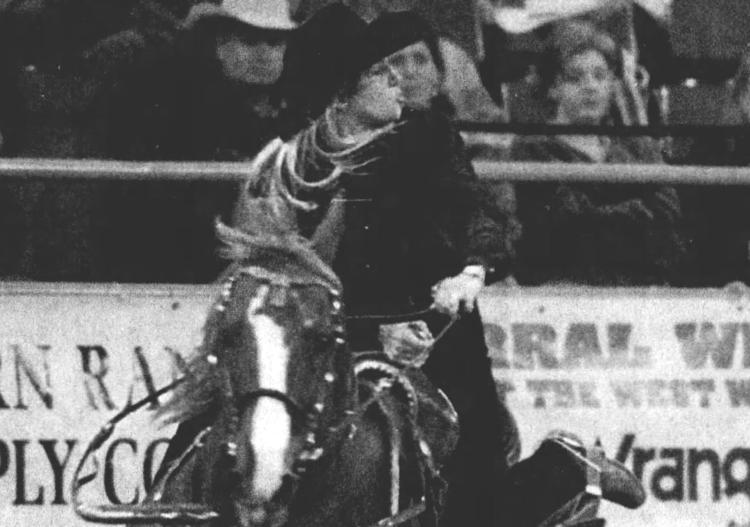 Arlee: Rachael Myllymaki, rodeo: A national high school all-around champion in 1994-95, Myllymaki earned national acclaim – including a piece in People magazine – when she qualified for the Wrangler National Finals Rodeo as an 11-year-old barrel racer in 1988. As the second-youngest competitor ever at the NFR, she finished ninth in the world standings. Myllymaki would qualify for the NFR six more times, win two Dodge National Circuit Finals titles, and set a Northern Rodeo Association record for single-season earnings. She also competed collegiately at Montana and Montana Western, where she won national all-around and barrel-racing crowns. Myllymaki was a nine-time year-end Montana Pro Rodeo Circuit Finals champion.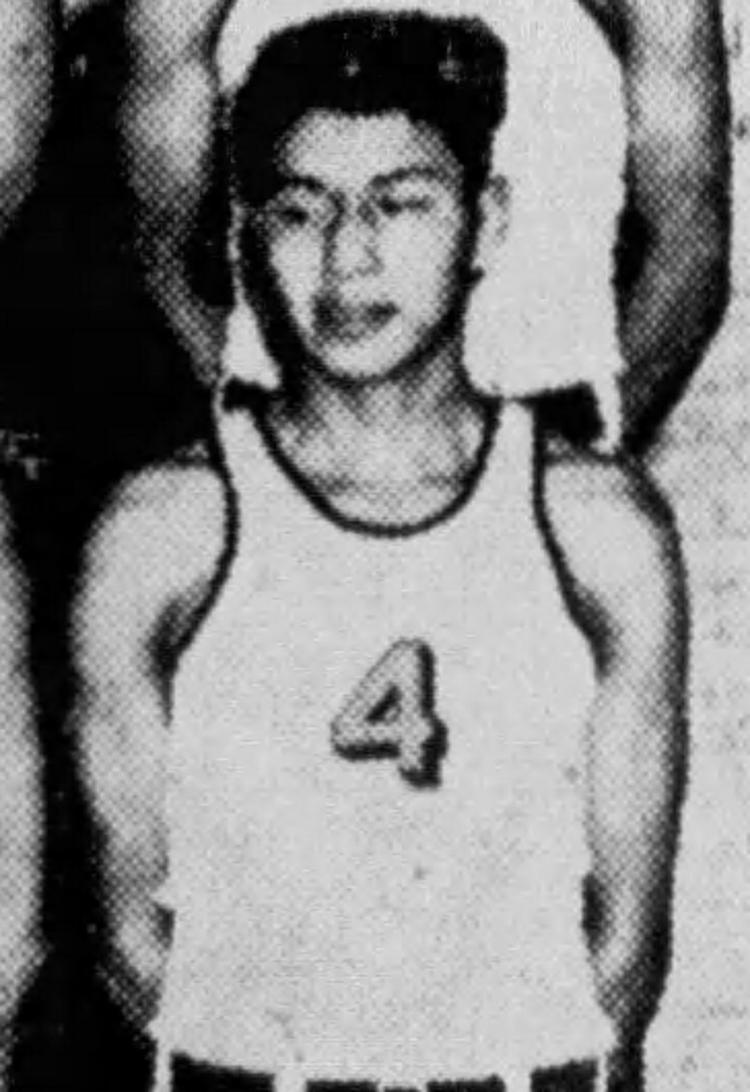 Ashland: George Yellow Eyes, basketball: Some say Yellow Eyes was the greatest outside shooter in state history, and wonder what kind of scoring numbers he'd have fashioned if the 3-point line existed in Montana in the late 1950s. He grew up on the Northern Cheyenne Reservation but played high school ball for the State Industrial School in Miles City, scoring 46 points in one game and 103 in three games in the 1959 Class C tournament. In all, Yellow Eyes scored 1,450 points for the State Industrial School for a 19.3 average over four years, scoring 711 points in 1958-59 alone. A two-time all-state selection, Yellow Eyes was inducted into the Montana Indian Athletic Hall of Fame in 2009. He moved for a time to the San Carlos Apache reservation in Arizona. He died in Billings in 1990 at age 50.
Augusta: Micheala Howe-Cobb, basketball: Take a look at the state records for blocked shots, and one name stands out – 15 times. That's the number of slots Howe-Cobb holds for blocks in a single game, from her record of 16 set in 2007-08 and matched the next season down to the six times she recorded 11. Not surprisingly, Howe-Cobb holds the career record (455) and three of the top five single-season marks (207, 145 and 103). The 6-1 post averaged a triple-double as a sophomore and still holds the state record for rebounds in a game with 37. As a senior at Augusta, Howe-Cobb averaged 16.3 points and 15.4 rebounds per game. A valedictorian, debate champion and distance runner, she went on to sign with MSU-Northern, where she was a scholar-athlete.
Avon: Mac Bignell, football: Bignell is a big name in a big state, and none are any bigger than Mac, who was a dominant athlete at small-school powerhouse Drummond and then was a standout linebacker after walking on at Montana State. He was a star quarterback and basketball player for the Trojans, once scoring seven touchdowns against Arlee and 41 points in a hoops game against Victor. A team captain for the Bobcats, he led the team in tackles for three years running. Bignell earned all-Big Sky honors as a junior and preseason All-America accolades as a senior. In 2018, he received a minicamp invitation from the Philadelphia Eagles of the NFL. 
Bainville: Chance Hyatt, cross country: Accomplished in cross country in the fall and distance running in the spring, Hyatt etched Bainville's name in the MHSA record books by winning back-to-back Class C cross country titles with a Culbertson-Bainville co-op in 2012 and 2013. As a senior, he won by 35 seconds. In the spring, he was highly competitive in the 800, 1,600 and 3,200 meters -- winning all three at the Eastern C meet in 2014. No slouch on the basketball court, Hyatt occasionally put up a 20-point night. He went on to run at Carroll College, where he was two-time Frontier Conference cross country champion and earned All-American honors for the third consecutive fall with his 21st-place finish at the national NAIA meet in November 2018.
Baker: Shann Schillinger, football: A three-sport standout with the Spartans, Schillinger -- a sprinter and hurdler in track -- would go on to star as a free safety at Montana, including playing in two national championship games as a defensive back. As a high school quarterback, he compiled more than 1,700 yards and 29 touchdowns as a senior either throwing or running the ball. By the time he'd used up his eligibility, Schillinger ranked 20th all-time in tackles for the Griz. In 2010, he was drafted by the Atlanta Falcons and would play four years with two NFL teams. Reportedly and ironically named for former MSU basketball player Shann Ferch, Schillinger later coached briefly at Nebraska before moving on to his current position as an assistant at his alma mater.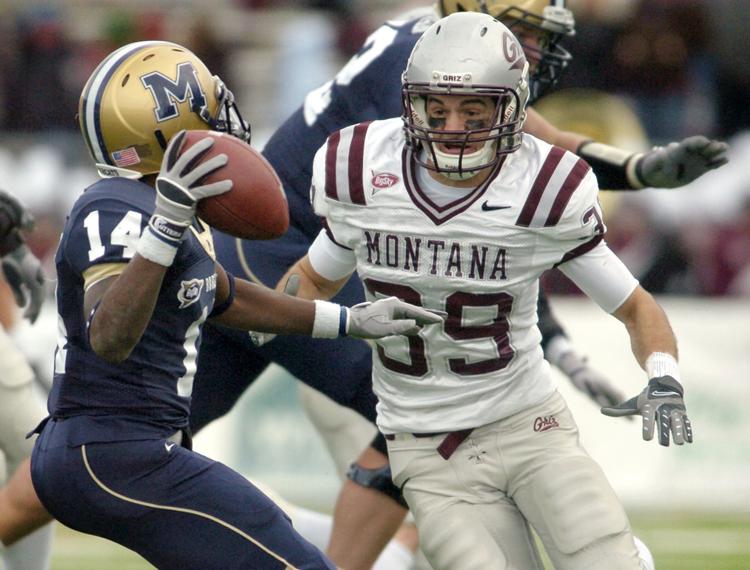 Ballantine: Jen Walter, track and field: One of the most decorated athletes in Huntley Project history, Walter was a 16-time Class B champion as a sprinter, hurdler and in relays. She was a four-time winner in the 100 dash and 330 hurdles and a three-time winner in the 200 and 400, earning 23 state medals overall, as HP won state titles in 2004, 2006 and 2007. Walter also played for three state volleyball title teams and was Class B MVP as a senior. At Montana, the Lodge Grass native was a four-time all-conference performer in track as a hurdler and sprinter from 2007-11. Walter currently lives in Billings.
Bearcreek: Mike and John Barovich, basketball: Back when the Smith Mine was humming, Bearcreek was a state power and the Barovich brothers from Serbia were the stars. John was an all-state center in 1932 and went on to play at Montana State College. Mike was a star in his own right and turned down out-of-state offers to play at Billings Polytechnical Institute, now Rocky Mountain College. Mike lettered in basketball, football, baseball and track, and led the Crusaders (now Battlin' Bears) to a 21-1 record in 1938-39. He won three league titles at BPI and is credited by some with inventing the hook shot -- he used it repeatedly, from long range -- made famous later by Kareem Abdul-Jabbar. John, who assisted in the rescue during the 1943 Smith Mine disaster at Bearcreek and was one of the state's top senior golfers into his 90s, died in 2006 in Billings.
Belfry: Walt Linderman, rodeo: A member of one of the state's two most famous rodeo families – the Greenoughs being the other – Linderman became a professional cowboy immediately after graduating from Belfry High School. In the 1960s and '70s, he was a consistent competitor in steer wrestling at the National Finals Rodeo, qualifying nine times. Linderman won the NFR steer wrestling title in 1967 and was second in the world standings three times. He also was champion at most of the major rodeos in North America, including the Calgary Stampede and Pendleton Round-Up. Linderman also competed in saddle bronc and bareback riding. He was inducted into the National Cowboy Hall of Fame in Oklahoma City in 2016. Linderman died in 2005 at age 69.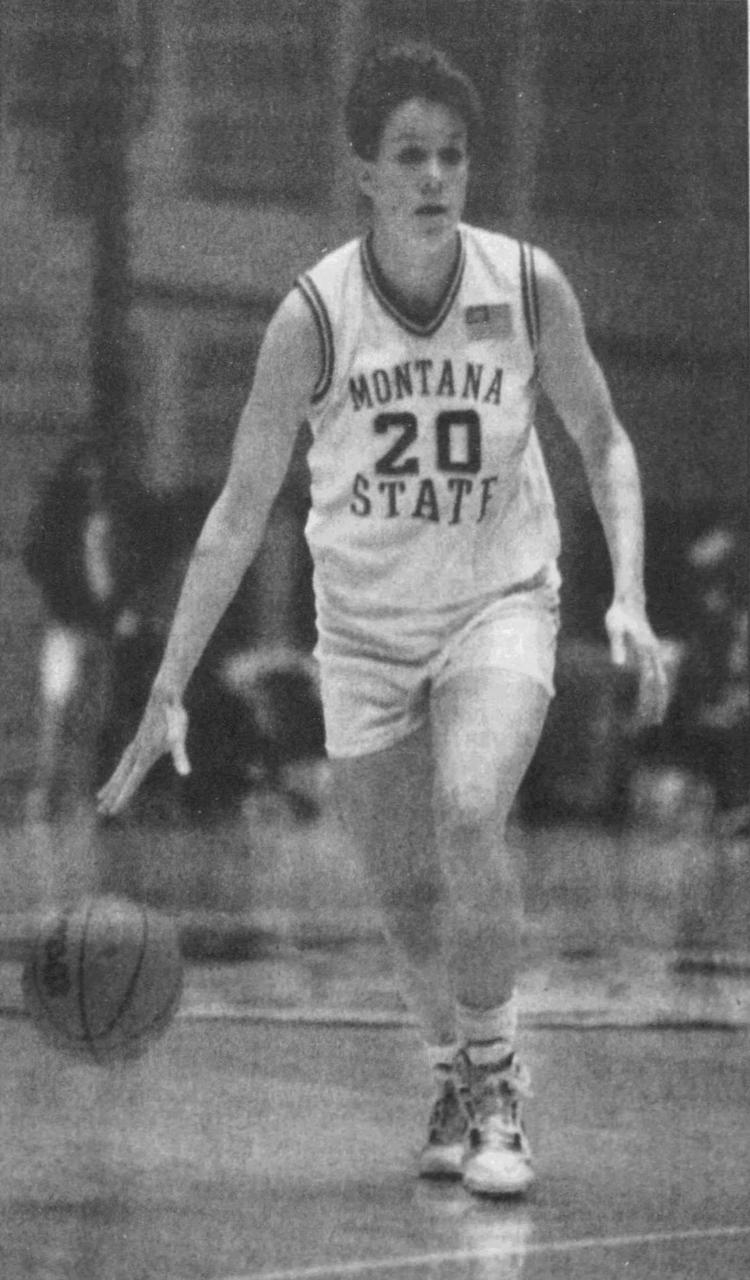 Belgrade: Sarah Flock (Fowler), basketball: Some would argue that Flock is the greatest player in Montana State basketball history after becoming the first ever at the school to earn first-team all-Big Sky Conference honors three times. She also is the only three-time MVP in Bobcat history, winning from 1990-92. Flock still ranks fourth or better in 10 statistical categories, including scoring average. A Kodak All-America honorable mention selection in 1992, she was inducted into the MSU Hall of Fame in 2003 and most recently coached Belgrade High girls basketball. As an athlete at Belgrade, she was an all-round standout, earning all-state honors in basketball and volleyball while also competing as a sprinter and hurdler in track.
Belt: Turk Lords, wrestling: Lords lived with his grandparents so he could wrestle for Great Falls CMR, where he won two Class AA state championships before moving on to an illustrious career at MSU-Northern after transferring from Montana Western. He won four consecutive NAIA championships (1998-2001) and led the Lights to three national team crowns. In 2001, he was selected NAIA outstanding wrestler after completing his career with a 126-10 record – losing only to NCAA Division I opposition. Lords also was a Junior National Greco-Roman champion and freestyle runner-up in 1995, and had dreams of wrestling in the Olympics in Greco-Roman.
Bigfork: Makena Morley, cross country: A four-time state cross country champion and two-time All-American with the Vikings, Morley's feet have taken her to another level in college. After winning the Big Sky Conference crown in her lone year at Montana, she transferred to Colorado, where she is a seven-time All-American and helped lead the Buffaloes to their third NCAA women's cross country title in 2018. In track, Morley is a three-time first-team All-American and three-time second-team All-American between the 3,000, 5000 and 10,000 meters indoors and outdoors; she owns the Buffaloes' school record in the 10,000, is third in the 3,000 and third in the indoor 5,000. Morley spent her first collegiate year at Montana, where she was Big Sky cross country champion in her third career race. At Bigfork, she was a state champ in the 3,200 (twice), 1,600 and 800 to earn All-America distinction three times. Morley's final spring season at CU was halted by the pandemic, and she embarked on a professional career.
Big Sandy: Larry Kane, rodeo: Back in the 1960s and '70s, Kane was something of a legend on the rodeo circuit after earning Rodeo Cowboys Association Rookie of the Year in 1960. The saddle bronc rider -- nicknamed "Mighty Little Giant" -- qualified for the National Finals Rodeo for four consecutive years (1960-63), finishing as high as second in 1961. Kane also solidified his legend status by staying aboard the notorious Descent – the six-time bucking horse of the year – all four times he rode the famous horse. Kane later worked as a pickup man at the NFR. He was inducted into the Rodeo Cowboy Hall of Fame in 2010. Kane died in 2008 at age 70. A large granite memorial along U.S. 87 in Big Sandy acknowledges a hometown hero.
Big Sky: Keely Kelleher, skiing: Despite numerous injuries, Kelleher – who grew up along the Gallatin River just north of Big Sky -- was U.S. National Super G champion in 2010, beating a host of Olympians. She was an alternate for the Winter Olympics in Vancouver, B.C., that year. In 2007 she finished eighth at the U.S. Alpine Championships and in 2008 she made the U.S. national alpine team. Kelleher was on the U.S. ski team for eight years, competing in the downhill and Super G. She also starred in two Warren Miller films and in 2011 started Keely's Camp For Girls at Mount Bachelor in Oregon. The camp has since expanded to other ski communities, including Jackson, Wyoming, where she now lives.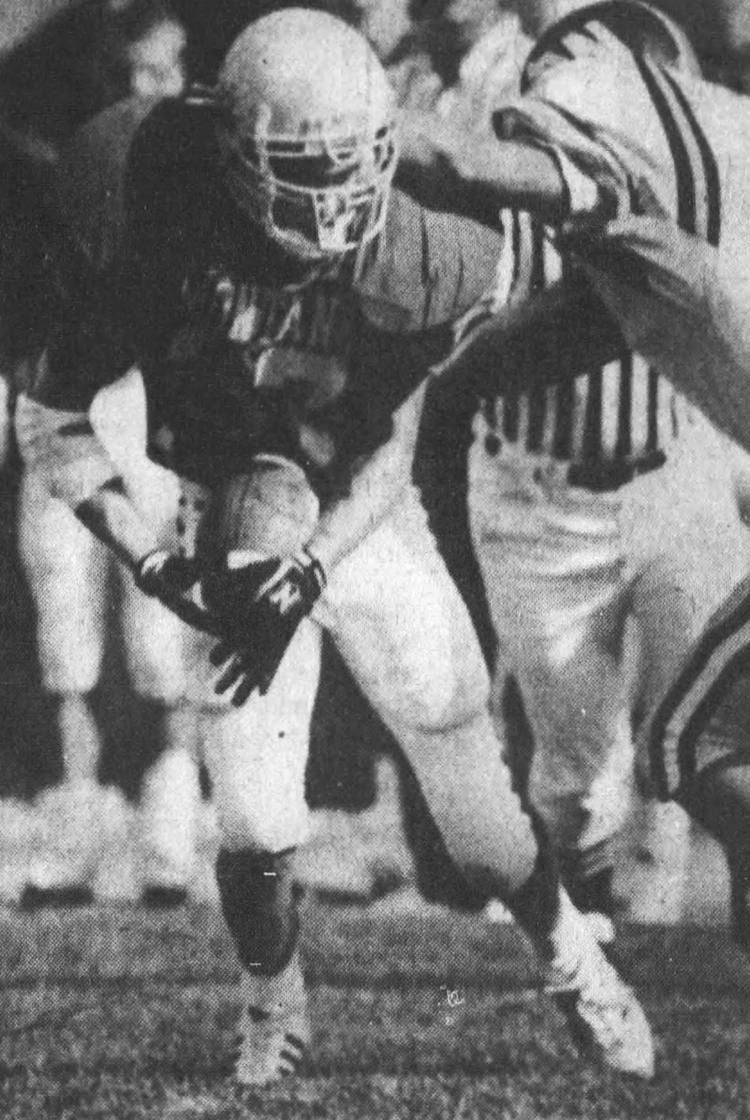 Big Timber: Tim Hauck, football: Famous for his bone-jarring hits, Hauck was the reason the No. 37 has reached mystical status at Montana. An all-stater as a quarterback and defensive back at Big Timber, he walked on with the Griz after a year at Oregon's Pacific University and became a two-time All-American free safety in the late 1980s. Nicknamed "Hitter", he spent 13 seasons as a defensive back in the NFL with seven teams. After his playing career was over, he coached at Montana and was an assistant on the Philadelphia Eagles' Super Bowl championship team in 2018. At Big Timber, Hauck set the state Class B record in the pole vault in 1985 with a leap of 14-4 and he was a high-scoring starter on the Herders' basketball team. He is enshrined in the Montana Football Hall of Fame.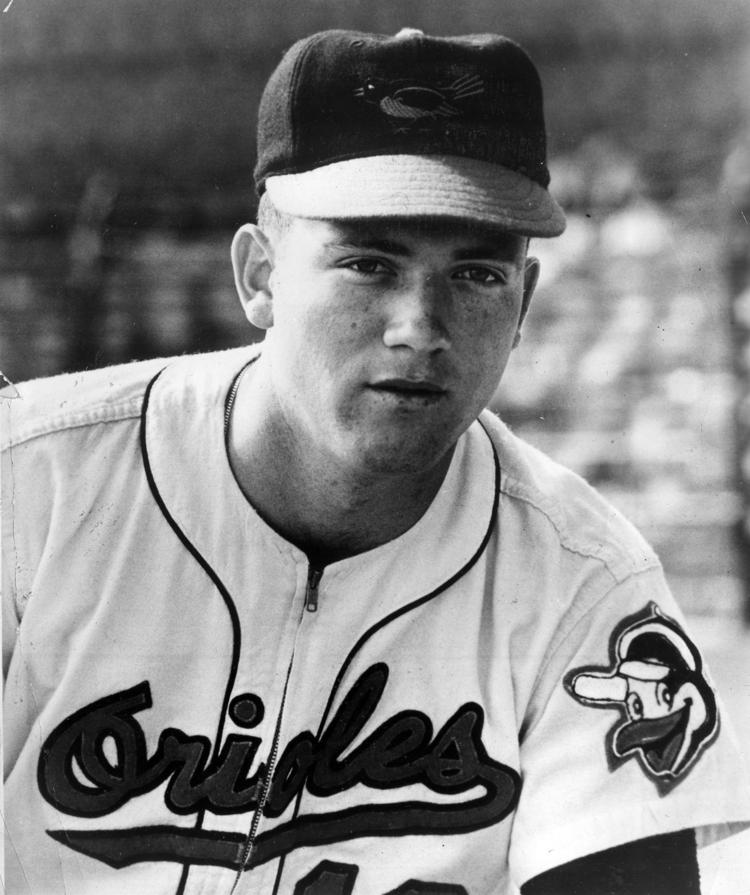 Billings: Dave McNally, baseball: A crafty left-hander, McNally was part of what many consider to be the greatest starting pitching staff in Major League Baseball history with the Baltimore Orioles of the late 1960s and early '70s. He played 13 years in the Majors, was a 20-game winner four times, and remains the only pitcher ever to hit a grand slam in a World Series (1970). McNally won 184 games in 14 seasons. He also made history by helping to overturn baseball's reserve clause, ultimately resulting in the genesis of free agency. Playing American Legion ball in Billings, McNally led his team to a national runner-up finish. In its December 1999 list of the top 50 athletes from each state, Sports Illustrated declared McNally No. 1 in Montana. He died of cancer in 2002.
Bonner: Ritchie Fontaine, boxing: The little onetime sawmill town at the confluence of the Blackfoot and Clark Fork rivers was known for its tough guys, none tougher than Fontaine. Nicknamed the "Bonner Buzzsaw", he was Montana featherweight champion and a successful professional boxer in the 1930s. Fontaine is remembered mostly for being the last fighter to beat future lightweight world champion Henry Armstrong, who ESPN ranks as the third greatest fighter of all time. Born in 1916 in Fairview, Fontaine was a featherweight who was 40-28-11 for his career, with 15 knockouts. He beat Armstrong on a TKO in Seattle in 1939. In 1941, his management was taken over by the comedy team of Abbott and Costello and he moved to Hollywood. Fontaine, who after World War II opened a super club east of Missoula called The Ring (later Club Chateau), died in 1963 at age 47.
Boulder: Cristie Bell, basketball: Bell did it all for Jefferson High School, where she excelled in basketball and track. In the spring, she was a top-flight javelin thrower, shot putter and won gold in the hammer in all-comers meets. Bell continued to thrive in both sports at Rocky Mountain College, where she was a Frontier Conference and NAIA district champion in the shot put, qualifying for nationals and finishing ninth in 1986. She also was a standout basketball player for the Battlin' Bears. Bell, a co-captain in basketball and track, later served as Rocky's football trainer before becoming an Internet engineer and moving to Portland, Oregon. She was inducted into the Rocky Hall of Fame in 1999.
Box Elder: LeAnn Montes, basketball: Born on the Rocky Boy Reservation, Montes averaged 21 points, 10 rebounds and eight steals per game in leading Box Elder to its first Class C girls basketball crown in 1998. She was MVP in the state and an All-American on two lists. Montes continued her career at Montana, where she played from 1999-2003. In her final season, the former walk-on ranked third in the Big Sky in assist-to-turnover ratio and was ninth in assists. Montes, who went to law school at the University of New Mexico, became attorney general for the Chippewa-Cree tribe. She also coached at Stone Child College at Rocky Boy Agency. Montes was inducted into the Montana Indian Athletic Hall of Fame in 2014.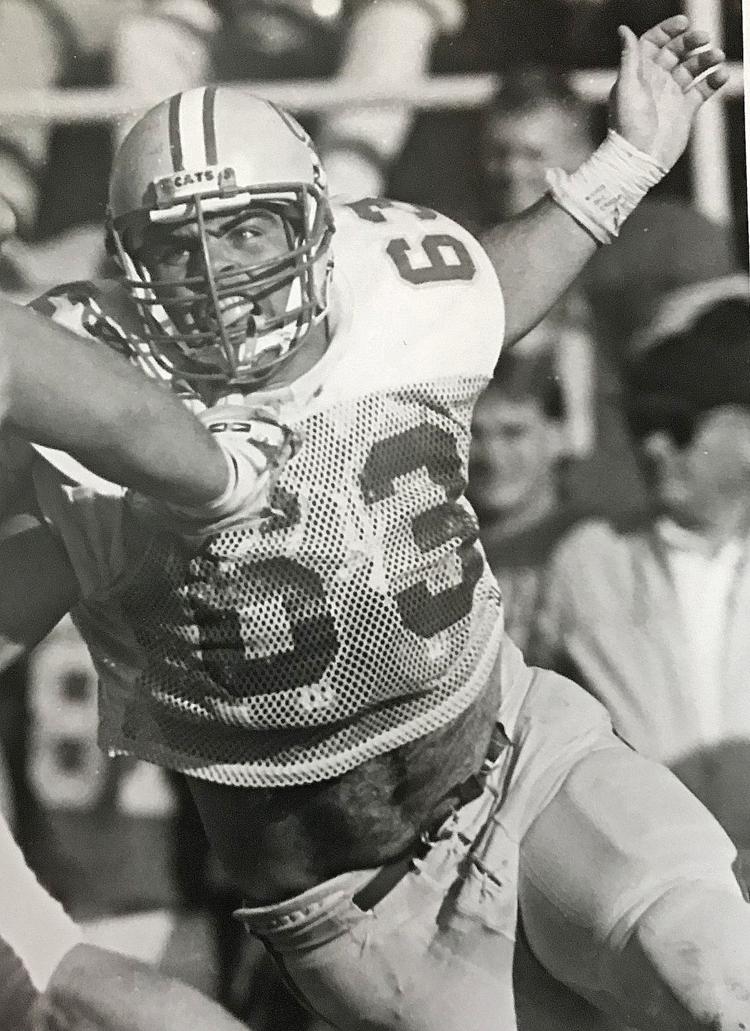 Bozeman: Corey Widmer, football: Born in Virginia, Widmer was a standout defensive lineman at Bozeman High and went on to become a two-time second-team All-American at Montana State (1990-91). He was the Big Sky Conference's defensive MVP in 1990 when he had 25 tackles for losses and played in the Hula Bowl. His 66 career tackles for losses are a school record, and he ranks fourth in sacks. Widmer was then a seventh-round draft choice of the New York Giants of the NFL in 1992, spending eight years as a linebacker before retiring in 1999 – a year after suffering a severe concussion. He was inducted in MSU's Hall of Fame in 2002 and has since become a critic of the NFL's approach toward concussion mitigation and CTE.
Brady: Dan Sieler, football: Before Brady consolidated with Dutton, the Bulldogs were a 6-Man program and Sieler was one of its finest stars, having earned all-state honors on both sides of the ball and serving as the team's quarterback for four years (1995-98). In a game against Rocky Boy in 1996, Sieler threw a school-record 10 TD passes. He also was a solid basketball player for Brady, routinely scoring in double figures as starting point guard.
Bridger: Bill Linderman, rodeo: Raised mostly in Red Lodge, Linderman was the face of Montana rodeo in the 1940s and '50s when he was the official Rodeo Cowboys Association All-Around Cowboy twice (1950, 1953) and unofficial winner once (1945). In 1950, he became the first cowboy to win three national titles in a single year. Always dreaming of a postseason rodeo event, Linderman saw his vision come to fruition in 1959 with the creation of the annual National Finals Rodeo. He was inducted in the ProRodeo Hall of Fame in 1979, 14 years after dying in a plane crash. A statue of Linderman greets visitors at the Hall of Fame in Oklahoma City.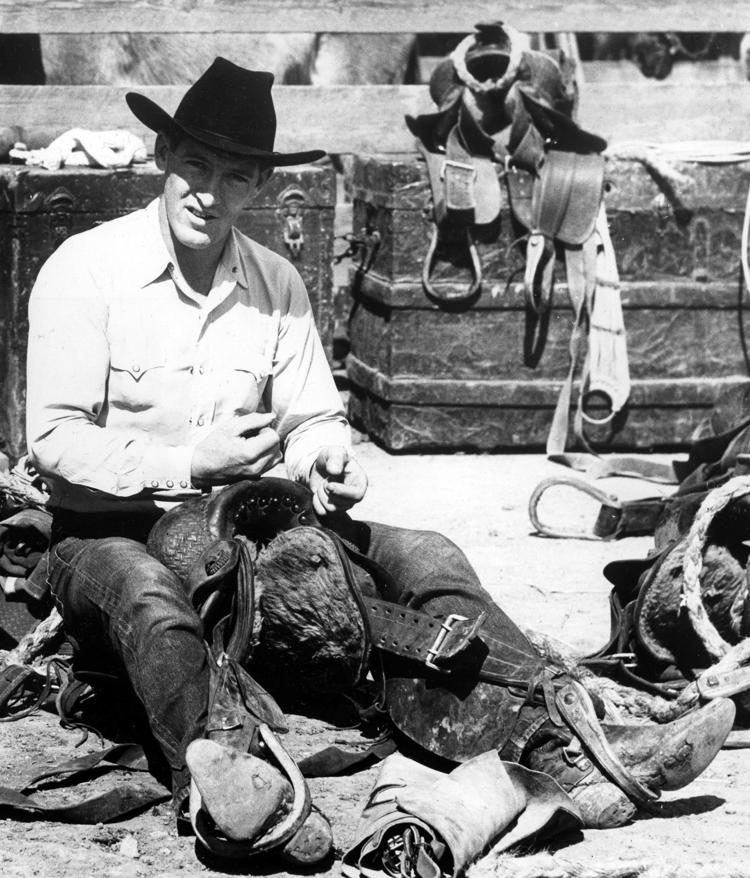 Broadus: Ronnie Rossen, bull riding: A native of Nebraska, Rossen was known as one of the most fearless bull riders on the circuit and won world championships in 1961 and 1966. He appeared in eight National Finals Rodeo events from 1959-68, narrowly missing a third crown in 1965. En route to his '61 buckle, he became the first rider in six years to stay aboard the notorious Speck. Rossen went on to ride for 40 years, winning seven National Old Timers Rodeo crowns before dying in 1991 when he was caught under a bull during his dismount from a winning ride. He was inducted in the ProRodeo Hall of Fame in 2007.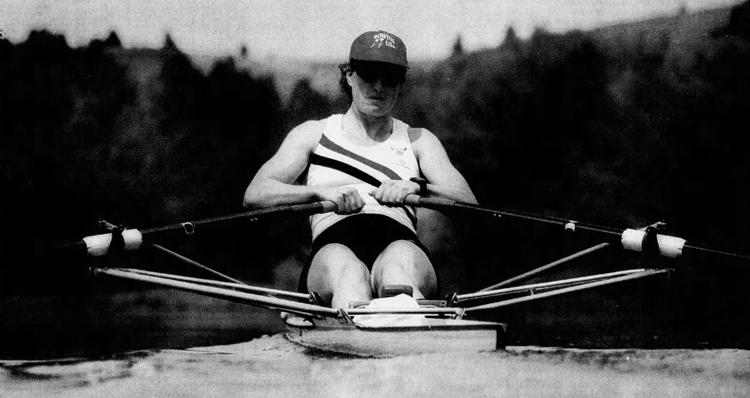 Broadview: Monica Tranel, rowing: Go figure – an Olympic rower from a tiny landlocked ag community in central Montana. But that's just what Tranel did, winning a gold medal with the U.S. eights crew at the 1995 world championships, taking three silvers, picking up one bronze, and finishing fourth at the 1996 Olympics in Atlanta. In all, she has won 10 national rowing titles. Born in Big Horn, Wyoming, Tranel also competed in the 2000 Olympics. She attended high school at Billings Central, where she starred in basketball and track. She started rowing in college at Gonzaga and earned a law degree from Rutgers; a lawyer, she has lived in Helena and now Missoula.
Brockton: Kayla Lambert, basketball: An absolute scoring machine, Lambert finished her career with the Warriors as by far the leading career scorer in Montana history – boy or girl – with 3,453 points in 101 games (1998-2001), 900 better than any other girl. She averaged a whopping 34.2 points per game in high school and was Gatorade Player of the Year twice, scoring 65 points in a game two times and setting a state mark with 66 in 2000. Lambert, the first Native American girl to be invited to the Nike All-American Camp, once had a quadruple-double: 51 points, 15 rebounds, 10 steals, 10 assists. Recruited by Big Ten, ACC and Pac-10 schools, the Bozeman native chose Montana and sat out a season before becoming academically ineligible and enrolling at Sheridan (Wyoming) College. Lambert tried to reinvigorate her basketball career in 2007 at Lethbridge College in Alberta, Canada. In 2016, she was inducted into the Montana Indian Hall of Fame.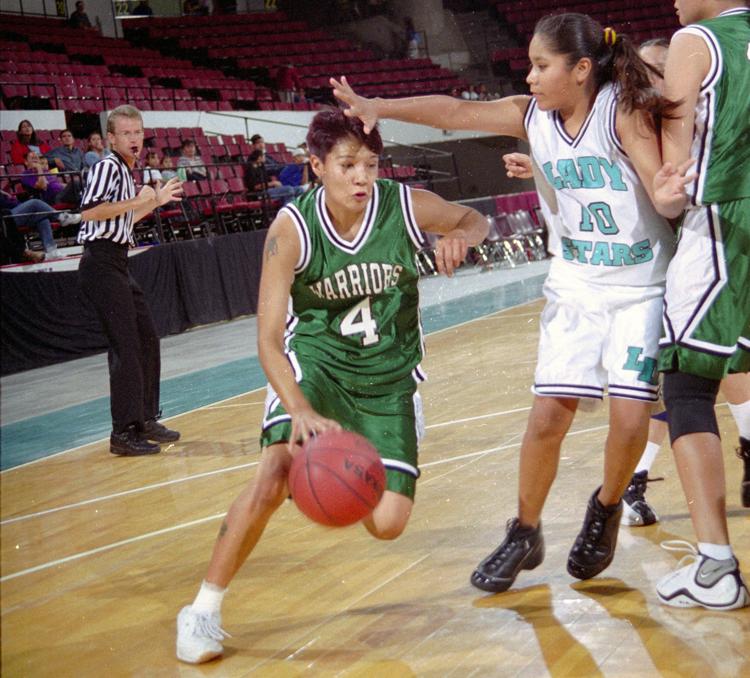 Browning: Martin "Bud" Connelly, rodeo: For 60 years – yes, 60 – Connelly was a rodeo competitor, earning spots as a finalist in the National High School rodeo in 1951 and 1954. He is a 14-time IRCA Canadian champion and won NRA bareback, saddle bronc and all-around titles. In all, he's won 400 rodeo buckles and more than 20 saddles. He was still competing in his mid-70s when he was inducted in the Montana Indian Athletic Hall of Fame in 2008.
Brusett: Jerry Coulter, baseball: A member of the only Jordan High basketball team to make it to the Class C state tournament, Coulter averaged better than 20 points per game in 1968. He also was the quarterback on the first Mustangs football team to defeat Wibaux. In 1968, Coulter set a District 4C high jump record by using something called the "Eastern roll" -- a precursor to the Fosbury Flop. But Coulter's favorite sport was baseball, and he walked on at Montana State, which had offered him a football scholarship as a wide receiver. A member of the Brusett Yankees as a 12-year-old, Coulter once earned two victories in relief in the same day against Montana in 1971. After college, he focused on softball and played shortstop on an all-star team that defeated The King and His Court. Coulter pitched three years at MSU before the school dropped its baseball program.
Busby: Moke Eaglefeathers, basketball: Considered the most colorful player on the 1971 Class C state championship Busby Eagles and a descendent of Chief Dull Knife, Eaglefeathers averaged more than 20 points for game in both the 1971 and '72 state tournaments. He was nicknamed "The Clown Prince of Basketball". As a child he had open-heart surgery and a lung removed, and was told he'd never play sports, yet he did – learning basketball from his Northern Cheyenne grandfather using a taped-up sock. After high school, he attended the University of Nebraska and played semi-pro ball. He later coached in Lame Deer before taking a job in Butte as director of the North American Indian Alliance, where he was appointed as an advisor to President Obama's Native American Cabinet. He died in 2016.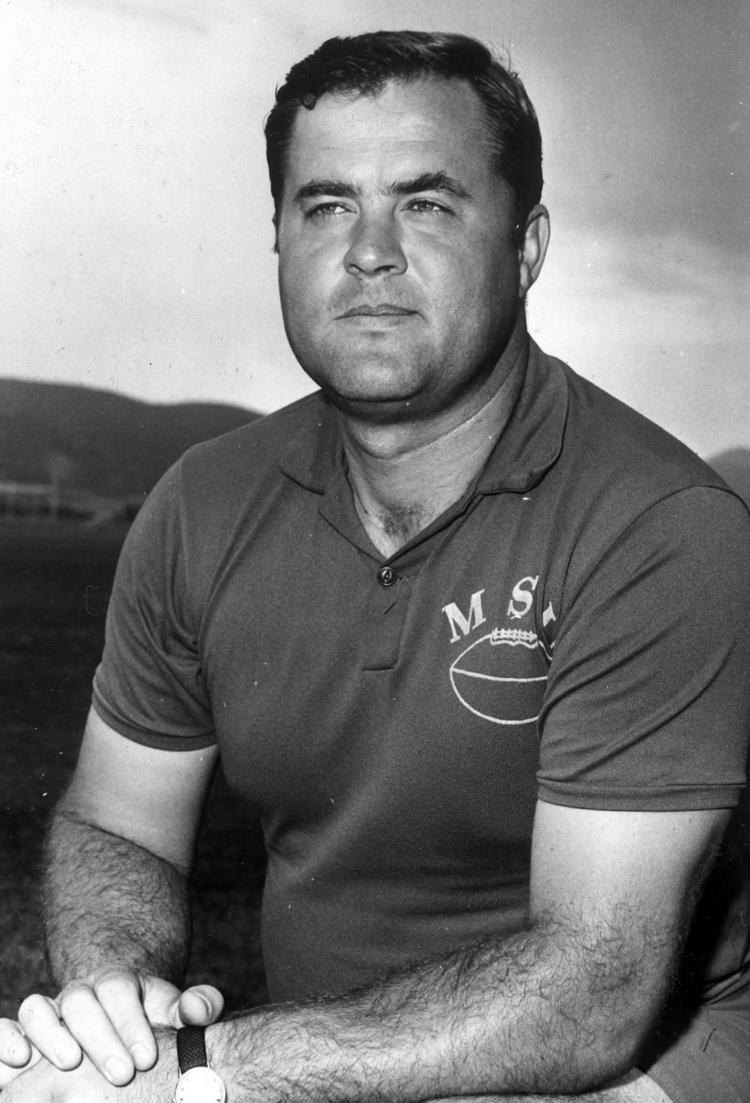 Butte: Sonny Holland, football: In a town known for its toughness, Allyn "Sonny" Holland might've been the toughest of them all. He was a three-sport star for Butte High, playing center on the football team, then moved on to Montana State, where he was named captain as a freshman in 1956. Holland was a three-time All-American at center for the Bobcats, helping them to the 1956 NAIA national title and their first win in Missoula in 54 years. His No. 52 at MSU eventually was retired, he is widely considered "The Greatest Bobcat" and in a 1999 survey of Bobcat administrators by the Bozeman Daily Chronicle he was selected "MSU Athlete of the Century". Also a top heavyweight boxer at MSC, Holland signed with the Dallas Cowboys in 1960. He coached the Bobcats to the NCAA Division II national crown in 1976 and retired with the school's best winning percentage. A statue of Holland is outside of Bobcat Stadium and he is in the Montana Football Hall of Fame.
Cardwell: Kailee Oliverson, basketball/track: Living in the center of a triangle of three schools near former NBC broadcaster Chet Huntley's birth town, Oliverson chose to attend Twin Bridges, where she was dominant in basketball, volleyball and track. Her favorite, though, was basketball and she was a rarity for Montana: A McDonald's All-American, in 2018. She was recruited to Nevada (Reno) and played as a freshman before returning north to continue her basketball and track career at Northern State in Aberdeen, South Dakota. In track, Oliverson won six Class C titles in the hurdles and relays, and she was second six more times, setting school records in the 100 and 300 hurdles.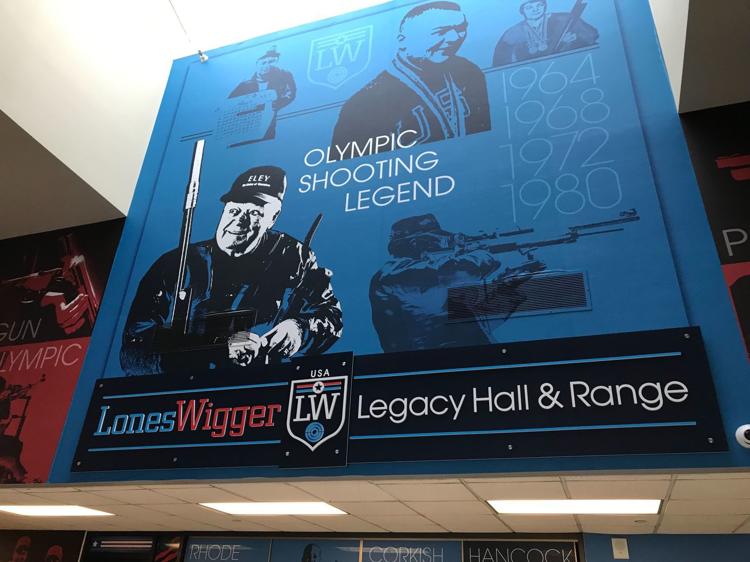 Carter: Lones Wigger Jr., rifle: A two-time Olympic gold medalist, Wigger – who attended high school in nearby Fort Benton – was described by Gun Week magazine as "by far the greatest shooter in history." He broke 29 world records, won 58 U.S. championships, and would've appeared in four Olympics had the U.S. not boycotted the 1980 games in Moscow. A three-time All-American at Montana State, he was a gold medalist in the 1964 and 1972 Olympics, and also won a silver. In 1996, he was honored as one of the U.S. Olympic Committee's 100 Golden Olympians and 12 years later was inducted in the United States Olympic Hall of Fame. Upon his death in December 2017 at age 80, the New York Times eulogized him as the "best ever." The range at the Olympic Training Center in Colorado Springs, Colorado, is named in his honor.
Cascade: Harry Clark, track and field: To this day, no track athlete in Montana history has won more medals at a state meet than Clark, who owns 20. In the early 1980s, Clark set records in five Class B events and led Cascade to two state titles. Of the 20 medals, 11 were gold. After high school, Clark went on to become an All-American decathlete at Montana State, where he still holds the school record for points (7,633). When he retired from competition, he became the track and field at Carroll College, where he's still in charge. Clark was inducted into the MHSA Hall of Fame in 2014 and MSU's Hall in 2018.
Centerville: Patrice Anthony, cross country: As a three-time state champion, Anthony is in select company with eight other girls in Montana history (four have won four titles). She took three consecutive crowns from 1982-84 and she remains second (12:00.6) and third (12:07.9) all-time for the two-mile run, staged from 1976-85. In addition, the 31 points Centerville scored in winning the Class C title in 1982 rank fifth all-time for low score at a state meet.
Charlo: Stuart Perry, football/basketball: It's difficult to say where Perry was more dominant, in football or basketball. On the gridiron he set career 8-Man records with 6,682 yards passing and 92 touchdowns from 1996-98. At the time, he ranked third and fourth in the nation among 8-Man schools in those categories. Perry was a first-team all-stater on both sides of the ball. In hoops, he scored 2,075 points, was a four-time first-team all-state Class C player and was the third western Montana player to surpass 2000 points. Perry, who also threw the javelin, helped the Vikings to their first state tournament in 21 years in 1999.
Chester: Casey FitzSimmons, football: The poster child for the small school, FitzSimmons rose from 8-Man football at Chester and the NAIA game at Carroll College to play for six years with the Detroit Lions of the NFL. He was all-conference four times at Carroll, NAIA and Frontier Conference Player of the Year finalist in 2003 and helped lead the Saints to the national title in 2002 – when he caught 79 passes for 971 yards and six TDs. FitzSimmons retired from the NFL in 2010 after seven years and several concussions. He played four positions at Chester, where he was a standout on the basketball court, too. FitzSimmons was inducted into the Montana Football Hall of Fame in 2018.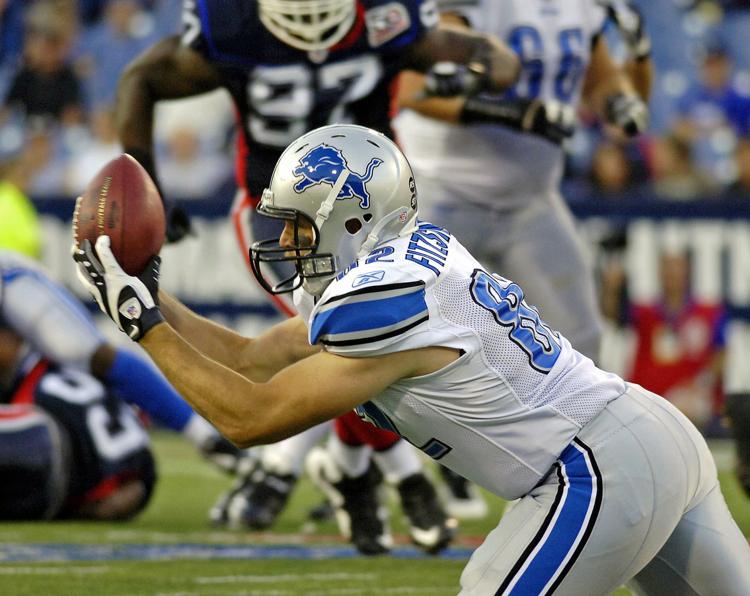 Chinook: Ben Stroh, wrestling: A four-time Class B-C state champion, Stroh didn't just win on the mat -- he dominated, winning 92 percent of his high school matches by fall. In doing so, he established a national record for consecutive pins, finishing his career at 101 with his fall in 39 seconds for title No. 4 in 2012. At 189 pounds, he is the heaviest four-time state champ in Montana history. Stroh was no slouch on the football field, either, earning all-state honors and scoring six TDs in leading Chinook to the Class C state title in 2010. On the track, he was a standout in the 400, 800, discus and shot put. Stroh started his college wrestling career at Wyoming and qualified for the NCAA meet twice before transferring to MSU-Northern and winning an NAIA national championship at 184 pounds his senior season.
Choteau: Flint Rasmussen, rodeo: Once a high school history and math teacher, Rasmussen – who is the first to insist he's not a great athlete – nevertheless evolved to become the most famous clown on the Professional Bull Riders circuit after years with the Professional Rodeo Cowboys Association, an achievement that requires a modicum of athleticism. At Choteau, he was an all-stater in football and track. Rasmussen graduated from Montana Western and eventually earned his first NFR berth in 1998. He was eight-time PRCA Clown of the Year and Coors "Man in the Can" seven times. Rasmussen was inducted into the Pendleton Round-Up Hall of Fame in 2011.
Churchill: Blythe Hommes (Hintz), basketball: Still one of the top scorers in Manhattan Christian history, Hommes didn't slow down when she arrived at Montana State in 1993. By the time she was a senior, she averaged 18.9 points and 9.4 rebounds per game for the Bobcats, earning 1997 Big Sky Conference Player of the Year honors and a berth on the Kodak District VII All-America team. Hommes was inducted into MSU's Hall of Fame in 2007. Hommes wasn't just a basketball player: She led Manhattan Christian to the 1992 Class C state track and field title by scoring 48 of her team's 69 points, winning the 200, 400, 300 hurdles (state record) and triple jump, and finishing second in the 100 hurdles. A year later, she went two points better (50) and won five more events. Hommes also starred for the Eagles' volleyball team. 
Circle: Don Schillinger, football: A quarterback and co-captain on the Wildcats' football team in 1964, Schillinger was a four-sport standout who also led Circle to the Class B state basketball championship in March 1965. He went on to play basketball and football at Carroll College before getting his degree at Montana. Schillinger etched his name in Montana lore, though, at Baker High School, where he spent 29 of his 37 years as a head coach. He retired in 2010 with 318 career victories, second only to Great Falls CMR's Jack Johnson (319) in state history, and never having a losing season. Under Schillinger's watch, the Spartans won six Class B state titles.
Clancy: Sheila Green (Gerding), basketball: A standout at Jefferson High School down the road in Boulder, Green went on to even greater achievements at MSU-Northern, where she was a three-year starter on the most successful Northern Lights' programs in school history. Northern went to the NAIA national tournament all four years of her tenure, and she was all-Frontier Conference for three years -- earning conference co-MVP honors and distinction as a Kodak All-American in 1992, when the Lights were ranked No. 1 nationally. Green immediately signed on as an assistant coach at MSU Billings, became an all-star playing professionally in New Zealand for a year, then returned to the States to coach. She coached at Minot State for 22 years before stepping down in 2017 as the winningest coach in school history (360-283).
Clyde Park: Brock Peterson, football: Peterson's name is sprinkled all over the state 8-Man record books for his performances from 2013-16. His 4,779 total yards rank seventh all time and his back-to-back 1,803 yards in 2016 and 1,539 in 2015 rank ninth and 10th. Peterson gained most of his yards on the ground, amassing 4,249 over his career, good for third all-time in the state. He once rushed for 382 in a single game. A standout in track as well, Peterson went on to play for Rocky Mountain College.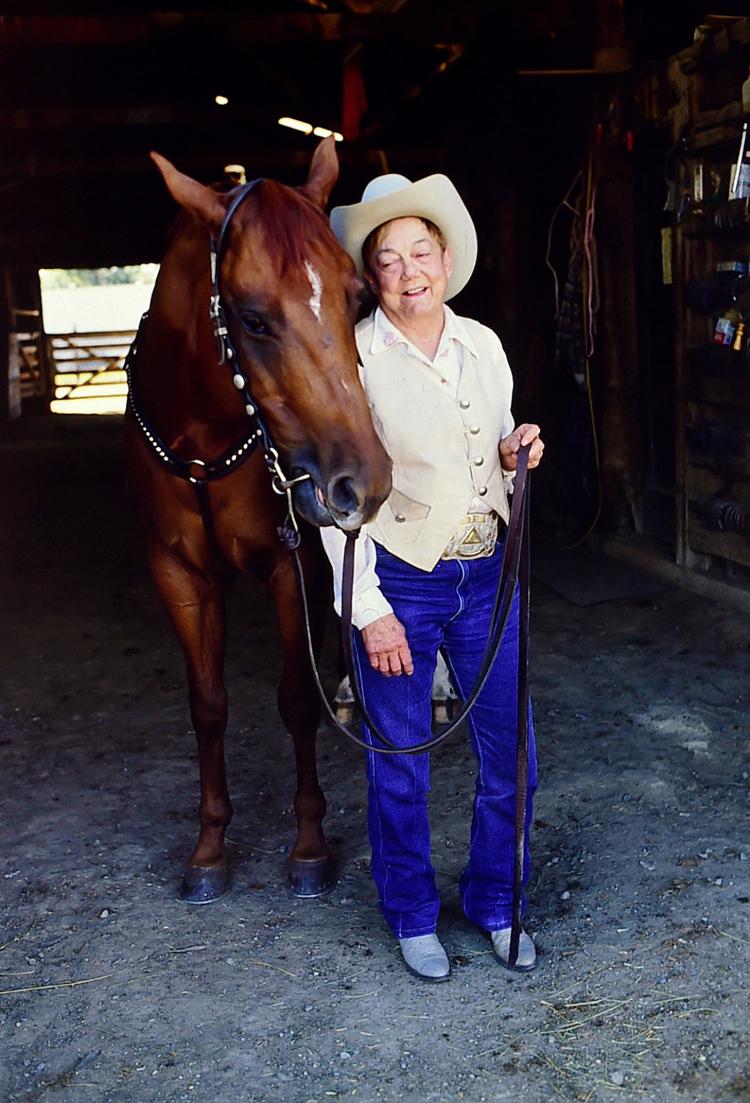 Cohagen: Bobby Brooks (Kramer), rodeo: Bobby Brooks Kramer was a National Cowgirl Hall of Famer who lived in worked on a 150,000-acre ranch with her husband, Bud, a Montana Cowboy Hall of Fame inductee and uncle of NFL Hall of Famer Jerry Kramer, a Jordan native. In 1989, she was one of two women chosen for the Great Montana Centennial Cattle Drive. Brooks has six American Quarter Horse Association (AQHA) all-around championships to her name and is featured in the documentaries "I'll Ride That Horse" and "The Last Stronghold". Brooks became a pilot to round up wayward horses on the family's vast and later won air races. In 2000, she was inducted into the National Cowgirls Hall of Fame. A native of Terry, she died in 2005 at age 91.
Colstrip: Chris Currier, wrestling: A trail blazer in a prominent wrestling family, Currier laid the groundwork by winning four consecutive state championships -- becoming only the eighth Montanan to do so at the time -- and taking his fourth in 1994 at 130 pounds when the Colts were still in Class A. He didn't slow down in college, winning the 1999 NCAA Division II crown at 149 pounds for Southern Colorado. Currier was a Little Sullivan Award finalist that year. He also placed eighth in the 1994 national Greco-Roman tournament. Currier's brother Codey won two state titles and his nephews, Gage, Clayton, Jackson and Oden also are accomplished wrestlers; Clayton and Jackson followed their his uncle's footsteps by winning four state crowns.
Columbia Falls: Mike Lyngstad, track and field: A pole vault specialist in high school, Lyngstad became a legend in the javelin by winning three Big Sky Conference championships at Montana in the late 1960s, setting a conference record first with 238-0 1/2 in 1968 and breaking it with 245-2 in 1969 – a mark that has yet to be broken. In 1969 he set the Griz record with a toss of 253-9, at the time the third farthest in the nation, and he is still considered the greatest javelin thrower in conference history. After leaving UM, he was with the U.S. Olympic Track & Field team. Today, he coaches the javelin at Columbia Falls High.
Columbus: Dwan Edwards, football: A three-sport athlete and senior class president for the Cougars, Edwards went on to a high-profile career in college at Oregon State and in the NFL with three teams as a defensive tackle. He was a two-time all-Pac-10 pick and was drafted in the second round by the Baltimore Ravens before finishing his career with a Super Bowl appearance with the Carolina Panthers in 2016. Edwards was co-MVP on Oregon State's 2003 team and a two-time all-stater at Columbus. In high school, Edwards was a high-scoring forward in basketball for the Cougars, averaging over 20 points per game in 1999. He is retired from the game today and was inducted into the Montana Football Hall of Fame in 2016.
Conrad: Loni Perkins (Judisch), track and field: A sprinter and jumper, Perkins is tied with Toni Quenell of Geraldine for most medals won at state meets with 24, including 13 golds. As a junior in 2002, she became the first girl and second Montana athlete ever to win seven golds in a state meet, winning the long jump, high jump, 100, 200 and 400 individually while anchoring Conrad's first-place 400 and 1,600 relay teams. Perkins won four medals each in the 200, 400 and 1,600-meter relay, took three in the 400 relay and for good measure won two in the 100 and long jump and another in the triple jump from 2000-03. Perkins, who also competed in volleyball and basketball, still owns state records in the 200 and 400 set in 2003. Perkins went on to compete in track at Montana, where she was a four-time Big Sky champion in the 400 and won eight conference titles overall.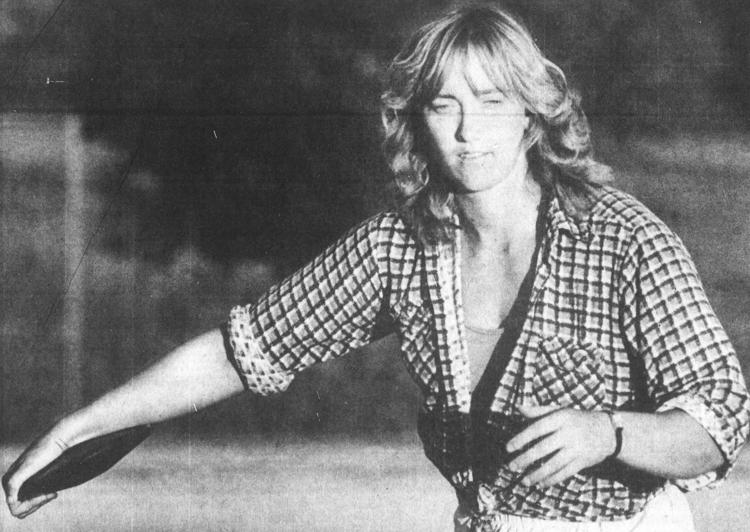 Corvallis: Lorna Griffin, track and field: As a high schooler raised on a dairy far in the Bitterroot Valley, Griffin was a standout in both the discus and shot put – setting a state record in the shot. But her forte was the discus, where she made the U.S. Olympic team in 1980 and 1988, becoming the first U.S. woman to throw over 200 feet in the process. Griffin also made the Olympics in the discus AND shot in 1984, and she won silver medals in the 1983 Pan American Games in both events. For a brief time in 1983, she held the American discus mark. A talented weightlifter as well, in 1984 Griffin won the Best Lifter Award at the National Women's Weightlifting Championships. After starting collegiately at Flathead Valley Community College, she attended Seattle Pacific, where she set a discus record that still stands. Now a resident of Huntington Beach, California, Griffin was inducted into Seattle Pacific's Hall of Fame in 2005.
Crow Agency: Larry Pretty Weasel, basketball: Though only 5-foot-10, Pretty Weasel was a mercurial player for Hardin in the 1950s, averaging 32 points a game during the 1957 state tournament. That year, he scored 48 points in the third-place game — a record that stood for 27 years — and for an encore put up 50 in the East-West Shrine All-Star Game. Pretty Weasel was chosen Montana's top high school athlete overall in 1957 after setting the state's single-season scoring record with 712 points. His 465 points in conference action that year, despite double- and triple-teams, also set a record for Class A and AA. Recruited by several major colleges, he was leading the nation in field goal percentage as a freshman at Rocky Mountain College when he dropped out of school midseason. Nicknamed "The Hardin Flash", Pretty Weasel was inducted into the Montana Indian Athletic Hall of Fame in its inaugural class in 2007.
Culbertson: Terry Falcon, football: A three-sport star with the Cowboys, Falcon made his name in football – playing college ball at Minot State and Montana before embarking on a career as an offensive lineman in the NFL and USFL. A second-team all-conference left guard with the Griz, Falcon was an eighth-round draft choice of the New England Patriots in 1978. He also played two years with the New York Giants and another year with Arizona of the USFL. At Culbertson, Falcon set a district record in the shot put and was also a champion in the discus. He was a standout in basketball, too, once scoring 24 points and grabbing 27 rebounds in a game. After retiring from pro football, Falcon eventually became head football coach at Missoula Loyola in the early 2000s.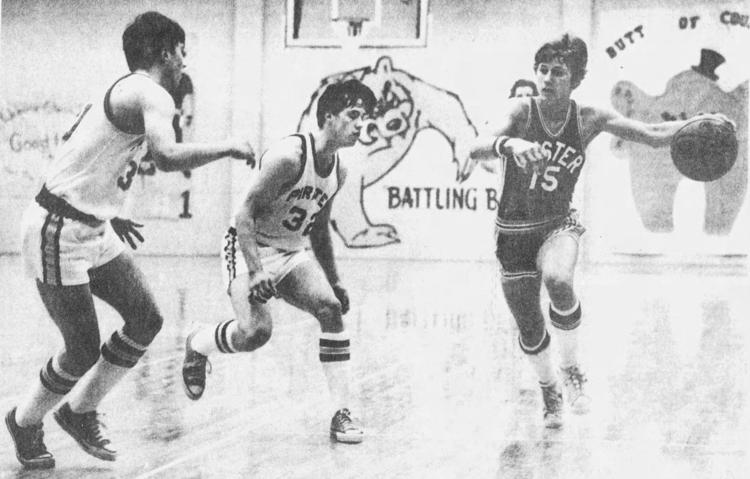 Custer: Steve and Jeff Keller, basketball: It's hard to distinguish the Keller boys, whose on-court exploits in back-to-back careers dominate the Custer record books. Steve ranks ninth and Jeff 10th all-time in Montana career scoring, with 2,206 and 2,181 points. Jeff ranks fourth for career field goals made with 794 and eighth for points in a season with 755, and Steve is eighth with 22 baskets made in a single game. And they rank Nos. 1 and 3 in state history in free throws made in a career, Steve with 617 and Jeff at 467; Steve's 224 in 1972-73 remain a record for season and the 24 made in a game also is tops all time in the state.
Cut Bank: Don Wetzel Sr., basketball: A three-time Class B all-state selection in high school, Wetzel was the first Indian to play NCAA Division I basketball, earning all-Big Sky honors playing basketball for the Montana Griz during a career that spanned 1967-71. He was team MVP his senior year. As a high school senior, Wetzel was an All-American in basketball. He also was a state champion in the low hurdles and high jump in track, and was all-state as a quarterback in football. After finishing his career at Montana, he coached the freshman team one year at UM under the legendary Jud Heathcote before coaching at Browning for eight and eventually taking the reins at Helena High. Wetzel is a co-founder of the Montana Indian Athletic Hall of Fame and lives in Helena.
Who are Montana's greatest athletes? Visit to tiny Radersburg sparks search