Radersburg: Larry Duff, baseball: Radersburg isn't much – a once-booming mining town now with 66 residents – but it has some pop on the national stage. Actress Myrna Loy was born there in 1905 and then there was Cecil "Larry" Duff, who was born in 1896 and had a cup of coffee as a pitcher with the Chicago White Sox in 1922. Three years after the infamous Black Sox Scandal, Duff pitched in three games for Chicago, fashioning a 1-1 record with a save and 4.97 earned-run average. He died in Bend, Oregon, in 1969.
Ramsay: Ron Ueland, football: Born and raised on a ranch, Ueland starred in football and track at Butte Central High School, then moved on to play football at Montana State. Nicknamed "Country" because of his rural upbringing, he is widely considered to be the greatest Butte Central lineman ever, anchoring a 1969 team that ran for a school-record 2,788 yards (309 per game). Sonny Holland and Bob Petrino once called Ueland the best player they ever coached. As a Bobcat, he was a captain, earned all-Big Sky Conference honors twice as a linebacker, and was honorable mention All-America in 1973. Ueland was inducted into MSU's Hall of Fame in 1999. He died in May 2018.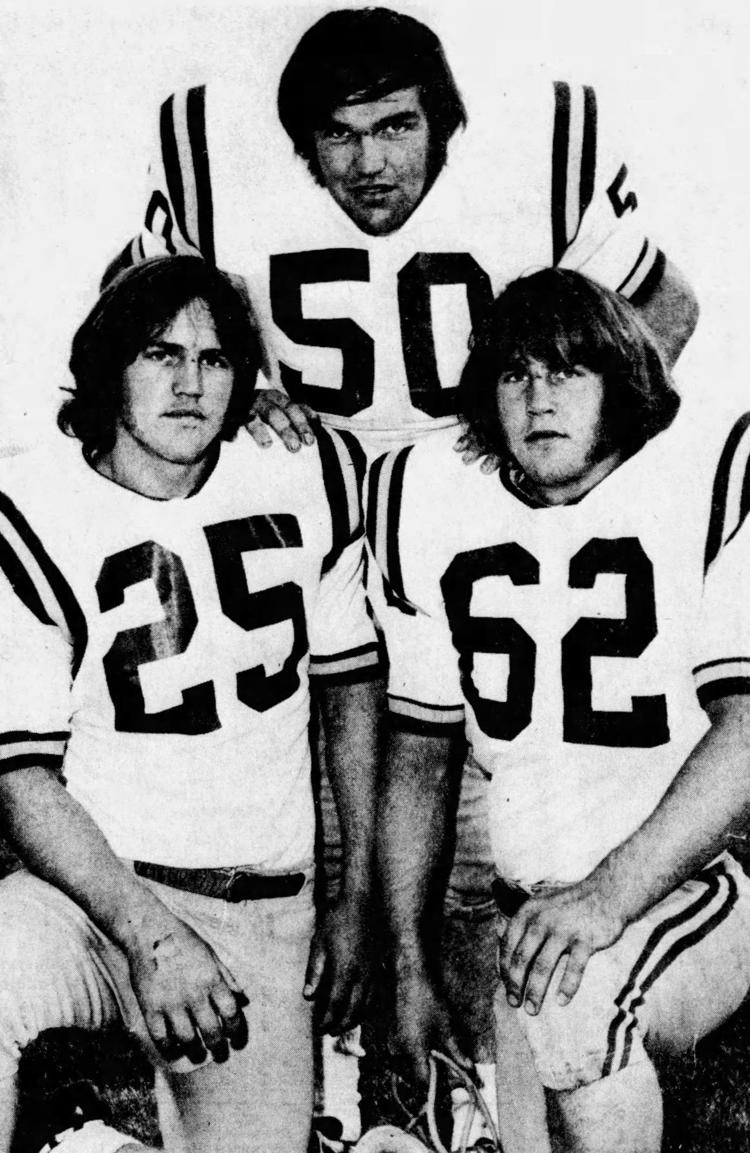 Rapelje: Josh Dannenberg, basketball: A high-scoring guard, Dannenberg led Rapelje to its first District 5C championship in 30 years in 1991, averaging more than 27 points over three games and hitting the game-winning shot to beat top-ranked Melstone. He routinely scored more than 30 points in games. Dannenberg also was a solid track athlete, placing for Rapelje in the hurdles at the state meet. He continued his basketball career at Western Montana.
Red Lodge: Alice Greenough (Orr), rodeo: Often called the "Queen of Rodeo", Greenough performed in rodeos across the country, including Madison Square Garden in New York, and was renowned internationally for both bull riding and trick riding. She was so popular she was once ranked among the "100 Most Influential Montanans of the Century". She began bronc riding in 1929 and joined the PRCA in 1936. After retiring from riding, she did occasional work in movies and for the NBC show "Little House on the Prairie". She has been inducted into numerous Halls of Fame, including the National Cowboy and Western Heritage Hall of Fame and the National Cowgirl Museum and Hall of Fame.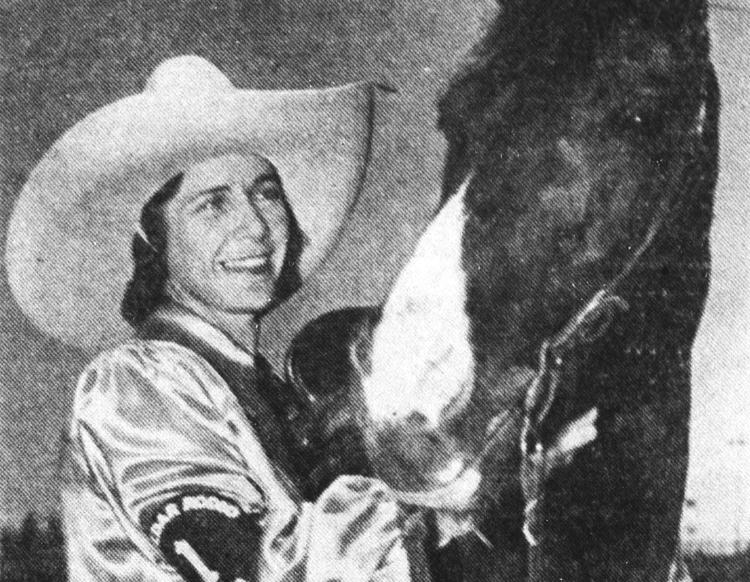 Reed Point: Elly Bruursema, basketball: A star of the public-television documentary "Class C", Bruursema led Reed Point to state titles in 2005 and '06 and remains fifth on Montana's all-time career scoring list with 2,221 points. She scored 48 points in a single game in her senior season and ranks third in state history with 51 games of 20 points or more. A three-time all-stater and 2006 Montana Gatorade Player of the Year winner, Bruursema went on to play for Carroll College, where she was one of the Frontier Conference's top 3-point shooters, was co-freshman of the year and earned first-team all-conference honors.
Richey: Jim Soft, basketball: An outstanding athlete in four sports, Soft was Montana's second-leading scorer his senior basketball season at Richey. He excelled beyond high school in basketball, though, becoming a two-time All-American and Frontier Conference Player of the year in 1968 for Eastern Montana College. He played four positions in football and qualified for the state track meet in eight events. As a senior for Richey, Soft averaged 20 rebounds per game. His No. 50 was retired by EMC and he is in the school's Hall of Fame. After college, he played for Athletes In Action. Soft's older brother Loren, an all-conference football player on offense and defense for EMC, was an exceptional athlete as well, earning an NFL shot with the Baltimore Colts.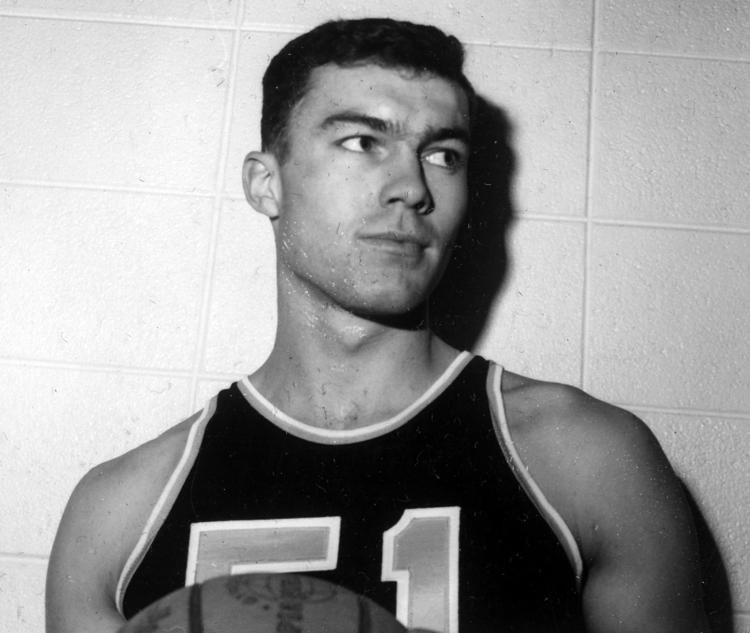 Roberts: Carson Durr, basketball: The sharp-shooting wing averaged 22.1 points and 10.5 rebounds in leading the Rockets to the Class C state tournament in 2001-02. His 48 games with 20 or more points for his career are tied for seventh in state history. Durr also was a first-team all-state quarterback in football and was first-team all-conference as a kicker, punter and linebacker. He also set the Class C record in the javelin in 2002 with a toss of 171-11. Today, Durr is a chiropractor with offices in Bozeman and Gardiner.
Rocky Boy: Donnie Parisian, basketball: Though from Rocky Boy, Parisian played high school ball in Heart Butte, where he averaged 23 points and 15 rebounds as a senior in 1993. He went on to a stellar collegiate career at Montana State-Northern, where as a center he earned second-team Frontier Conference honors as a senior. He averaged 13.1 points and 6.3 rebounds per game in leading the Lights to the NAIA national tournament in Kansas City in 1998. Along the way, he had some big games, scoring 30 points and grabbing 13 rebounds in a win over Rocky Mountain College. Parisian started his college career at Miles Community College.
Ronan: Marvin Camel, boxing: One of 13 children who grew up on the Flathead Reservation, Camel made his boxing debut at age 12 and eventually became the greatest fighter the state has ever known. In 1980, he won the World Boxing Council's cruiserweight title and in 1983 became the International Boxing Federation's first champion, making him the first in his class to be recognized as world champion by two sanctioning bodies. In 2006, Camel was awarded honorary champion status by the WBC. In 62 professional fights, Camel won 45 – 21 of them by knockout. He was 140-40 as an amateur. In high school, Camel set a school record in the 880-yard run. He now lives in Florida.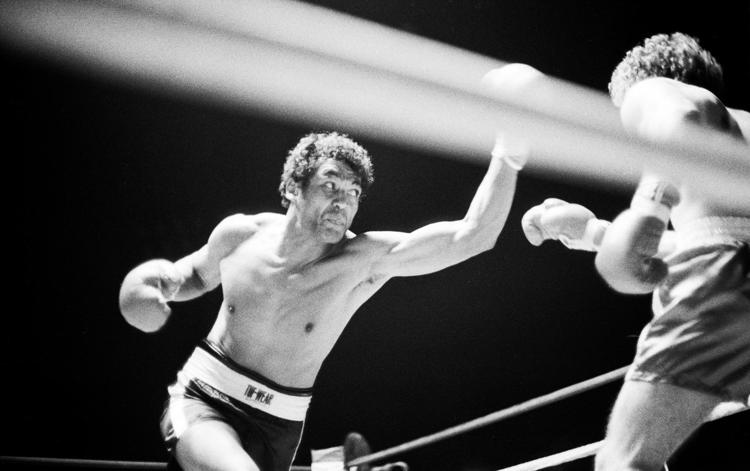 Roscoe: Clint Branger, bull riding: Long considered one of the top bull riders in the world, Branger was a founding member of the Professional Bull Riders (PBR). A 1983 Absarokee High graduate, he was a collegiate national champion at Northwest College in Wyoming and earned the first of his eight NFR qualifications in 1987. He finished third in the PRCA standings in 1990 and 1992, and led the PBR standings for most of 1994.
Rosebud: Brac Warren, baseball: A native of Rosebud, where his parents still live, Warren went on to pitch for the Miles City Outlaws and graduated from high school in Miles City in 2014. He then pitched for the University of Oregon, where after three years his 97 mph fastball and assortment of pitches caught the eye of the San Francisco Giants. He was drafted in the 17th round in 2017 and made his pro debut in August 2019 after two years of injuries. The Giants released him in June 2020. Warren also was an all-conference basketball player for Miles City.
Roundup: Shane Collins, football: An eventual all-stater at Bozeman High and national Gatorade Athlete of the Year in both football and track and field in 1986-87, Collins was a dominant defensive lineman at Arizona State – earning all-conference honors three times – and also was the national shot put champion for ASU, where the Roundup native is in the Hall of Fame. Collins, called "The Natural" in a story by The Sporting News, was a six-time All-American in track for the Sun Devils. In 1992, the Washington Redskins drafted him in the second round, and he played three seasons in the NFL. Collins also was a three-year starter in basketball for Bozeman, averaging 17 points and 12 rebounds a game en route to earning first-team all-state honors for the second consecutive season in 1987.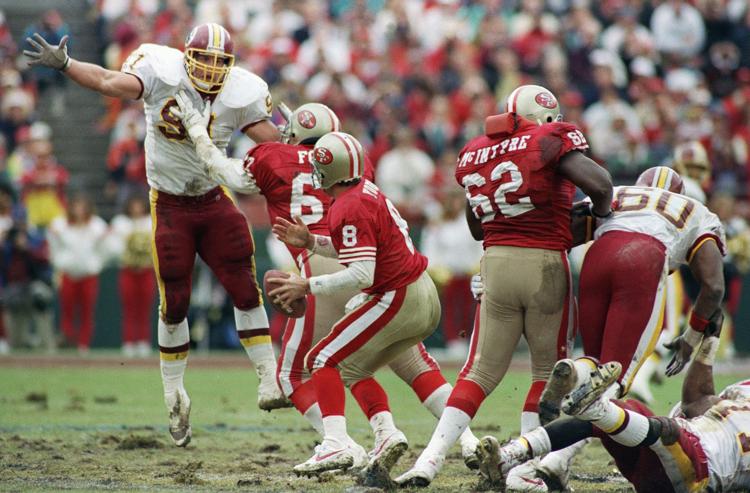 Roy: Floyd Emery, track and field: A champion sprinter, Emery routinely set records in the 100, 200 and both hurdles events in the early 1950s. It wasn't unusual for Emery to accumulate at least 20 points per meet, even at divisionals. Emery also was a key player on the Pirates' basketball team. An accomplished archer as well, Emery died in 2018. 
Rudyard: Todd Anderson, basketball: In a town famed for its "596 nice people — One Old Sore Head", Anderson is arguably its nicest all-round athlete. A prolific scorer, he was the team's leading scorer in 1978, first-team all-state in 1979 and the top rebounder in the Class C tournament. 
Ryegate: John Wrzesinski, rodeo: The name is familiar on the Montana sporting landscape, and it was John Wrzesinski who started it all, winning College National Finals Rodeo titles for Rocky Mountain College in 1961 and '62 before snagging the '64 Montana Rodeo Association all-around crown. A champion saddle bronc rider and steer wrestler, Wrzesinki also competed on the European Rodeo Tour. He was inducted into the Montana Pro Rodeo Hall & Wall of Fame in 2015.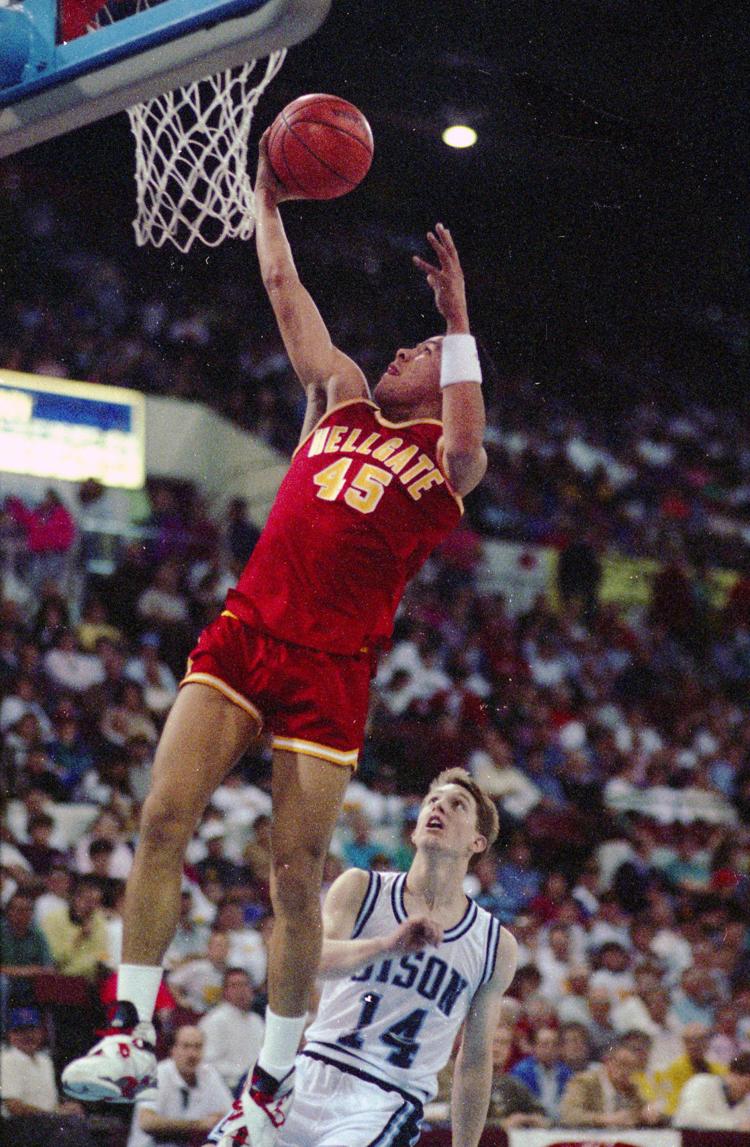 St. Ignatius: J.R. Camel, basketball: For three years, Camel starred on the court for Mission before transferring to Missoula Hellgate, where he averaged 23 points per game and led the Knights to an unbeaten championship season in 1992-93. He was Big Sky Conference freshman of the year at Montana, set the school's career record for steals, and was all-conference his sophomore and junior years. After forgoing his senior season after the birth of a daughter, Camel played professionally in Yugoslavia before returning to the Flathead Reservation to coach.
St. Marie: Roy Robinson, track and field: The son of an Air Force sergeant, Robinson just might be the greatest track and field athlete in state history. The 1966 Glasgow grad was the high scorer at three consecutive state meets, becoming the first Montanan to accomplish the feat. Along the way he won four consecutive 100-yard dash titles, three in the 180- and 220-yard low hurdles, and added two wins in the 120 hurdles. Oh, and he was a four-year starter for the Scotties in football. Robinson was a star in both sports at Montana, winning Big Sky titles in the 100 and high hurdles. He is enshrined in the school's Hall of Fame for both sports. An inductee in the inaugural MHSA Athletes Hall of Fame class, he earned shots with the Atlanta Falcons and Denver Broncos of the NFL, played a season with the Saskatchewan Roughriders of the CFL, and had a tryout with Portland of the World Football League before retiring.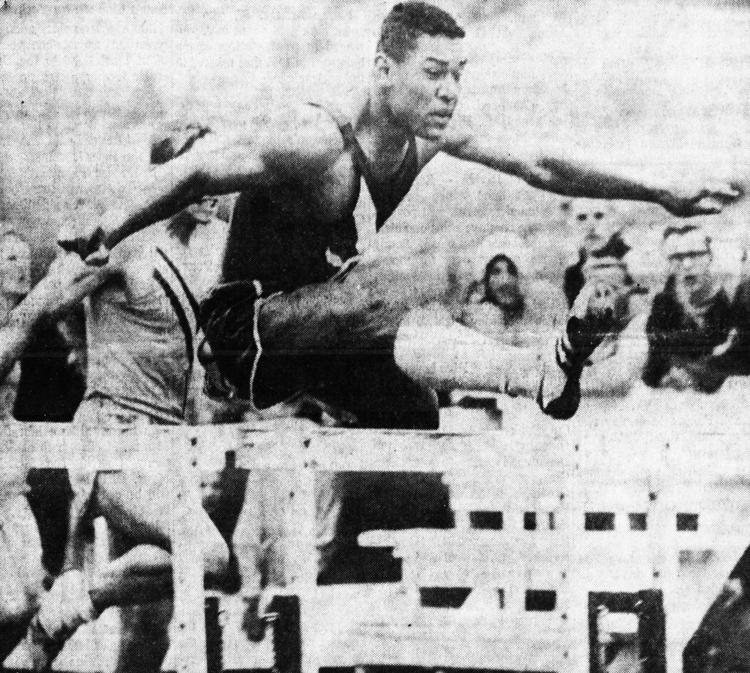 St. Regis: Joe Nieslanik, track and field: A three-sport standout, Nieslanik shined most in track, where he was one of the state's best in the pole vault and triple jump in the late 1970s and 1980. In 1980, he set meet records in the triple jump and pole vault at the Western C meet, and was the state Class C pole vault champ with a leap of 13-0. He also was one of the school's top football players and in basketball Nieslanik was an honorable mention all-stater in 1980.
St. Xavier: Tuff Harris, football: Nicknamed "Tuff" because he survived pneumonia as a newborn, Chester Harris earned his high school acclaim at Colstrip, where he competed in football, basketball and track – setting the all-class state record in the 100-meter dash as a junior in 2001 and winning seven individual state crowns overall. Recruited to run track at Montana, he walked on as a football player and became a four-year starter at cornerback, also setting school and conference records for most punt return yards in a game and season. Signed as an undrafted free agent, Harris would go on to play for five NFL teams over five seasons and also had a stint with the Edmonton Eskimos of the CFL. He was inducted into the Montana Indian Athletic Hall of Fame in 2018. Today, Harris -- part Crow and part Northern Cheyenne -- has poured himself into Native American issues with his "One Heart Warriors" program.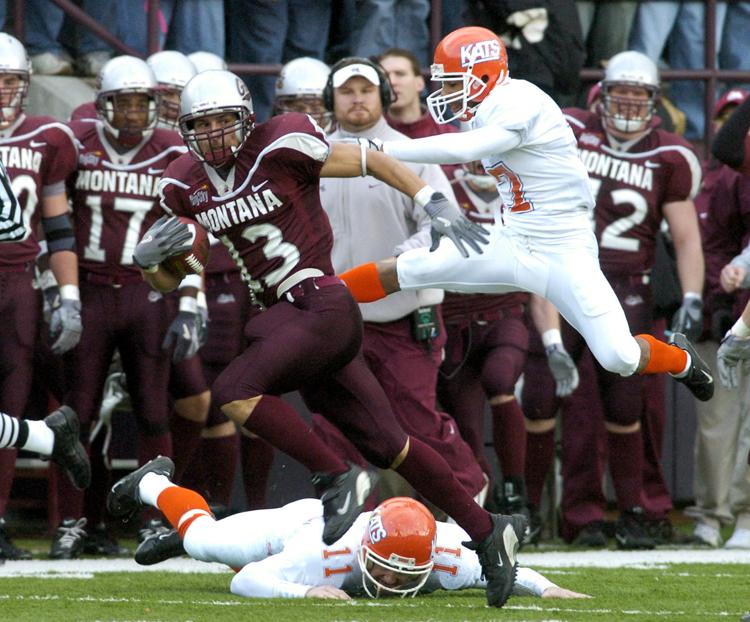 Saco: Rocky Tollefson, basketball: The son of a farmer, "Rockland" Tollefson led Saco to the 1971 state championship game against Busby and finished his career with 2,326 points – a career record for Montana until the 3-point line came along. After high school, he accepted a basketball scholarship at Montana State, where he played in 32 games. He eventually became a basketball coach in Malta. He died of cancer in 2005 at age 52.
Sand Coulee: Terry Adkins, musher: In a community notable for numerous mushers, Adkins is the preeminent name among them. A Kentucky native who came to Montana via the Air Force, he ran his first Iditarod in Alaska in 1974 and has since run it 22 times. Adkins also was the Iditarod's lone veterinarian in its 1973 debut. He is a fixture in Montana's annual Race to the Sky.
Sand Springs: Bill Brown, rodeo: A native of Texas, the 1953 Northwest Ranch Cowboys Association calf roping champion lived most of his adult life at his ranch outside of Sand Springs. While at the University of Wyoming, he was a major player in the creation of the National Intercollegiate Rodeo Association. Brown died in 1992.
Savage: Ryder Rice, football: A first-team all-stater on the defensive line for the Warriors, Rice was the MVP of two all-star games in the summer of 2015 before continuing his football career at Rocky Mountain College. By his junior year in 2018, he was a second-team NAIA All-American after recording 56 tackles, 17 for losses; his 12.5 sacks were sixth nationally. Rice opted to finish his college career at Montana in 2019. He also led Savage's basketball team in assists and steals, and he was district pole vault champion.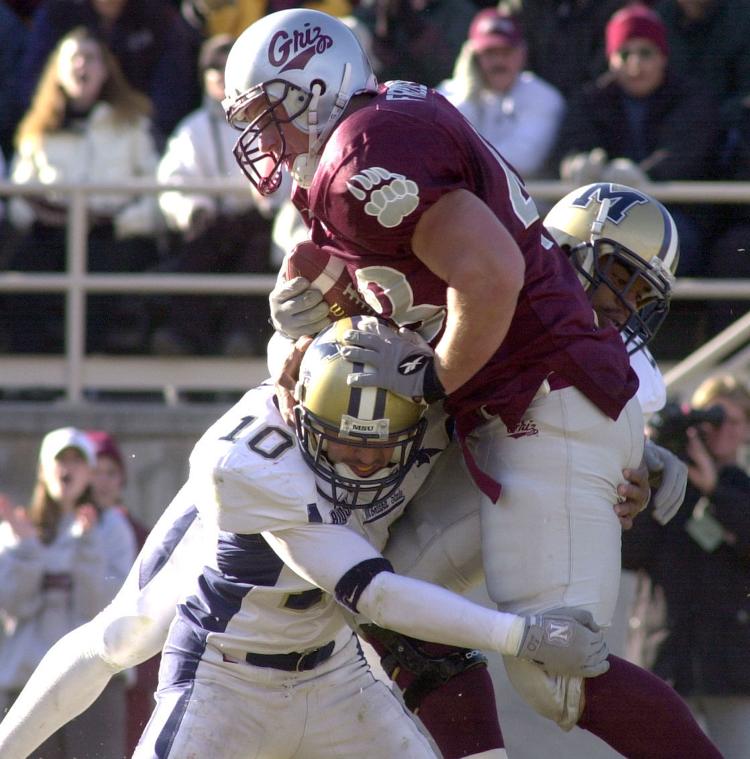 Scobey: Spencer Frederick, football: The definition of a champion, Frederick was an all-purpose star who led the Spartans to unbeaten 8-Man football seasons and state titles in 1995-96. Not to be outdone, in basketball season he scored 22 points and had 12 rebounds to lead Scobey to the Class C title in 1995-96, beating Gardiner 70-38 to set a record for victory margin in a title game. Frederick went on to play for Montana's 2001 national championship football team. He was an all-Big Sky tight end that same year and earned a shot with the New Orleans Saints of the NFL before injuries ended his career.
Seeley Lake: Les Meyer, football: A standout athlete in high school, Meyer went on to a solid four-year football career at Rocky Mountain College. At Seeley Lake, he was a star running back on the football team, played basketball and was a sprinter and hurdler in track. But it's what he's done since that's perhaps more impressive: building Fairfield into one of the state's Class B football powerhouses as a coach. After starting his coaching career as an assistant in 1993, four years later Meyer started at Fairfield and 20 years later was a finalist for national coach of the year. In early 2020, Meyer left Fairfield to become superintendent at Frenchtown.
Seville: Sam Bird Jr., rodeo: The nephew of the revered Blackfeet basketball player Samson Bird, Sam was one of the great team ropers in Montana history, winning his first buckle at age 12 with the legendary Bud Connelly. A header, Bird won a world championship at the Indian National Finals Rodeo in 1976. He won two more world championships in the next 25 years, including with his nephew, Dustin, a three-time NFR qualifier. In addition to his successes in Indian rodeos, Bird was a seven-time Montana Pro Rodeo team roping champion and also a two-time Northern Rodeo Association team-roping winner. He was inducted into the Montana Indian Athletic Hall of Fame in 2008 and the Montana Pro Rodeo Hall of Fame in 2013.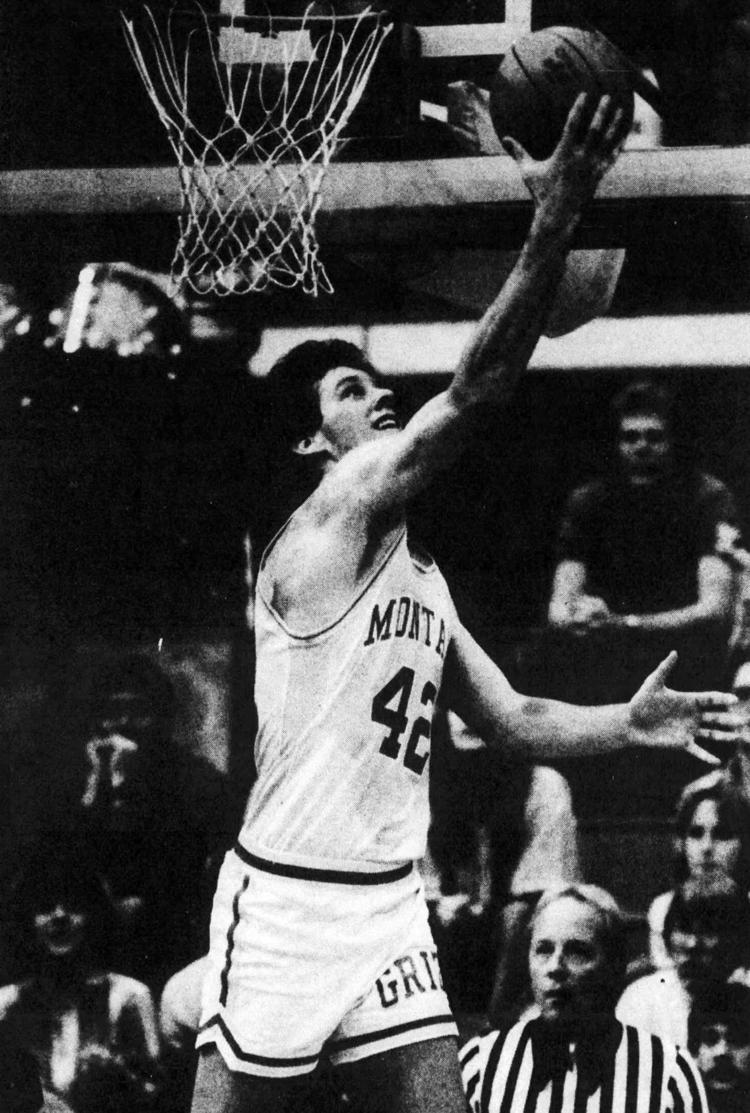 Shelby: Larry Krystkowiak, basketball: Though a graduate of Big Sky High in Missoula, Krystkowiak was Shelby-born and spent most of his formative years on the Hi-Line, where his basketball prowess began to blossom. Highly recruited, he stayed home and became arguably the greatest player in Montana Griz history, setting school records for points (2,017) and rebounds (1,105). He would go on to play 11 seasons in the NBA with six teams, retiring in 1997 to become a coach. "Krysko" coached his alma mater for two seasons, did another year in the NBA with the Milwaukee Bucks, and has been head coach at the University of Utah since 2011.
Shepherd: Emmett Willson, wrestling: One of the greatest wrestlers in state history, Wilson stands alone for one feat – winning the 2004 Dan Hodge Trophy, awarded to the nation's top collegiate wrestler in any class. He won three national championships for MSU-Northern and was a four-time NAIA All-American, but in 2004 he went 50-0 – with 24 pins – and topped eight NCAA qualifiers, including the wrestlers who finished third and fourth. Willson, a two-time state champion at Shepherd, was inducted into the MSU-Northern Hall of Fame in 2014 and the NAIA Hall of Fame three years later.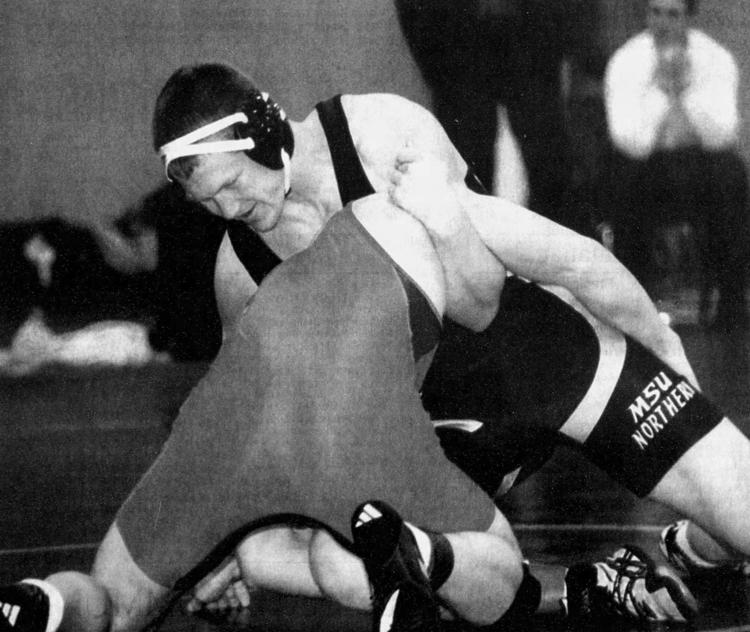 Sheridan: Mark Kieckbusch, track and field: An all-round star in three sports, Kieckbusch won the 400- and 800-meter state championships and led the Panthers to three consecutive state track and field championships (1984-86). In 1986, he set a district record in the 400, and he was on two Panthers relay teams that owned longstanding Class C state records. Part of a notable Sheridan athletic family, Kieckbusch also was the quarterback of the football team and a starting point guard in basketball. He later co-coached the Billings Little League team that advanced to the World Series in 2011.
Shonkin: Chris Diekhans, football: Raised in the lake country between Geraldine and Highwood, Diekhans was a 6-Man all-stater in football, an all-conference basketball player and a standout in the hurdles and sprints for Geraldine's track team. Despite playing with a broken bone in his wrist, he ran for two touchdowns to lead the Tigers to the 1989 state 6-Man football championship with a 23-6 victory over Denton. Diekhans continued his athletic career at the University of Mary, where he was a defensive back and football and also ran track. If the name rings familiar today, Diekhans has sons who play basketball at Fort Benton.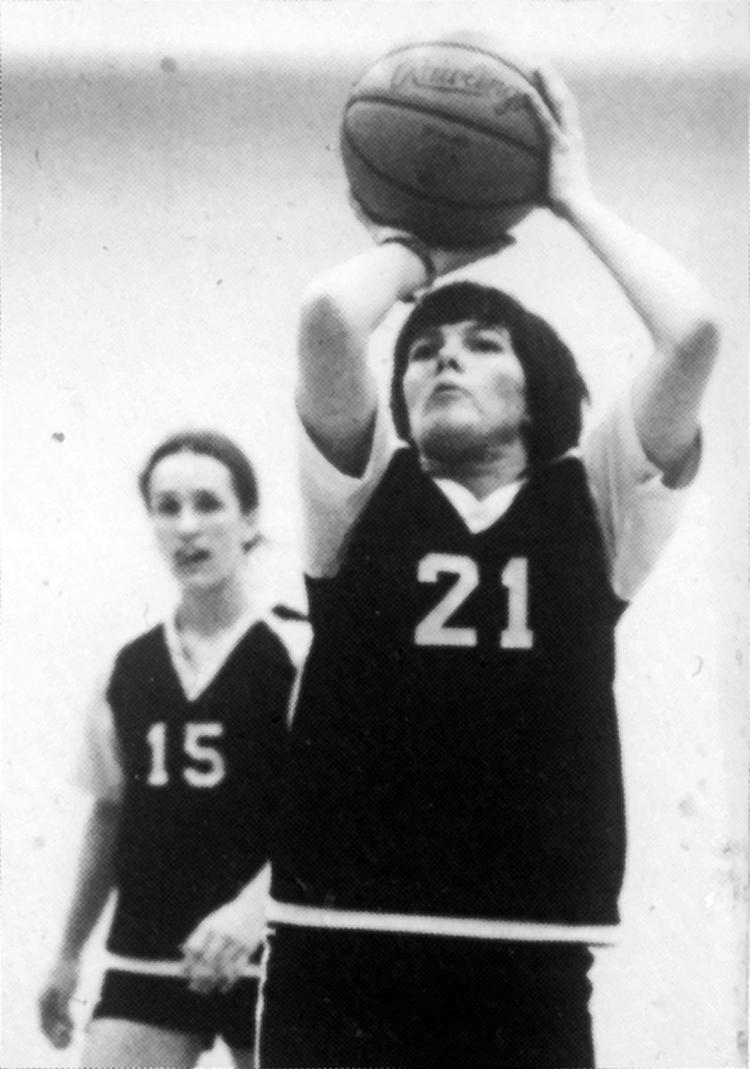 Sidney: Deb Prevost, basketball: A trail blazer in every way, Prevost was a point guard on Sidney's first girls basketball team in 1973, walked on at Eastern Montana College and became an All-American. In 1978, she was drafted by the Minnesota Fillies of the brand-new Women's Professional Basketball League, where she earned Player of the Week honors a year later with the Milwaukee Does. After the league folded, Prevost returned to Sidney for a long teaching career. In 2018, she was honored by the Women's Basketball Hall of Fame in Knoxville, Tennessee, as a "trailblazer of the game."
Simms: Gary and Dave Gustafson, football/basketball: Gustafson is a big sports name in the Golden Triangle, but none quite match Gary and Dave. Gary is one of the great defensive linemen to come out of Montana. A two-sport standout, he competed three times in the National High School Rodeo Finals. After dominating in high school football, he went to Montana State, where he became the program's first All-American on the defensive line in 1969. He was inducted into MSU's Athletic Hall of Fame in 2006. Also a two-sport standout, Dave was right there with him, starring at guard on the UM basketball team in the late 1960s. He was first-team all-Big Sky and finished second in the league in scoring to Idaho State's prolific Willie Humes in 1970. Dave also was a solid javelin thrower for the track team. In 1979, he was inducted into UM's Sports Hall of Fame.
Square Butte: Jan Mayo (Wishman), track and field: Also a standout basketball player at Geraldine, Mayo was the Class C state champion in the 300 hurdles in 1985 then set state marks in the 100 hurdles and 300 hurdles in '86. A week later, she won the 100, 200 and 300 hurdles at the 1986 Montana Track and Field Meet of Champions and was subsequently invited to represent the United States on a Northwest Track and Field Camp team touring Europe. 
Stanford: Jon Wrzesinski, track and field: Wrzesinski was all-state in three sports. He was a two-time state champion and Class C record-holder in the pole vault and he was twice a state runner-up and once a third-place finisher in wrestling. Wrzesinski kept rolling in two sports at the North Dakota State College of Sciences, where he was an all-conference quarterback and an all-American in track, finishing second at the national junior college meet in the decathlon. He continued his collegiate career at North Dakota in both sports, earning all-league honors as a wide receiver in 1987. To cap it off, Wrzesinski was an all-American in the pole vault and and decathlon, and still holds the UND school record in the decathlon. After college, he coached briefly at Mary before moving to Asia for 10 years and returning to Montana to be a principal and superintendent. 
Stevensville: Joe Cummings, football: The son of an NFL player and Stanford Hall of Famer (Ed Cummings), Joe was Montana's all-class player of the year for Stevi in 1991 and earned a scholarship to play linebacker for Wyoming. By the time his career was over, he was a first-team all-Western Athletic Conference selection and was signed as an undrafted free agent by the Philadelphia Eagles. Thus began a six-year career as a journeyman linebacker. In 2000, Cummings returned to Wyoming to finish his degree, played briefly in the new XFL, and finally returned home to the Bitterroot Valley to work as a fishing guide.
Stockett: Jeff Shirley, football: An iron man if there ever was one, Shirley was a two-way player who led Centerville to its first 8-Man state football championship in 1999. For college, he chose Carroll, where he was a first-team NAIA All-American and played in a national record 58 consecutive games while winning four consecutive national titles. As a senior with the Saints, he was Frontier Conference Defensive Player of the Year. In 2009, Shirley was chosen to the NAIA All-Decade second team and seven years later was inducted into Carroll's Hall of Fame. Shirley owns a physical therapy practice in Helena.
Sula: Hal Wetzsteon, baseball: Raised on a homestead just outside of Sula, Wetzsteon was a four-sport athlete at Darby in the mid-1950s before moving on to star at Western Montana College. He was a standout first baseman on the baseball team and also played basketball for the Bulldogs. Behind his pitching, Western won the 1959 conference championship. He was inducted into Montana Western's Hall of Fame in 1995.
Sun River: Tim Lowry, football: Lowry was big man on campus -- literally -- for nearby Simms High School, where he was a standout in football as a lineman and an imposing basketball center from 1987-91. From Simms, he matriculated at Concordia (Minn.) University, where he was all-MIAC and eventually became a first-team All-American in 1995 after leading the Cobbers to a league championship. Lowry was enshrined in Concordia's Hall of Fame in 2015. After college, he founded a concrete company in Spokane, Washington, and lives in northern Idaho.
Sunburst: Kim L. Haines, basketball/track: A native of Havre, Haines was a rarity – a letter-winner in five sports for the Refiners – and the only athlete on this entire list to include badminton on his resume. He also lettered in track, basketball, football and baseball. After starting in college at Montana, he transferred to Northern Montana College, where he was all-conference in basketball for two years and led the Lights into the NAIA tournament in the early 1950s. Haines also took a shot at the Olympics in track. After his competitive career ended, he went into coaching – amassing a state-record 670 wins in basketball -- and started the Western Montana Track Club. He was inducted into MSU-Northern's Athletic Hall of Fame in 1998.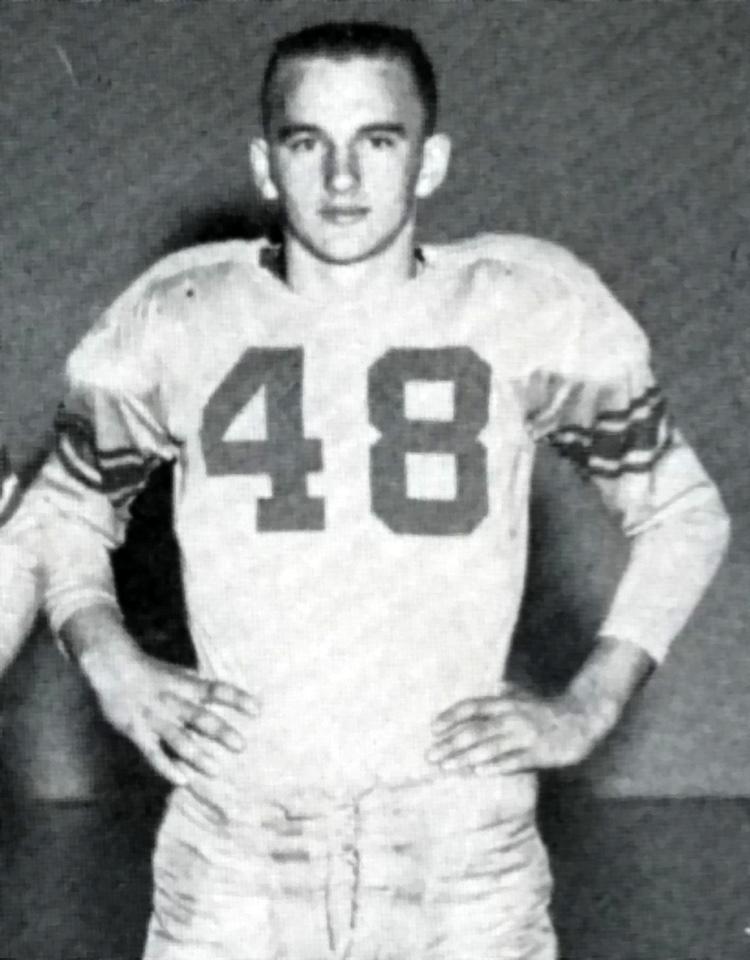 Superior: Pokey Allen, football: Though best remembered for his high school years in Missoula, the first five years of this legendary athlete and coach's life were spent downstream on the Clark Fork River. The son of a Montana Highway Patrol officer, Allen was a star in football, basketball and track at Missoula County High School before moving on to play quarterback at Utah. As a defensive player in 1964, he was MVP of the Liberty Bowl. He then played three seasons in the Canadian Football League before embarking on a Hall of Fame coaching career in 1968. After three seasons as an assistant at Montana, he became a head coach at Portland State and then Boise State, where in his second season (1994) he took the Broncos to the NCAA Division I-AA title game, where they lost to Youngstown State. Two days later, he was diagnosed with a rare form of cancer and in December 1996 he died in Missoula. A book – Pokey: The Good Fight – was written posthumously by Boise author Bob Evancho.