HELENA — After growing up watching a Cy Young Award winner, six-time All-Star and a pitcher like Felix Hernandez who has north of 2,500 career strikeouts, maybe it should not come as a surprise that Cy Miller has turned out to be a pretty good pitcher, too.
While it is not at the big-league level, Miller has, for a couple years now, filled something of an ace-like role for the Helena Senators. The super senior backed up a sub-3.00 ERA a season ago with a 3.51 mark for Miles City Community College and averaged nearly 13 strikeouts per game in 33.1 innings.
In just 15.2 innings for the Senators this season, the southpaw has already racked up 23 punch outs and has pitched to a 2.23 ERA since returning to Helena.
"He has great stuff, swing-and-miss stuff...I would like to see him throw a few more strikes so he can go deeper in the game, but that's kinda what we've seen the last couple of years," Senators head coach Jon Burnett said. "He throws a lot of pitches and gets a lot of strikeouts. Hopefully we can tune that up a little bit here and get a higher percentage of strikes."
Miller failed to allow a base hit in his last outing against Great Falls, but could not go the distance because of an inflated pitch count that came with eight walks. It was still the second time in as many outings against Great Falls that Miller did not allow a hit. Last August, the lefty completed five innings and watched as Tyler Tenney sealed the combined no-hitter with two clean frames in relief.
This time around, while Miller struggled against his mechanics to find the strike zone with consistency, he induced a career-high 26 swings and misses on 103 pitches and has at least 13 whiffs to his credit in all three starts this season.
"He throws from the left side which isn't as common as the right-handed pitchers," Burnett said of Miller's success. "He throws hard, has a really heavy ball and it moves quite a bit. He's picked up a lot of movement over the past year just from working at Miles. It's tough for our catchers to catch him, they're still getting used to him."
Fifty-four times this season a batter has swung at an offering from Miller and missed, already the third-most on the Senators' pitching staff. The only pitchers with more -- Eamon Burke and Victor Scott -- have more than double the innings Miller has in 2021.
"I think it happens naturally," Miller said of the swing-and-misses. "There's definitely times where I'm trying to blow one past a guy. Just trying to get that strike three."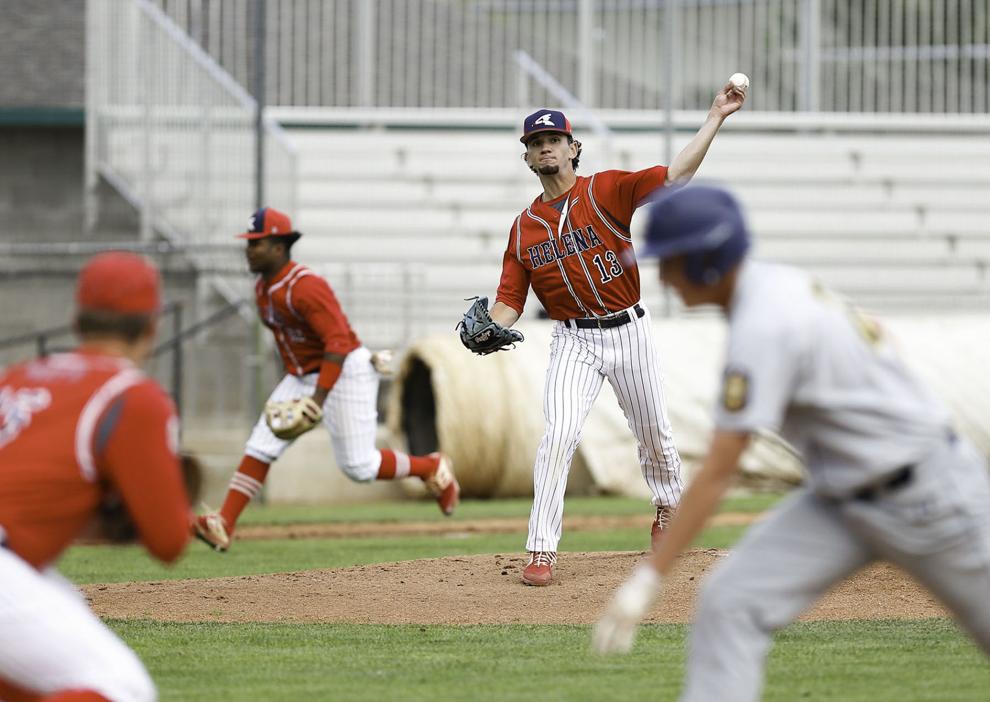 Miller gets the job done on the mound with a mid- to upper-80s MPH fastball, and he throws both two- and four-seam varieties. Whichever he utilizes more in-game, he said, depends on what is working and which one he has the best feel for at the time.
"My two-seam has a little bit of drop on it at the end," Miller said. "My four-seam moves more than my two-seam side-to-side, which is weird...I think it's my delivery. I'm a little three-quarters, my delivery is kinda out to the side a little bit."
That arm slot, as well as a bit of a crossfire delivery from the three-base side of the pitcher's mound, attributes to the movement Miller is able to get on his pitches. He said that delivery just feels natural, and combined with his velocity, helped him get multiple whiffs on fastballs up in the zone against Great Falls last time out. Miller also uses a curveball and changeup to induce swinging strikes.
The Senators would like to see some more consistency in Miller's delivery to help curtail some of his command issues. While 17 walks in 15.2 innings pitched is a bit much, Miller does one of the most important jobs a pitcher can do well: getting ahead in the count.
Over 60 percent of the time Miller has poured in strike one first. That is one of the better marks of his career. Forty-four batters have found themselves behind in the count 0-1 against the left-hander in 2021 and only 6.8 percent of the time has that at-bat/plate appearance ended in a hit.
Against Great Falls, nearly 74 percent of batters got into that early hole as only six batters put a ball in play over five innings. Pitching for strikeouts instead of contact allows Miller to post video game-like numbers like the 10.27 strikeouts per game mark he currently holds or his .096 opponent batting average, but it is something he is continuing to work on.
"It runs my pitch count up a little bit, so I'm trying to work on that," Miller said. "Trying to have a little more control, not just work for the strikeout. Work to get my defense involved, as well."
Even at less than his best, Miller has proven he has the ability to keep opponents out of the hit column. He has allowed no more than three hits in a start for the Senators this season and already has a 10-strikeout performance against Bozeman.
He is one of the more experienced pitchers on Helena's roster having started last year's state championship game while pacing the team in innings pitched. Now in his final season with the Senators, Miller has reached a level of maturity suitable for a veteran with collegiate experience and is leading from the front with his performance.
"I think the level of maturity has definitely picked up a little bit," Burnett said. "He's always been a competitor and you can tell when he's on the mound that he's a competitor. Then how he carries himself when things aren't going his way, seems like he's improved on that a little bit. Just the overall leadership aspect that he brings to the team."
Miller said his confidence on the mound is always high, especially now with some momentum behind him. With his first hitless outing of 2021 now in the rearview mirror, stacking those performances is next on the agenda.
"I feel like I can do that every time," Miller said.