BILLINGS — This season has often been difficult for Adam Hust, but it does include one of the most special memories of his 13-year career as Billings Scarlets coach.
Last Saturday, the Scarlets earned two wins at a tournament in Colorado. After the second victory, Hust was showered with applause from his players as he boarded the team bus. They had just learned what Hust had known since the final pitch: the win was the 500th of Hust's coaching career.
Hust's career head coaching record is 501-266-2, he said, going into the State AA American Legion baseball tournament, which begins Saturday at Dehler Park. The Scarlets are the No. 7 seed in the eight-team tournament, but Hust is optimistic about his team's chances. Last week's milestone might be the spark they needed.
Hust, 44, is happy to discuss his 500th win, but like every milestone, this one came with a sobering reminder.
"It makes you realize how old you get. Unfortunately, that's life," he said this week. "I wish I could've stayed 26, 27, 28 forever and done this because you sure have a lot more energy and you have a lot more pep when you come to the park every day.
"But I still love baseball, I still love being around here. As long as I feel that way, I'm gonna keep doing it and keep being a part of these boys' lives."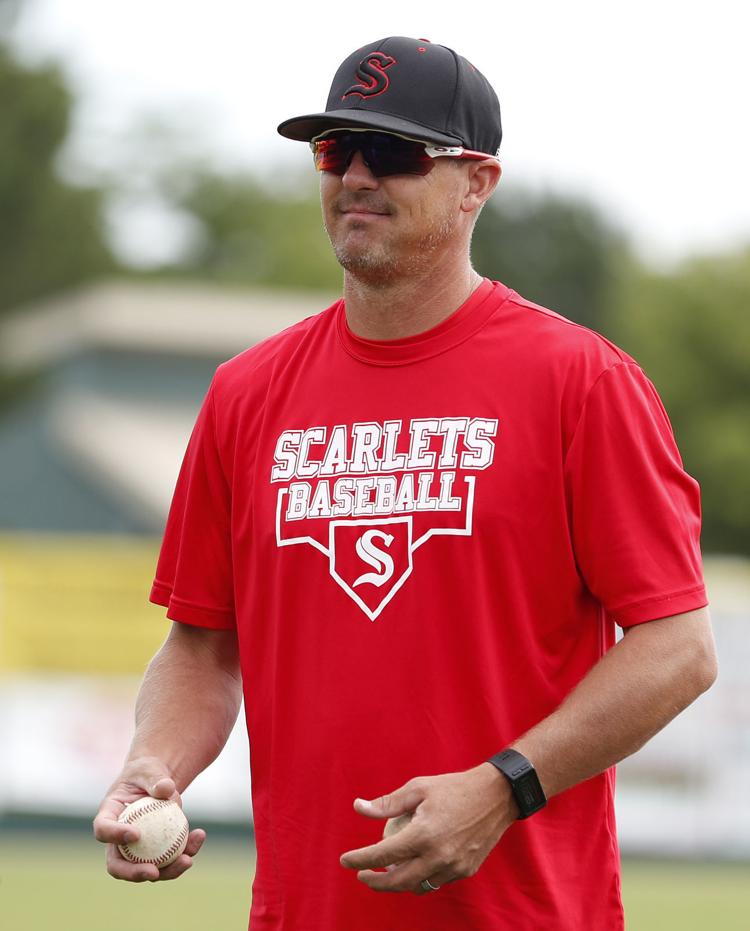 These 13 seasons have been a blur for Hust. He doesn't remember wins No. 200, 300 and 400, he said, and if he sticks around for as long as he hopes, time will also dim No. 500.
Hust spoke reverently about Dennis Maggert, who coached the Scarlets from 1975 to 1996, and the late Ed Bayne, who won 20 state championships and reached the National Legion World Series four times over the course of 40 years as Billings Royals coach.
"I hope I can just be mentioned in the same sentence as those guys at some point," Hust said.
He also knows how small 500 is even in contemporary terms. Missoula Mavericks coach Brent Hathaway has more than 1,200 career wins, said Hust, who played against Hathaway's Mavs in the early 1990s.
Hust won a state title with the Scarlets in 1993, when he was an outgoing senior at Billings West. He went on to play catcher at Hutchinson (Kansas) Community College and Oral Roberts, a Division I school in Tulsa, Oklahoma.
At that time, Hust wasn't thinking about coaching, but a broken right hand ended his professional career before it began.
"I wanted to play baseball my whole life," he said. "I always knew I wanted to be around the game every day, and once you stop playing, you've gotta find a way."
Hust caught on with Hutchinson CC's baseball staff, then scored an assistant job with the Scarlets. In 2006, he won a state title in that role, and he's captured state championships as Scarlets head coach in 2008, 2009, 2011, 2015 and 2016. He's currently the general manager of the Triple Play Academy.
Brady Muller played for Hust from 2008-11 and continued his baseball career with the independent Windy City ThunderBolts and Missoula Osprey, of the Pioneer League. He said Hust was easygoing at times but could be "a hardass when he needed to be."
"He's changed a little bit since I played for him," Muller said. "He's not as hard on the players, and part of that has to do with the makeup of our team and kids not being able to take as much criticism, in my opinion, as to when I played."
Scarlets senior Andy Larsen called Hust a "good player's coach."
"He build good relationships with all the players, and he definitely knows his stuff," Larsen said.
Hust has shown frustration throughout this season, and while his 500th win (10-2 over Maui, Hawaii) is fresh, it's not the Scarlets' most recent game. That was Monday, when they lost to the Bozeman Bucks 7-1. The Scarlets and second-seeded Bucks will meet again on Saturday in the first round of the state tourney.
No coach handles losing well, especially one as successful as Hust. But he expressed perspective when he reflected on his career. Coaching the Scarlets is "the best job in the world," he said, and he doesn't plan to quit anytime soon.
"Hopefully," he said, "I have another 500 in me."