HELENA — For the second time in three years, the Helena Senators are Keith Sell Tournament Champions. A 12-1 win over the Glacier Twins on Monday afternoon sealed that fact, putting a cherry on top of a 5-0 tournament record for the Senators.
Helena sent eight batters to the plate in the first inning, scoring four times. With their offensive showcase carrying over from Sunday night's win, Helena needed just five innings to run-rule Glacier and take the trophy.
"I've been saying all year that we're a team that can really swing it," Jon Burnett said. "We've just mainly been doing it in BP and not in the games. Whatever that spark was, hopefully we can keep that rolling, because we came out ready to hit today. Played all aspects of the game and showed out on the field."
Three of the four tournament awards were claimed by Senators, including overall MVP. Tyler Tenney took home that honor after a 6-for-7 effort at the plate with eight RBI and an OPS north of 2.000.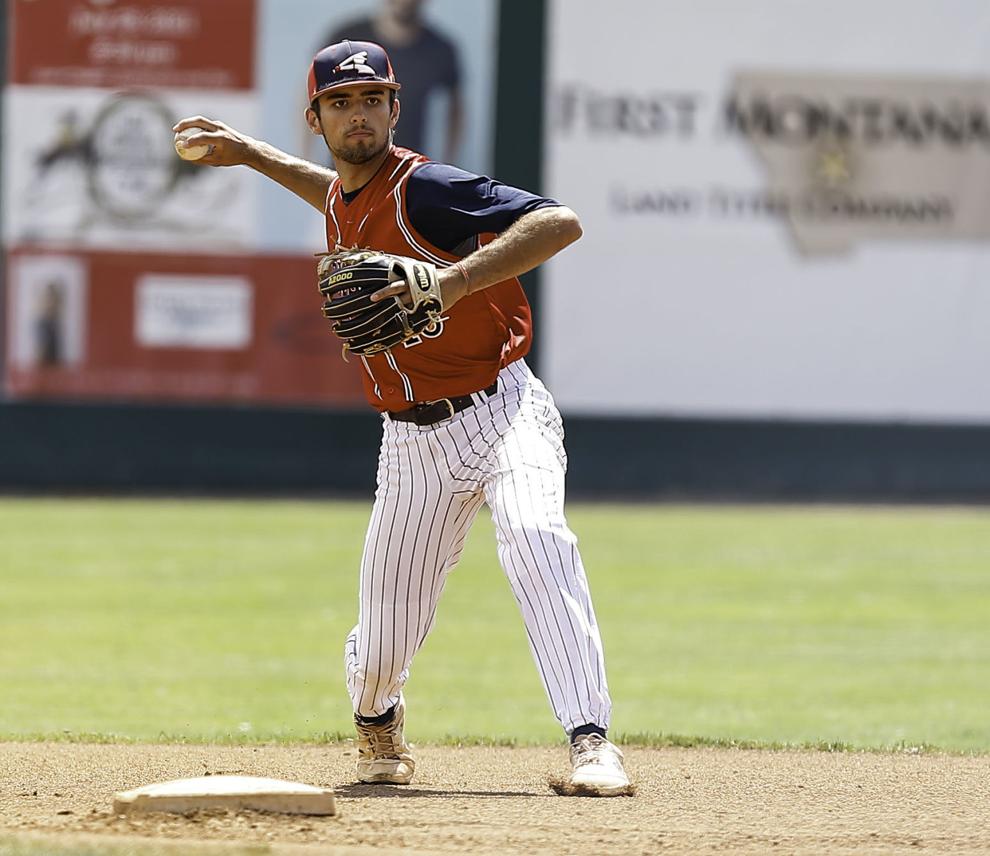 Tenney also tossed a seven-inning complete game on the mound Friday against Great Falls, allowing just six hits and two earned runs. The accolade, and the Senators' win, sent a throng of kids Tenney's way after the game asking for autographed baseballs.
"It always feels great when a little kid comes up to you after a game asking you to sign a baseball," Tenney said.
Glacier's Stevyn Andrachick won Defensive MVP honors with Helena's Michael Hurlbert earning the Offensive MVP award. Cade Coate tossed five innings in the championship game, allowing just three hits and an earned run. His six-pitch first inning helped set the tone for Helena early against a Twins squad that entered the game with 38 wins on the year.
"They're a good, solid squad," Burnett said of Glacier. "We knew they weren't going to hand us one again, so we had to execute. We got a couple bunts down, hit the ball hard. Cade goes out and puts a zero on the board with six pitches in the first inning and then we come out and barrel some balls up. It kinda takes a lot of the pressure off and I think the guys played free from there."
Victor Scott and Ethan Keintz both hit their first over-the-wall home run of the season on Monday. Helena's sixth and seventh long-balls of the year opened the scoring in the third and fourth innings and were exclamation points to the 13 hits the Senators compiled in just four trips to the plate.
"I think after [Sunday] night's game we felt like things started to click," Tenney said. "We finally got our bats going and I think it rolled over into today. We played pretty good defense, great pitching by Cade today. He just gave us chances to make outs for him."
Matt Burton and Scott each ended up with three hits and Tenney chipped in a trio of RBI with hits in the first and second innings. Keintz was also 2-for-3 with two RBI.
Caden Sell, the grandson of Keith Sell, ripped a double to lead-off the second inning and was credited with an RBI when he walked in the fourth. For Caden, it is the second time winning the tournament with the Senators. In 2019, Keith threw out the first pitch with Caden catching, but this year, Caden threw out the ceremonial first pitch of the tournament with his dad, Mike, catching.
"That first pitch, if one of my family members throws that first pitch, we're usually lucky with it," Caden said.
The win was Helena's 38th overall and its 10th-straight, establishing a new longest winning streak for the season. The Senators have now lost just once in their last 13 games and have scored 77 runs over their last seven contests.
With just a limited number of games left at Kindrick Legion Field this season, Monday's win carries extra weight for those who will not be returning to the Senators next year.
"Awesome support all week from our community," Burnett said. "We love playing in front of them, we love playing on this field and in this tournament. To have Caden, with his final year here, it was pretty special. To have him come out and hit a couple balls hard in that championship game was pretty cool. We're excited that it ended that way and excited for all of our seniors and super seniors."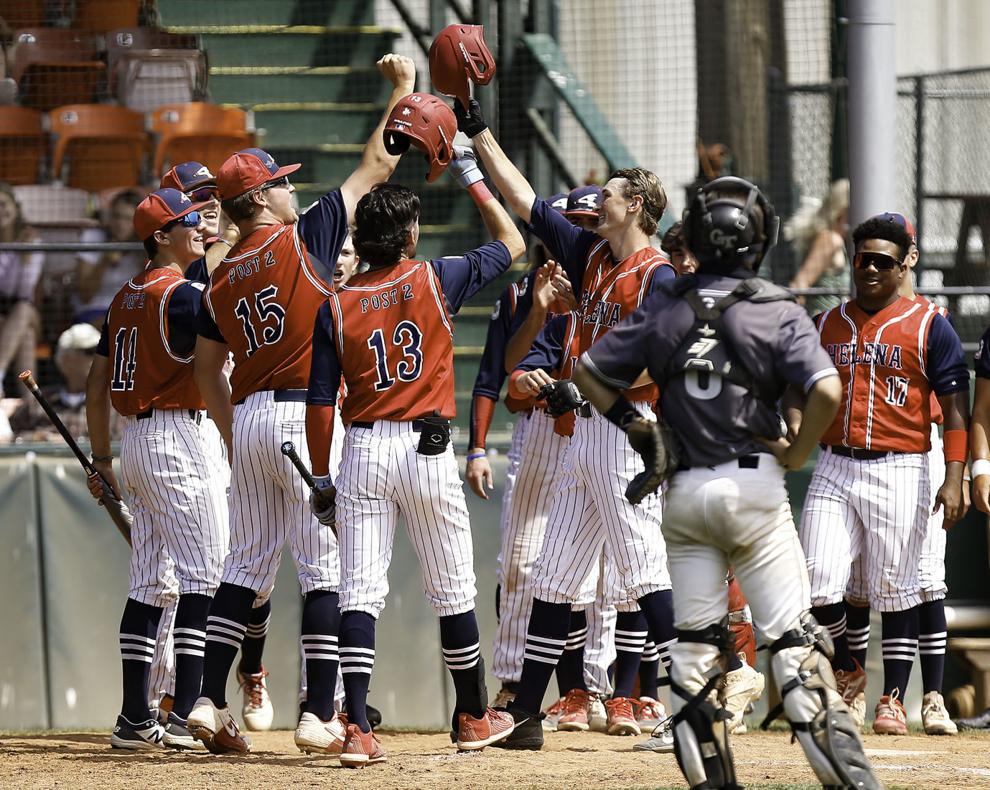 Great Falls Chargers 3, Butte Miners 2
A Nate Fowler go-ahead single in the sixth inning proved to be the difference in Monday morning's bracket play game. After starting the tournament 0-2, Great Falls won three-straight games over two days.
Fowler was the lone Charger to record a multi-hit game as Josey Hinderager added two walks and an RBI.
Despite exiting in the fourth inning, Hunter Houck turned in a solid showing for Great Falls on the mound. In 3.2 innings, Houck allowed just one hit and a pair of walks while striking out eight Miners. Trigg Mapes tossed two scoreless innings in relief, including an efficient seventh frame to seal the victory.
Eagan Lester and Kian O'Neill each went 2-for-4 at the plate for Butte and Eric Hart added two RBI with a 1-for-4 effort from the three-hole in the lineup.
Mike McGivern pitched four innings for Butte, giving up just one hit and two earned runs.
Billings Scarlets 18, Yakima Beetles 10
The Scarlets and Beetles ended their respective tournament slates with a run-rule shortened contest on Monday afternoon. Billings jumped out to a 7-0 advantage after an inning and led 12-1 after three frames.
Yakima chipped back into the game, drawing to within three runs after the top half of the six inning. That effort avoided a run-ruling following five frames, but with a five-run Billings outburst in the home half of the sixth, the run-rule was achieved anyway.
Nate McDonald was 3-for-5 with two RBI and three runs scored in the win. Michael Feralio added three RBI with a 1-for-2 day at the plate and a walk. Rocco Gioioso and Spencer Berger each contributed three RBI for the Scarlets.
Chase Hansen led the way for Yakima with four RBI, but it was Kobe Taylor that enjoyed the 4-for-5 day with a pair of runs scored. Cooper Hansen gave up 12 runs (five earned) and five hits over 2.1 innings on the mound for Yakima.