HELENA — With fireworks popping all around Kindrick Legion Field in the night sky on a mild Fourth of July, the on-field play of Sunday's nightcap erupted with the same intensity as the fireworks exploding overhead.
In the final pool play game of the Keith Sell Tournament, the Helena Senators and Yakima Beetles took the field as the sun was setting. Two innings in, it looked as if Yakima would run away with the contest, having built a 7-0 advantage. One pivotal play in the third inning, however, changed the course of the night's proceedings and aided in Helena's 13-7 win.
With two outs in the top of the third, runner and ball came together at the plate, resulting in a collision between Senators catcher Gavin Thennis and a Beetle base-runner.
"It's one of those plays where the ball and runner come at a pinch point and it's a split-second decision on the runner with what happens," Senators head coach Jon Burnett said. "Maybe didn't quite get down enough and ran into our catcher. You hate to see stuff like that, but it was a fire for our team. It really sparked us and ignited us. I don't think there were any ill intentions, it's just one of those bang-bang things that happens."
Thennis held onto the baseball, keeping the runner from scoring, but when the Yakima player stepped to his feet and the two came together, a punch was thrown and both dugouts emptied.
"[He] made a beautiful throw from the outfield, right on the money, hit me in the chest," Thennis said of the play. "I saw the kid lower his shoulder, so I kinda knew I had to be strong with my legs. He hit me, fell down, got back up and swung. I think that's what lit a fire under us. After that, everyone was hitting, everyone was doing their job and everyone was contributing."
Up until that point, the Senators had strung together just two infield hits and had committed a number of costly errors to put themselves in a hole. In the next three innings, however, Helena scored 13 times and rapped out 12 hits to gain full command of the contest.
"We came out a little bit flat, but when that happened, it shifted all the momentum in the game," Thennis said. "They lost some momentum, we got it. We barreled a ball and everyone knew, 'OK we can hit this kid.' So everyone started hitting him and every person on our team did something to score a run, sacrifice a guy or make a play to hold them from scoring...I think we played a great team game."
Players like Cy Miller and Ethan Keintz that began the game on the bench were summoned into the action. Those two went a combined 3-for-4 with two RBI and two runs scored while Thennis and Michael Hurlbert each collected three hits and two RBI from atop Helena's lineup. Tyler Tenney also picked up a couple hits off the bench for Helena.
It was a run-scoring single by Hurlbert that tied the game at 7-7 in the fourth inning and a sacrifice bunt from Scott gave Helena the lead for good.
Hurlbert also tossed two scoreless on the mound, allowing just one hit while striking out three batters.
"It was an emotional game," Hurlbert said. "I knew that I could come in to pitch, so I just tried to keep myself ready. Try to control that emotion but use it to your favor."
Not the cleanest game for Helena by far as the Senators committed seven errors, once sparked, their bats erased a lot of the mistakes made.
The win moves Helena's win streak to nine games, matching its longest of the season. The 13 runs also gives the Senators 65 in their last six games and helped them to their 37th win on the year.
Helena ends pool play as the lone undefeated team at 4-0 and will face the Glacier Twins in the tournament championship game on Monday at 2 p.m. Yakima plays the Billings Scarlets in the 11:30 a.m. game.
"We got the bats rolling," Burnett said. "I know what we're capable of and that was a little glimpse of it. Hopefully that's not just a spark for the game, but that's a spark for the rest of our year offensively."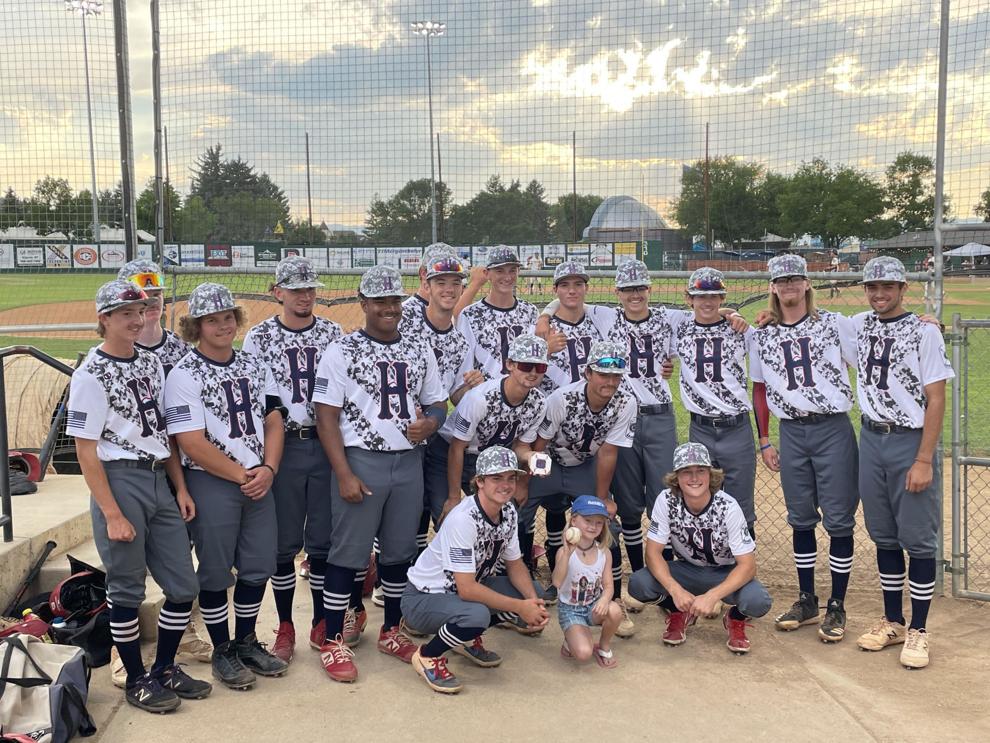 Butte Ends Pool Play at 1-3 — Billings Scarlets 9, Butte Miners 8
A walk-off ended Saturday's portion of the Keith Sell Tournament and a walk-off began the third and final day of pool play. In the first game needing a tiebreaker inning, Max Murphy doubled to plate two runs, moving the Billings Scarlets past the Butte Miners.
The loss ended pool play for Butte, dropping them to 1-3 after a 14-6 loss to Helena in the Miners' lone game on Saturday.
"We're feeling good, we hit the ball really well," Miners head coach Jeff LeProwse said. "We've gotta clean up some defensive stuff. I think if we clean up some stuff, we win that game pretty easily. I was impressed the way we hit the ball that last inning, we lined out twice. We're hitting the ball well, we just gotta back up our pitchers a little bit better and we'll be fine."
Butte committed three errors in the loss, but rapped out 12 hits to score eight runs. An Evan Starr double broke a 7-7 tie in the seventh inning after the Miners rallied from 5-4 with a trio of runs in the fifth inning. Billings added two runs in each of the sixth and seventh innings to seal the win.
"We can't make errors, we can't give away bases," LeProwse said. "We talk about that all the time. That game, [was] a very winnable game. If we don't give up bases, we don't make errors, we come out on top, it's plain and simple."
Kian O'Neill went 4-for-4 with three doubles and three runs scored from the two-hole in Butte's lineup, while Eric Hart put together a 3-for-4 day with two RBI and three runs scored.
O'Neill also filled two innings on the mound for Butte, allowing a pair of runs on two hits.
"He's been [hitting] like that the whole tournament, just hitting the ball really hard at people," LeProwse said. "He did a great job at the plate, needs to improve a little bit in the field, but at the plate, he's been unstoppable. He doesn't pitch for us a lot, but he came in and gave us a couple innings, so that was good to see."
The Miners' lone win in pool play came on Friday with an 8-5 win over Yakima. Butte pieced together a six-run fifth inning to complete the comeback.
"We're really competing," O'Neill said. "I love the way we're hitting, [having] guys on base. The whole year, we've kinda missed opportunities. We're really starting -- guys on second and third -- we really gotta lock down and that's something that we're doing well now. I really think that'll help us coming down to the end of the year."
Butte will now face the Great Falls Chargers in the 9 a.m. game on Monday.
Billings Ends Pool Play at 2-2 — Glacier Twins 10, Billings Scarlets 5
Billings finished its pool play schedule with game No. 2 on Sunday. A loss to the Twins dropped the Scarlets to 2-2 in the tournament.
Despite jumping out to a 4-0 advantage in the first inning, Billings allowed seven unanswered runs to Glacier through the fifth inning. The Twins plated four runs in the third inning and four more combined between the fifth and sixth frames.
"You can't come out in the first inning against these guys and put up seven hits and four runs and then just stop," Scarlets head coach Adam Hust said. "You gotta keep on them and keep on them and keep on them. Fortunately we're a young team and we're learning."
Billings prevailed over Great Falls in its first game on Saturday, but were drubbed by Yakima to close the day. A walk-off win over Butte carried some momentum into the Scarlets' final game on Sunday, but without a run in the middle innings, watched the Twins ease by them.
"We've played some good baseball at times and some bad baseball at times," Hust said. "The bad baseball has cost us a few ball games. There's no reason why we shouldn't be at 4-0 right now. We've beaten ourselves twice, unfortunately. We got lucky this morning in a game against Butte where we kinda beat ourselves for a while and then came back. We just gotta be consistent."
Stevyn Andrachick went 3-for-4 at the plate with two doubles and a triple for Glacier and Mikey Glass chipped in two hits with two RBI and a walk.
Billings' three-hole hitter Michael Feralio picked up another two hits in the loss with an RBI and a walk. He finished pool play 7-for-10 with four doubles, three RBI, four walks and four runs scored.
"[I'm] just trying to stay back and see it and hit it up the middle or opposite field," Feralio said. "A lot of guys are missing up and in on pitches and I'm hitting a lot of doubles off the wall right now...We're a team, we're a lot of young guys but we're a lot of talented baseball players. We're gonna get one hit, bunt, get another hit, get guys up and play as a team. Do what we do."
Billings will play the Yakima Beetles in the 11:30 a.m. game on Monday.
Glacier Ends Pool Play at 2-2 — Great Falls Chargers 12, Glacier Twins 6
Nine of the combined 18 runs were scored in the first inning, including six by Great Falls. That, plus three additional runs in the second inning, lifted the Chargers over the Twins and gave them their first win of the tournament. The loss wraps up pool play for Glacier.
"We've played pretty well the last four games in the tournament," Twins head coach Kevin Slaybaugh said. "Our pitching kinda let us down a little bit today, but we've been swinging it and doing a lot of things right. [If] we get some pitching straightened out, we'll be alright."
Glacier scored runs in the game's first fourth innings, but still trailed by a trio of runs after four innings. With the two-hour tournament time limit approaching, the contest was cut to five innings but saw Great Falls tack on three more runs in the home half of the frame.
The Twins split their games on Sunday, beating Billings 10-5 with seven unanswered runs in the middle frames. Glacier ended Saturday with a walk-off loss to Helena on an error and run-ruled Butte in its first game of the tournament on Friday.
"It's pretty disappointing," Slaybaugh said of the loss to Helena. "I was pretty sure we were going to win that game. That little error there at the end cost us. It was a pretty well-played game by both of us."
Great Falls had four players record multi-hit games against Glacier, including Nate Fowler who went 2-for-4 with two RBI and a run scored. Kyler Kralich also knocked in two runs with a 2-for-3 effort.
Zach Veneman finished the loss 3-for-3 with two RBI and a run scored. Jacob Polumbus and Danny Dunn each picked up two hits and an RBI. Despite banging out 11 hits, Glacier committed three errors in its loss to the Chargers. Great Falls' Josh Banderob went the full five innings and allowed 11 hits, six runs (four earned) and struck out a batter.
Glacier used three pitchers to navigate the contest, with Mason Peters soaking up three innings on 65 pitches.
"We need to throw strikes and play defense," Slaybaugh said. "Our sticks are going to be there, so throw strikes, play defense."
Glacier will play the Helena Senators in the championship game at 2 p.m. on Monday.
Great Falls Ends Pool Play at 2-2 — Great Falls Chargers 13, Yakima Beetles 3
After getting held out of the win column through Saturday, the Chargers won both of their contests on Sunday and scored a combined 25 runs in the process.
Great Falls used a pair of five-run innings to dispatch Yakima on Sunday afternoon in a run-rule shortened five-inning contest.
"Just being a little bit more aggressive and being on time," Chargers head coach Tony Forster said of his team's adjustments. "I think that was the thing that we've kinda talked about the last couple days. Just be on time with fastballs. I think too many times we're getting beat by other teams' guys just throwing fastballs at us. I thought we've done a good job of making that adjustment. Having a little bit of success with that right now."
Josey Hinderager went 2-for-2 at the plate with a pair of RBI and a walk. Five different Chargers picked up a base hit and four individual players logged an RBI.
Following Yakima's 1-0 lead in the first inning, Great Falls responded with eight combined runs in the second, third and fourth frames to take control. Five more runs in the fifth inning sealed the run-ruling.
Kellan Lawhon tossed a complete game for Great Falls on the mound. He scattered seven hits and two walks over five innings. He also struck out six Beetles and allowed three runs (one earned) to earn the victory.
"We've got some quality starters and those guys pound the zone for the most part," Forster said. "We hit a rough patch here the last three weeks, kinda struggling a little bit, but hopefully we can get on the track after two Ws today."
Great Falls eased by Glacier 12-6 in its first game on Sunday after falling to Helena and Billings on Friday and Saturday. The Chargers will face Butte in the 9 a.m. game on Monday.
"Just to take the momentum that we have now and take that forward," Forster said on his message to his players. "We've been on the road since June 1, we haven't played a home game. Our next home game is July 7, so these guys are grinding and busting their butts."
Great Falls will face the Butte Miners in the 9 a.m. game on Monday.