MISSOULA — The Missoula Mavericks Memorial Tournament was canceled, according to an announcement from the Mavericks on Friday evening at Lindborg-Cregg Field.
At 4:57 p.m., the Mavs received an email from the Missoula City-County Health Department requiring the tournament be shut down, Mavs president Ginger Claussen confirmed. At that point, the Kalispell Lakers and Glacier Twins had just finished the sixth game of the tournament.
"I don't understand it, I'm heartbroken for our kids and I'm embarrassed for our program."

Some thoughts from Missoula Mavericks Manager Brent Hathaway on the cancellation of the tournament. #mtscores pic.twitter.com/q6dYQeDh5k

— Jordan Hansen (@jordyhansen) June 20, 2020
Around 45 minutes later, an announcement came over the PA system from announcer Paul Yarbrough that the tournament had indeed be canceled. According to Mavs manager Brent Hathaway, the shutdown stemmed from a complaint the city had received.
One of the main issues the Health Department had, Hathaway said, was with how many people were at the event. Current Missoula County COVID-19 restrictions include not having more than 250 people congregate in one place for an event. 
The Health Department viewed the entire tournament as one event, despite each individual game having far fewer people than 250 in attendance. The stadium is also currently set up to be socially distanced, with some seats closed off since the beginning of the tournament.
"It's not like everyone here is sitting here at the same time," Spokane Crew manager Shawn Henry told the Missoulian and 406mtsports.com. "When a team leaves, all the parents leave. It's not like there's 1,000 people sitting here. I doubt there were 200 people at one time here ever yesterday."
The Mavericks had begun to sanitize the stadium seats and dugouts after each game. They also had bottles of hand sanitizer spread throughout the park and had been writing down the names and cities of people who were entering the stadium.
Those practices all began Friday. Four teams from Montana, one from Idaho and one from Washington were at the round-robin tournament.
"I thought Missoula did a phenomenal job of following all the guidelines," Belgrade manager Johnny Graham told the Belgrade News. "There was social distancing, everything was sanitized, dugouts were completely cleaned between games and sanitized. You name it, they were doing it."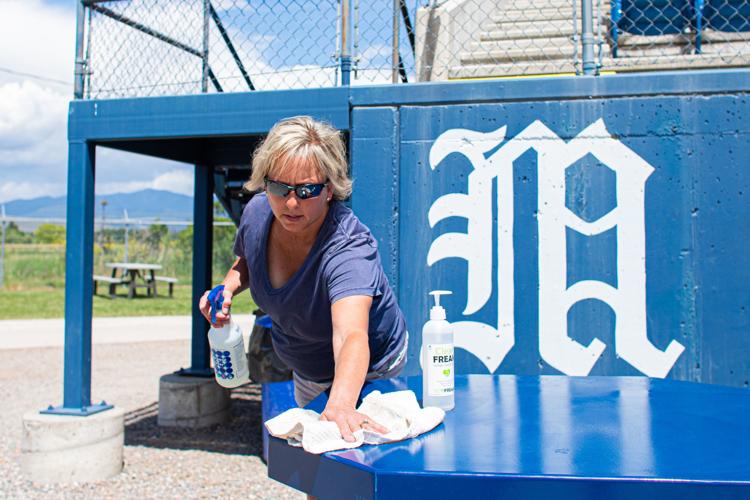 Two of the Montana teams are from the Flathead Valley and one is from Belgrade.
"We have a farmers market now that's an essential grocery outfit with food vendors and they're open and running," Hathaway said to several assembled media members following the official cancellation. "We have a soccer tournament going on down the street, we have tourists galore in our state and the idea that you want to shut down a youth baseball tournament with kids out here running around and having fun and exercising is just crazy to me. I don't understand it. I'm heartbroken for the kids. I'm embarrassed for the program."
The Mavs have had three non-tournament home dates, all in June, since the Legion season began in late May. However, a request to play their annual Memorial Day Tournament was denied, and the Mavs had to host their A tournament in Florence and their AA tournament in Bozeman.
Gallatin County had the most confirmed COVID cases in the state at the time of that tournament and still does, and it even hosted a game Friday that began after the Mavs' tournament was canceled.
"I'm just frustrated," Hathaway said. "We want an explanation. Basically, I feel targeted. Why is Missoula County the only place that can't host these damn things? I don't get it."
Multiple requests for comment made by the Missoulian and 406mtsports.com to Environmental Health Specialist Alisha Johnson, who sent the order to cancel, weren't immediately returned.
In the email, which was shared with local media, the department noted that the tournament wasn't in compliance with Phase Two of Gov. Steve Bullock's reopening and "the event is even bigger than your plan covered as people are camping and gathering onsite, and there was a youth clinic with a meal on Thursday night." It added that an events like the tournament are deemed by the Centers for Disease Control as "highest risk". 
The email added that Johnson had reached out to tournament organizers.
"She let you know that without a way to comply, you would have to stop the event and that our office planned to follow up with this Order," the notice continued. "You responded, but your email still did not cover the several requirements ... such as distancing throughout the event, group size limits, exclusion of sick attendees and how you could support contact tracing."
Another frustration for the Mavs was how the entire situation was handled by the Missoula City-County Health Department. Claussen, Hathaway and Missoula Mavericks board member Aaron Bay all stated that health department officials had not been on the premises and seen the situation for themselves.
"From my knowledge, there was nobody out here was with the health department," Hathaway said. "They did not come out and take a look at what was going on, what we had in place, I may be wrong, maybe somebody did come out, but to my knowledge and the knowledge of the board, we saw no members of the health department out here, it was all via email."
Graham shared a similar sentiment while speaking with the Belgrade News: "It's unfortunate that the health department, I think, balked on this one. I think they absolutely fumbled on this one, the health department, by the simple fact that they didn't come down and take the Mavs' invite to come down and see the place. Instead, they just made a big autonomous decision."
The Mavs refunded teams a prorated amount for games that didn't get played, according to Mavs treasurer Gena Stevens. Teams paid a $500 entry fee, or $100 per guaranteed game. They were refunded $100 for each game they didn't get to play, meaning the Mavs gave back $1,400 of the $2,500 they had received when teams signed up.
The Mavs did end up saving $1,400 on umpires. They pay each ump $70 per game, there are two umps per game and there were 10 games remaining in the tournament. Most umps, if not all, would've been using that money to supplement their regular income, and they had already largely been without sports to officiate since the coronavirus shut down sports in mid-March until Legion baseball in Montana started up May 21.
The Mavs had also received a $1,200 sponsorship from Wear Your Roots for the tournament. Whether they'll have to refund some or all of that wasn't immediately known.
Raising funds is more key than usual for the Mavs because they built a 60-by-136-foot indoor training facility next to their ballpark this offseason. Their fundraising goal for the project is $375,000; they're currently at $109,990 according to the latest update on their website.
The next game on the Mavs' schedule is a Tuesday home doubleheader against the Billings Royals. But will that or any other homes games be canceled by the Health Department, too?
"I don't know what to expect. I really don't," Hathaway said. "I would certainly hope not. I would think that when others take a look at how this is being handled, I hope would that there would be some public input about it. What's the difference between us and all of the other counties and why is it such a different scenario in Missoula County?"
The Missoula Strikers later announced on Twitter that their soccer tournament at Fort Missoula was shut down, too. It is being rescheduled to July 17-19.