BILLINGS — When boisterous beer vendor Rob Barry first greets Jon Dehler seated in his usual spot behind home plate at Boston's famed Fenway Park, he immediately turns to nearby fans and bellows "Montana is in the house!"
While Dehler said he always gets a good laugh out of that, the 69-year-old Billings businessman really needs little introduction to Red Sox Nation.
The longtime president/CEO of Fleetwood Gaming Inc., has attended 577 games at Fenway over the past 25 years or so, has become a fixture behind home plate and has been treated to some breathtaking moments by his beloved Red Sox.
"I literally pinch myself every time I am at Fenway," Dehler said.
While some Red Sox fans have asked him to pose with them for pictures, sign autographs and many have even bought him a beer, he still remains a little bit of a mystery man to some of the Boston faithful in the usual sold-out crowd.
If you mention, though, that Dehler is the guy with the wild mop of white hair, Oakley sunglasses, a Red Sox jersey and a knack for popping up in TV highlights from his perch behind the plate, many diehard Boston fans, it seems, know exactly who you are talking about.
At least that's the feeling you get after viewing the websites, videos, Twitter and blogs that cover the Red Sox. The intrigue and exposure surrounding Dehler over the years has definitely helped him achieve super-fan status.
"So happy to see this character back on TV," posted one fan a few seasons ago.
There was Dehler in the background celebrating on Oct. 12, 2013 after David Ortiz socked a game-tying grand slam in the eighth inning when it appeared Boston was going to lose the first two games to visiting Detroit in the American League Championship Series.
"He hit a line-drive home run and (Detroit right fielder) Torii Hunter fell into the bullpen trying to catch it," Dehler said. "Now it's tied 5-5, and we won 6-5 in the bottom of the ninth."
The ultimate fan from Montana also made the highlights a few weeks later that October when the Red Sox beat St. Louis in Game 6 of the World Series.
"The celebration was unreal," he said. "There were tears."
YouTube videos from TV broadcasts show Dehler throwing his arms in the air and jumping up and down as Boston fans rejoiced after the Red Sox clinched their first World Series championship at home in 95 years.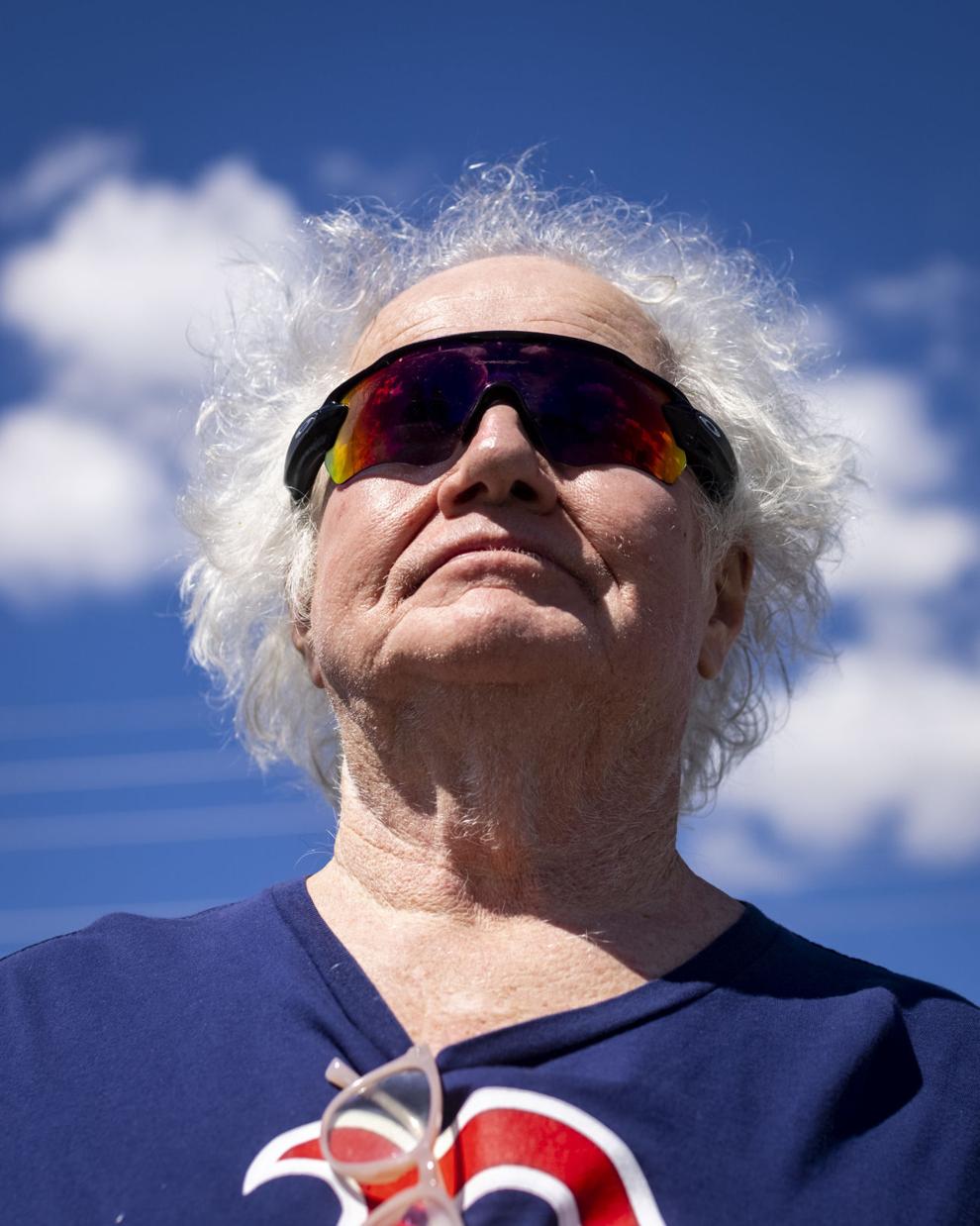 "It's been fun more than anything," Dehler said of becoming a prominent face in the crowd at Fenway. "I don't get a big head from it. I really don't.
"I am kind of that low-key guy. What you see is what you get … always in shorts, nearly always wearing sunglasses."
And don't forget that Don King-like hair.
"I think it's the hair more than anything," Dehler said, laughing. "I got called Barbara Bush three or four times. And sometimes people go 'we don't know if that's a woman or a guy.'
"And other fans would chip in and say 'it's a guy from Montana.' "
Over the past 25-plus years, Dehler, who has lived in Billings since 1978, has followed the Red Sox across the country, not just at Fenway.
One of the seven casinos Dehler owns in the state, Manny's Sports and Entertainment in Billings, is named after former Red Sox star Manny Ramirez, and Dehler's late cocker spaniel.
His license plate reads RedSx24, which was the uniform number worn by Ramirez.
"I tried to get 04, because it was 86 years before we won another World Series (in 2004), but somebody in Montana stole that from me," Dehler said, grinning. "They shouldn't have done that."
After a long dry spell for championships, the Red Sox also won the World Series in 2007, 2013 and 2018. Dehler said he attended games in Boston during all of them, with the exception of 2007 when he was in China.
"I have been to probably close to 1,000 (Red Sox) games counting the other stadiums," he said. "There are only four stadiums I haven't been to."
He usually flies commercially to the games, and almost always gets updated to first class.
"I hit the (Delta) three million mile club a while back," Dehler noted.
His wife of nearly 27 years, Jeannie, will travel with him on occasion, along with his children, Rachel, Justin and Kirk.
"A lot of times, I just solo it," Dehler said.
The COVID-19 pandemic kept Dehler, his family and other fans away from Fenway during the abbreviated 2020 Major League Baseball season. He attended his last game in Boston in September 2019.
"I do," Dehler replied when asked if he misses being at Fenway. "I mean, I don't know how you can't help but miss it. I miss it immensely, in fact. It has been at least 20 months since I saw a game.
"I've had a lot of people ask 'when are you coming back?'" he said. "We miss you behind home plate.' "
He said he has paid as much as $400 for his prime seat at Fenway, where he enjoys bantering with the players. The most he has ever paid for a seat was  $2,500 for a behind-the-plate view at Yankee Stadium.
Dehler, who purchases his tickets on the secondary market now after giving up his two season tickets down the right-field line a few years ago, had a string of attending 24 consecutive Red Sox home openers broken, sort of, last year with no fans allowed due to COVID-19.
He said he planned on starting a new streak this year, but that plan changed after he was injured in an auto accident on Highway 2 west of Kalispell in mid-January.
Dehler suffered a broken left arm and totaled his 2019 Toyota Sequoia when, on a very windy morning, he struck a tree that had fallen on the road and then crashed into a telephone pole.
"I was just lucky," he said. "Lucky I am still here.
"I broke my ulna bone, my hand is still stiff," Dehler said. "From my shoulder down is where I really felt it. No whiplash. What am I going to do, sue the tree?"
What he is planning on doing is driving his new car, a 2021 Toyota Land Cruiser, which includes giant pictures of Fenway Park on both sides, Red Sox logos, baseballs and stickers with the names of Red Sox Hall of Famers on the rear, back to Boston in late July.
First, he has to fix a couple of typos: Carlton "Fish" and Johnny "Peshy."
"My wife is from Maine," Dehler said. "Her family, of course, lives in Maine, so we will be back there for about three weeks."
They are also hoping to catch a game or two or three.
"I just have a passion for baseball," Dehler said. "That's why Dehler Park (in Billings) came about in honor of my dad (Billy Jo Dehler).
"It wasn't about me. When I donated that money ($1 million), I wanted to remain anonymous. I really sincerely did. (Local fundraisers) said they needed to put a name on that donation. Then I talked to my children and they said, 'Dad, do it.' "
The deal also included naming rights, so Dehler and his father threw out the ceremonial first pitches in 2008 at what is now home to the Billings Mustangs, American Legion and Montana State Billings baseball games.
"I am very proud," Dehler said of helping the ballpark become reality and salute his father along the way. "My dad (who passed away in 2009) was so proud that day. It's one of the best things I have ever done."
Dehler, who is also a regular at spring training in Fort Myers, Florida, every year, said he started following the Red Sox as a youngster growing up in Minnesota.
"I was 9 years old before the Minnesota Twins came in 1961," he said. "I loved the Red Sox. I collected their (baseball) cards, but I also loved the Yankees at that point. Mickey Mantle was my favorite player of all-time.
"I was caught as a kid wearing a Yankee hat and stuff," Dehler said. "Cool times, but the Red Sox have definitely won my heart."
Years later, though, as Dehler began attending Red Sox games on a regular basis, he quickly became enamored with and respectful of Yankee shortstop Derek Jeter, who was a star rookie at the time.
"Three to five years later, when he would come up to the plate, I would grin at him a little bit and nod my head in approval," Dehler said. "Then it got to the point in the next 15 years or so he would tip his cap to me, even at Yankee Stadium."
To date, though, Dehler and Jeter haven't formally met.
Early in the magical year of 2018, Dehler bought a backup pair of "cheap" sunglasses from a vendor outside of Fenway before a regular-season game.
"They have Red Sox (written) on them and they were only like $35," he said. "It got to the point I kept wearing them and they kept winning. But 2018 was a spectacular year. They won 119 games (counting the postseason)."
At one point, Boston was 13-0 whenever he was in attendance with those sunglasses on. "I ended up something like 23-4 wearing them," Dehler said.
After the World Series moved on to Los Angeles that fall, whenever the games with the Dodgers got tight, "Fans would call and ask 'do I have my sunglasses there,' " Dehler said. " 'Can you put them on?'
"My wife was just shaking her head."
And the glasses are currently locked in the safe at Fleetwood Gaming, ready to bring on more Boston wins, if needed.
Dehler's top five Boston greats include Carl Yastrzemski, Ted Williams, Pedro Martinez, Dustin Pedroia and, of course, Ramirez.
Over the years, he said he has met Pedroia, Martinez and Ortiz, who is known as Big Papi.
Dehler has some Boston jerseys signed and framed and hanging on the wall at Manny's. He also owns home-run balls Nos. 422 and 446 off the bat of Ramirez.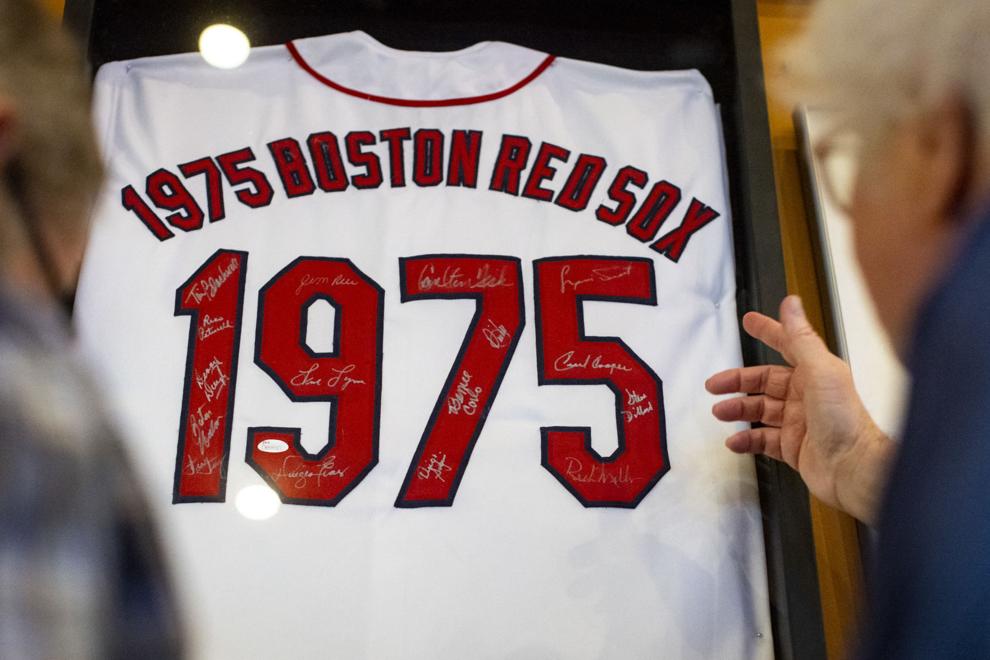 Occasionally he will auction off some of his prized memorabilia, including autographed bats, to benefit charities in Montana and Massachusetts.
Dehler has also randomly given away his season-ticket seats over the years.
In addition to witnessing many of Boston's postseason heroics, Dehler and his son, Kirk, were sitting on top of Fenway's legendary Green Monster in left field in April 2007 when something extraordinary happened.
"Red Sox are down 3-0 to the Yankees, bottom of the third," Dehler recalled. "Red Sox hit four home runs in a row against a rookie lefthander. I get goose bumps thinking about it."
Ramirez, J.D. Drew, Mike Lowell and Jason Varitek homered back-to-back-to-back-to back, with a couple of the homers hit in the direction of the Dehlers.
"We were up in the stands celebrating," Jon Dehler said. "We're hugging anyone that's close to us. We're going crazy."
But that's becoming pretty normal when "Montana is in the house" at Fenway.