MISSOULA — Spencer Brickhouse is a small-town, all-American type of guy.
He tried a different image once. Tried wearing mutton chops, a mustache and a long mohawk for a while last winter.
It just didn't work for him.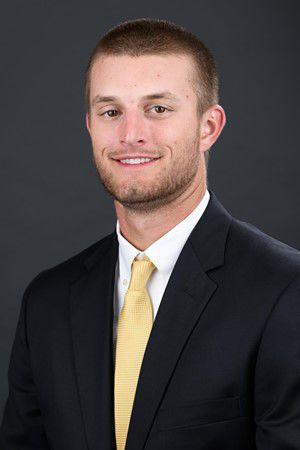 "I went through a phase where I was feeling a little rebellious you could say," joked Brickhouse, a first baseman who has come on like gangbusters for the Missoula Osprey after his selection in the seventh round of the 2019 MLB Draft.
"It was worth a good laugh. My college teammates loved it. But when I had the mohawk, I had a lot of students on campus shoot me a look like, 'Why you doing that.' I thought, I can't do this. It's just not my look."
A standout scholar-athlete while at East Carolina, Brickhouse is turning heads with his bat in Missoula. The clean-up hitter entered Monday's home game against Billings with the second best average on the Osprey (.368) after going 6 for 11 in a series against Great Falls.
"They put a lot of trust in me, put me in the lineup as much as they can," Brickhouse said prior to a 10-7 home loss to the Billings Mustangs Monday night. "It's good the team has faith in me to put me in that 4 hole. I'm going to keep on trying to produce there."
The question that begs to be asked of a man named Brickhouse is whether he's related to the legendary former Cubs announcer Jack Brickhouse. Spencer is not sure but believes there's a decent possibility.
Good ol' Jack, who died 21 years ago, would have been proud to share his name with Spencer. The North Carolina native has an exceptionally good head on his shoulders.
"Coming out of high school I got offers for money in the draft," said the 21-year-old, who majored in mechanical engineering. "At the same time I knew my education was very important to me and I knew I wanted to at least get a lot of my degree done in engineering.
"I wanted to have a good backup plan because as reality shows, baseball can end tomorrow."
Spencer sees himself someday working for a military grade company. Perhaps working on jet engines.
For now, he's loving life in what he considers the "big city" of Missoula. He enjoys the mountains, low humidity and the way he bounced back nicely from a 1 for 8 pro start last week in Idaho Falls.
"You have to get used to the pro lifestyle and swinging the wood bat again," he explained. "It's a big adjustment period switching from college. I hadn't seen live pitching in a week and a half.
"I had to go back and figure out how to hit a baseball again. You see more velocity, more spin rate and stuff like that. You have to focus on the basics and watch the ball hit the bat."
Missoula (4-6) started slow against the Pioneer League North's last-place team Monday. The Mustangs (2-8) jumped on starting pitcher Tyler Poulin for five runs in the first inning, two coming on a Quin Cotton double and two on a two-run home run by 6-foot-8 Edwin Yon.
Billings stretched its lead to 10-2 on a Cotton 3-run home run in the fourth inning. Missoula refused to go down without a fight, using a bases-loaded double by Kevin Watson to cut its deficit to 10-5.
Denson Hull came on in relief for the O's in the fifth and did a good job shutting down the Mustangs for three frames. Unfortunately for the hosts, they couldn't put together a productive rally. They stranded two baserunners in the sixth and seventh.
Chris Williams came on in relief of Hull in the eighth and held the Mustangs scoreless for two frames. The O's came up with two runs in the ninth but stranded two baserunners in falling to defeat.
Axel Andueza led Missoula's offensive attack with three hits. Missoula will host Billings again on Tuesday night at 7:05 p.m.