MISSOULA — Mark Simon wears a gold necklace with a hockey goalie mask charm — think "Friday the 13th" scary movie — dangling near his heart. 
It serves as a reminder of the closer role he has embraced for the Missoula PaddleHeads. A role he is thoroughly enjoying, with a Pioneer League-high three saves and four wins to his credit.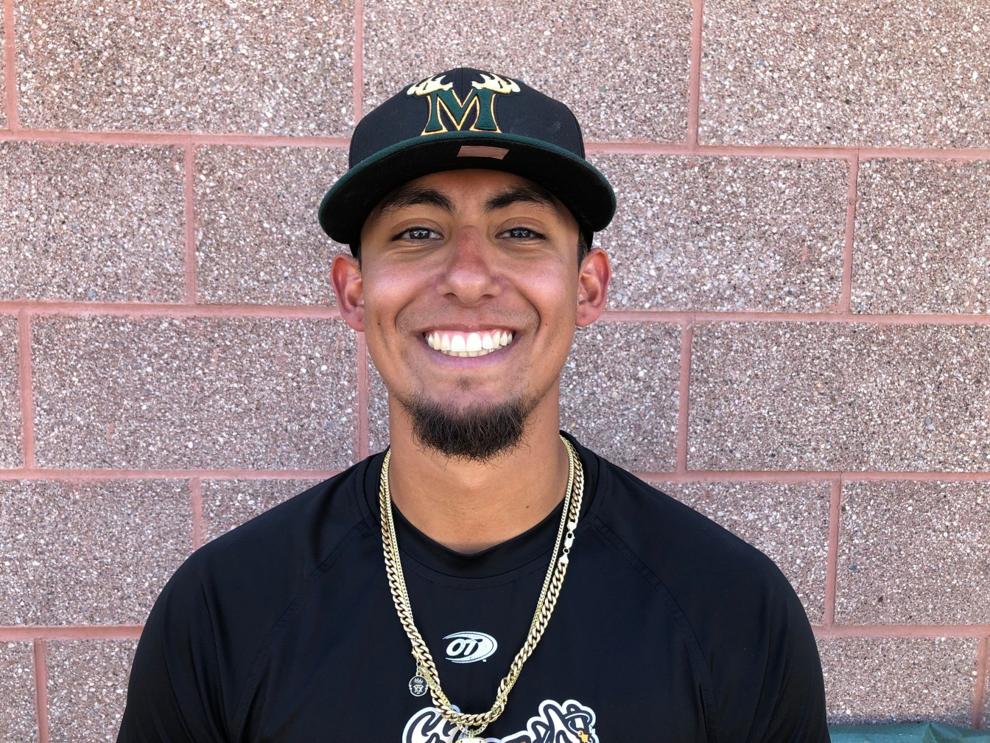 "It kind of gives you a Dr. Jekyll and Mr. Hyde vibe," the 25-year-old Simon said of his reliever role and neck jewelry. "I'm all about having fun. I'm very calm. But I know when it's time to get some outs, you're going to have to beat me on my best stuff.
"It's such an adrenaline rush. When your name is called upon, I hope the guys get a little sigh of relief. Like OK, I think he's got it." 
Simon, whose team was tied with Idaho Falls for the best record in the Pioneer League (23-10) heading into Wednesday's home game against Boise, has come a long way since retiring in 2018. At the time he was playing at the Mexican triple-A level as a starting pitcher.
The experience was enlightening and he's thankful for the guidance of ex-teammates like former Major Leaguer Jose Valverde, whom he roomed with for a while. But Simon needed time to get his mind and body right, so he went back to his hometown of Houston to help his parents before finishing up college at Oklahoma City University and taking on a coaching role with a select junior league in Houston.
While coaching kids, he played some "Sunday league" games and was encouraged by the spike in velocity he was getting on his pitches. 
"That kind of helped me get the drive and love back into my baseball," he said. "I missed the competitiveness. That's why I'm here."
Now that he's throwing in the mid-90s, you wonder how long it might be until Simon lands a spot on a minor league roster. He's never had the chance.
"The interesting thing is he would have one of the better arms in all the minor leagues," PaddleHeads manager Michael Schlact said of the 6-foot closer. "I guess one excuse could be his size. But with what he's doing, how long does that excuse work? He certainly deserves a shot."
Simon isn't too worried about it right now. He feels blessed to be in Missoula after being away from the game for so long.
Schlact, in turn, feels fortunate to have him on the PaddleHeads.
"He's a power pitcher that pitches," the manager said. "A lot of times you get these guys that throw hard and have a good breaking ball and they're just trying to get it in the zip code of home plate.
"He actually knows where the ball is going. Just a real locked-in mentality out there. He can't even hear you when he's pitching. He's so hyper-focused. When you combine the focus with the ability and the hunger to get better, that's what you're seeing with his success here in Missoula."
You might say Simon has become a student of the game. As a younger man he didn't worry too much about analytics and had very little formal training as a pitcher. Now that he's into his second stint as a pro, he's more serious about weight training, diet and stretching.
Then there's the mental stuff that's downright fascinating. 
"I'm watching the game from the first pitch all the way to when I need to go on, finding out what the hitters are doing, their tendencies," he shared. "That was one of the good things being with the Mexican league. You learn from things like how hitters step in the box, foul balls, body English, mannerisms, practice swings. If they're taking a long time, they're overthinking and I'm not.
"I know exactly what I need to do when it's time to go in." 
Poise is also part of the package with Simon.
"I think he was born with it," Schlact said. "You can develop some confidence from experience. But it's just who he is.
"To have poise no matter what the situation, his is just different. He never lets a situation get too big."